Fake Home Affairs Officer Busted in Vryheid in Viral Video, South Africans Disappointed in Him
Members of the South African Police Service busted a man who was allegedly impersonating a government official
The man was caught wearing a Department of Home Affairs official vest and was accused of extorting shop owners of R10 000
Netizens weighed in on how crime in South Africa allowed individuals to commit similar misdeeds
Tebogo Mokwena, a Briefly News current affairs journalist in Johannesburg, South Africa, covered police investigations and court cases at Daily Sun for over three years.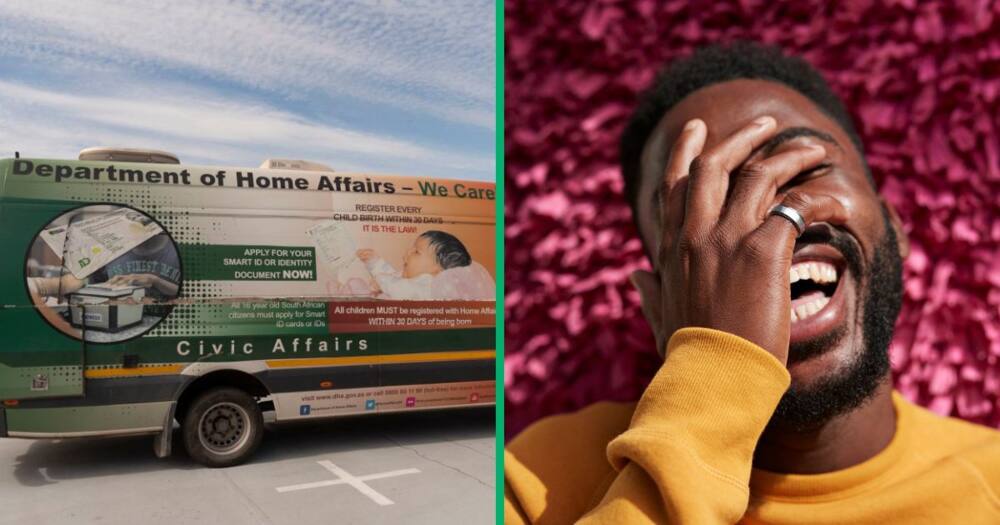 The South African Police Service in Vryheid, KwaZulu-Natal, arrested an allegedly fake immigration officer. A video of his arrest and his being caught with items he used to impersonate a government official went viral. South Africans weighed in and shared a different view of the video.
Fake Home Affairs officer caught
@VehicleTrackerz posted the video on X showing the man being taken into the SAPS' custody. The clip shows a police officer spreading the t-shirt the man used to impersonate an officer from the Department of Home Affairs. The officer declares that they will also confiscate his laptop. The man is shown avoiding the camera as he is handcuffed.
According to the caption, the man allegedly extorted foreign-owned shops after accusing them of selling expired goods and food. After threatening to shut them down, he reportedly demanded R10,000 to keep him quiet. Watch the video here:
PAY ATTENTION: Watch the hottest celebrity stories on our YouTube channel 'Briefly TV'. Subscribe now!
South Africans weigh in on the video
Netizens were not surprised that he was impersonating a government official.
Mfo ka Khumalo wrote:
"WTF! I know this dude back from my home town. He used to work for the Magistrates Court in Paupietersburg."
DJ T-Junction pointed out:
"South Africa is full of possibilities."
Mdu M remarked:
"He was solving the crime while committing a crime."
Yukio Mishima added:
"Trying to exhort people already paying the police for protection was a blunder."
Maxwell remarked:
"Please investigate Pretoria. Too many fake police officers are taking money from foreigners operating around Bosman Bus Station and Visagie Street."
Last Known as W observed:
"If the government had proper control of these, there wouldn't be a gap for criminals to fill."
Akukaria remarked:
"This is what Dudula people want EFF to support. Vigilantism and extortion."
Fake 'Dr' Matthew Lani appears in Court
In a similar article, Briefly News reported that the bogus 'Dr' Matthew Lani appeared at the Johannesburg Magistrates Court.
This was after he was arrested after allegedly trespassing at Charlotte Maxeke Hospital. A video of him being held in custody went viral in which Lani begged and pleaded with the hospital's security to let him go.
Netizens laughed at him for allegedly trying to sneak into the hospital premises and pretending to be an officer.
Source: Briefly News