UK Man Courts Crush With Romantic Girlfriend Proposal, Video of Decorated Room Leaves Internet Swooning
A romantic man from the United Kingdom went all out to get the woman he likes to be his girlfriend
The video of the girlfriend proposal setup was shared on TikTok and gathered millions of views
Netizens worldwide swooned in the comments section and wondered what the marriage proposal was going to be like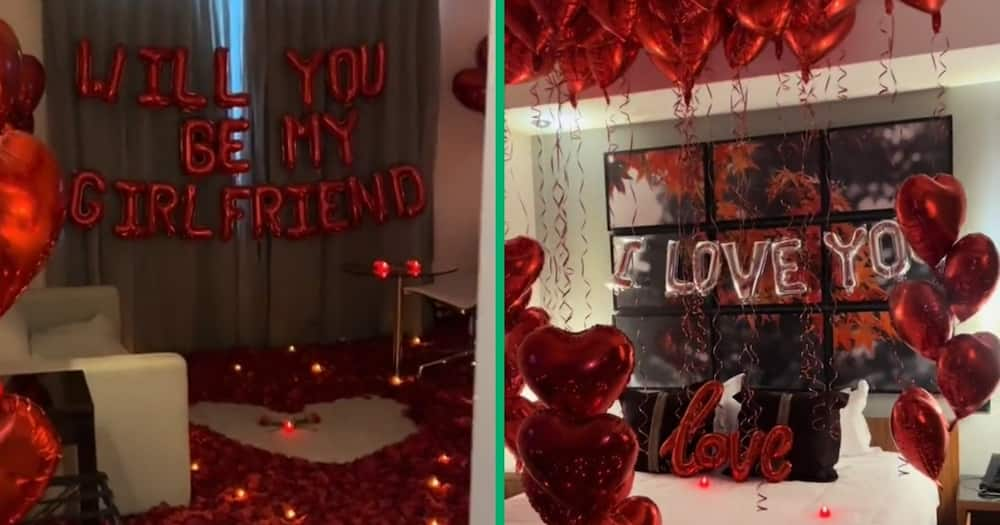 A TikTok video of a romantic setup has captured the attention of netizens across the world.
Man's over-the-top girlfriend proposal
The video displays the lengths one man went to, to win over his crush's heart. He outsourced the services of a decorating company @royaldecoruk to turn a room into a romantic space.
The video shows the room filled with rose petals and red-lettered balloons, spelling out the affectionate question, "Will you be my girlfriend?"
Proposal video attracts millions of views
As the video spread, people couldn't help but be swept away by the thoughtful gesture and romance on display. The footage is sitting on more than 7 million views at the moment.
Watch the video below:
Netizens gush over romantic room arrangement
The comment section overflowed with admirers who were smitten by the heartfelt girlfriend proposal. Many were left curious how this imaginative suitor might one day pull off an even grander wedding proposal.
@Nieschka wrote:
"This is just a girlfriend proposal, imagine when he asks to marry her."
@Sawsan asked:
"So that's just a girlfriend proposal?"
@Anastasiacalvin stated:
"Imagine the wedding proposal compared to this."
@Adrianaantuono said:
"I refuse to date someone again till I get this type of treatment."
@KatyB202 mentioned:
"If he wanted to he would."
@Joysarchives0 posted:
"If you look closely in the background you can see me sobbing hysterically."
@Sia_Bia added:
"If I ever get to experience this just know I'll be the first person at church on Sunday, earlier than the pastor."
@Aïnarah wrote:
"The way some people will literally do the most for you to express the grandeur of their love is such a beautiful thing. I always feel happy for y'all."
South African high schooler asks bae to matric dance with romantic gifts in TikTok video, women gush over gent
In another article, Briefly News reported that a high schooler surprised his bae with flowers, cake and a request for her to be his matric dance date.
The proposal caught the young woman off-guard and she not only said yes, but they turned the comment section into a romantic movie scene.
Source: Briefly News