Prophetess Evelyn Joshua: Who is Pastor TB Joshua's wife?
Prophetess Evelyn Joshua is the wife of the late Prophet TB Joshua, the Nigerian televangelist, philanthropist and founder of The Synagogue, Church of All Nations. She has been the pillar in the preacher's life and ministry. As the second in command of The Synagogue, Church of All Nations, she has impacted the ministry's operations. Her biography unveils most of the unknown facts about her life.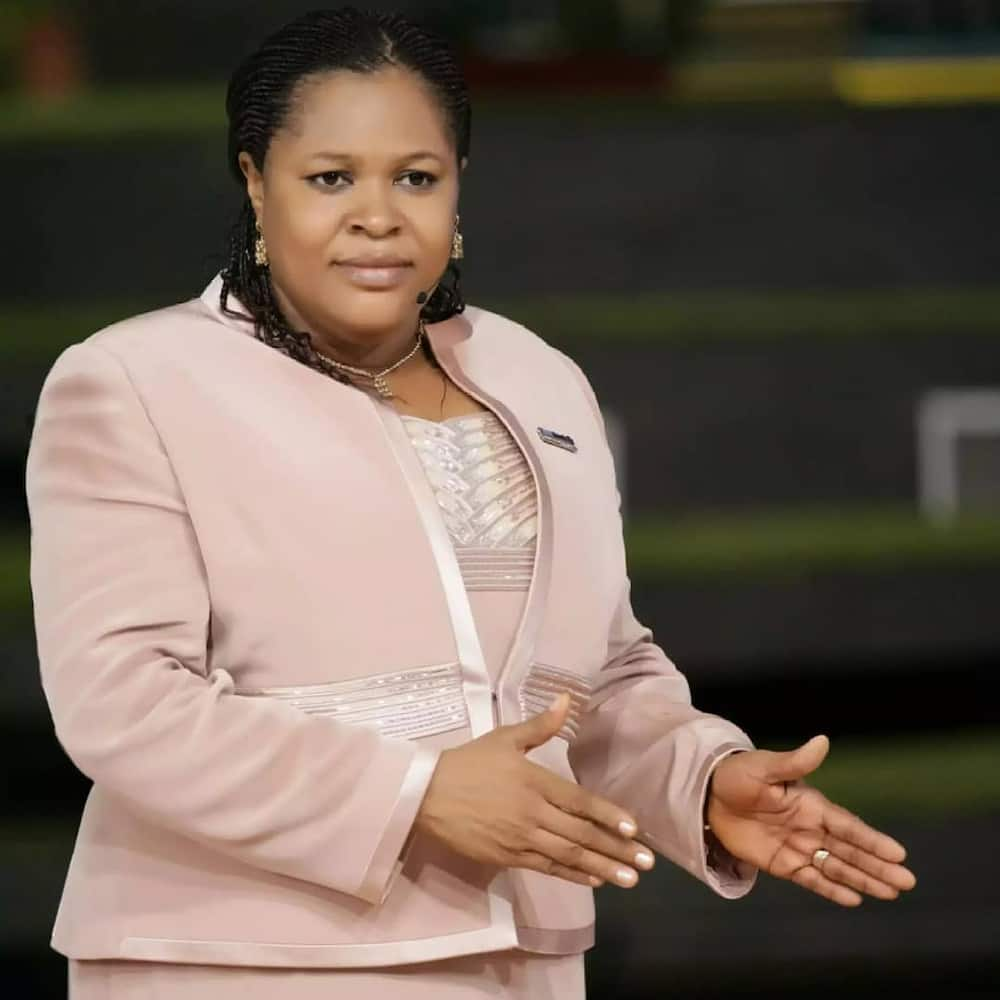 Keen followers of The Synagogue, Church of All Nations have come across the unfathomable story of how prophetess Evelyn Joshua and Pastor TB Joshua met. Some have found it difficult to wrap their heads around their meeting and the prophet proposing to her on the first day; the prophetess' biography deciphers the details.
Evelyn Joshua profiles
Full name: Evelyn Akabude
Date of birth: 17th December 1968
Place of birth: Okala Okpumo, Delta State, Nigeria
Nationality: Nigerian
Spouse: TB Joshua
Marital status: Widowed
Occupation: Evangelist and prophetess
Children: Serah, Promise
Church: The Synagogue, Church of All Nations (SCOAN)
Twitter: @Mama__Evelyn
Evelyn Joshua's biography
Who is TB Joshua's wife? Evelyn started school at St Emecheta Primary School in Ezi Town, Delta State, Nigeria. In 1977, she relocated to Lagos and joined Orile Primary School and further went to secondary school. Upon graduating, she secured a chance to work at the Nigerian Distilleries in Ota, Ogun State. She met her husband during her course of work and later became a public figure.
How old is Evelyn Joshua?
When was Evelyn Akobundo born? She was born on 17th December 1968 in Okala Okpumo, Delta State, Nigeria, to Mr and Mrs Nicholas Akobundo. Therefore, as of June 2021, Evelyn Joshua's age is fifty-two years old.
Evelyn Joshua's siblings
Evelyn had a twin brother, although fate took him before time.
Who is Pastor TB Joshua's wife?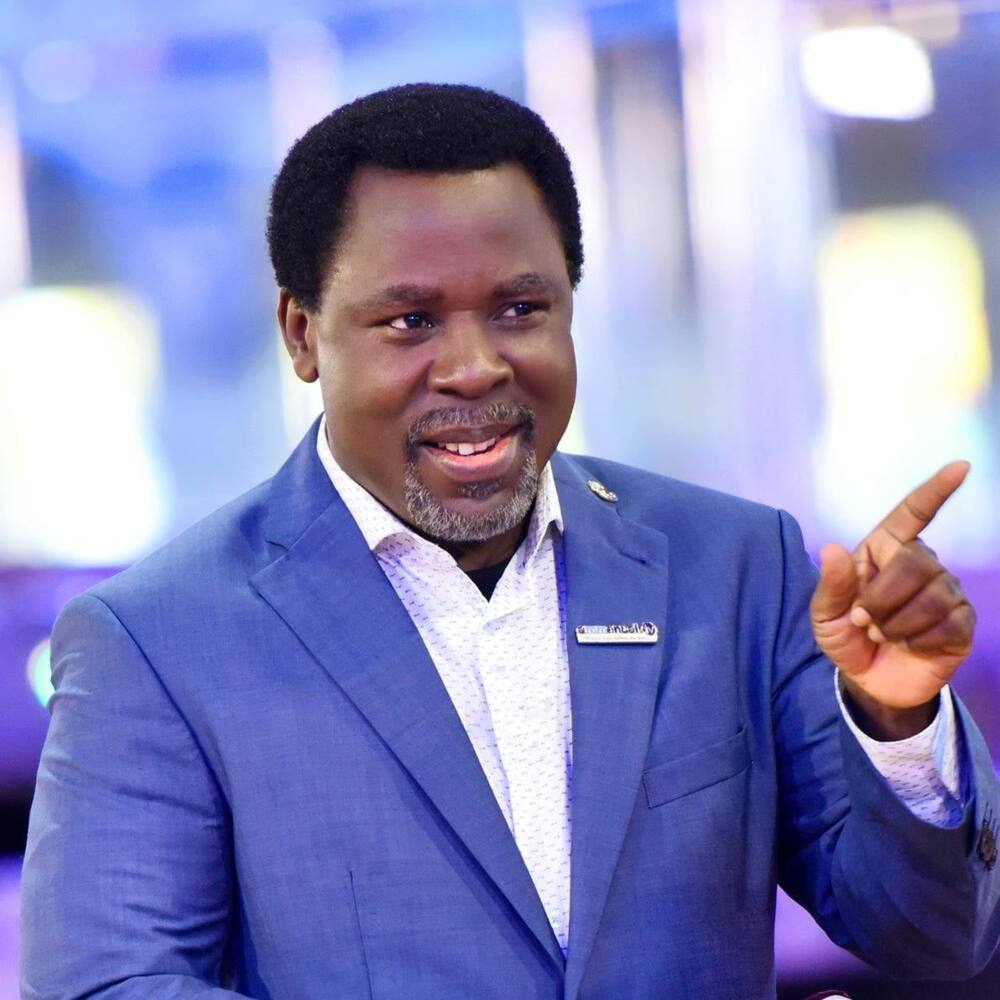 In 1990, Evelyn travelled to Egbe to visit her sister, and during her stay, she met the then-vibrant Pastor TB Joshua, who was five years older than her. She had gone to meet him for counselling and spiritual guidance, and their first meeting, which lasted for forty-five minutes, sparked their journey to marriage.
According to the late man of God, meeting his wife was arranged by power, and he proposed to her on the same day he saw her. Evelyn was apprehensive about the unforeseen marriage proposal, although she said yes, and they were married for thirty years before the man of God's passing on 5th June 2021. Their marriage faced a couple of challenges due to cultural differences, although the grace of God sailed them through.
Evelyn Joshua's children
The marriage between Pastor TB Joshua and Evelyn Joshua gave rise to three children, two of whom have been in the limelight. According to TB Joshua's wife, her husband has never been bothered about the gender of their children despite the attention that male children receive.
Serah Joshua
Serah, the eldest of the three daughters, is a law graduate from the London School of Economics and is currently pursuing her PhD. She was admitted to the bar in Nigeria as a legal practitioner in December 2015. Serah got married to a Tanzanian man in Arusha, Tanzania, in 2021.
Promise Joshua
Promise is a student at the London School of Economics pursuing international relations and politics. Promise is currently pursuing a master's degree.
The youngest of Evelyn's children is in secondary school, and not much is known about her.
Evelyn Joshua preaching
She is believed to be the second most influential person in the ministry after her husband. She meets and counsels individuals who are unable to meet the prophet. She also preaches in the church.
Evelyn Joshua's net worth
Evelyn has been instrumental in propelling the growth of her husband's ministry. As the second in the command in the ministry, most members describe her as a visionary and workaholic. While details of her net worth are not clear, TB Joshua's net worth was estimated at $10 million, and he was one of the richest pastors in Africa.
Prophet TB Joshua's death
The man of God died on Saturday, 5th June 2021, after presiding over a meeting with the partners of Emmanuel TV. His death came a week before his 58th birthday. The cause of his death has not been revealed. His wife mourned him through a post on Twitter saying,
Losing a loved one is never easy; whether sudden or foreseen, it's always heartbreaking. Grief can wreak havoc on our overall well being. That's why it's important to stay rooted in the Almighty. Only He can lessen our heartache and comfort us in these times. Seek refuge in Him.
Evelyn Joshua has been supportive of her husband throughout their marriage and ministry. Despite their challenges, they have held the operations of the ministry since its formation. Meanwhile, the ministry has been pouring tribute for the deceased televangelist.
READ ALSO: Mary Bushiri age, real name, child, wedding, preaching, worth
Briefly.co.za published unknown details about Mary Bushiri. Her name has been dragged to controversies. The details of her biography fill you in on the ins and outs of her life.
Mary Bushiri has faced backlash and constructive criticism for her association with her husband, Prophet Shepherd Bushiri. They recently lost their eight-year-old daughter, Israella, after battling a lung infection.
Source: Briefly.co.za