South Africa, to some extent, has two distinct school calendars; one for public schools and another for private schools. The one for public institutions breaks the year into four terms while that for private learning centers tends to break the year into either three or four terms. This means that private school holidays might differ from government school holidays in 2019. However, the vast majority of South African children attend public schools.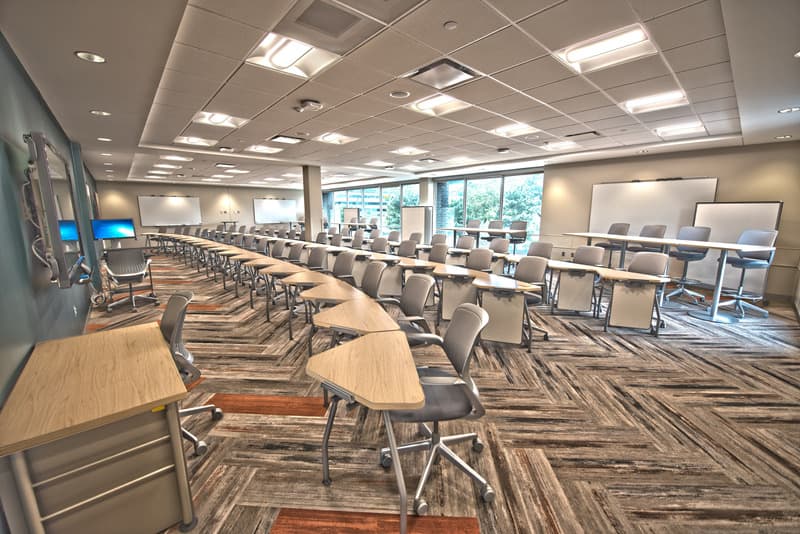 It is important to note though that there are no fully common calendars or term dates for all private institutions in South Africa. A majority of independent schools adhere to the government school calendar, while others stick to the private schools association calendar. Yet, some of these schools adhere to their own particular calendars.
For instance, the largest and oldest membership association for independent schools in the region is known as The Independent Schools Association of Southern Africa (ISASA). The organization caters for over 850 member schools spread across a wide range of cultural and socio-economic communities as well as religious associations. The member institutions take care of over 190,000 pupils.
School calendars in various provinces and different private learning centers may differ slightly. Hence, it is always advisable for people to check with their schools. For instance, ISASA's calendar committee for the Central Region (Free State, Gauteng, Northern Cape, and North West) normally issues a Central Region Calendar to guide the members within the region.
However, the member schools are not obligated to stick to the calendar, even though the majority does. The association also makes a Term and Event Calendar which widely combines the different regional term dates and significant dates for ISASA events of the year.
Many people, including parents, teachers, and visitors in South Africa need to know the exact dates of holidays. This is so because, in order to plan their time well, parents need to know how much time they have to spend with their children while teachers need to know how much time they have to rest.
On the other hand, traffic at popular holiday destinations in South Africa is highest during the holidays. All learning centers in South Africa are usually off over Christmas and New Year. With this knowledge, visitors who wish to visit South Africa can easily avoid the rush by choosing the time from November to the time schools close. They can also opt for January from the opening dates onward.
2019 calendar for government and private school holidays in South Africa
In 2019, the majority of institutions in South Africa (Both private and public) will use the same calendar for school holidays and term dates, as shown in the tables below. However, it is imperative to note that these dates are subject to revision by the Department of Basic Education. Hence, it is advisable to keep checking regularly for any revisions that may occur.
South African government & private school terms 2019
What are the school holiday dates for 2019?
The table below shows various terms duration in 2019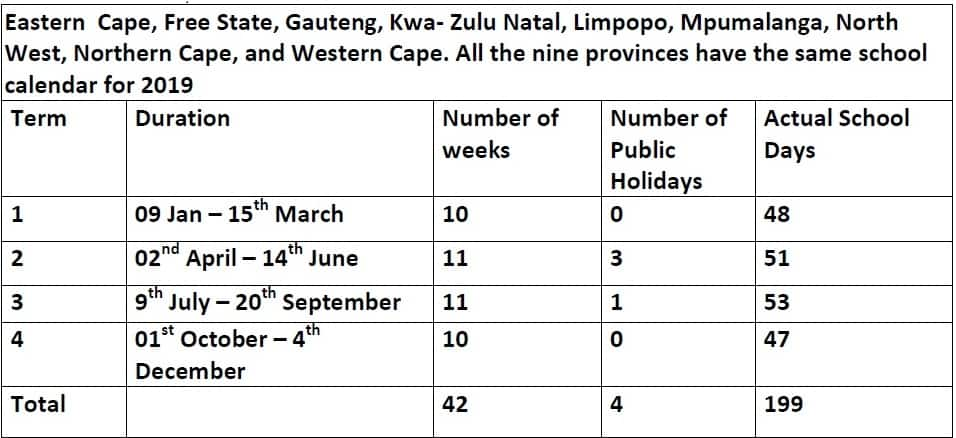 South African government & private 2019 school holidays
The table below shows various holiday durations between the terms.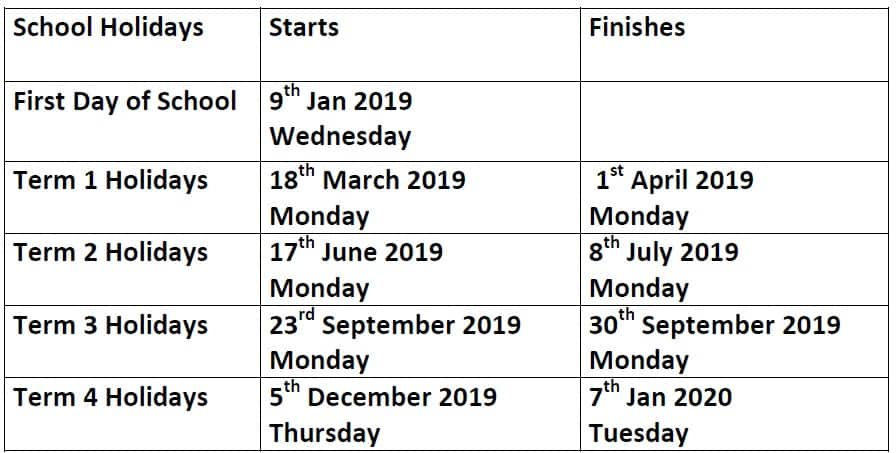 What are the holidays for 2019?
First term school calendar
According to the South African Department of Basic Education website, the first term of 2019 begins on January 9th and comes to an end on March 15th. This means that the term runs for a duration of 10 weeks with 48 actual school days. The term's holiday will then commence on Monday, March 18th, 2019 and end on Monday, Apr 1st, 2019. This means that the learning centers will remain closed for a total of 14 days (two weeks) before they open for the second term.
Second term school calendar
The second term in South African schools in 2019 will kick off on Monday, April 2nd, 2019 and end on Friday, June 14th, 2019. In essence, the term will last for a total of 11 weeks, with a total of 51 actual school days. There will be three public holidays within the term. The term holidays will then begin on Monday June 17th, 2019 and end on Monday, July 8th, 2019. This means that children will stay at home for exactly 21 days (three weeks) before going back to school for their third term.
Third term school calendar
The third term in South African schools will officially begin on Tuesday, July 9th, 2019, and come to an end on Friday, September 20th, 2019. This means that it will last for a total of 11 weeks with 53 actual school days. There will be only one public holiday within the term. They will then break for the third term holidays, which commences on Monday, September 23rd, 2019 and end on Monday September 30th, 2019. This makes the third term holidays to be the shortest in 2019, lasting for only one week.
Fourth term school calendar
The fourth and last term will begin on Tuesday, October 1st, 2019 and run up to Wednesday, December 4th, 2018. This makes a total of 10 weeks of schooling, with 47 actual school days before the centers are closed for the summer. The December holidays will then kick off on Thursday, December 5th, 2019 and come to an end on Tuesday, January 7th, 2020. The holiday will last for 34 days (About 5 weeks) before they reopen in January 2020.
From the information given in table one above, the 2019 school terms in South African institutions will last for a total of 42 weeks with 199 actual schooling days. There will also be a total of 4 public holidays in which these centers will not be conducting any studies.
Public holidays that fall within South African school terms in 2019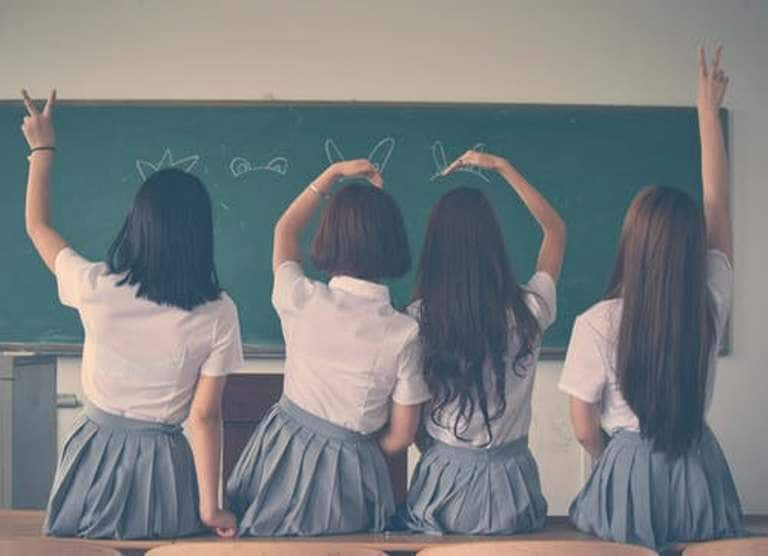 In South Africa, all the public holidays which fall within the school terms are also considered to be a part of South Africa's school holidays 2019. During such days, no studies are conducted in all institutions within the country. In order to understand the history of their country and the world around them better, young people ought to know and appreciate the origin of some of the most popular public holidays in their school terms calendar.
Most pupils and students are normally glad to take that occasional break from schoolwork on public holidays. They also seize the opportunity to not only celebrate with loved ones but also find out more information about the history of these days and why they are celebrated. Below are four major South African public holidays which fall within the school terms and their dates.
Easter holidays (Good Friday & Family Day)
For a long time now, Easter has been celebrated as a typical Christian holiday in South Africa. Though Easter holidays comprise of Good Friday and Easter Monday in most countries, in South Africa, Easter Monday is now known as Family Day. It was renamed in 1995 to accommodate non-Christians in the festivities. In 2019, Good Friday will be on April 19th, while Family Day comes on Monday, April 22nd. No teaching goes on for two days.
Freedom day
Freedom Day is a special holiday which enables South Africans to celebrate the end of the oppressive apartheid rule. This culminated in the very first multi-racial election in the country. Freedom Day will be celebrated on Saturday, April 27th. As a national public holiday, it is a very important occasion for the native South Africans as well as other different ethnic groups. Hence, schools will remain closed on the day.
Workers day
This holiday will be celebrated on Wednesday, May 1st in the South African school calendar and no studies are conducted on this day. Workers' day was originally born out of a prolonged struggle for the rights of workers as well as social justice in the 1800s. The day has been an international holiday in several countries from 1891. In South Africa, Workers' Day has only been officially recognized and celebrated since the 1994 first democratic elections.
National women's day
The National Women's Day is a national holiday used to recognize women's achievements in South Africa. This year, the holiday will be celebrated on Friday, August 9th. The day is a commemoration of the famous 1956 march of a 20,000-strong crowd of women who marched on the Pretoria Union Buildings. They marched in protest against the oppressive Pass Laws, which stipulated that all "black" people apply for travel passes whenever they wanted to travel within South Africa.
It should be noted that both public and private school holidays give children the much-needed break from studies. Celebrating public holidays also instills a sense of patriotism in the young South Africans. Most of the students seize holiday opportunities to spend some quality time with their families and loved ones. Parents also find it important to know the school terms and holiday calendars in advance so that they begin planning early enough on how they will spend the time with their children.
READ ALSO