Emzini Wezinsizwa actors who left us
The sudden passing away of some of the casts in Emzini Wezinsizwa left so many in awe and other actors who are alive in perpetual fear as they do not know who is likely to be the next on the list. But how many have passed on and who are those that are still alive? What also led to the death of these iconic comedy actors? These form part of what this article on Emzini Wezinsizwa is hinged.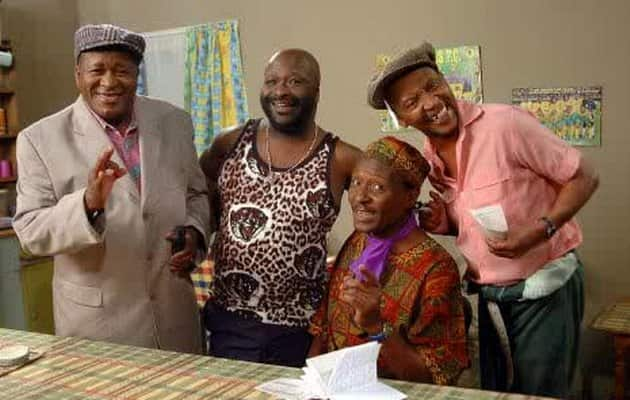 Emzini Wezinsizwa was a situational comedy that reigned so much when it aired between 1994 and 2004 on SABC1 in South Africa. Written and produced by Muziwakhe Shabangu, the TV comedy series focused on five adult males who needed to earn a living and so had to move to a hostel in Johannesburg. Unfortunately, the room that they lived in was such a controversial and popular room as far as the hostel is concerned, and as a result, they never obtained the favour of the authorities of the hostel.
Emzini Wezinsizwa full cast
The following is a list of all the Emzini Wezinsizwa actors who played a role or the other throughout the period that the episodes aired.
READ ALSO: Uzalo Teasers April 2019
Roland Mqwebu
Shadrack Ngema
Jabulani Nkosi
Vusi Thanda
Jerry Phele
Nyembezi Kunene
Bafana Mlangeni
Washington Sixolo
Although, the drama comedy centred around five actors, because of the high salary demands and rebellion, Phele, Mqwebu and Nkosi had to be fired and then replaced with Augustine Shitolo, Siphiwe Nkosi and Siyabonga Twala for the next set of Emzini Wezinsizwa episodes.
Emzini Wezinsizwa actors who have died
Despite the wide acceptance of the comedy series, what became a concern to many viewers is how some of the actors of Emzini Wezinsizwa started dying. As said earlier, this became so frightful that they began to ask themselves of who is likely going to be next victim. So far, the following is a list of Emzini Wezinsizwa actors that passed away.
1. Shadrack Ngema
Known as the Magubane the traditional healer, Shadrack passed away at the age of 65 in December 2015 based on complications that had to do with the heart. While he was still alive, not only was he a TV actor but also a radio personality on Ukhozi FM as well as a voice-over artist.
2. Roland Mqwebu
Roland is an Emzini Wezinsizwa cast who died based on an issue with his kidneys at a Durban hospital in August 2015 lived till the age of 74. While in the comedy-drama, he played the role of Mkhize Khabazela. Before his death also, he was also recorded to have acted on Shaka Zulu as far back as in the '80s.
3. Bafana Mlangeni
Best known as Sibeko, Bafana played the role of a drunken snitch that caused so many havoc for the rest of the men who lived at room 8 hostel. He passed away in a Soweto hospital in July 2015 after he was acclaimed to have suffered from diabetes.
READ ALSO: Imbewu Teasers April 2019
4. Nyembezi Kunene
For anyone who really watched the episodes of Emzini Wezinsizwa, then Mchunu should not be new to them. Nyembezi was the security guard known to be authoritarian in the hostel. Until his death in June 2016, he had to battle with diabetes for a long time. Apart from being a cast of Emzini Wezinsizwa, the last acting days of Nyembezi were on Generations, and there he played the role of Malum' Jabulani.
Emzini Wezinsizwa actor who died recently
Washington Sixolo
Popularly known as Jwara in this sitcom, the account of the death of Washington came after he was said to have suffered from a series of illnesses which also made him to be bedridden for a long time. Based on reports, shortly before he eventually died at the age of 83 in 2017, he was rushed to Chris Hani Baragwanath Hospital from where he lived in Soweto on a Saturday before he died at 11:00 on Sunday morning.
Apart from these great comedic actors that have died, the remaining Emzini Wezinsizwa actors who are still alive are said to be enjoying sound health. These include Vusi Thanda who played the role of Moses Tshawe, Jerry Phele who acted as Thabang Mofokeng and Jabulani Nkosi who was Benson Chirwali in the sitcom. They also have become a source of hope to everyone that all should be well with Emzini Wezinsizwa comedy.
READ ALSO: 20 best Gospel artists and singers ever
Source: Briefly News