Here are the 10 richest people in South Africa
South Africa is a country with lots of opportunities filled with aggressive business minds. These minds have taken advantage of the opportunities to make their way to Forbes. The mining industry, for instance, has the richest black man in South Africa. Read on to find out about the richest people in South Africa.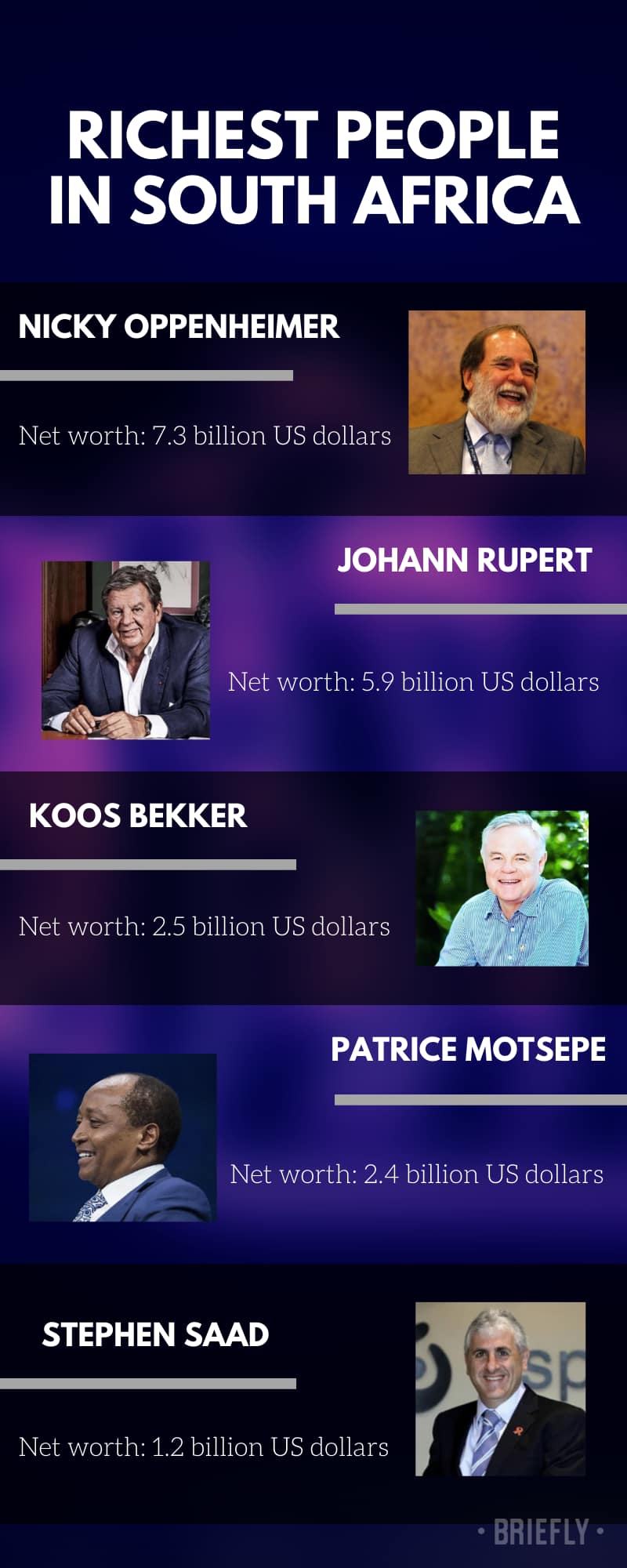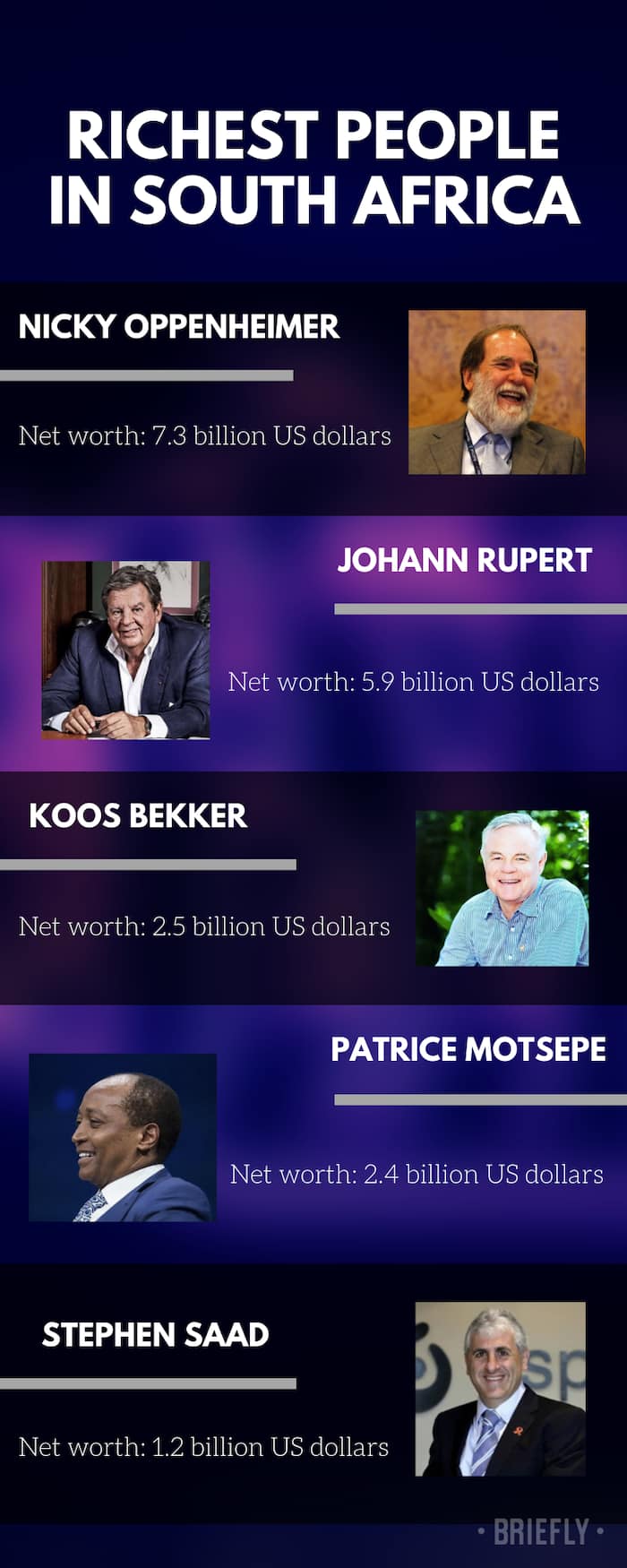 The telecommunication and mining sectors are the most influential sectors in South Africa. The richest men who have invested in these two sectors have made it to Forbes. The list of the wealthiest men comprises of white people and one black man. The richest black man in South Africa is Patrice Motsepe, a mining magnate. Do you wish to know more about his style of investing and that of his fellow tycoons? If so, the list of the richest people in South Africa will come in handy.
Top ten richest people in South Africa
1. Nicky Oppenheimer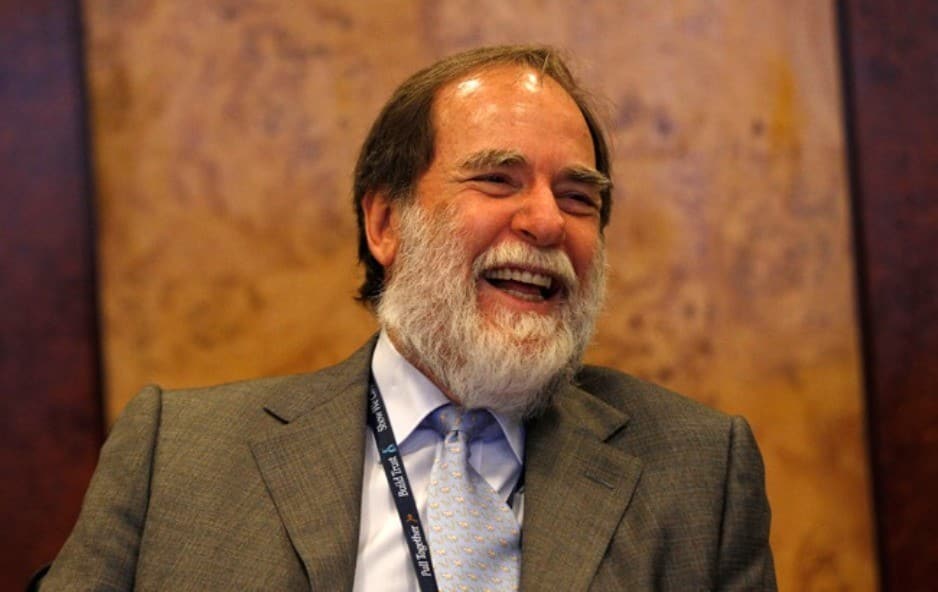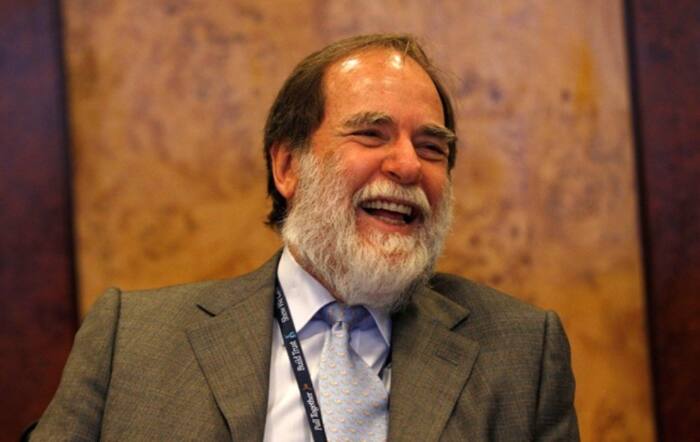 Nicky Oppenheimer is the richest South African. At seventy-three, his net worth is a whopping 7.3 billion US dollars. He is the heir of his family's investment; De Beers diamond mining group, that was established in 1888, and has great control over the diamond industry. He sold 40% of the company's share, which amounted to 5.1 billion US dollars, to another mining group; the Anglo American.
He also owns Fireblade Aviation, a fleet of three planes and a helicopter running chartered flights that significantly contributed to making him the richest man in South Africa 2017. He also earns by owning the Tswalu Kalahari Reserve and pieces of conservation land in Southern Africa, the more reason why he tops the list of the South African billionaires.
2. Johann Rupert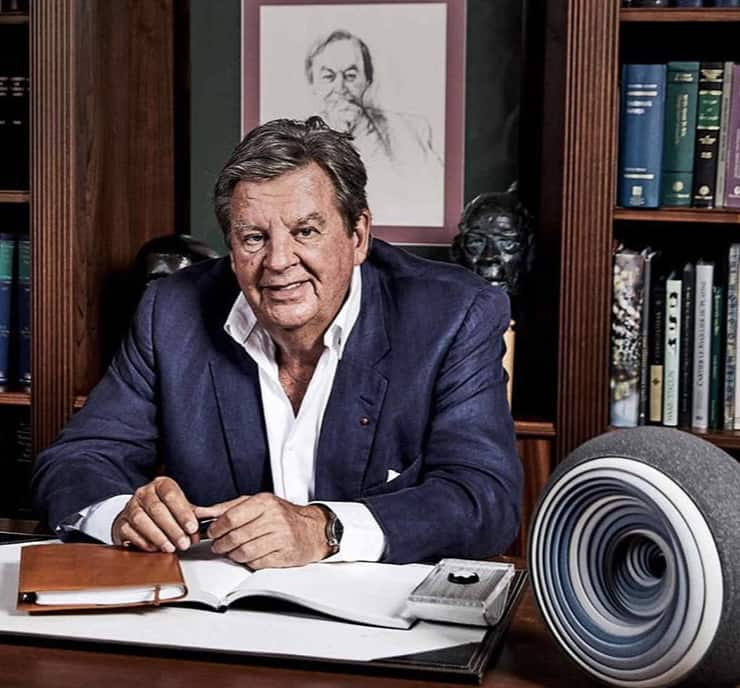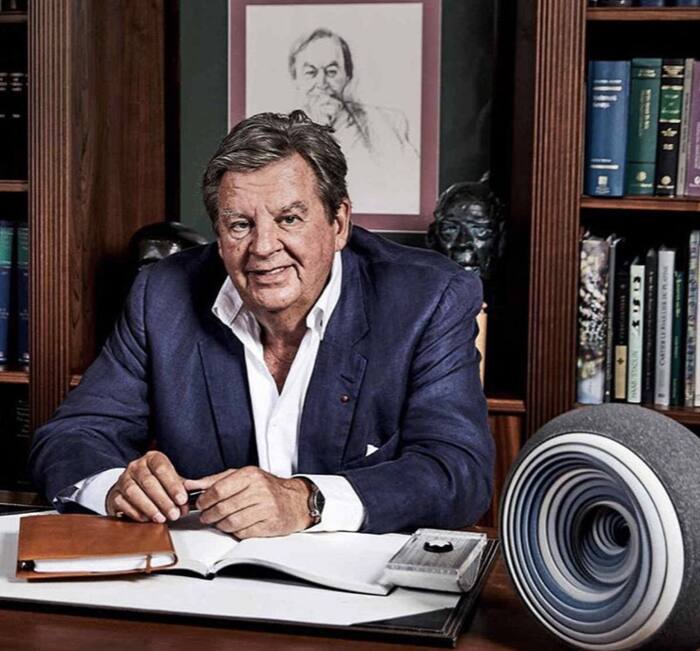 Johann Rupert is the second richest person in South Africa. He has a net worth of 5.9 billion US dollars. The sixty-eight-year-old tycoon deals in luxury goods. He is the chairman of Compagnie Financiere Richemont, a firm that deals with luxury goods from Swiss, and he is famous for brands like; Montblanc and Cartier.
He formed his company after selling assets from Remgro Limited, where he owns 7% shares. He also has a 25% share in Reinet, an investment holding company. He also has a percentage of the Saracens English Rugby team and another company by the name, Anthonij Rupert Wines, which he chose to name after his brother.
Being wealthy also comes with downfalls. One of Johann Rupert's regrets in business is hesitating to acquire 50% of the shares of Gucci whose value was $175 million then.
3. Koos Bekker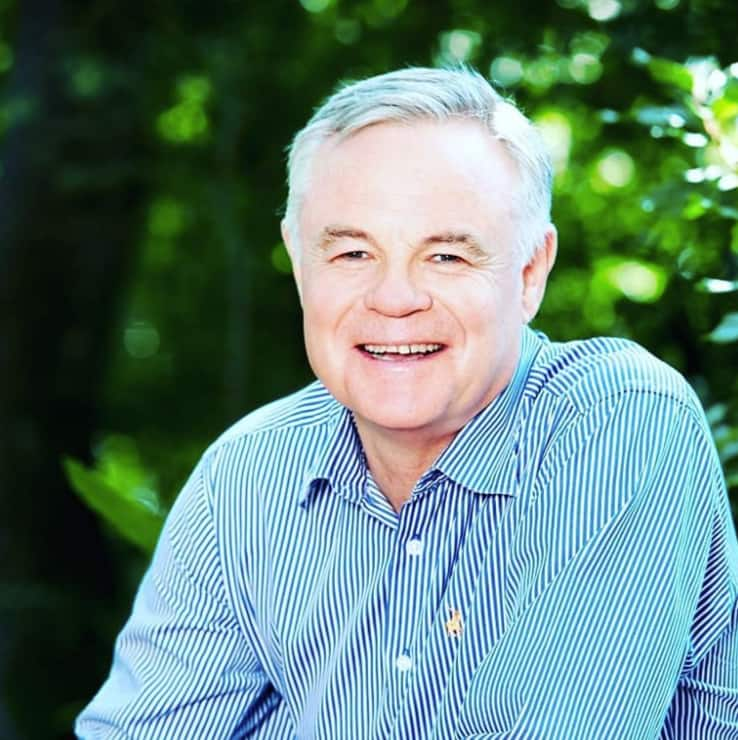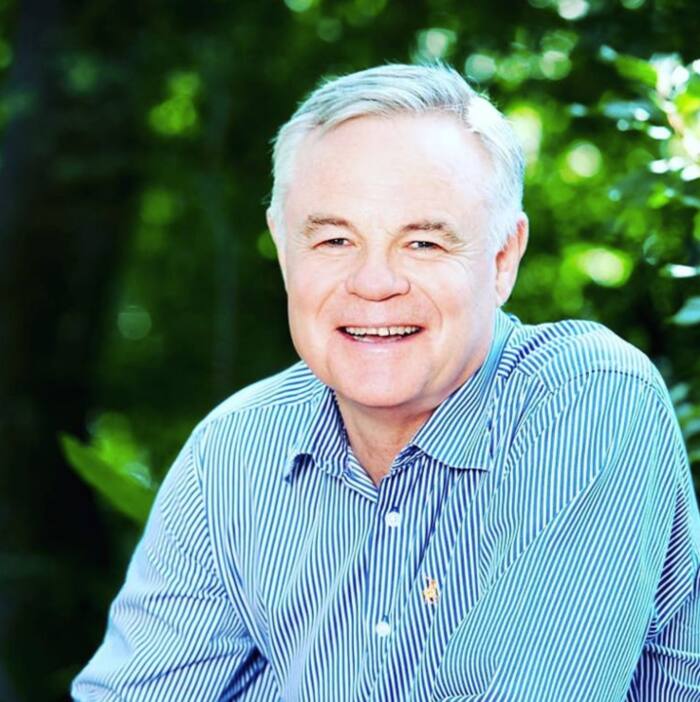 Koos Bekker is South Africa's third richest man. His origin of wealth is the media and a couple of other investments. Koos Bekker is famous for transforming Naspers, a South African newspaper publisher. He changed Naspers into a cable TV powerhouse and an investor in e-commerce. Through him, the company invested in Tencent, a Chinese Internet and media firm, in 2001, and owns a 31% share of the company. Bekker serves as the non-executive director of Tencent, a position that he went back to in 2015 after retiring from the position of CEO in 2014.
Koos Bekker has a net worth of 2.5 billion US dollars.
4. Patrice Motsepe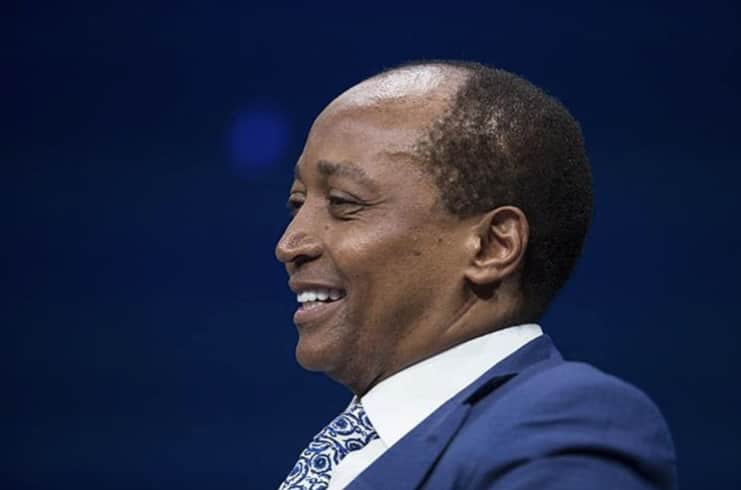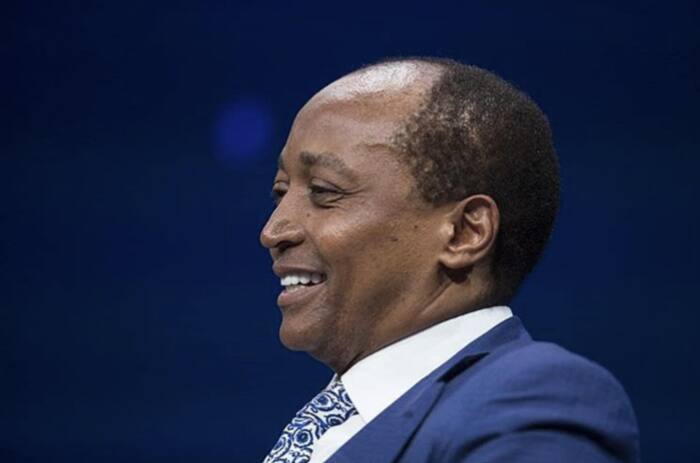 Patrice Motsepe is the fourth richest man in the country and the richest black man in South Africa. He has accumulated his wealth from his mining business. He is the founder and the chairperson of African Rainbow Minerals. He became a billionaire in 2008 and was recognised as the first black African on Forbes.
Apart from earning a fortune from his mining business, Patrice also has a share in a finance firm called Sanlam. He also owns a football club; Mamelodi Sundowns Football Club. His rise in the mining business was significant in 1994 after he bought gold mine shafts.
At the age of fifty-six, Patrice Motsepe has a net worth of 2.4 US billion dollars.
5. Allan Gray
Allan WB Gray is South Africa's fifth richest man. The business tycoon is an old student at Rhodes University. He is a business magnate, who is responsible for founding Allan Gray Investment Management. He has accumulated a net worth of 1.8 US billion dollars.
In as much as Allan Gray is in business to make profits, he also runs a non-profit organisation; Allan Gray Orbis Foundation and the Allan Gray Charitable Trust.
READ ALSO: Allan Gray age, children, wife, parents, foundation, investments and net worth
6. Stephen Saad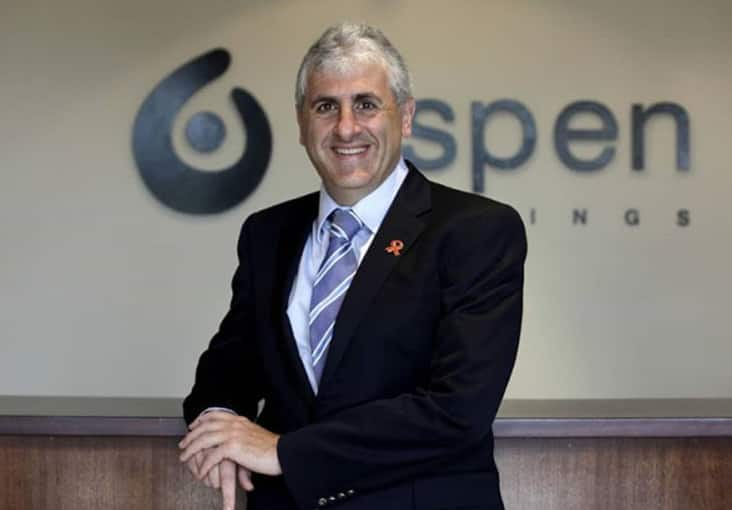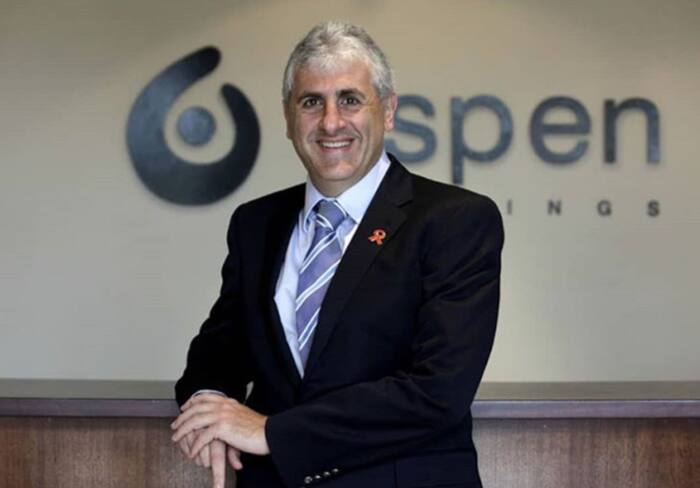 Stephen Saad is South Africa's top ten richest men and prominent businessman. He is also the chief executive and founder of Aspen Pharmacare. Aspen Pharmacare is famous for being the largest producer of generic medicine in the continent.
Before he got into the business, Stephen Saad attended the University of Natal to pursue his Bachelor's degree in commerce, after which he relocated to Ireland and became a chartered accountant.
Stephen has a whopping net worth of 1.2 US billion dollars.
7. Michiel Le Roux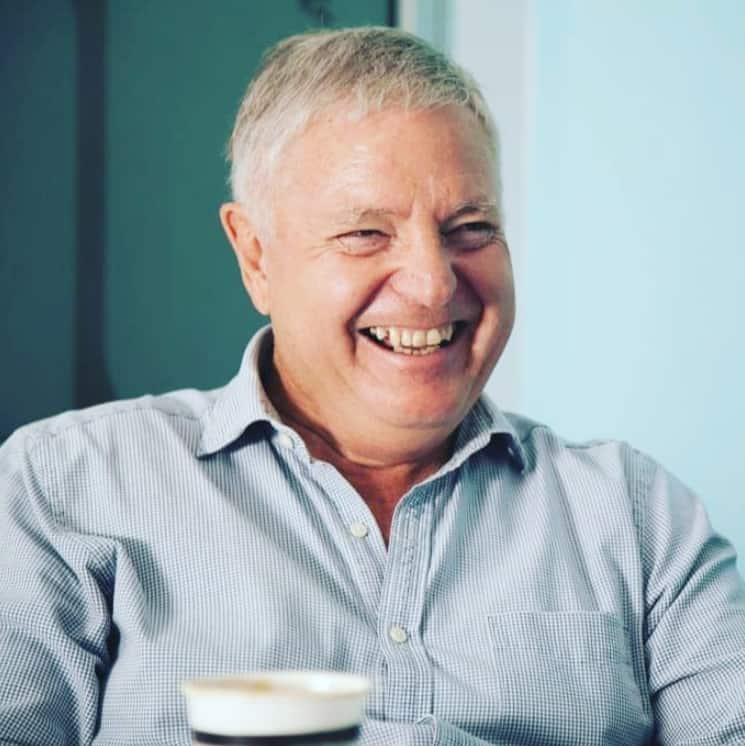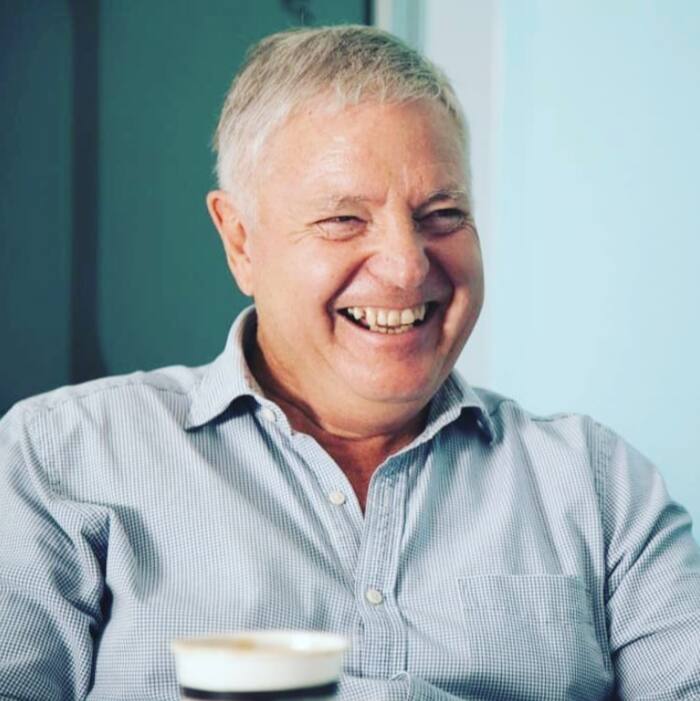 Michael L Roux is among the richest men in South Africa who has accrued his wealth by investing in Capitec bank, where he is a board member. He founded the bank in 2001, and owns 11% of the bank's share. The bank is active on the Johannesburg capital market stock exchange. Michael has served as the chairman of the Capitec bank between 2007 and 2016. Before he got the position at the bank, he used to serve at Boland Bank that is located in Cape Town's hinterland.
Michael Le Roux has a net worth of 1.3 billion US dollars.
8. Christoffel Wiese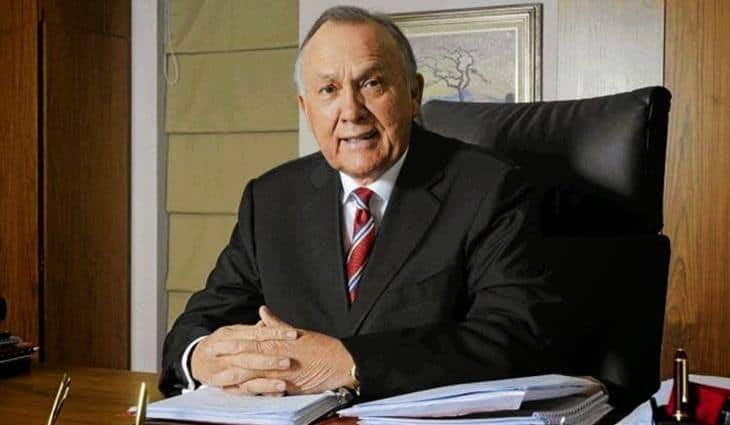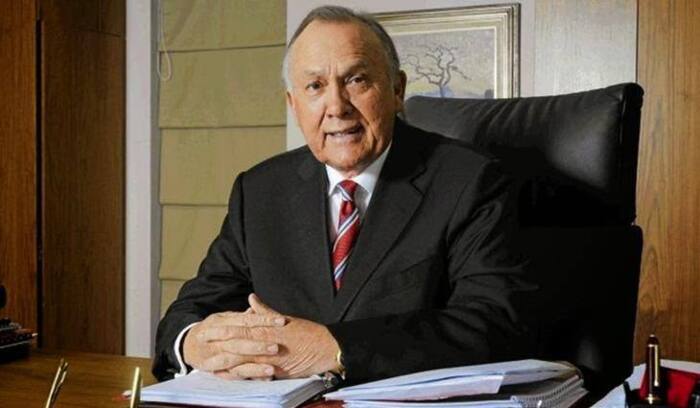 Christoffel Wiese is South Africa's eighth richest man. Surprisingly, Christoffel has accumulated the bigger percentage of his wealth from the retail sector. He is the largest single shareholder of the biggest retail store as well as the chain of 'Shoprite' supermarket. He is also the chairman and a shareholder in Pepkor. In addition, he is a shareholder in other seven companies that trade publicly.
Christofel Wiese has a net worth of 1.1 US billion dollars.
9. Jannie Mouton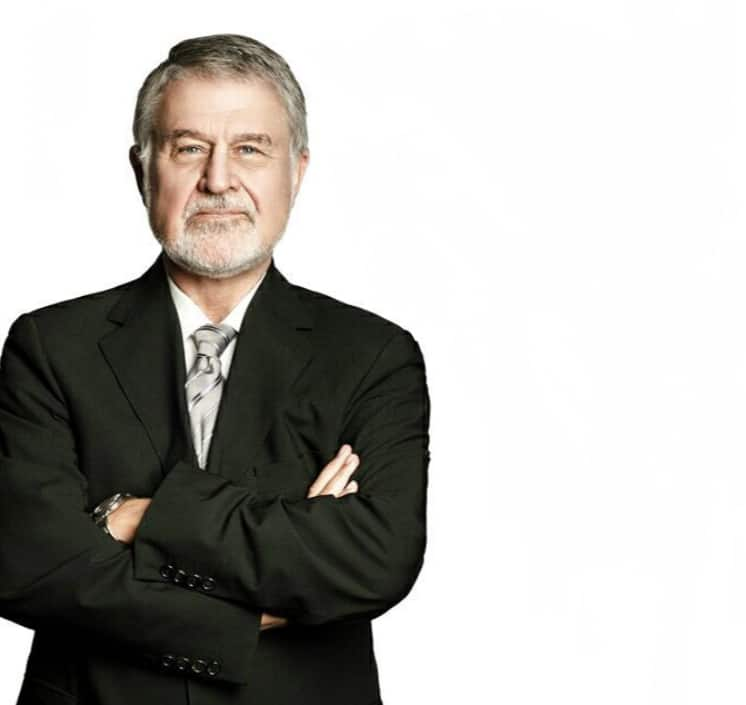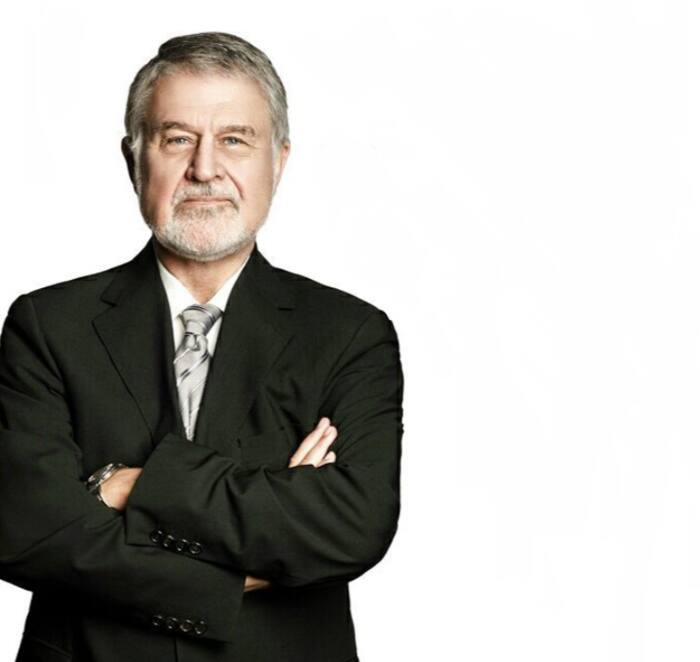 Jannie Mouton is a prominent investor and a chartered account. He is the chairperson and founder of the PSG group, one of the most successful investment companies in South Africa. The company is famous for dealing in private equity, financial services, education and agriculture.
Before Jannie Mouton actualised the idea of PSG group, he had a bad experience while partnering at Stockbroking firm Senekal, Mouton & Kitshoff. He was fired from the firm, despite him being the co-founder.
Jannie Mouton has a net worth of 1.06 billion US dollars.
READ ALSO: Jannie Mouton age, children, wife, parents, education, book, Capitec, PSG, foundation and net worth
10. Laurie Dippenaar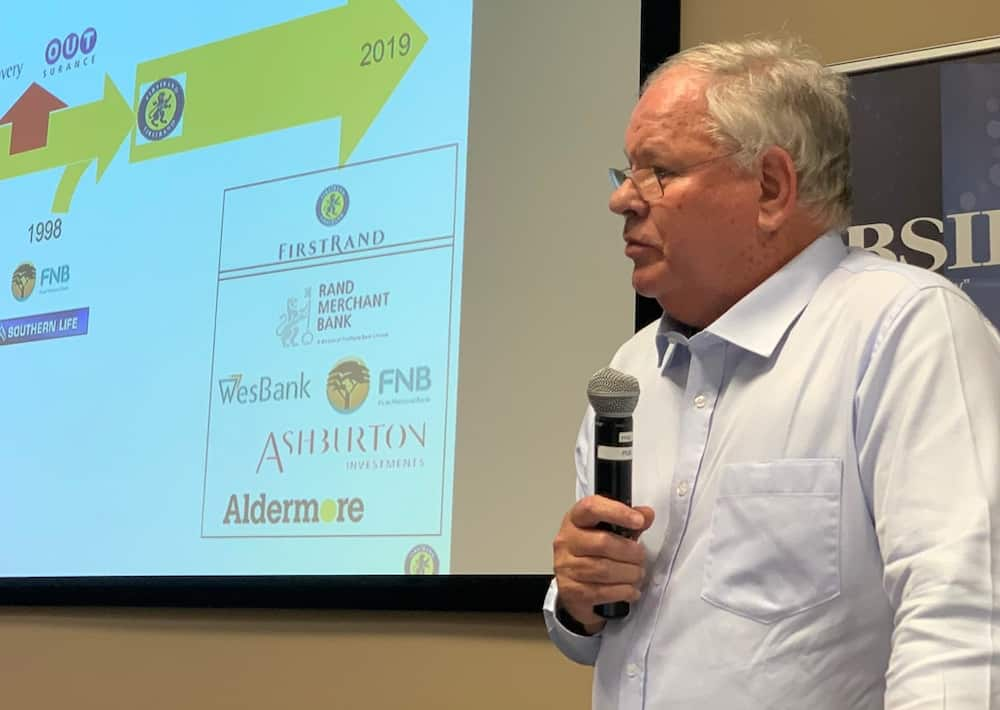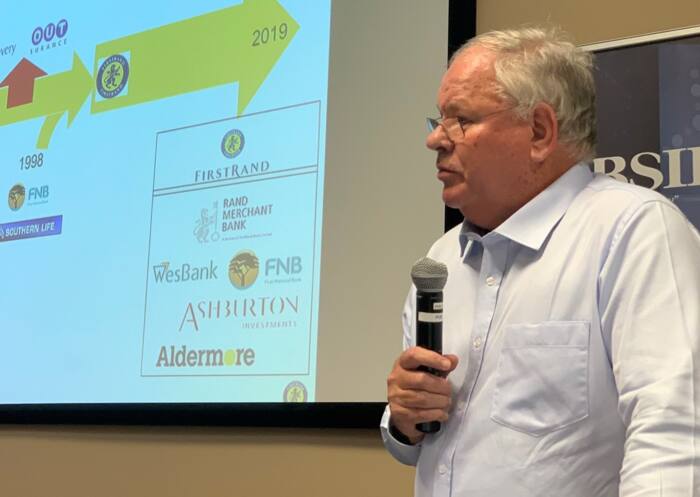 Speaking of a self-made millionaire, Laurie Dippenaar is one of such men. He is the tenth richest man in South Africa. Apart from being a chartered accountant, he is a businessman, a banker and an investor. He collaborated with GT Ferreira and together, they co-founded FirstRand Limited; one of the high street banks in South Africa.
He has a net worth of 650 million US dollars.
One similarity about these people who are the top 10 richest in South Africa is that they have established investment opportunities in the country and made many good things out of them. The country's mining industry, for instance, is one of the most profitable investment opportunities. Another thing is that the majority of them have taken risks; some have even gone to the point of getting into loans to raise funds to invest.
Top richest rappers in South Africa
South Africa's music industry is also well established, to the point of being a lucrative business opportunity. The sector is home to a good number of artists who are earning a fortune out of it. The top richest rappers in South Africa include some of the best musicians worldwide, and here are the richest three rappers among them.
1. Die Antwoord
Die Antwoord is an incredible group of rappers that took the industry by storm in 2009. The group that comprises two artists have been consistent with their music. So far, they are the wealthiest rap group in the country.
READ ALSO: Die Antwoord biography: wiki, members, movie, breakup and net worth
2. AKA
AKA is the second wealthiest rapper in the country. His most significant break was in 2011, although he nurtured his talent from his childhood days. As of date, AKA net worth is $12 million.
3. Cassper Nyovest
Cassper Nyovest is one of the luckiest musicians in the country. He has been in the industry for not so long and is among the wealthiest musicians.
Wealthiest politicians in South Africa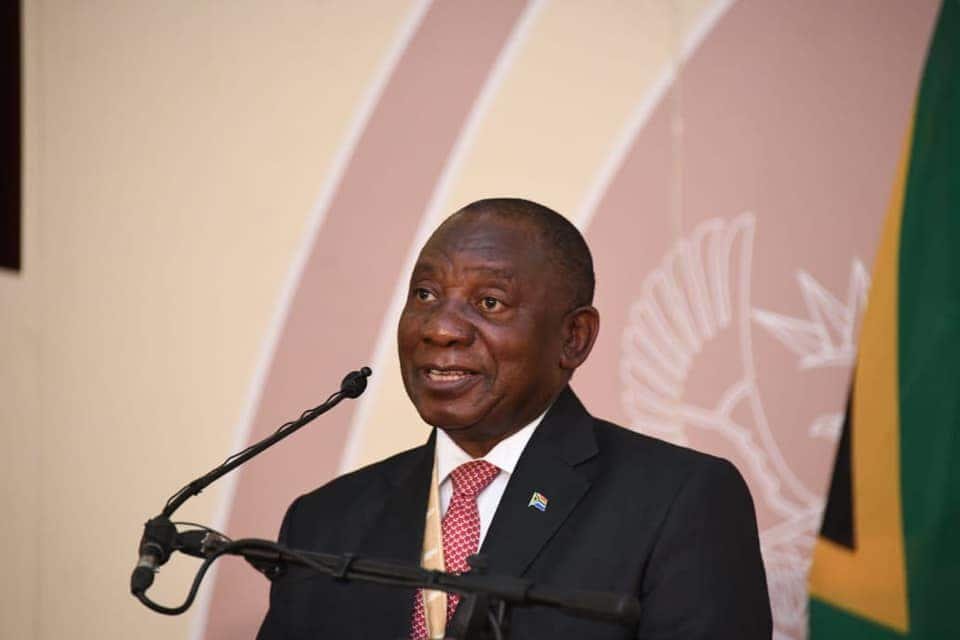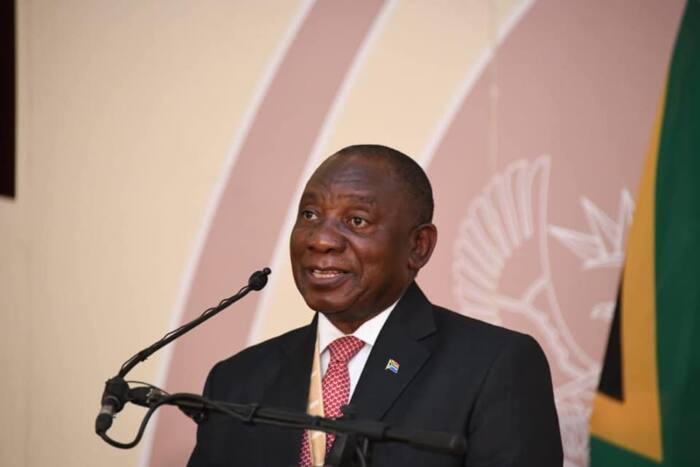 Politicians also have accrued wealth from the businesses and investments that they own. The two wealthiest politicians in South Africa are President Cyril Ramaphosa and Tokyo Sexwale. Ramaphosa net worth has been an issue of concern recently. From the businesses that he has, Cyril Ramaphosa net worth is estimated to R6.4 billion as of 2018, whereas, Tokyo Sexwale net worth is R2.14 billion.
If you desire to join these richest people in South Africa, whose pockets are heftily loaded with cash. Their approach to investment has also pointed out the most lucrative business opportunities. You might be sleeping on talent, and if so, it is time to get up and take that risk.
Nicky Oppenheimer
Johann Rupert
Koos Bekker
Patrice Motsepe
Allan Gray
Stephen Saad
Michiel Le Roux
Christoffel Wiese
Jannie Mouton
Laurie Dippenaar
Die Antwoord
AKA
Cassper Nyovest
READ ALSO:
Youngest millionaires in South Africa 2020
The 3 times DJ Sbu showed his fans how to do that hustle thing
Man becomes billionaire despite his US visa being denied 8 times
Source: Briefly.co.za