Would you call yourself South African if you had no clue about who Winnie Ntshaba is? I bet not. The latter is a household name in the country's entertainment industry. She has been gracing the screens for the different roles that she has played in several South African soapies. Her journey towards becoming the icon that she is now is quite admirable. How about looking into her personality and what it took to get to where she is? Read on!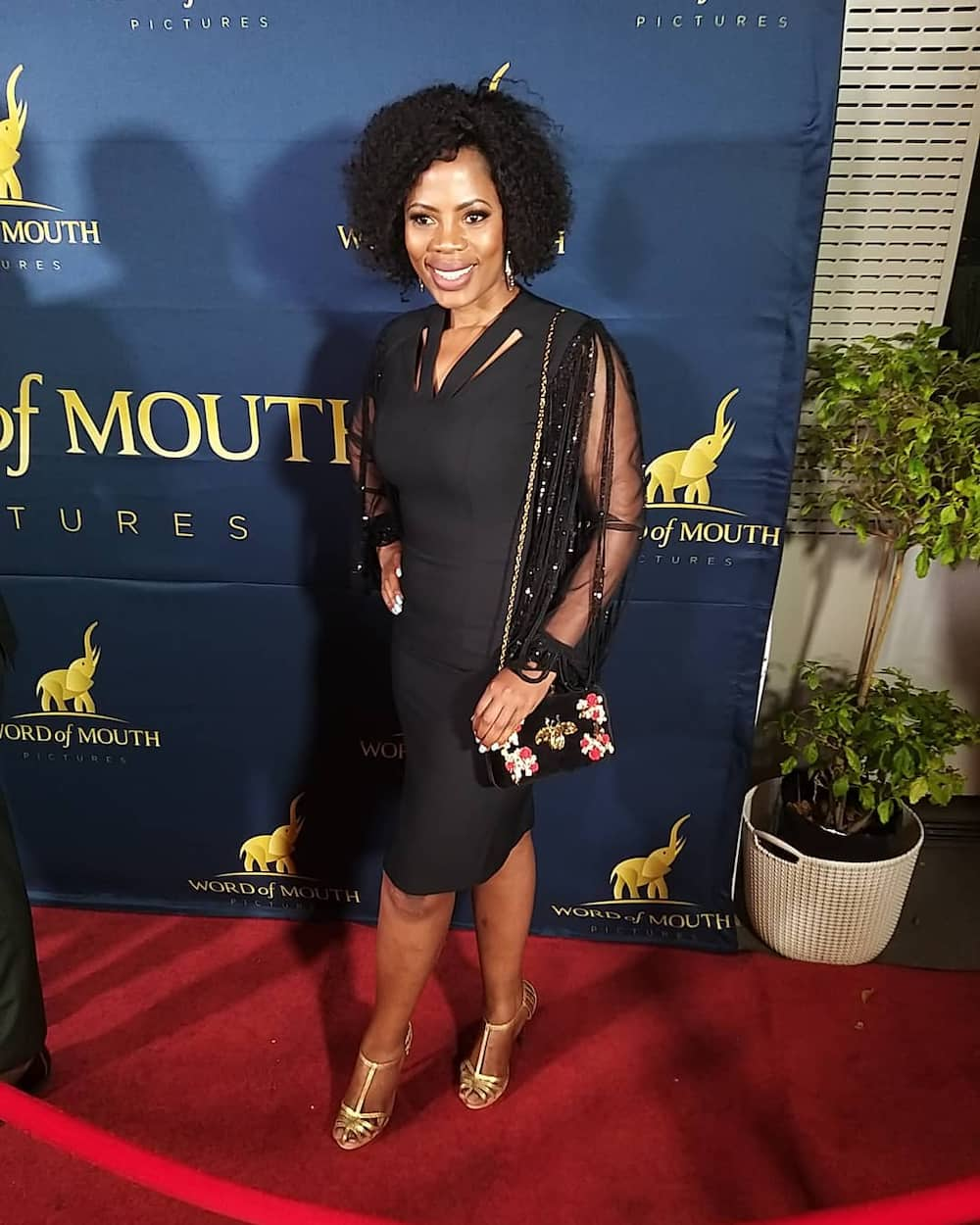 Most people will relate her to the role that she plays in Isithembiso and The Herd: some of the most popular South African drama shows that Winnie Ntshaba has featured in. What most of them do not know is that the journey towards getting this far and gracing the screens had a lot to entail. Her biography gives an account of the steps that she took to get to where she is.
Winnie Ntshaba biography
Winnie Ntshaba age
Bawinile Ntshaba, popularly known as Winnie Ntshaba, was born on the 1st of September 1975. As of date, she is forty-three years old even though Winnie Ntshaba body will make you think otherwise.
READ ALSO: Winnie Ntshaba says she learnt lots from people enjoying her failures
Winnie Ntshaba husband
During the early years of her career, Winnie met the one guy who completely changed her life. In 2005, she fell in love with Thabo Modise, who was a cameraman at SABC. In 2006, the two sealed their union in a beautiful ceremony that left most people admiring Winnie Ntshaba wedding pictures. After three years of being married, the two welcomed their first baby. The name of Winnie Ntshaba child is Phenyo Modise.
Winnie Ntshaba divorce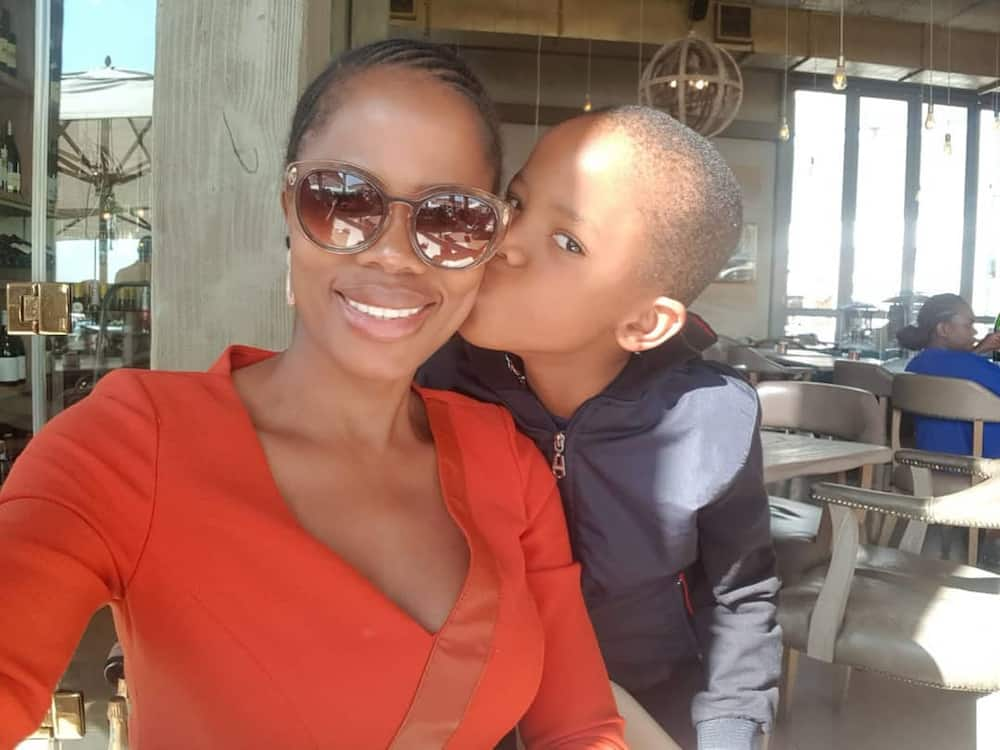 After seven years of being married, the two had their differences that saw the union crumble. Winnie filed for a divorce which was granted later that year. The two have since then joined efforts in co-parenting all in a bid to ensure that their son does not feel the impact of the divorce.
Even though the reason behind the divorce is not so clear, it has been insinuated that the latter could have been in an abusive marriage. In an interview, she mentioned:
One day I was sitting with my son at home and he asked me if his father had ever hit me. I was so numb. I immediately called Thabo and put him on speaker to hear what Phenyo was saying
She has however refuted the claims that her ex-husband could have been abusive. She is comfortable with the position that he is playing in their son's life and appreciates him for co-parenting.
She has not given up on marriage. In an interview with Drum magazine, she stated that the next time she will be getting into another union, it will last forever. She also stated that being in the union has helped her learn better ways of handling things.
Winnie Ntshaba educational background
Winnie's admirable skill in acting is attributed to the course that she studied while at the university. She is an alumnus of the University of Natal where she matriculated with a Bachelor of Arts honours degree in Drama in 1997.
Winnie Ntshaba career
After going through her studies and graduating from the university, the latter chose to become a part of the North West Arts Council where she worked between 1998 and 1999. While at the council, she had the golden opportunity to be a part of the team that was behind the making of Messiah, Who of a Man and Urban Reality. All these were works of art that were done under the direction of Paul Grootboom and Aubrey Sekhabi.
In 2000, Bawinile Ntshaba decided to relocate to Johannesburg and build her career. She trusted her baby steps when she decided to take part in industrial and educational theatre shows while in the city. These shows were produced by AREPP Shoestring Productions. She was persistent in building her skill in this for the four years that followed.
Ntshaba in Jozi Streets
After four years of constantly trusting her gut and being open to learning, she landed a role in Jozi Streets, which is one of the locally produced TV drama shows in the country. That same year, she also landed a role in a film. The name of the film is Yesterday. She was a part of the supporting cast in this film.
In the course of her career, she had the chance to appear in three other productions namely: Shreds where she had a lead role, Dreams where she also had a lead role, and Russian Services Lethal Force, where she was a part of the supporting cast. She was also a part of the cast in Blow, a work of art that was under the direction of Uwelyn.
The birth of Royalty Soapie Awards
In 2013, she experienced a roller-coaster of emotion as she made one of her biggest achievements that year. She also experienced one of her darkest experiences. On the better side of things, she launched Royalty Soapie Awards. The awards were meant to recognise some of the best works of art in the soapies world. The first Royalty Soapie Awards happened on November 2nd that year at the Durban International Convention Centre.
The years that followed were difficult as the awards struggled to be in existence and at one time flopped. She held on to her dream and was persistent about making it a success even though most of her peers made fun of her failure.
Winnie Ntshaba television roles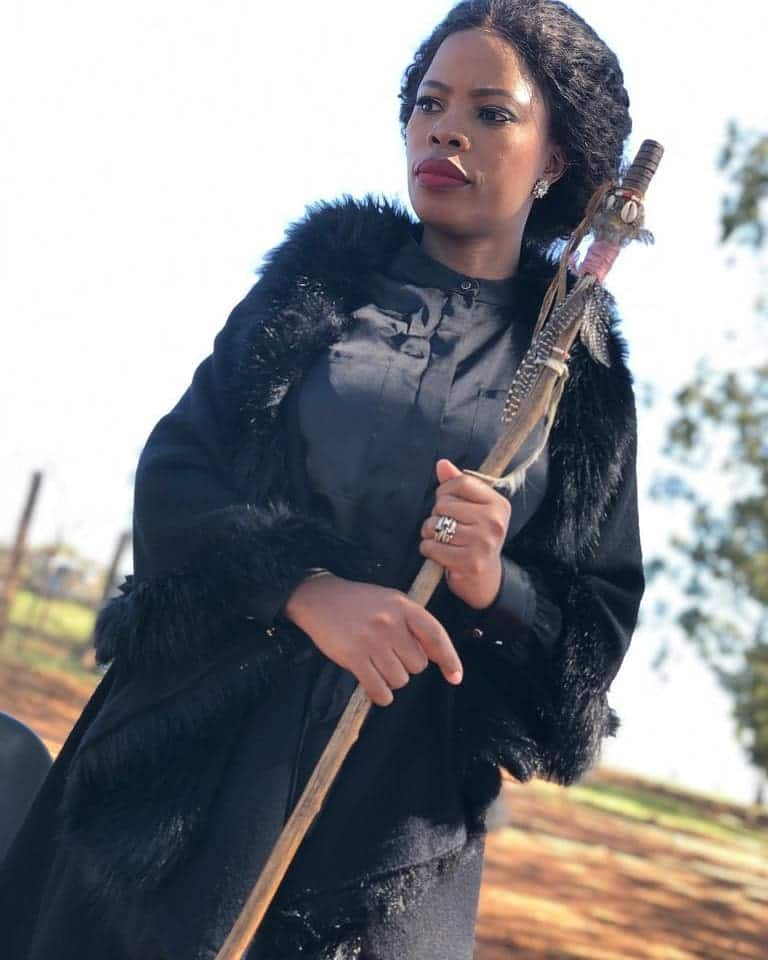 In 2015, she recollected herself and went back to doing her thing. She featured in 'The Road', a South Africa telenovela that used to be aired on Mzansi Magic. In this programme, she used to play a guest role as Funeka.
Apart from this show, she also featured in several other shows among them: Generations Season 1, which was the epitome of her fame and marked the birth of Khethiwe Generations. This was because, in the show, she used to play the role of Khethiwe.
Winnie Modise Isibaya
Featuring in the first season of Generations opened doors for her as she, later on, landed a role in Isibaya. Here, she played the role of MEC Zondi and featured in the third, fourth, and sixth seasons of the show.
Winnie Ntshaba Isithembiso
She also landed a role in Isithembiso, one of the South African drama shows, where she played the role of Lihle and made the appearance during the second and third seasons of the show.
Baniwile Ntshaba The Herd Mzansi Magic
The Herd is another show that the latter featured in where she played the role of MaMngadi during the first and second seasons.
Miss Ntshaba MTV Shuga
Besides making the most and growing her skill in the drama shows, the latter also landed a role in MTV Shuga, an HIV/AIDS sensitisation show that was shot in the country. Here, she played the role of Neliswe Chauke where she featured in the fifth and seventh seasons of the show.
Baniwile also featured in the second season of The River, a Mzansi drama show. In this production, she played the role of Zodwa.
Winnie Ntshaba and Tiisetso Thoka
The duo has been gracing the screen and has been the highlight of The Herd, one of the soap operas that they have featured in. The most emotional moment in the show was when Winnie, who plays the role of MaMngadi, cursed Dingane; a role played by Tiisetso Thoka.
Winnie Ntshaba net worth
It was not easy for Winnie to have a successful career. She, at one point, faced charges for the debts that she had accumulated. She, however, did not give up. Her net worth is greatly attributed to her career as an actor.
Winnie Ntshaba latest news
About one year ago, Winnie Ntshaba and Nico Matlala topped the headlines after it was alleged that she was in a conflict with Palesa, her close friend. According to the sources, Winnie had been spending most of her time with Nico Matlala after Nico and Palesa had broken up. The latter, however, refuted the claims and posted a picture on Winnie Ntshaba Instagram insinuating that Palesa was still a close friend to her and that they had not gotten into any conflicts.
Winnie Ntshaba is the perfect definition that resilience can change your situation. She trusted her gut when she started her acting career and has since then experienced the highest forms of growth.
READ ALSO: