Embeth Davidtz bio: age, children, husband, parents, cancer, South Africa, net worth
Embeth Davidtz is a celebrated South African actress with an American descent. The talented movie star is famous for her starring role as Miss Money in the 1996 film Matilda. Davidtz has also appeared in several other bestseller films and TV shows. Her natural screen character would make almost anyone want to find out her life story.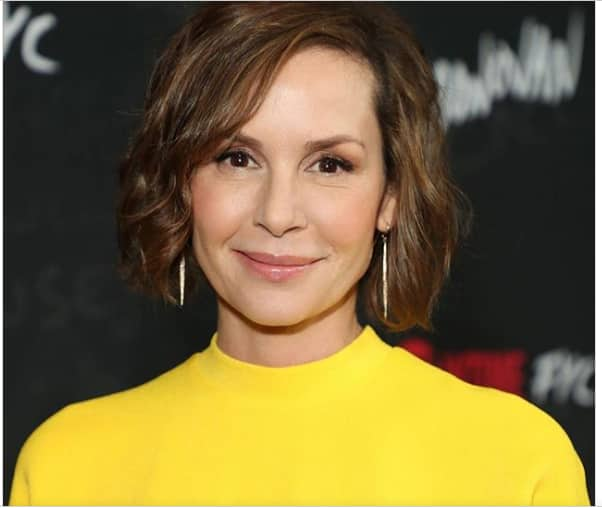 Embeth Davidtz is in the spotlight, having won many followers through her infectious role as a television actress. Davidtz has steadily risen in her career against all the odds to become an influential figure on TV. She is now enjoying the breeze of success, owing to her wealth of experience in the industry.
Embeth Davidtz profile summary
Real name: Embeth Jean Davidtz
Date of birth: August 11th, 1965
Place of birth: Lafayette, Indiana, United States
Embeth Davidtz age: Will be turning 55 years later in 2020
Birth sign: Leo
Nationality: South African-American
Embeth Davidtz Instagram: @embethdavidtz
Embeth Davidtz Twitter: @EmbethDavidtz
Embeth Davidtz Facebook: @EmbethDavidtz
Relationship status: Married
Embeth Davidtz height: 5 feet 8 inches (1.73 m)
Weight: 58 kilograms
Body measurements: 34-24-35 (breast-waist-hips)
Occupation: Entertainer -television actress
Famous for: Starring role as Miss Money in Matilda (1996)
READ ALSO: Zandile Msutwana biography: age, sister, boyfriend, husband, family, tattoo, and stunning Instagram photos
Embeth Davidtz biography
Davidtz traces her roots back to multiple ethnic backgrounds of English, French, and Dutch ancestries. Embeth Davidtz parents are John and Jean. The film star was born to the couple when her father, John, was majoring in chemical engineering at Purdue University. John and Jean relocated to Trenton, New Jersey, where they lived for some time.
The Davidtz's later moved to their native home, South Africa, when Embeth was barely nine years old. Her father took a job as an instructor at Potchefstroom University. The transition from America to South Africa was challenging at first because Embeth had to study Afrikaans before being admitted to local institutions for her studies.
Embeth Davidtz feet and beauty are strikingly noticeable. She has two siblings, a brother and a sister. Embeth Davidtz younger sister is currently enrolled at the Nova Southeastern University for psychology studies. Other Embeth Davitz family members include George Christiaan Davidtz (paternal grandfather) and Emily Lambourn (paternal grandmother).
Embeth Davidtz education
Embeth Davidtz speaking Afrikaans was a huge breakthrough that went a long way in helping her continue with school in South Africa. She studied at The Glen High School, Pretoria, from where she graduated in 1983. She proceeded to join Rhodes University in Grahamstown for higher learning.
Embeth Davidtz career
Embeth made her acting debut when she was 21 years old, with the Cape Performing Arts Board (CAPAB) now called Artscape. She performed in the Romeo and Juliet play at Cape Town's Maynardville Open-Air Theatre, where she rocked the role of Juliet in both English and Afrikaans dialects. She proceeded to take part in several other plays, among them, A Chain of Voices and Stille Nag (Silent Night). These plays enhanced her skills and eventually qualified her for a Tony Award equivalent nomination.
1988 was a good year for Davidtz because she registered her debut in films. That year, she took a small role in the American horror movie, Mutator, filmed in South Africa. She then proceeded to take a more prominent role as the daughter of an interracial couple in the soap opera A Private Life. In 1990, Davidtz earned a DALRO Award for her supporting actress roles in the Houd-den-bek play. She was also nominated for the Esther Roos Award for the same play in the next year.
In 1992, Steven Spielberg spotted her character when she was starring in the Nag van die Negentiende Aouth African film. In 1993, Steven included Embeth in the Schindler's List as Helen Hirsch. This opened her scope by starring in several other Hollywood films.
Embeth Davidtz movies and films
1992: Army of Darkness (Sheila)
1993: Schindler's List (Helen Hirsch)
1995: Murder in the First (Mary McCasslin)
1995: Feast of July (Bella Ford)
1996: Embeth Davidtz Matilda (Miss Jennifer Honey)
1998: Fallen (Gretta Milano)
1998: The Gingerbread Man (Mallory Doss)
1999: Simon Magus (Leah)
1999: Mansfield Park (Mary Crawford)
1999: Bicentennial Man ("Little Miss" Amanda Martin / Portia Charney)
2001: Bridget Jones's Diary (Natasha)
2001: The Hole (Dr. Philippa Horwood)
2001: Thir13en Ghosts (Kalina Oretzia)
2002: The Emperor's Club (Elizabeth)
2005: Junebug (Madeleine Johnsten)
2007: Fracture (Jennifer Crawford)
2009: Fragments (Joan Laraby)
2010: 3 Backyards (The Actress)
2011: The Girl with the Dragon Tattoo(Annika Giannini)
2012: The Amazing Spider-Man: (Mary Parker)
2013: Paranoia (Dr. Judith Bolton)
2013: Europa Report (Dr. Samantha Unger)
2013: Miracle Rising: South Africa (Herself)
2014: The Amazing Spider-Man 2 (Mary Parker)
Embeth Davidtz television roles
1989: Screen Two (Older Karen)
1992: Till Death Us Do Part (Katherine Palliko)
1992: Deadly Matrimony (Dianne Masters)
1997: The Garden of Redemption (Adriana)
1998: Last Rites (Dr. Lauren Riggs)
2001: Citizen Baines (Ellen Baines Croland)
2002: Shackleton (Rosalind Chetwynd)
2004: Scrubs (Maddie)
2006, 2019: Grey's Anatomy (Nancy Shepherd)
2008: In Treatment (Amy)
2009: Californication (Felicia Koons)
2009–2012:Mad Men (Rebecca Pryce)
2015: The Secret Life of Marilyn Monroe (Natasha Lytess)
2016: Ray Donovan (Sonia Kovitzky)
2019: The Morning Show (Paige Kessler)
The actress is represented by Artists Partnership and United Talent Agency in the UK and US, respectively.
READ ALSO: Barry Roux bio: age, children, wife, education, Oscar Pistorius, fees, law firm, net worth
Embeth Davidtz husband and children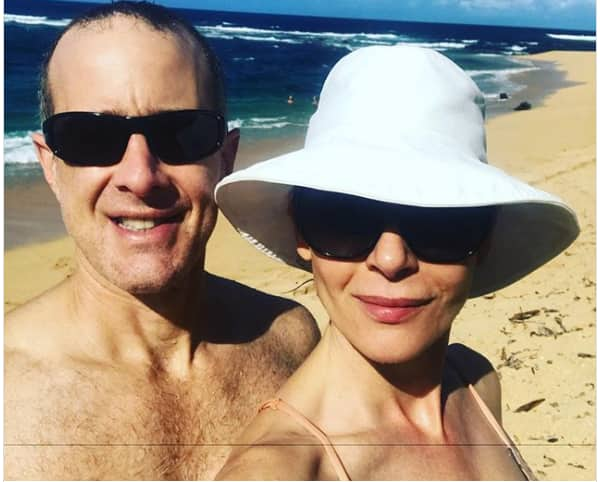 Davidtz is happily married to Jason Sloane, a famous entertainment attorney. The two exchanged their vows on 22nd June, 2002. Before Jason, Embeth dated Harvey Keitel from 1994 to 1995 and then the British actor, Ben Chaplin, from 1995 to 2000.
Embeth and Sloane are blessed with two young ones. Embeth Davidtz children are Charlotte Emily Sloane (daughter, born in 2002) and Asher Dylan Sloane (son, born on 7th October 2005). The family also has 3 cats and 2 dogs.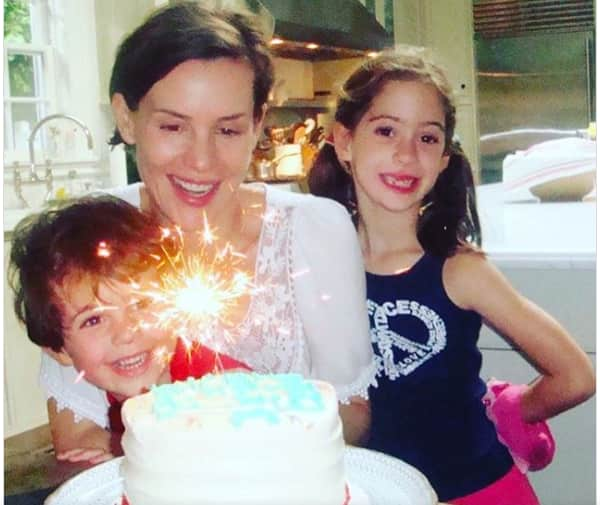 Embeth Davidtz net worth
Davidtz banks in a lump sum from her roles in films and trending televisions shows, making her one of the richest celebrities from SA. She has continually accumulated much riches, now estimated at $5 million.
FAQs on Embeth Davidtz
Embeth's boldness in the film sector is particularly striking to most people. Here are the responses to various questions about Miss Honey of Matilda.
1. How old was Embeth Davidtz in Matilda?
Davidtz attained a perfect impression with the role of Miss Honey in 1996 when she was about 30 years old. She not only managed to properly describe her character but also managed to earn massive followership in the process.
2. Is Embeth Davidtz related to Sarah Paulson?
Who plays Miss Honey? Sarah and Davidtz share close resemblances that often confuse the crowds. It is until recently that many people learned that Davidtz featured in Matilda as Miss Honey, and not as Sarah, as previously assumed. The two stars are not related.
3. Does Embeth Davidtz have cancer?
Does Miss Honey have cancer? Davidtz's portrayal of a cancer survivor character on Ray Donovan left many of her fans with mixed reactions. Davidtz unveiled the saddening news about her condition while interviewing with Vulture. In 2013, the star was diagnosed with Stage-3 breast cancer.
Embeth Davidtz cancer struggles resulted in chemotherapy, immunological treatment, lymph-node-removal surgery, and a double mastectomy procedure. Her right breast was partially reconstructed. Embeth has recently been working closely with producer David Hollander to feature her personal story and surgery experience.
READ ALSO: Tellaman bio: age, full name, associated acts, songs, albums, profile
Embeth Davidtz is the queen of South African-American film and television show business. She is a highly experienced media personality who has gone beyond her limits to pull together a career and a loving family. Which one of Embeth Davidtz South Africa and Hollywood movies or TV roles do you love most? Share with us your opinion in the comments section below.
READ ALSO:
Shane Eagle bio: age, nationality, girlfriend, awards, songs, albums, profile, net worth
Lemogang Tsipa biography: age, father, Troy, profile, movies and Instagram
Madelaine Petsch bio: age, partner, parents, siblings, nationality, youtube, profile
Thuso Mbedu: 10 facts you have to know
Who is Chris Pratt wife? Name, age, son, movies, net worth and pics
Source: Briefly News