Abul Bajandar: Real life 'Tree Man' and the inspiration for the Groot character
Tree Man's idea quickly makes one think about fictional characters such as Groot from the Guardians of the Galaxy movie series. How about their existence in real life? Although such things are beyond reality, Abul Bajandar is not a fictional character but a man with the condition in real life.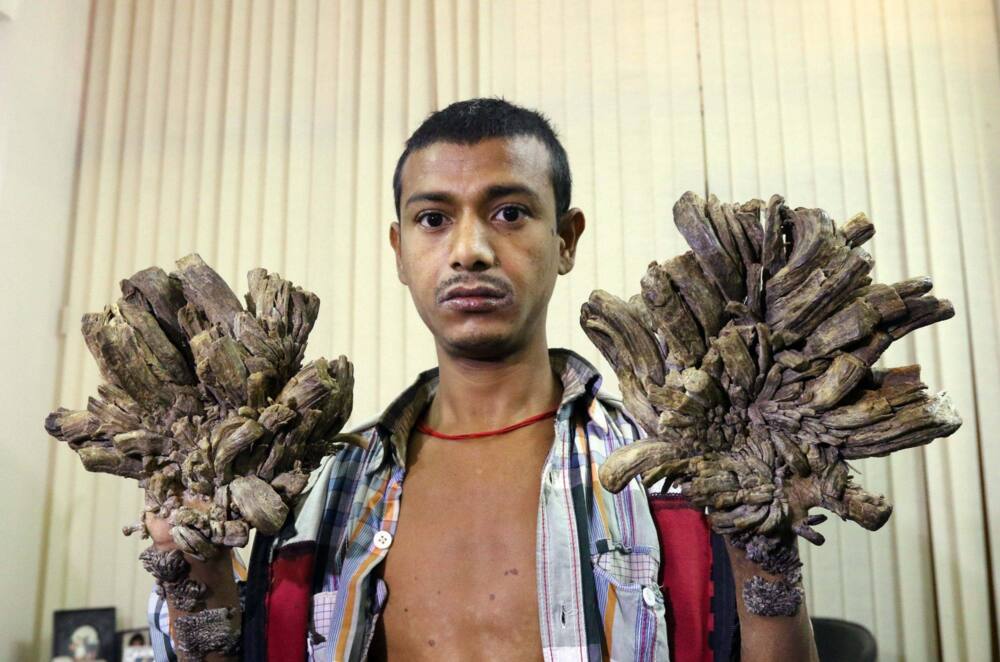 Epidermodysplasia verruciformis, commonly known as the tree man syndrome, is a rare skin condition inherited as an autosomal recessive trait. The skin disorder is characterized by abnormal susceptibility to human papillomavirus. As a result, the viral infection causes the development of wartlike lesions and plaques resembling tree bark, on forearms, hands and feet.
Abul Bajandar Tree Man
For the longest time, Bajandar had been paddling vans for a living like any other person. However, one unlucky rainy day in 2005, he noticed warty roots growing on his forearms and legs. What was Abul Bajandar age when the sprouting began? He was around 16 years old.
Surgery
After many years of living with the condition, Abul underwent a government-funded surgery at Dhaka Medical College Hospital in Bangladesh to remove the lesions. The growths which first appeared in 2005 weighed around 5kg on removal. Over the years, he underwent more than 25 surgeries to remove these growths.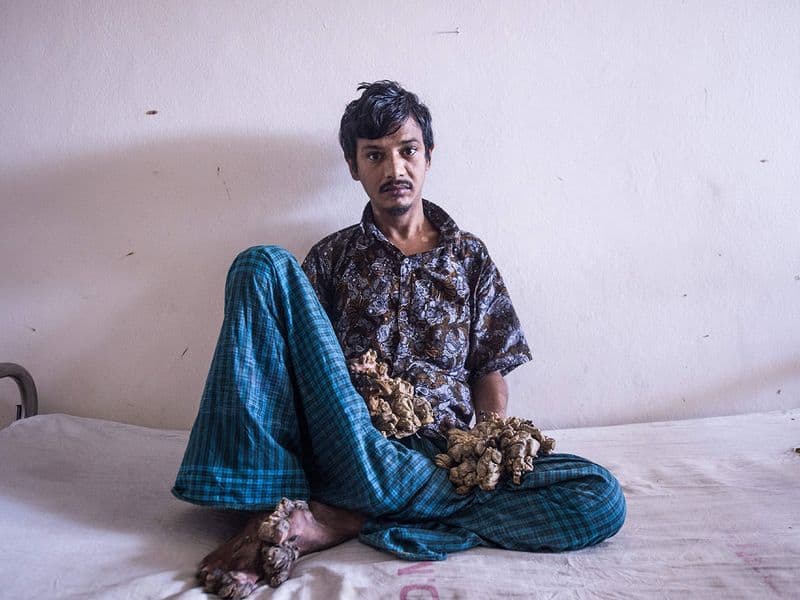 Abul Bajandar after surgery
Tree Man was better after the surgery until he interrupted his treatment and surgery schedule. His condition returned in May 2018. Initially, the doctors had requested him to return for further treatment regularly even though he failed to adhere to these instructions.
He went back to his scheduled treatment in late 2018 even though the syndrome had significantly worsened and spread all over his feet and arms. The doctors stated that he needed to undergo between five and six surgeries to bring the condition under control.
Abul Bajandar amputation
In June 2019, Abul felt that the pain was too much for him to handle. He requested the doctors to amputate his arms to get rid of the unbearable pain he was feeling.
I cannot bear the pain anymore. I can't sleep at night. I asked the doctors to cut off my hands so I can at least get some relief.
The plastic surgeon handling his case at Dhaka Medical College Hospital said that the board of doctors involved was looking over the amputation option. The board would conclusively partake whatever they would deem best for the patient's health and future.
Abul Bajandar now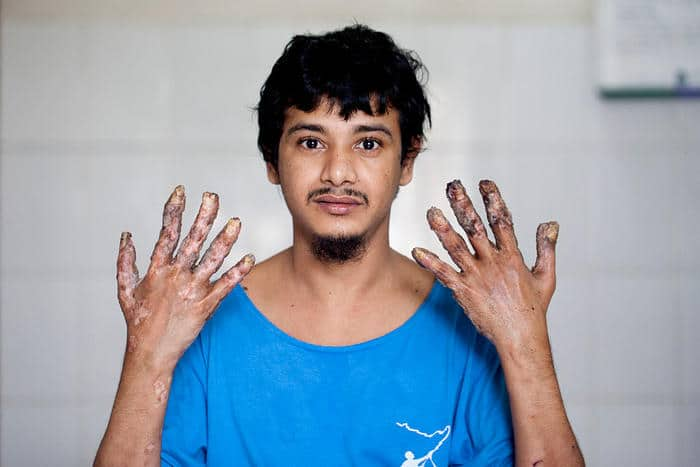 Is Abul Bajandar dead? The Tree Man is still alive and getting better by day thanks to his adherence to his treatment and surgery schedule. So far, he has undergone more than 10 surgeries. Speaking after one of his surgeries, Abul was grateful that he could do things done by other normal people.
I never thought I would ever be able to hold my kid with my hands. Now I feel so much better, I can hold my daughter in my lap and play with her. I can't wait to go back home.
Even though there is no cure to Abul Bajandar skin disorder, cryotherapy, topical creams, and retinoids have been prescribed to remove the growths. The prescription has been working well for him even though it has not resulted in a full cure of the condition.
READ ALSO: Tsakani Maluleke bio: age, husband, education, career, qualifications, profile
Briefly.co.za published the interesting biography of Tsakani Maluluke. Tsakani made history as the first woman to occupy a senior position in the auditor-general's office in South Africa. She is a chartered accountant, and one of her sisters, Basani Maluleke, is the first black CEO of the African Bank in SA.
Tsakani grew up in Soshanguve, Pretoria, and then relocated with her parents to Johannesburg. Although her husband is not known, she has two daughters. Find out more about the great woman.
Source: Briefly News