15 gorgeous pics of Dr Tumi Wife, Kgaogelo Makweya, to date
Kgaogelo Makweya and her multi-platinum selling and award-winning musical husband, Dr Tumisang Makweya, have been an inspiration to many people because of their involvement in the gospel industry. They have been trending recently for alleged fraud, but who is Dr Tumi's wife? She may keep a low profile, but we have 15 stunning pictures of her. Keep scrolling to see them.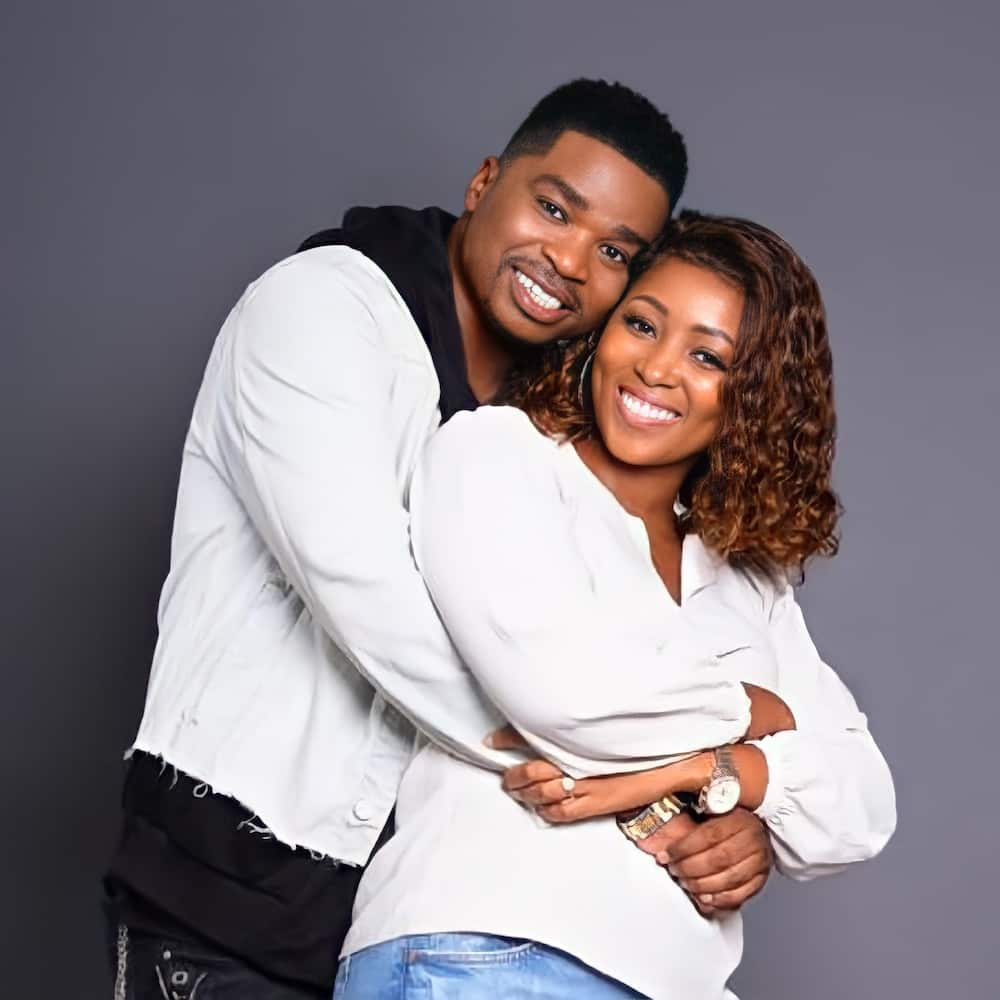 Is Dr Tumi still married? Yes, the gospel artist married his wife, Kgaogelo Sara Makweya, in 2008. They have solidified their impact in the gospel industry since Dr Tumi Victor Makweya quit being a doctor and went into music full time.
Profile
Full name: Kgaogelo Sara Makweya
Date of birth: 6th April
Kgaogelo Makweya age: 36 years
Spouse: Dr Tumi Victor Makweya
Children: Bokamoso, Onalerena, and Khumortlile
Kgaogelo Makweya facts
Kgaogelo is not only very supportive of her successful husband, but she is also the driving force behind his thriving career. She is his manager and wife. The superwoman also has a business and is the founder of Ekse Hello, a branding and marketing company.
The couple has three young sons together. Things were going right until last week when they were arrested by the Hawks' serious commercial crime Investigation team in Johannesburg on alleged fraud charges involving R 1.5 million. They had teamed up with some other two people and ended up making about R 760,000 from the deal.
Kgaogelo Makweya pictures
Despite all the chaos going on, she still regularly updates her social media with exquisite photographs. See some of her best pictures online in this article. Get a glimpse at the lady behind the success.
1. Who knew green and yellow could work so well?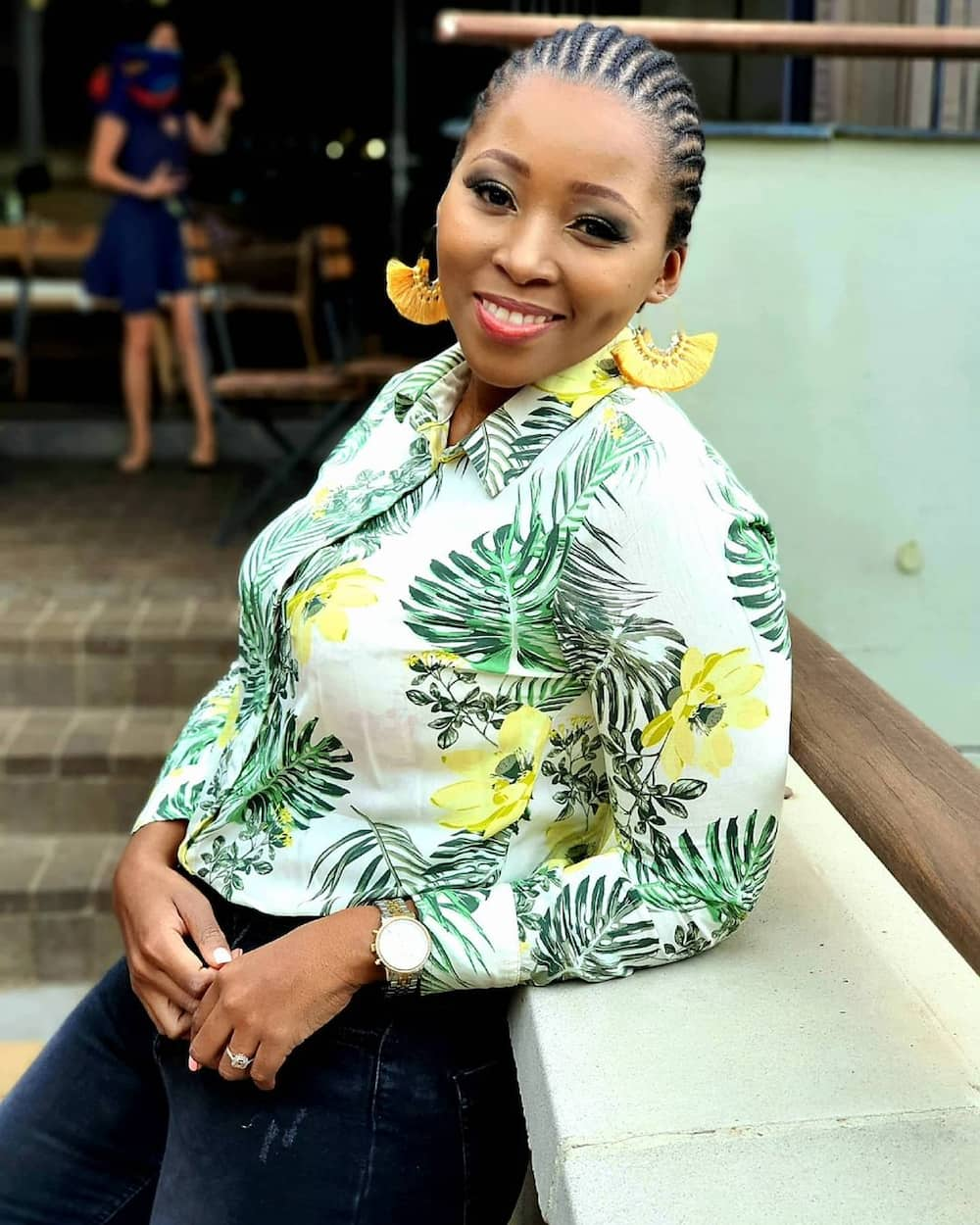 She looks stunning with her cornrow hairstyle and textured earrings. All her accessories go beautifully with the outfit. Not forgetting her flawless make-up look.
2. Girls just want to have fun!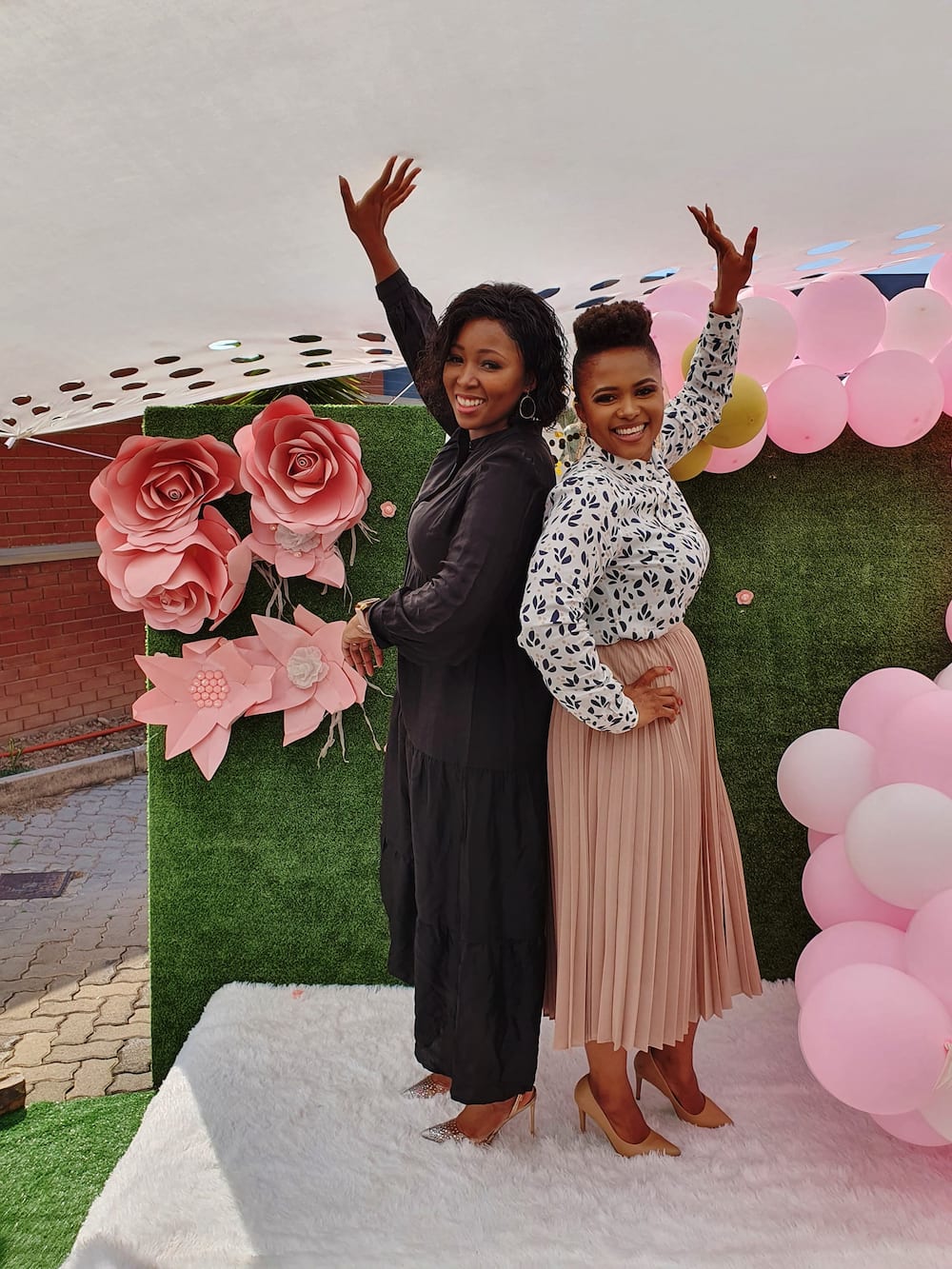 She was at a church event and spared some time to take cute pictures. The pink balloons, faux fur stage, and beautifully done flowers make this picture fun and eye-catchy.
3. Pretty in pink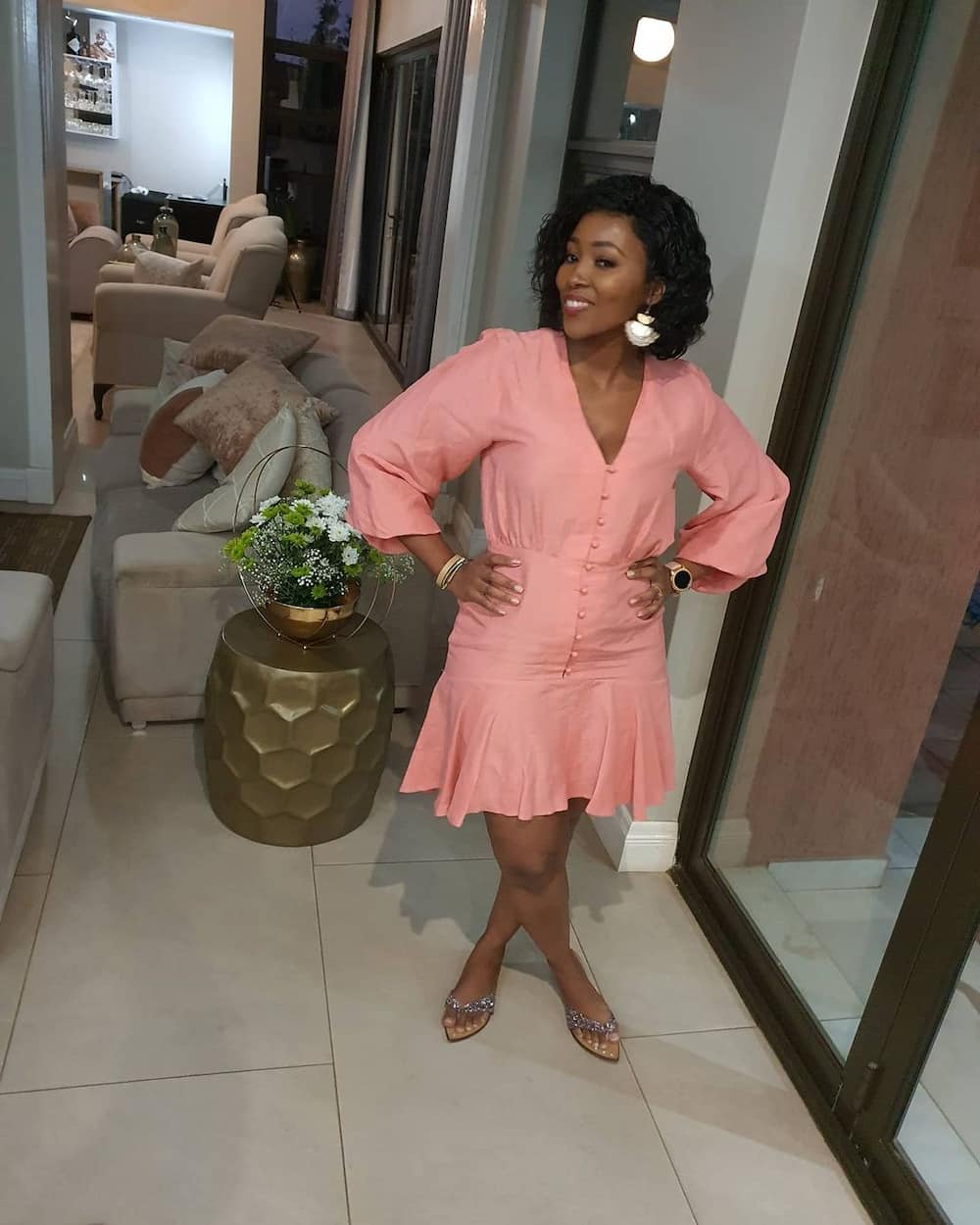 She looks stunning, even without catching a glimpse of the beautiful decor in her home. You can never go wrong with a peach-coloured dress - that's just a fact!
4. Photoshoot ready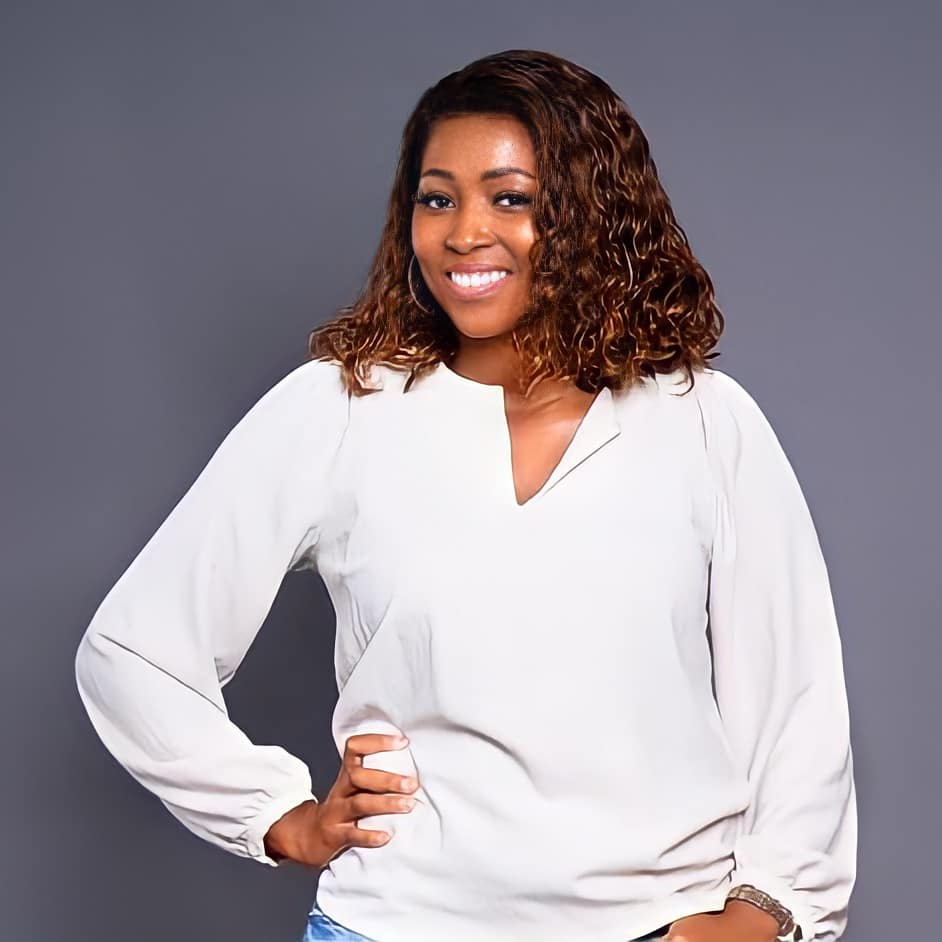 She posted this picture on her birthday, on 6th April. The picture is done so flawlessly. Does not she look phenomenal?
5. A night with friends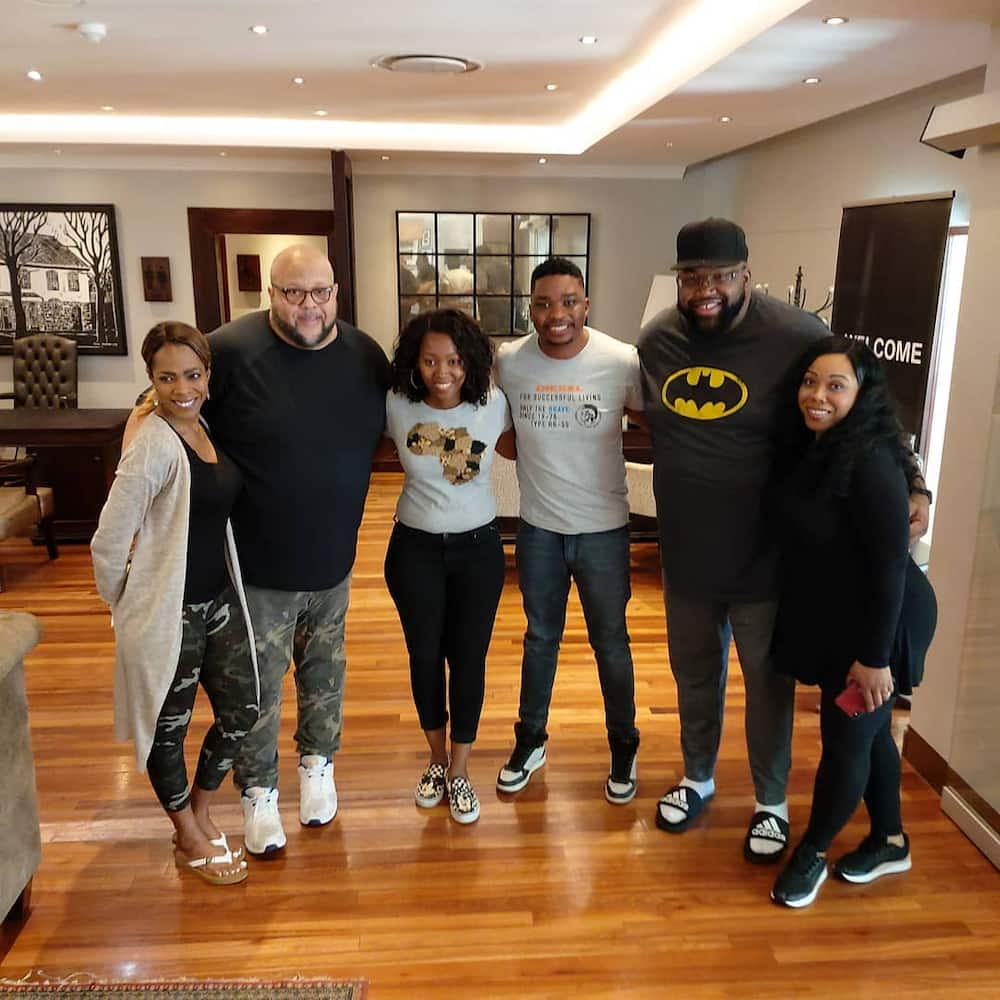 Spot some prominent international gospel players in this picture. Dr Tumi and his wife hosted Fred Hammond and Bishop Cortez Vaughn along with other friends.
6. Keep your friends close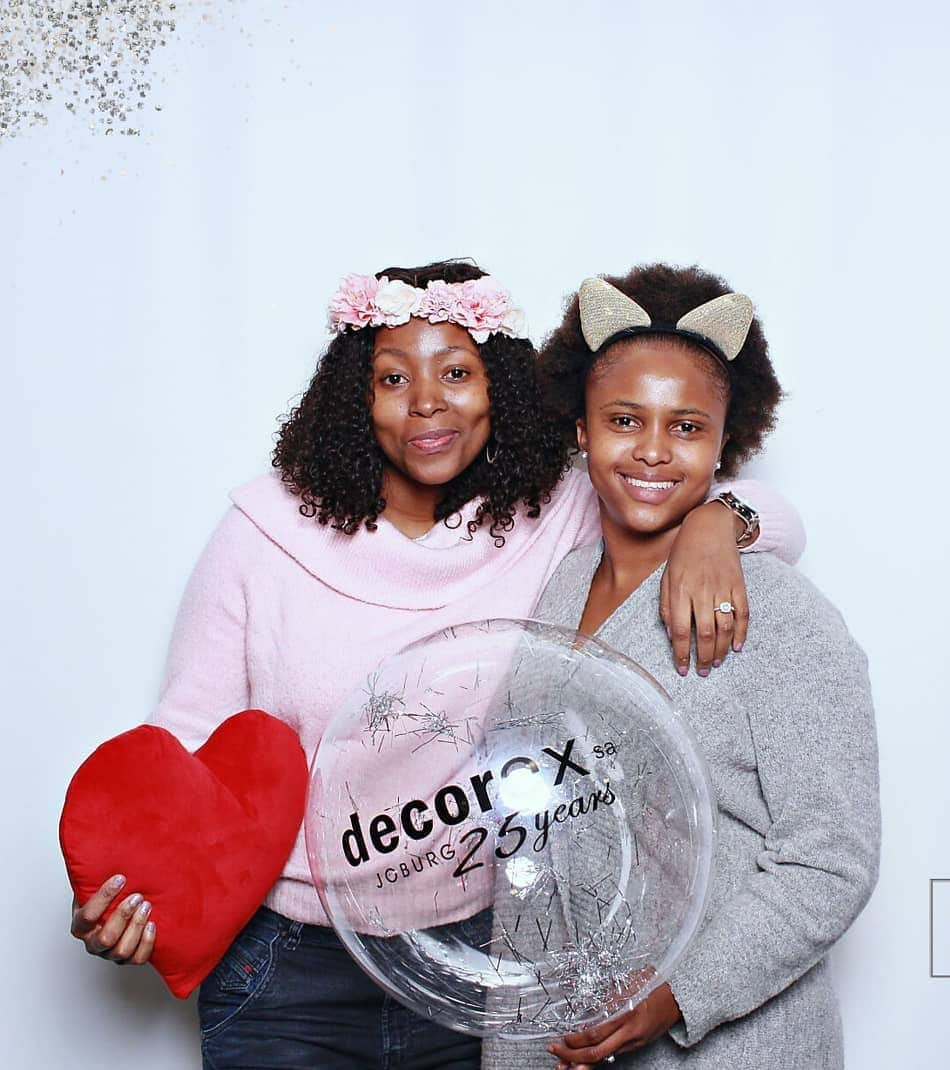 Mrs. Makweya with her friend shasha_ndala. They look beautiful, and they have such fun accessories. The flower crown and cat ears are endearing.
7. Blood is thicker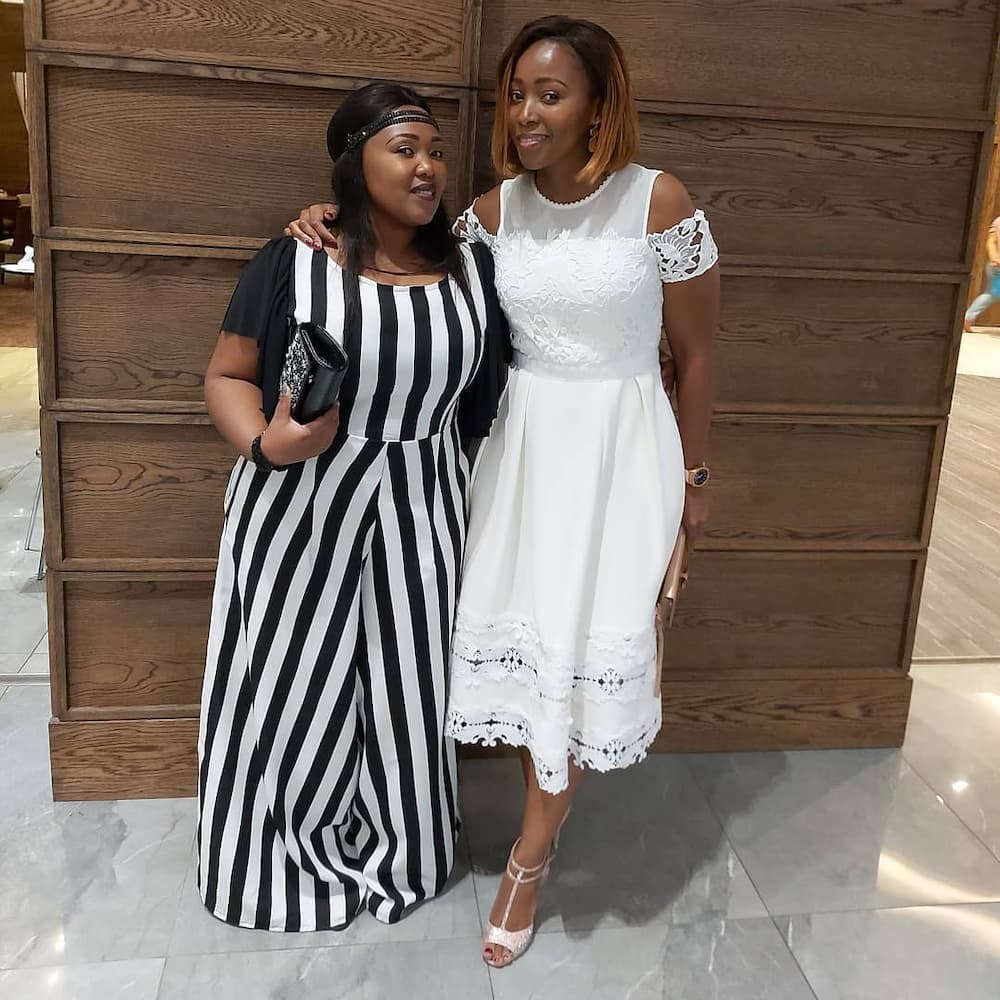 What a beautiful striped jumpsuit. Kgaogelo looks lovely in a white lace dress, and her cousin looks just as striking in her outfit.
8. Smile even when it hurts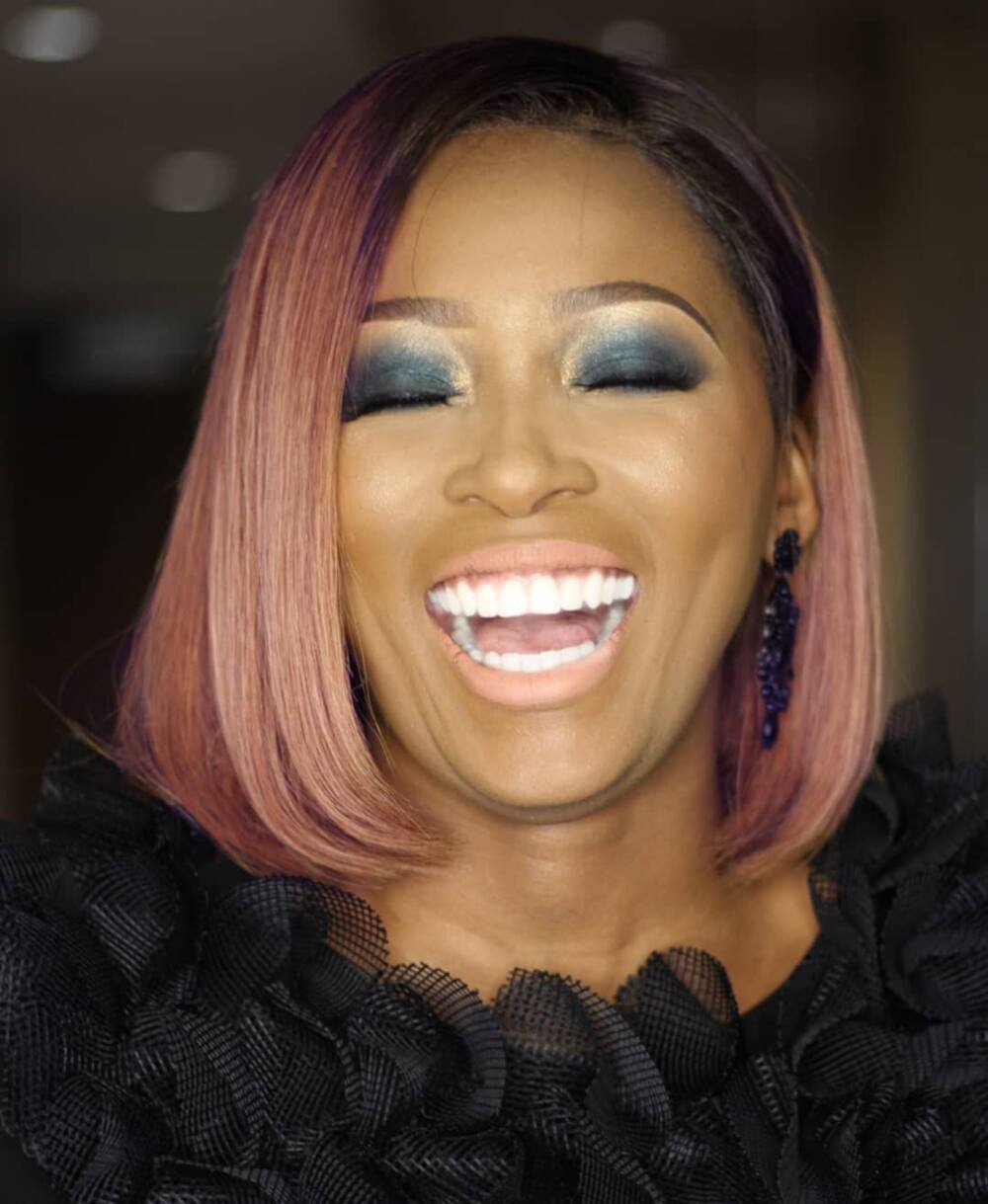 Her smile is absolutely radiant, she captioned this picture as;
I know it's not ladylike, but sometimes you just have to live....when you laugh, give it your all
9. Out in the wild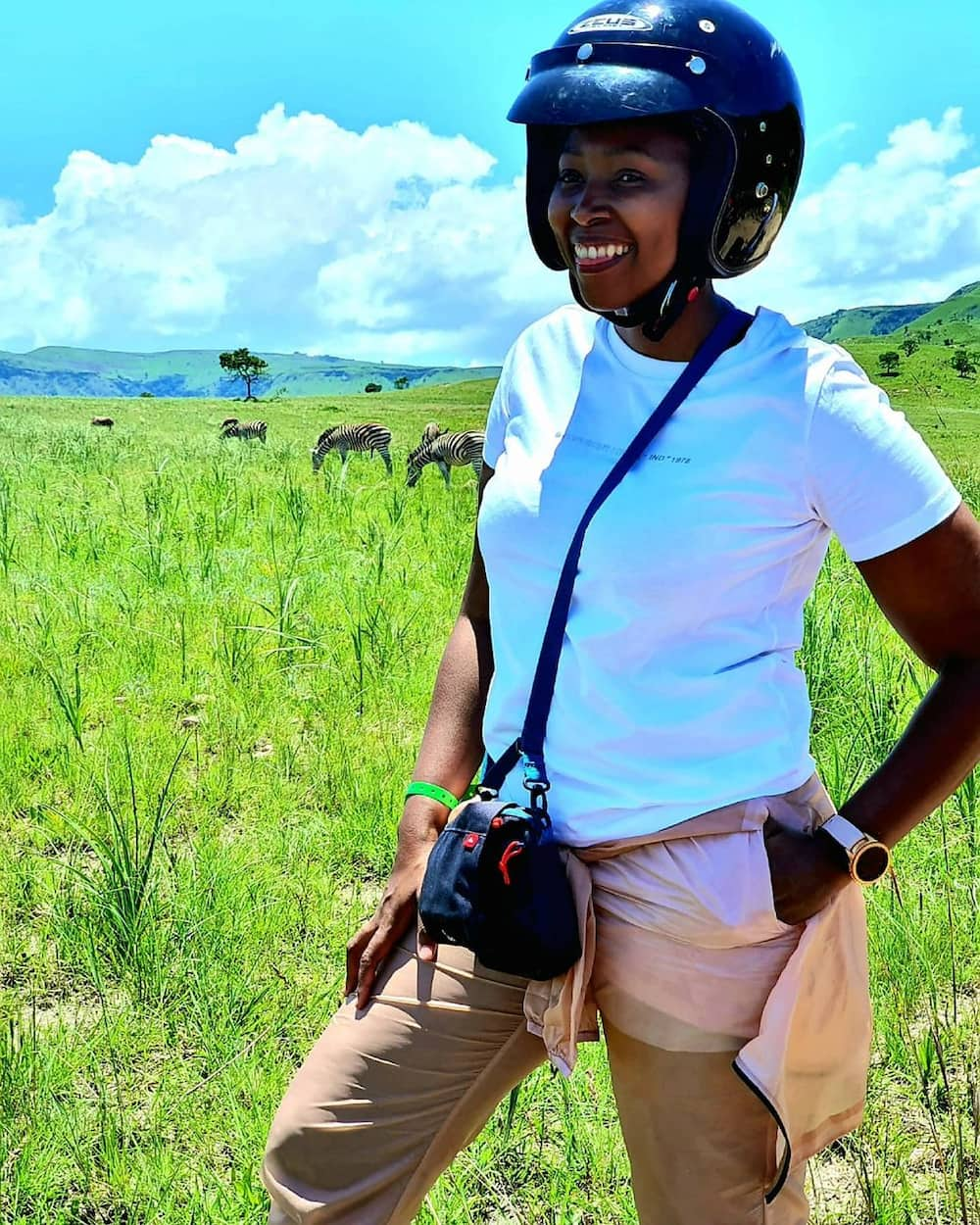 We see her creating memories and being one with nature. Spot the zebras in the background and the stunning South African landscape as well.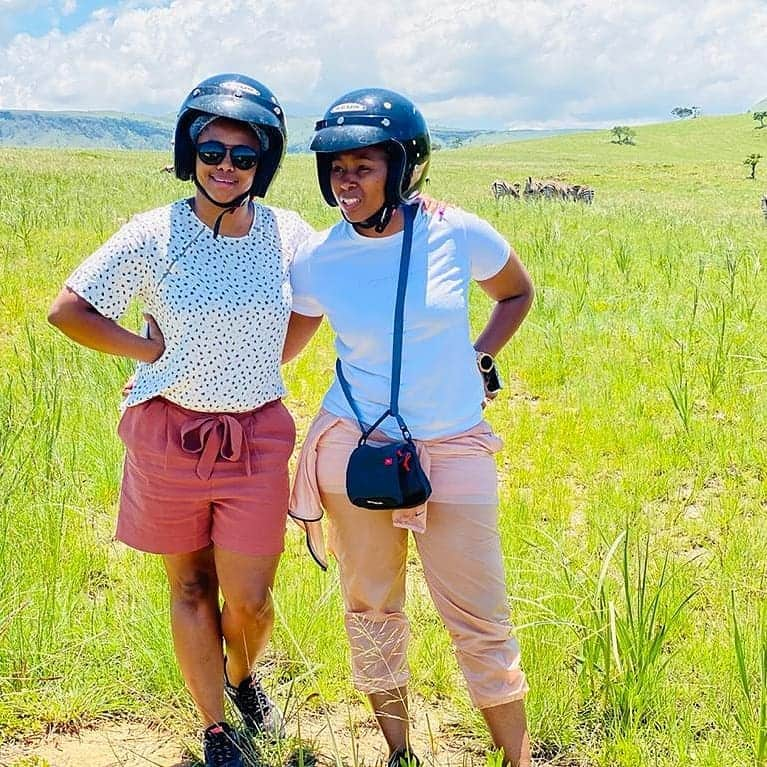 The pastel pink colours go well with the beautiful landscape. Sara and her friend look ravishing as well. Taking a break in nature is always the best way to get that glow.
10. Platinum haircut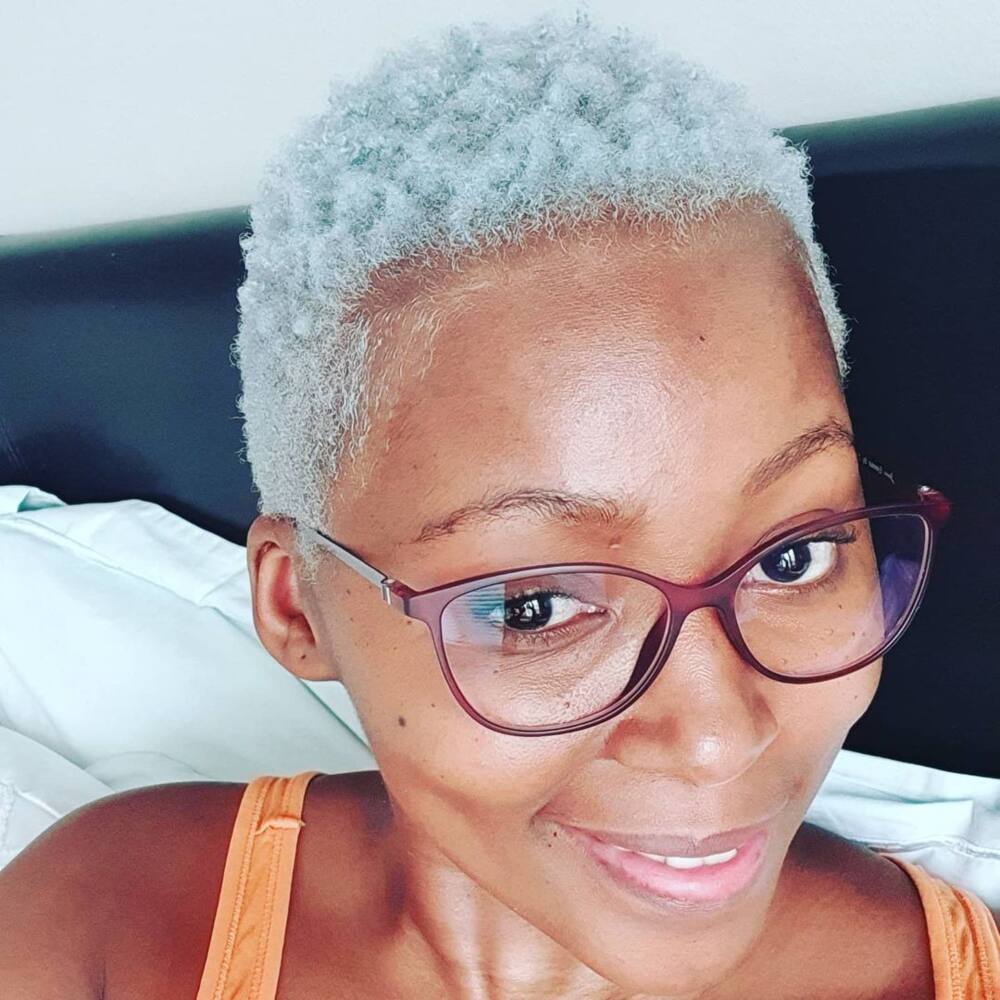 Kgaogelo is a daring and bold woman because it takes guts to rock platinum hair. Nevertheless, she looks incredible in this selfie.
11. Stunning sunnies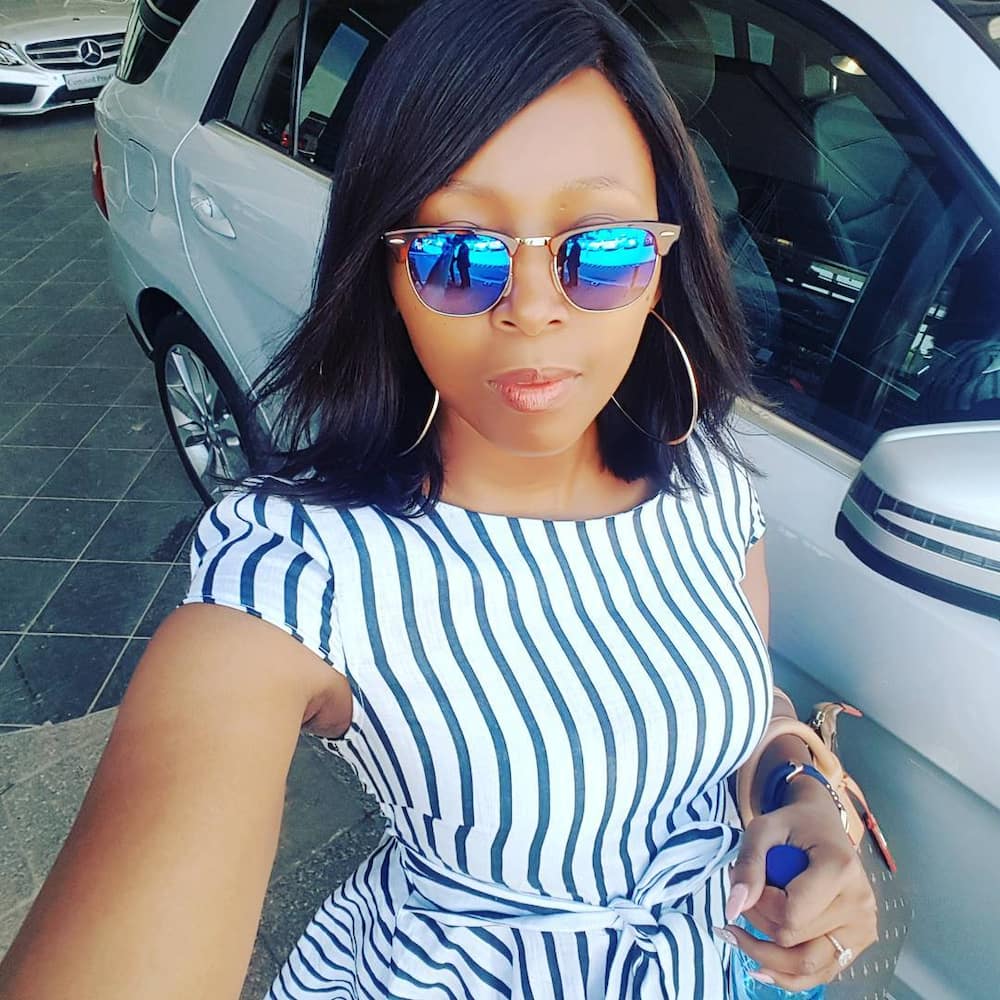 Sara did it once again with beautiful accessories, reflective sunglasses, beautiful nails, a blue watch, and a brown bag. She is truly a style icon.
12. Beautiful blue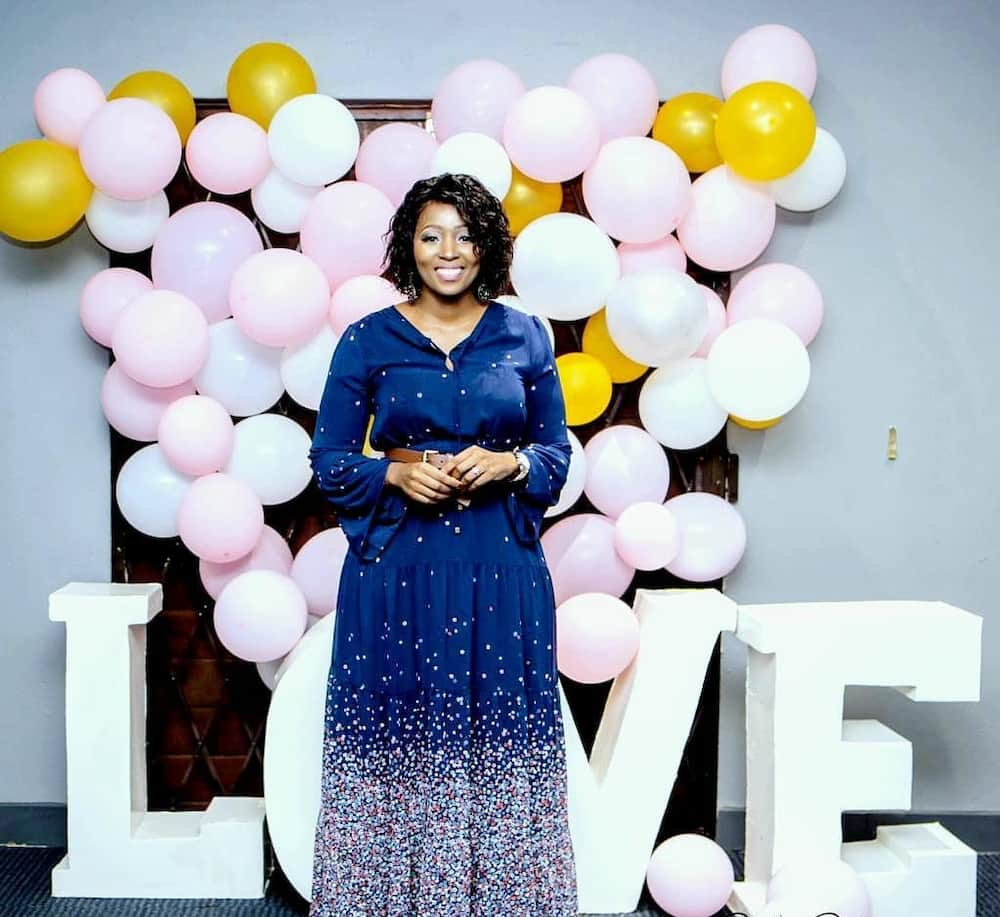 The queen of stunning pictures: this one does not fall short. She looks beautiful in this blue flowy dress, and the backdrop of the photograph is definitely eye-catching.
13. Caught off-guard
Kgaogelo looks sensational in this picture that looks like it was taken unexpectedly. Dr Tumi posted this picture celebrating his wife and her beauty.
14. A celebration of love!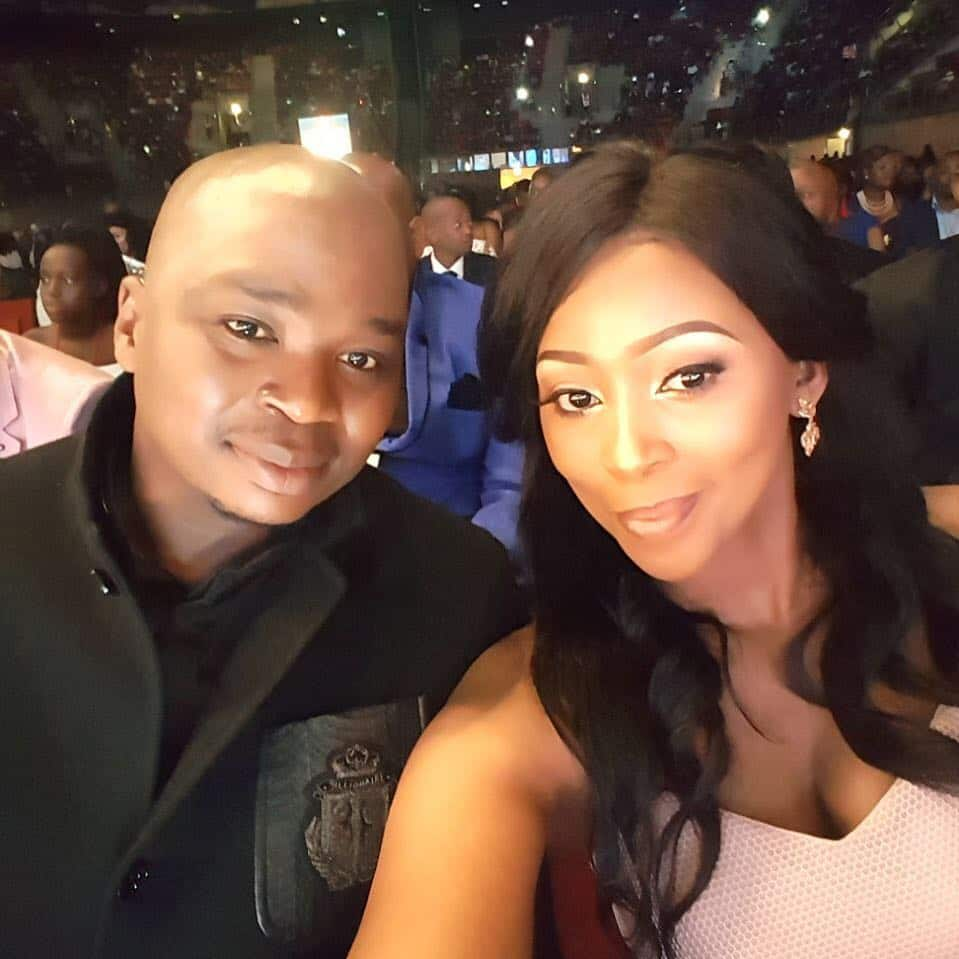 A selfie with her husband from Dr Tumi's Instagram account. He captioned the picture as;
At the crowns with my beautiful wife Kgaogelo Makweya Here to celebrate gifts in the kingdom.
Contacts
Dr Tumi wife is very active on social media, especially on Instagram, compared with her other socials. She has gathered quite a large following in total over 10,000 followers. You can follow any of her accounts below.
Dr Tumi's fans on Twitter are claiming that the arrest of the Makweya's should not have occurred and that he and his wife, Kgaogelo Mwakeya, are innocent. Do you think that the prominent couple is guilty or not? Engage us in the comments below.
READ ALSO: EFF's Mbuyiseni Ndlozi Defends Dr Tumi in a Supportive Online Post
Briefly.co.za recently published an article about EFF's Mbuyiseni Ndlozi defending Dr Tumi in a supportive online post. He gave his support to the artist who was recently released on bail following fraud allegations.
In a tweet, Ndlozi shares a Bible verse to show his support for the gospel star and his wife - Many South Africans have shared mixed reactions to Mbuyiseni's post and were mostly on the fence about the debacle.
Source: Briefly.co.za