Senzo Meyiwa Trial: Sello Maake kaNcube Weighs In on Controversial Murder Case After Zandie Khumalo Trended
Mzansi legendary actor Sello Maake kaNcube took to Twitter to share his honest opinion on the Senzo Meyiwa trial
The former The Queen actor also criticised Zandie Khumalo for reportedly delaying the controversial court case
Mzansi was grateful to Sello for speaking out about the Senzo Meyiwa murder case without any fears
As the Senzo Meyiwa trial resumed on 15 May, several individuals, including Sello Maake kaNcube, chimed in on the controversial murder case.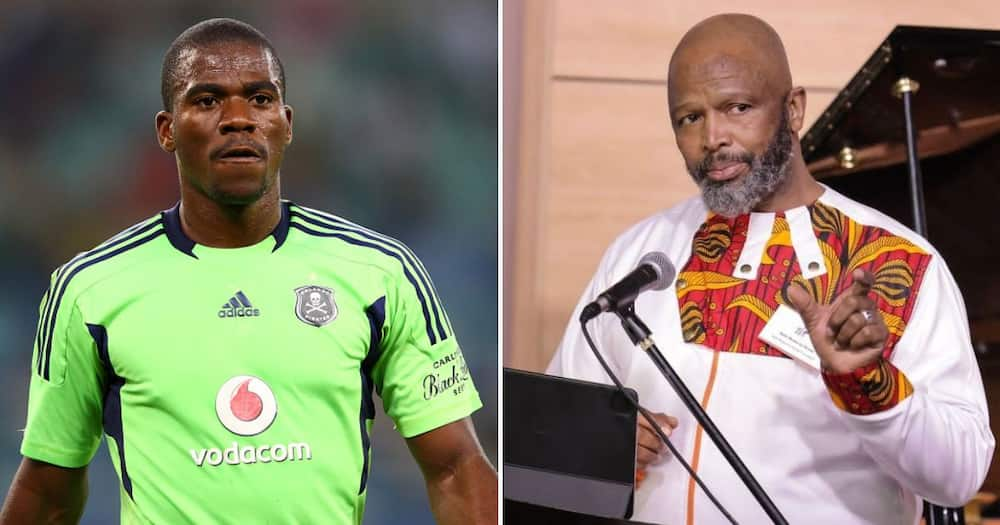 Taking to Twitter, the Skeem Saam star empathised with the Meyiwa family, who saw the court case being delayed again. Sello shared the tweet after Zandie Khumalo, who was scheduled to testify, allegedly asked to give her statement off camera.
Maake also seemingly blasted Zandie for making the court case about her safety rather than seeking justice for Senzo, who lost his life in 2014.
"These people are proving to be so heartless, why can't this Zandi person testify on camera when she claims to be a celebrity? Some of us didn't even know of her till the Senzo matter! This is truly annoying what these people are doing to this family! The sooner she testifies the sooner she can go to her 'quiet' and so called private life! This is really the worst form of injustice!"
PAY ATTENTION: Click "See First" under the "Following" tab to see Briefly News on your News Feed!
Sello Maake Maake KaNcube says South Africans have never taken Senzo Meyiwa's death seriously
In another tweet, the former Generations star lashed out at those who turned Senzo's father's pain into a joke.
According to BBC News, Mzansi citizens trended the #SenzosDad hashtag, where they uploaded photographs of themselves copying the pose Senzo's father made while greeting fans who attended his son's burial.
Condemning those who took part in the challenge, Sello said:
JUSTICE FOR #SenzoMeyiwa! I watched how as a country we made jokes about how Senzo's father arrived at his funeral. We have lost our essence of UBUNTU as a nation. That man was showing you guys gratitude! That family lost a son, his children lost their father and his wife lost a husband. Let's not judge Senzo for his promiscuous ways, most men in the Bible where taken down by their partners, Samson and Delilah for example! "
"He that is without sin among you, let him cast the first stone"#SenzoMeyiwatrial
Sello Maake kaNcube receives praise for his take on the Senzo Meyiwa trial
Mzansi people who shared Sello's sentiments applauded him for being one of the few celebrities who publicly expressed their honest feelings about the Senzo Meyiwa trial.
@otherthabang said:
"I'm curious about where and how they managed to defeat the ends of justice like this. How are they so powerful?"
@ZahZah23522795 shared:
"Thank you for your speaking out, Ntate Maake. Most celebs are quiet about the Senzo matter."
@Itu_70 posted:
"It's sad. I hope one day the family will find closure."
@JayNtuli replied:
"All these so-called state witnesses are not willing to help the court but to protect themselves. #SenzoMeyiwaTrial"
@Iam_TooMelo commented:
"I think Zandi is trying to gain relevance by pulling this stunt that she is pulling. I wouldn't be surprised if she released a song amid the court controversy."
@Abigail41353917 also said:
"I'm so happy a well-known and respected media personality said this. Thank you, Baba."
@Kleanique_H_P added:
"Maake, there are people who are being protected, and they know what happened on that fateful day."
Zandie Khumalo's cheeky comments during Senzo Meyiwa trial spark outrage and controversy: "Naze Nakwata Bo"
In related news, Briefly News reported that the Snzo Meyiwa trial commenced on 15 May, featuring the testimonies of various witnesses.
Unfortunately, Zandie's appearance in court did not go as planned, as she requested that her testimony not be visually or audibly recorded, citing concerns over potential public backlash.
Adding fuel to the fire, Zandie seemed to mock the situation on social media, much to the disdain of her critics.
PAY ATTENTION: Сheck out news that is picked exactly for YOU ➡️ click on "Recommended for you" and enjoy!
Source: Briefly News