Senzo Meyiwa's Brother Sifiso Meyiwa Accuses Longwe Twala of Bringing His Firearm Into Khumalo's Residence
The brother to slain football star Senzo Meyiwa has told his version of events on the night he died
Sifiso Meyiwa told eNCA that he believes that Longwe Twala brought the murder weapon to the Khumalo residence
Although he is unsure about who pulled the trigger, he is trusting that the new trial will point at the shooter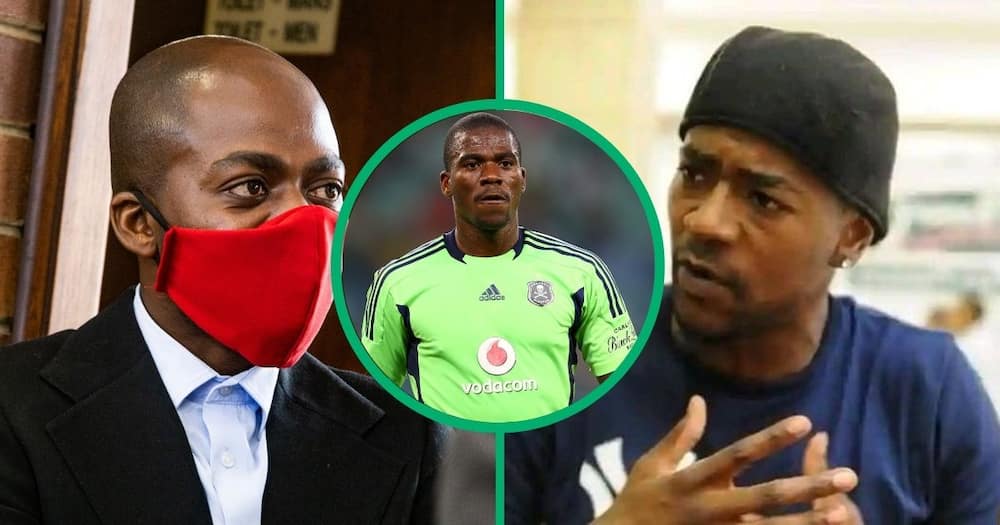 Sifiso Mayiwa, brother of former Bafana Bafana captain Senzo Meyiwa, has reiterated what he believes happened in the Khumalo family home on 26 October 2014 in Vosloorus.
Sifiso Meyiwa speaks to eNCA about Senzo's murder weapon
He told the news channel that Longwe Twala, the son of music producer Chicco Twala, was the one who brought the murder weapon into Kelly Khumalo's family home.
He claims he received the information from a source directly involved in the botched robbery "cover-up" who gave him a heads-up:
"He pulled me to the side and said, 'Son, all this talk about intruders entering the house is not true. It's all for the media because Senzo was loved. What happened was Senzo was shot when Zandie and her boyfriend were fighting'."
Longwe shoots at Zandie Khumalo for "cheating"
Longwe and Kelly's sister Zandie were lovers, and Sifiso alleges that the couple were not on good terms.
Zandie had been spending time with Senzo, Kelly and a visitor from Durban, Mthokozisi Thwala, whom Longwe assumed was having an affair with Zandie.
He then went to the Khumalo residence to confront Zandie in a rage, pointing a gun at her. He fired the first bullet, which hit the floor and Zandie's foot.
He added that Senzo was killed when they tried to disarm Longwe but is unsure who fired the fatal shot as many people were involved in the tug of war.
Senzo Meyiwa murder trial receives new judge
In a related story on Briefly News, the infamous trial started anew on 18 July 2023, presided by Judge Ratha Mokgoatlheng.
He replaced his former Judge Tshifiwa Maumela, after President Cyril Ramaphosa responded to calls about the long-dragging matter.
All testimonies before the new case were rendered null and void, and the suspects were allowed to apply for bail.
Source: Briefly News