30 best true love quotes and sayings
Are you thinking of the best words that you can use to express your feelings of deep affection? If you answered yes, then you have no reasons to worry again. In this article, there are true love quotes that have been carefully chosen to make him or her know how deep your feelings of affection are. They contain timeless words of wisdom and are powerful enough so that you can use them to win the heart of your loved one over at any time. Also, whether you are celebrating special moments or you just want to emphasise how much you admire your better half, you can use any of them.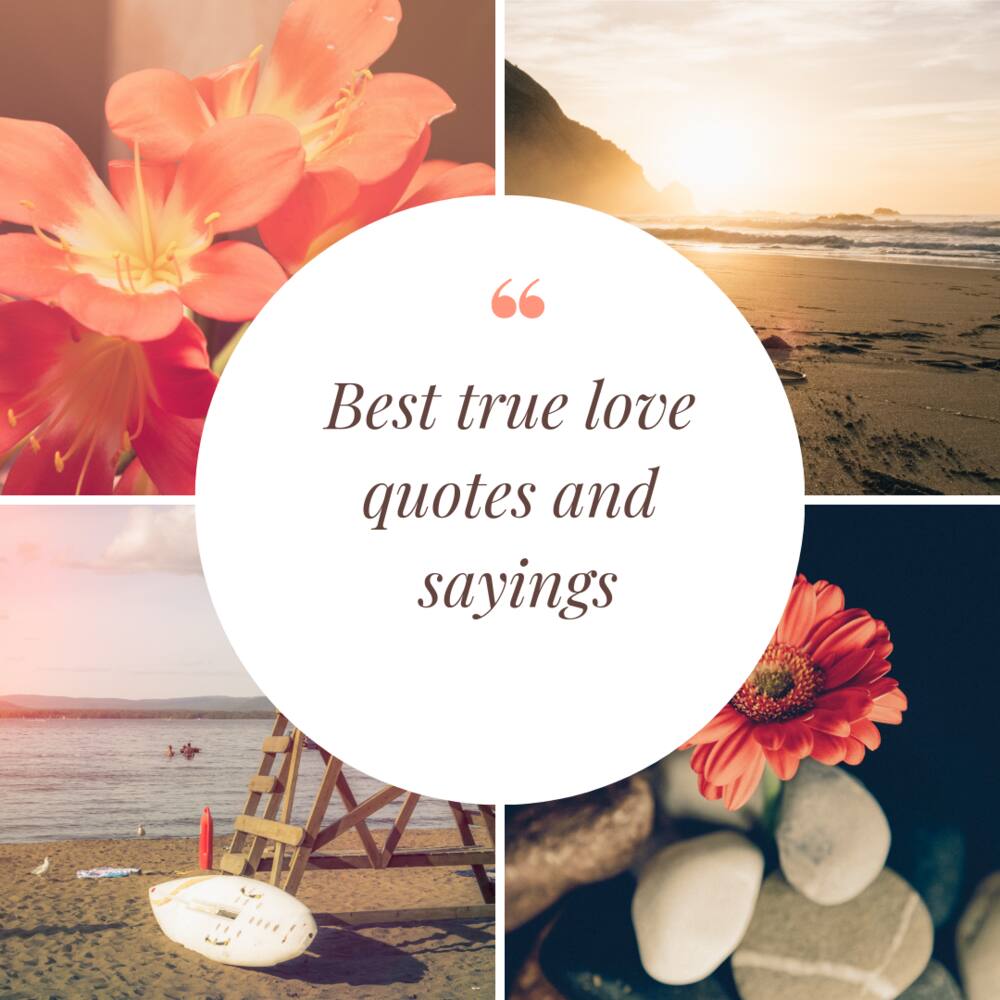 One of the most sought-after gifts in life is the gift of love. When it is unavailable, the world seems to be upside down and boring, but at its presence, everything takes shape again. Here is a list of exciting quotes that you can share with your spouse at any time. You can also use them to explain what it really means to have this rare gift called love.
READ ALSO: Malema shares photos of his wife's birthday: "Celebrating my 1"
Famous true love quotes
What is your definition of true love or how best would you describe it? Whatever your definition is, there is one thing that stands out about its description, and that is the fact that it is real and cannot be faked. Here are some exciting views of famous people about this true feeling of deep affection. While you get to know what exactly it is as you read through, you will also understand better what makes true endearment and how you can improve on your love life.
True love doesn't happen right away; it's an ever-growing process. It develops after you've gone through many ups and downs, when you've suffered together, cried together, laughed together. ― Ricardo Montalban
You're not looking for perfection in your partner. Perfection is all about the ego. With soulmate love, you know that true love is what happens when disappointment sets in - and you're willing to deal maturely with these disappointments. ― Karen Salmansohn
I love you when you bow in your mosque, kneel in your temple, pray in your church. For you and I are sons of one religion, and it is the spirit. - Khalil Gibran
True love is not a strong, fiery, impetuous passion. It is, on the contrary, an element calm and deep. It looks beyond mere externals, and is attracted by qualities alone. It is wise and discriminating, and its devotion is real and abiding. ― Ellen G. White
True love, to me, is when she's the first thought that goes through your head when you wake up and the last thought that goes through your head before you go to sleep. ― Justin Timberlake
I have a personal ambition to live my life honestly and honor the true love that I've had and also the people I've had around me. I want to stay hopeful, even though I get scared about why we're even alive at all. ― Lana Del Rey
Love consists in giving without getting in return; in giving what is not owed, what is not due the other. That's why true love is never based, as associations for utility or pleasure are, on a fair exchange. ― Mortimer Adler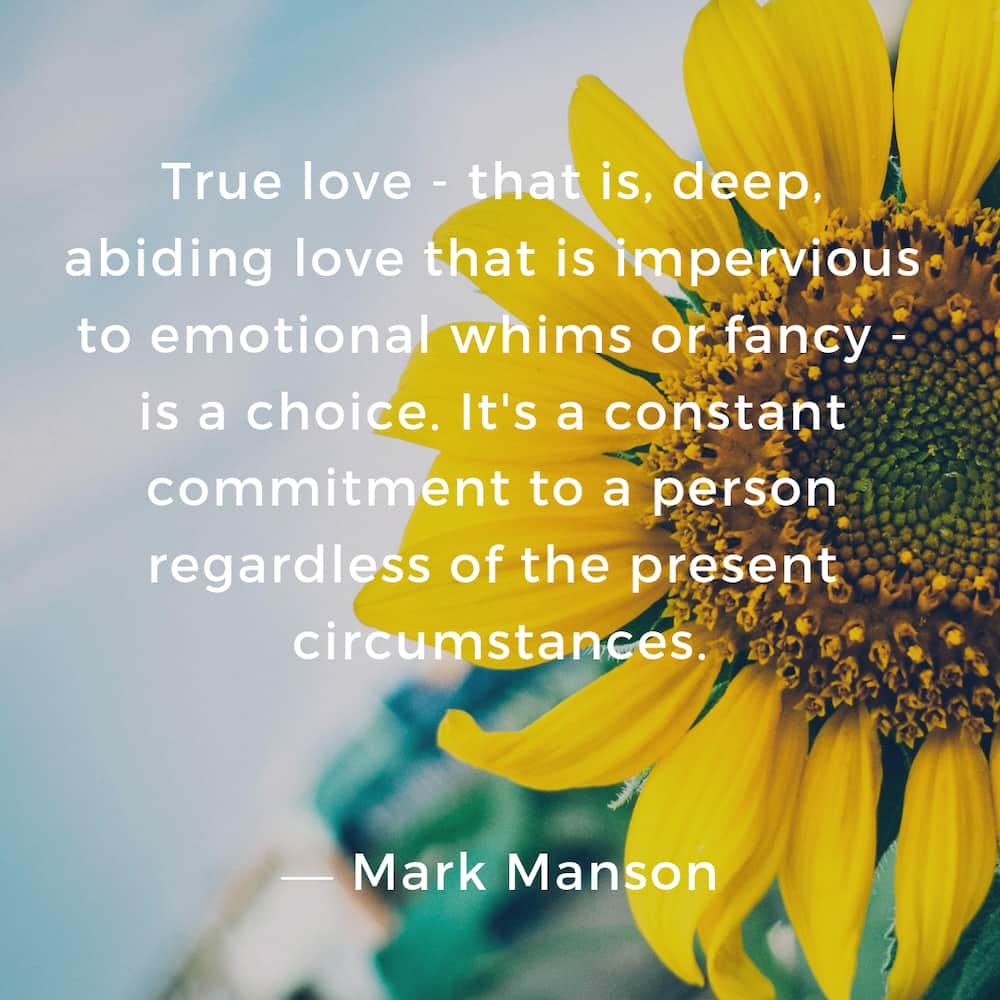 Inspirational thoughts on love
Loving others can be very inspiring. In fact, there is no better way of expressing your affection other than in the most inspiring way. This is why you do not have to just say it, it must come from your heart; you should make your partner feel inspired as you carefully choose your words and express them in the best romantic way. Here are some thoughts that you can share with your partner to awaken his or her emotions every time he or she reads any of these quotes that you share. You will be amazed at the powerful results that you will get afterwards.
It is true that life is all about choices. For every single choice that we make, we are either made or marred and also, our future hangs on it. Choosing to spend my life with you is one of the best choices that I have made in my life, and I can confidently tell the world that my future is secured in you.
What more could I have said? If love was to be bought, I wonder if I would ever have gotten enough money to buy it. However, I have grateful to God for creating you and forever indebted to you for loving without a cost.
I never knew how powerful loving someone could be until I met you. I wonder how my horrible past could dissipate, and the fear of the unknown settled just because I met you. May that special day be forever blessed and remain fresh in memory.
The greatest events in life are the day a man is born and the day he dies. While I am ever grateful that I was born to meet you, when death finally comes to take me home, I want to be with you until my last breath for in that is true death.
Sometimes I ask myself what exactly is the definition of real love. I have searched the whole world but could not find the best definition. However, after I prayed to God for a perfect definition, He sent me one and wrapped it up in you. Really, knowing you is knowing what real love is.
I have never found someone like you who knows my flaws yet chooses to cherish and care for me as I am. You are not like one of those, but one of a kind. It is now that I have come to understand how fortunate I am for fate to have brought you my path. I am indeed forever grateful.
True love quotes for couples
Knowing the best words that can turn your spouse on is very important to keep your endeared life on track. So how do you convey how important he or she is to you? Just say sweet words from your heart and make it as real as you can. With that, no other person will matter to him or her except you. Check out these famous quotes about loving someone that you can share or use to come up with your own romantic words.
Love would have become useless if perfection was to be present. True affection comes to light even in our imperfection and from our differences so that we may always need ourselves for forgiveness and encouragement. And most importantly, so that the missing half of ourselves which we have always sought for may be complete in ourselves.
I cannot even explain how or when, or even where I have come to be attracted to you. My life is knit into yours not because of what you have or where you come from but because I am complete with you and empty without you.
It is true that a happy marriage is not necessary when there is peace with the one you are joined to but when you are content each time you see the one that you are in love with anywhere at home. This, truly, is the secret to a happy marriage and pivotal in sustaining both parties.
When I am away from home, it looks as though I am out of the world because you are not there. But when I am with you, I feel as if the whole world is under my care. In you alone, I find peace, and in you alone, I feel complete. You are the only reason that makes life worth living for me.
The best kind of love is that which sets the soul ablaze with passion and brings us closer to each other at all times. It is also the kind that makes us be at peace not minding where we are; whether together or miles away from each other.
READ ALSO: Best cute love quotes for him and her
Short love sayings
Sometimes, emotions are best conveyed in a few words. Spark off a feeling of deep affection for you in your spouse by sharing these few lines of thoughts with him or her. Interestingly, you can say it when you are together, send it as a text message or even chant it like a poem to him or her. Remember that one of the ways to the heart of every one of us is the ear and what we hear can make a lasting impression on us. So, check them out; they are short and lovely.
As a church, when spelt, is meaningless without 'u', so is my life meaningless without you.
There is just one thing that makes me, and that is my life with you.
Life is too short to be lived alone and too sweet to enjoy without you. You are the perfect picture of the man I have dreamt of.
Being endeared by you is one of the best things that have ever happened to me. What a rare privilege I have!
You may be a person to the universe, but to me, you are the universe. You are the world that I have longed to live in.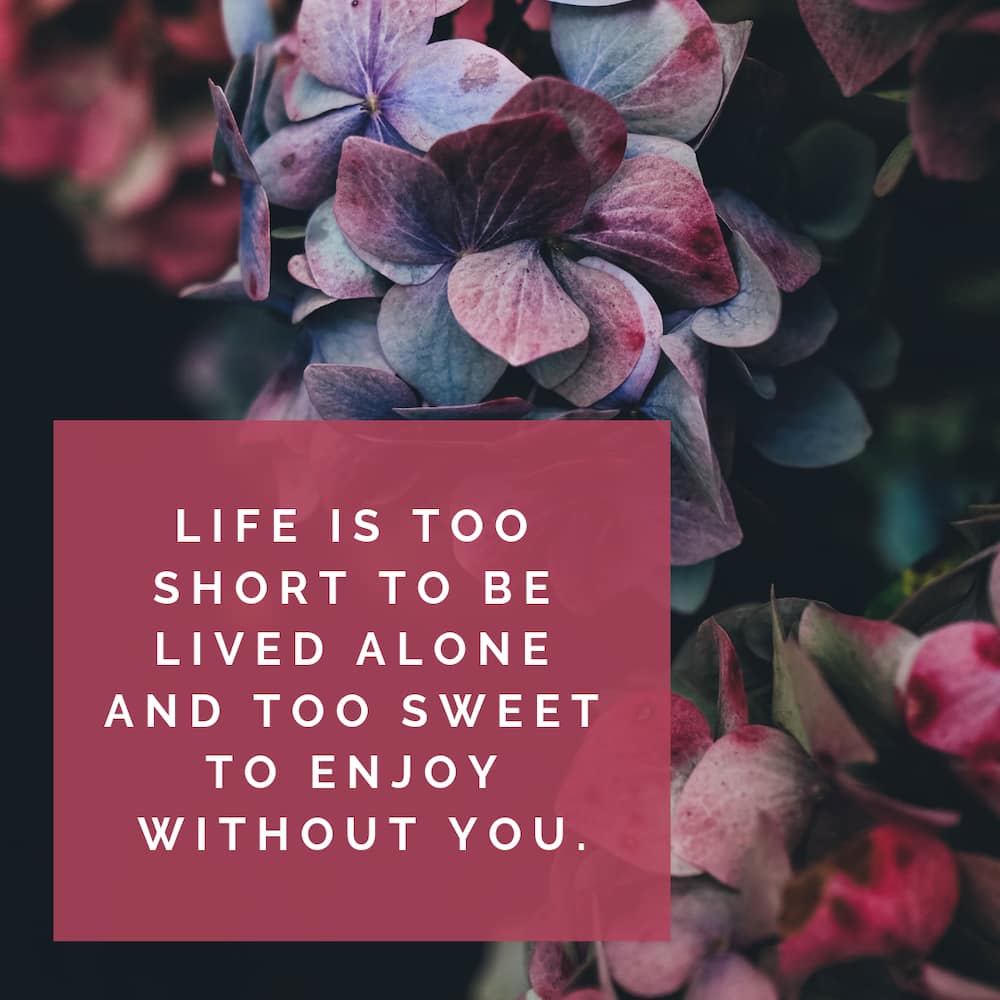 True love quotes and sayings
But one of the attributes of love, like art, is to bring harmony and order out of chaos, to introduce meaning and affect where before there was none, to give rhythmic variations, highs and lows to a landscape that was previously flat. - Molly Haskell
I believe that unarmed truth and unconditional love will have the final word in reality. This is why right, temporarily defeated, is stronger than evil triumphant. - Martin Luther King Jr
Love and kindness are never wasted. They always make a difference. They bless the one who receives them, and they bless you, the giver. - Barbara De Angelis
Flatter me, and I may not believe you. Criticize me, and I may not like you. Ignore me, and I may not forgive you. Encourage me, and I will not forget you. Love me, and I may be forced to love you. - William Arthur Ward
A source of trouble is our unruly minds. We can counter that by developing a warm heart. We need to effect an inner transformation, to understand that love and affection are a real source of joy. - Dalai Lama
In a true partnership, the kind worth striving for, the kind worth insisting on, and even, frankly, worth divorcing over, both people try to give as much or even a little more than they get. 'Deserves' is not the point. And 'owes' is certainly not the point. The point is to make the other person as happy as we can because their happiness adds to ours. The point is – in the right hands, everything that you give, you get. - Amy Bloom
Have you ever been at sea in a dense fog, when it seemed as if tangible white darkness shut you in and the great ship, tense and anxious, groped her way toward the shore with plummet and sounding-line, and you waited with beating heart for something to happen? - Helen Keller
Even though there are people who fake their feelings of deep affection to gain acceptance or to avoid unnecessary questions from others, these true love quotes are wisdom-nuggets that can help you to differentiate between the real one and a fake one. Similarly, you can use them to express your deep emotions to your beloved one.
READ ALSO: Malema shares photos of his wife's birthday: "Celebrating my 1"
Source: Briefly News