70+ best Sepedi traditional attire for ladies and men in 2023 (with images)
Did you know the Northern Sotho community of South Africa is also called Sepedi, Pedi, or Bapedi? The Sotho ethnic group has over seven million people. The Bapedi culture is rich. One of the ways people preserve it is by wearing Sepedi traditional attire for ladies and gents.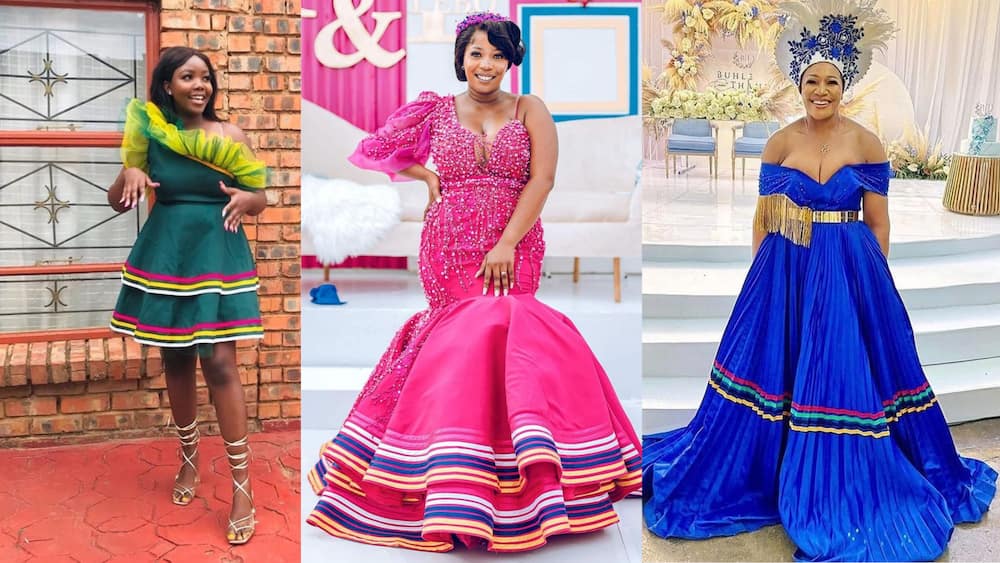 The Sepedi traditional attire for ladies and men is characterised by bright colours, especially turquoise, bright pink, yellow, white, and blue. In the past, people wore clothes made out of domestic animal skins and hides. However, people have changed their mode of dressing because of the present trends in fashion.
Best Sepedi traditional attire for ladies and men in 2023
Below is a compilation of the most stylish Pedi outfits for women and men in 2023.
Short white outfits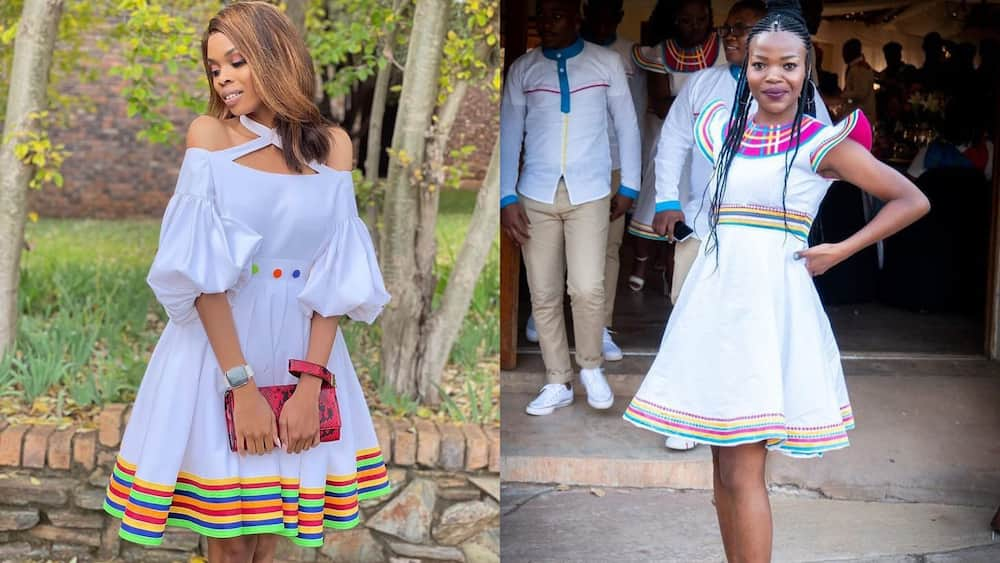 Sepedi traditional dresses usually have beautiful bright colours. They also have exotic designs. Bright colours signify people's happiness, while the designs symbolise their unique creativity.
Mermaid-style designs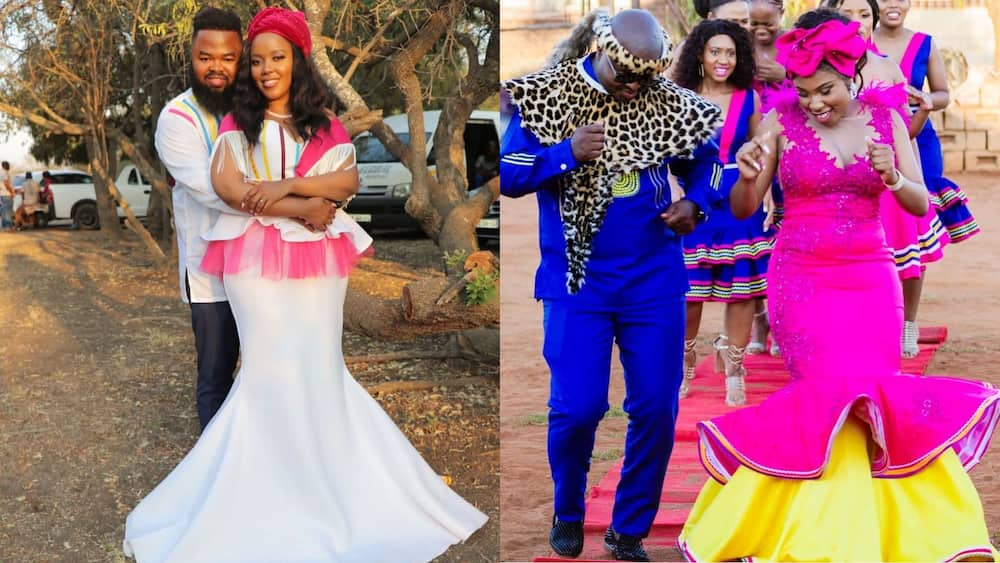 The old Sepedi attire was pretty modest. Women can maintain this modesty by rocking beautiful mermaid-style maxi outfits. Couples can match outfits, especially for social events.
Couple in navy
Pedi traditional dresses usually feature ribbon trimmings. If you choose not to wear overly bright designs, you can opt for navy blue clothes with a hint of coloured ribbons or stripes.
Touch of blue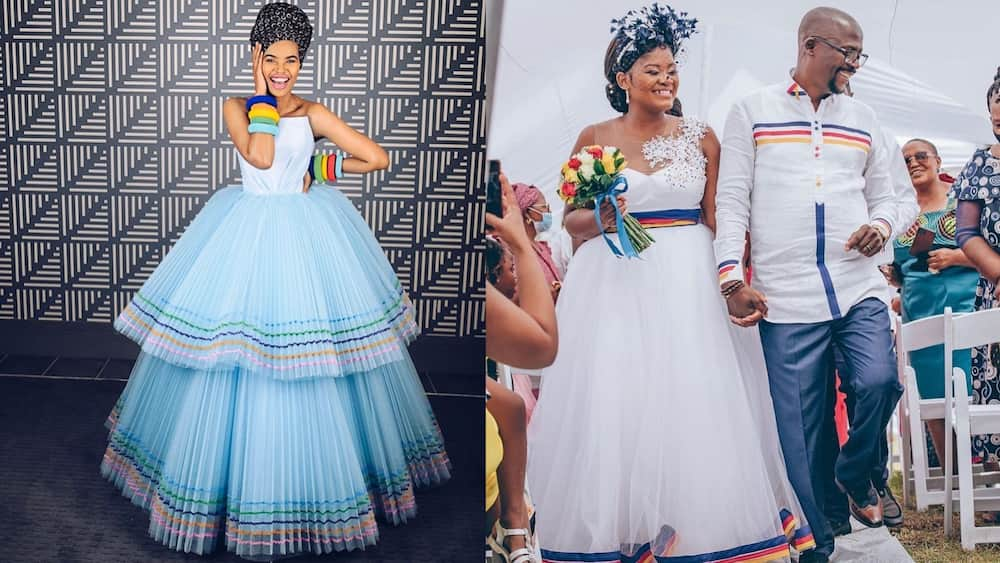 Most Pedi design pictures feature bright and bold colours. If these colours do not work well for you, you can tone them down using their pastel versions. Alternatively, you can only include the colours on the hem and waist of your outfit.
Short blue designs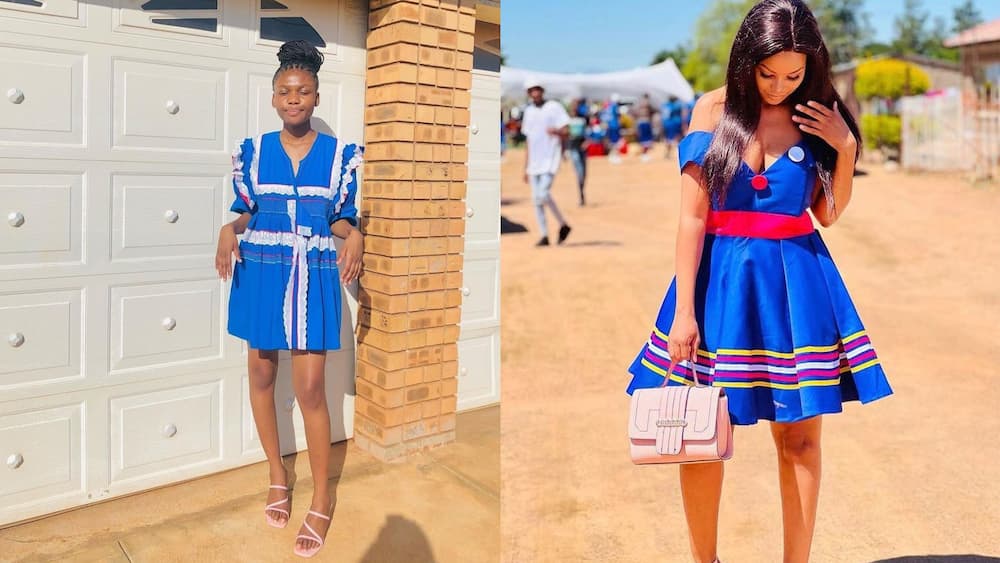 If you have beautiful legs, you can show them off while still paying tribute to your culture and traditions. You can rock short modern Sepedi dresses to a social function. Be sure you will stand out from the crowd.
White and pink gorgeousness
A one-shoulder skater dress is perfect for everyday use. You can mix and match it with several ornaments and shoes from your wardrobe. It is a flattering design that will never go out of fashion.
Blue off-shoulder maxi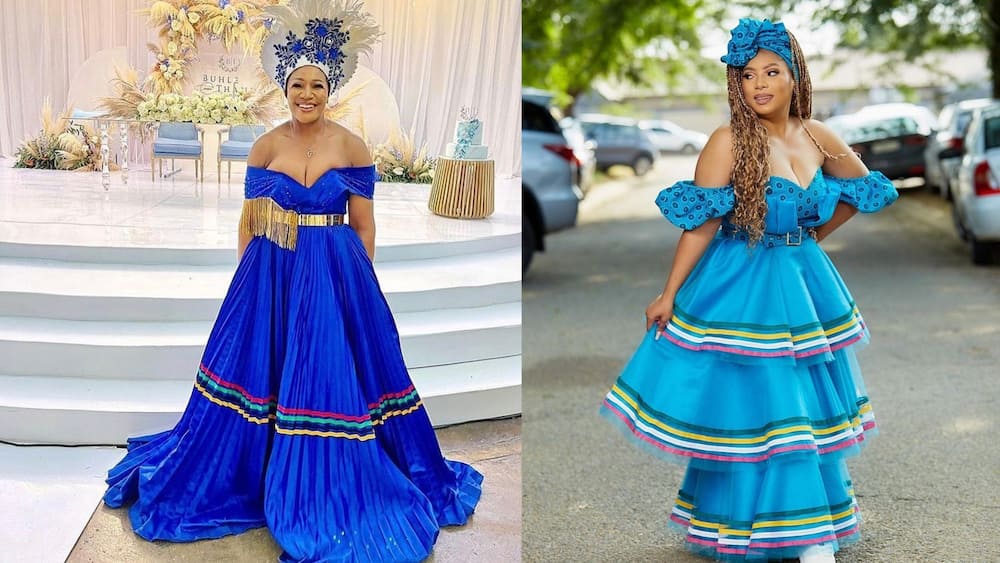 Off-should designs are all the rage in 2023. You can revamp your next Bapedi traditional attire by having an off-shoulder design, especially if you are not afraid of showing a bit of cleavage.
Modest Pedi look
Original Pedi traditional attire for ladies included a front apron called ntepa and a back apron called lebole. These were made of strips of animal skin. Things have changed, and this is recreated using modern fabric.
Pink midi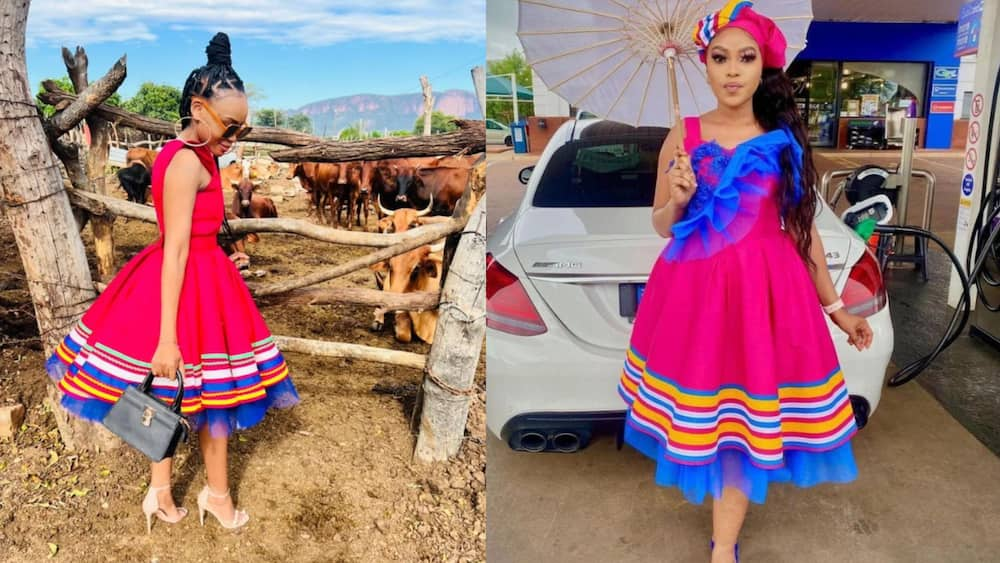 You can never go wrong with a skater dress. This design is incredibly flattering on any body type. The fitted bodice and flared skirt accentuate the right curves and waistline.
Beaded dress
Beadwork was an important aspect of the traditional Pedi culture. Today, many women wear Sepedi culture clothes accessorised with beads. You can request your tailor or designer to incorporate beads in the attire.
Maroon-midis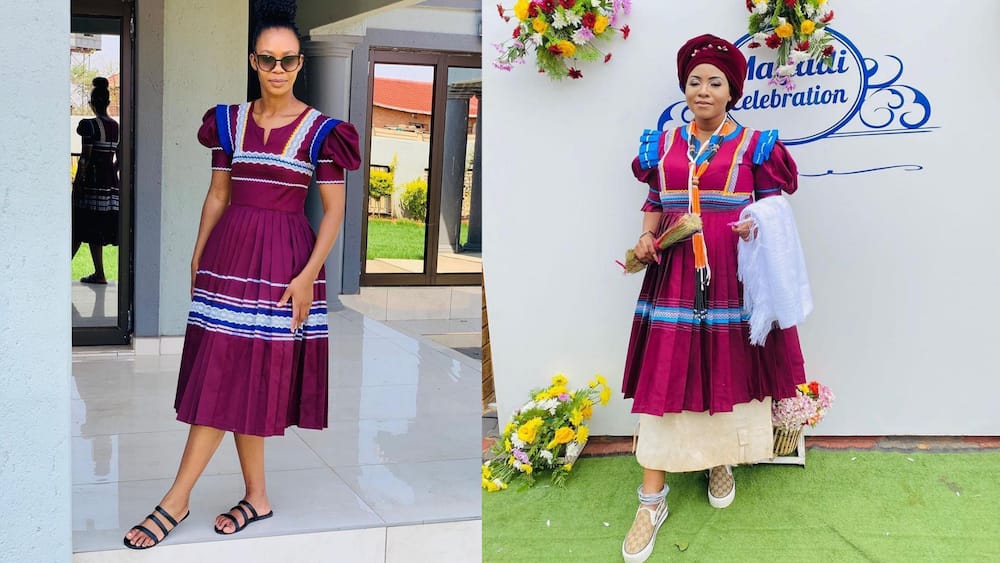 Maroon is increasingly being worn in this community. People love it because it is a toned-down colour.
Gorgeous in orange
Orange is a colour that conveys optimism and energy. It is an attention-grabbing and warm colour that really pops when combined with a big smile.
Yellow skater designs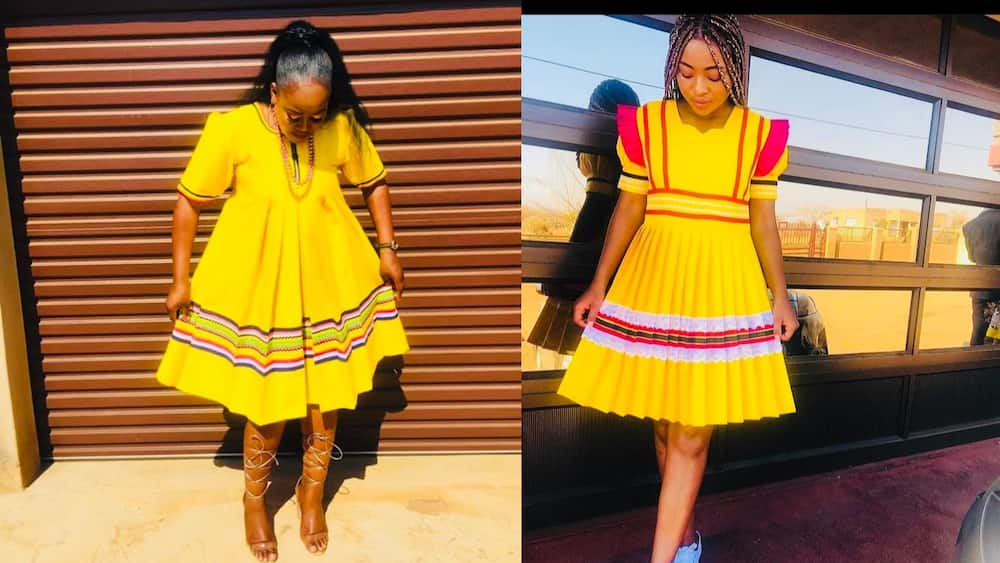 All the world over, yellow is associated with the sun and its life-giving warmth. These designs are ideal for social functions, e.g. weddings and lobola.
Pink maxi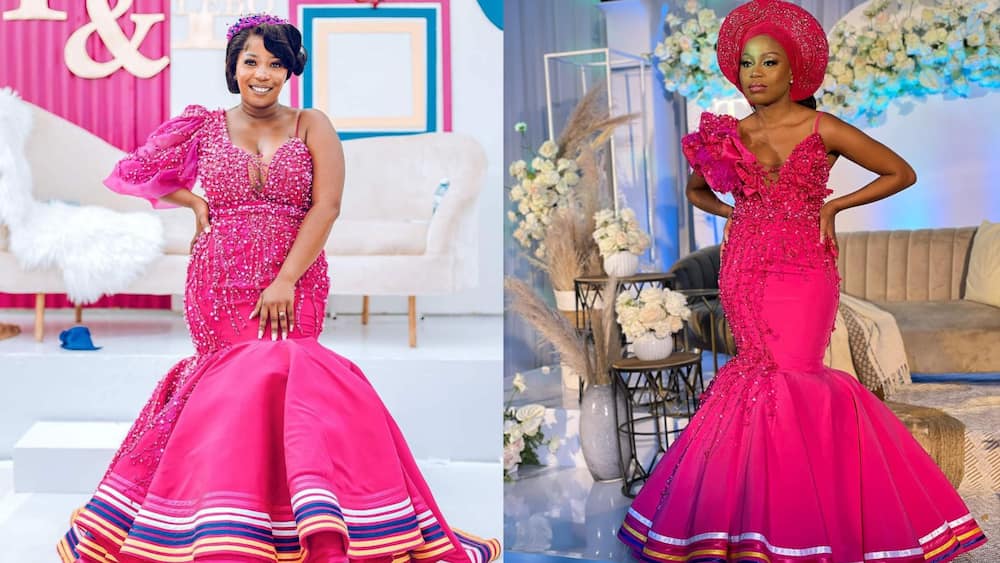 Did you know you can rock traditional Sepedi attire for women to an evening function or party? Have a pink mermaid gown custom-made for your body and wear it with pride.
Bapedi-jeans combo
If you are looking for a casual look, consider combining Sepedi traditional attire for ladies with jeans. You can have a Pedi-themed top sewn in whichever design pleases and flatters you.
Short & bright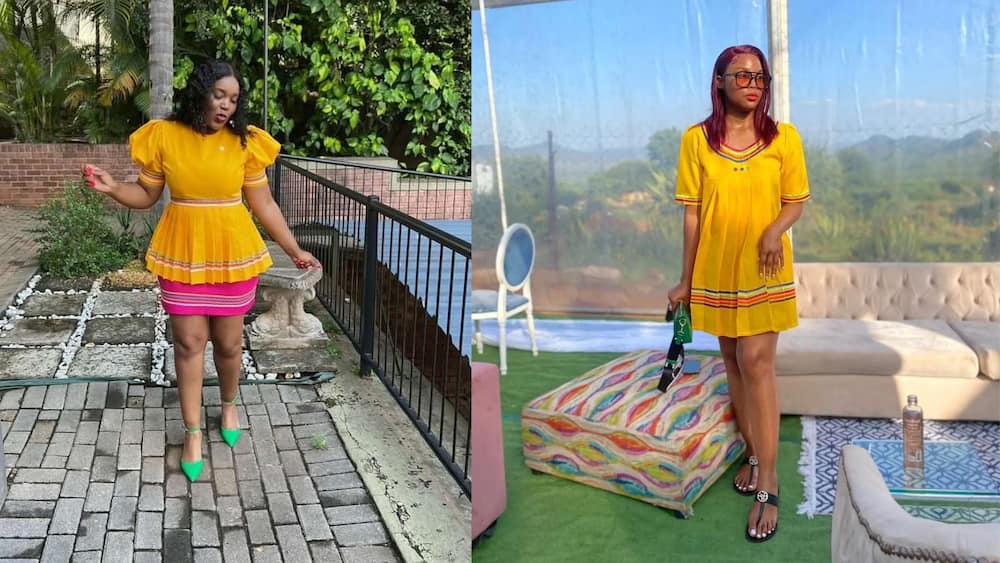 Bapedi women achieve stunning designs for their dresses by using different materials on the bodice and skirts. Borrow ideas from these iconic designs when making your next outfit.
Green-lacy outfit
Lacy outfits are attention-grabbing. Besides being beautiful, they are light in weight. One does not feel burdened or overloaded with the weight of the dress, especially when it is warm and sunny.
Green-inspired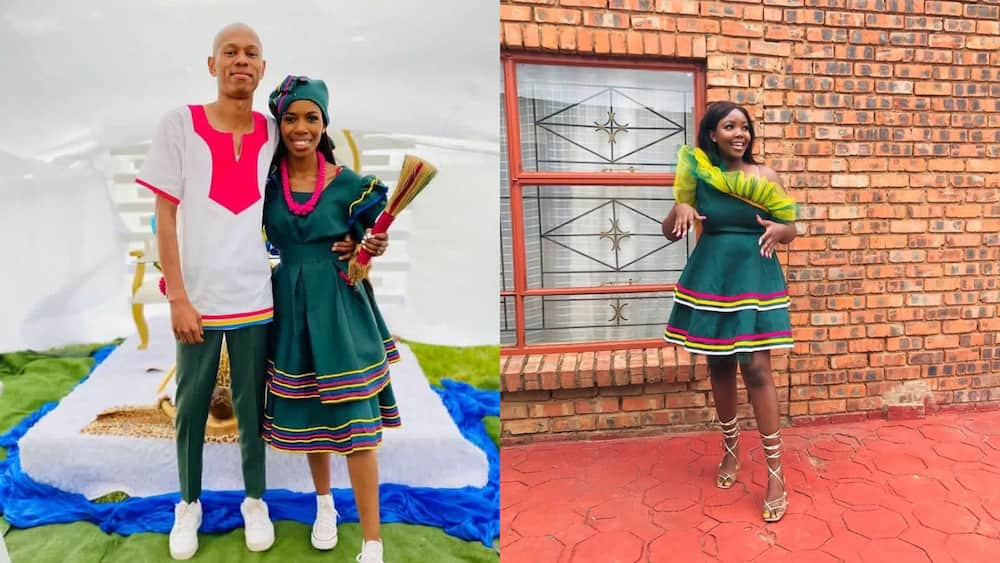 A one-shoulder knee-high skater dress with a lacy sleeve gives a lady a chic and classy look. Heeled shoes make the final look stunning. Alternatively, you can wear matching sneakers with your man.
Sepedi-style pants
Traditionally, women from this community did not wear pants. However, modernisation has changed things, and women can have pants and tops featuring Pedi elements custom-made for their bodies.
Pretty in brown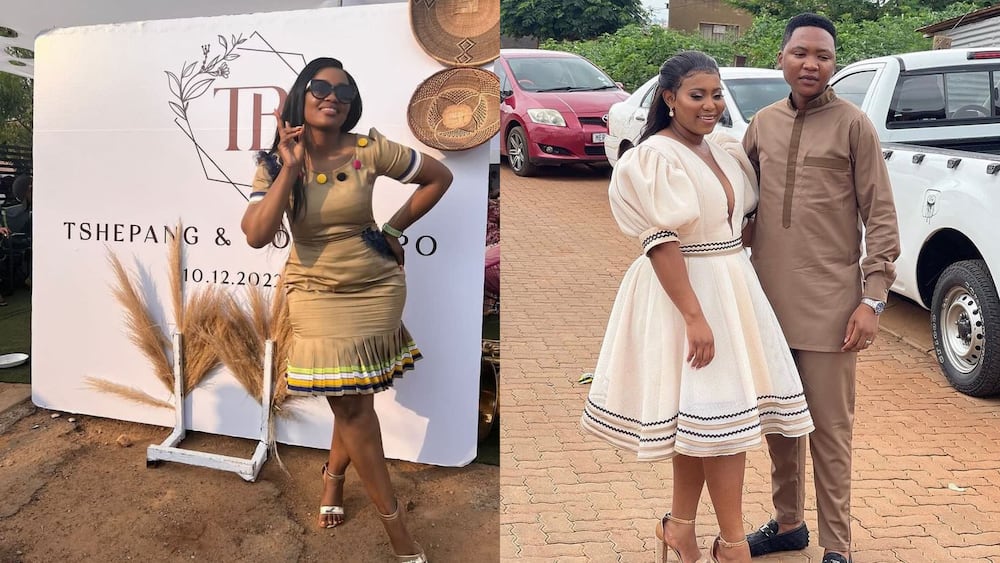 Brown is often perceived as a solid and earthy colour. It is often associated with resilience, dependability, security, and safety.
Cute off-shoulder designs
One-shoulder dresses allow you to wear some skin and show off all those arm exercises you have been doing to tone your arms. Your bridesmaids will, without a doubt, look stunning in one-shoulder outfits.
Cinderella-style designs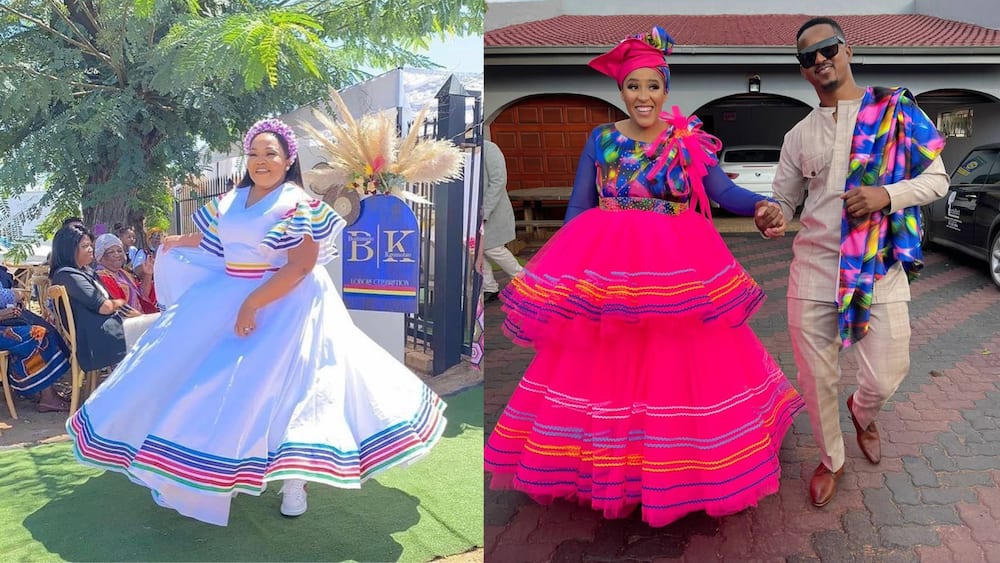 When Cinderella was changed from a slave to a princess, her life inspired many women. If you want that princess-like feel on your special function, try a Cinderella-inspired design. These designs are fantastic Bapedi attire for makoti.
Colourful and proud
Many Pedi outfits are made of one fabric. You can make yours more interesting by using multiple fabrics. Look for an experienced tailor who can do amazing patchwork designs.
Blue-pleated designs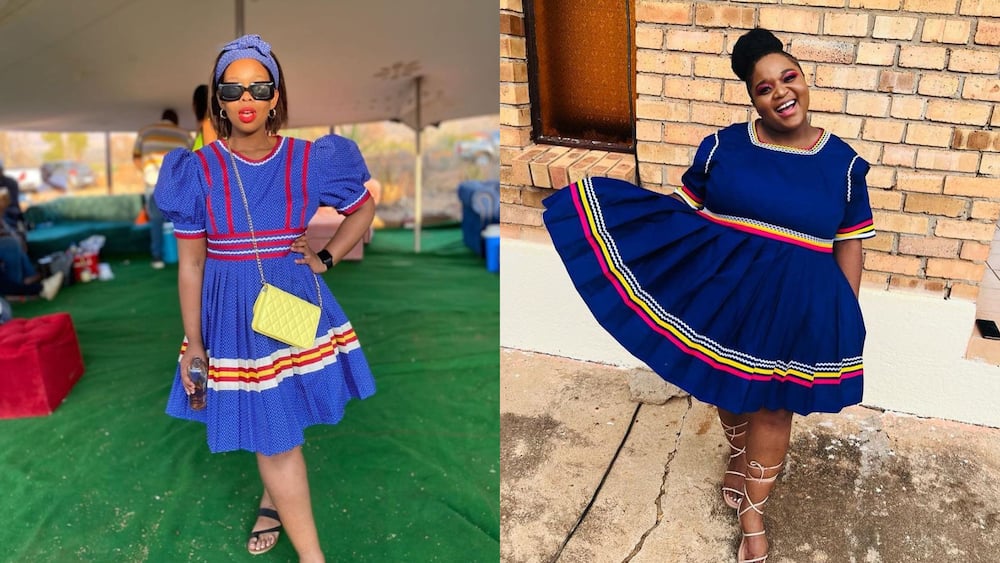 Pleats are a common feature in Bapedi outfits. A fitting bodice and pleated bottom flatter both slim and plus-size girls.
Groomsmen in blue
Many Pedi outfits for men are in blue. Generally, people consider blue a boy colour, a notion that is widely accepted in this community.
Brown goodness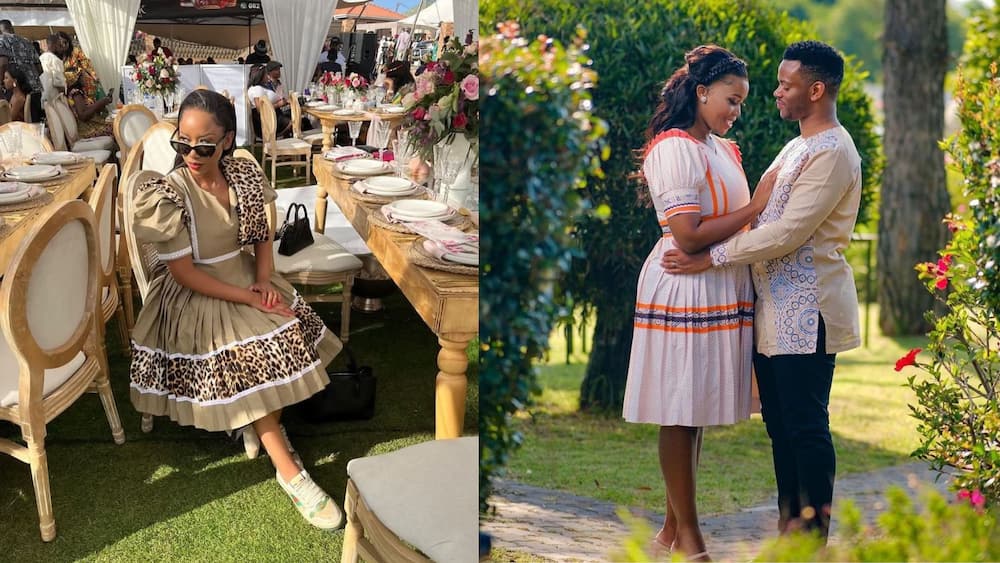 If you are looking for colours that will not take all attention away, a brown or cream dress would be perfect. Adding a bit of animal print will make your outfit even better.
Multiple-print dress
Multiple-print dresses have become quite popular in recent times. If you are a creative person who finds ordinary fashion a tad boring, try mixing patterns and prints.
Blue-patterned fabric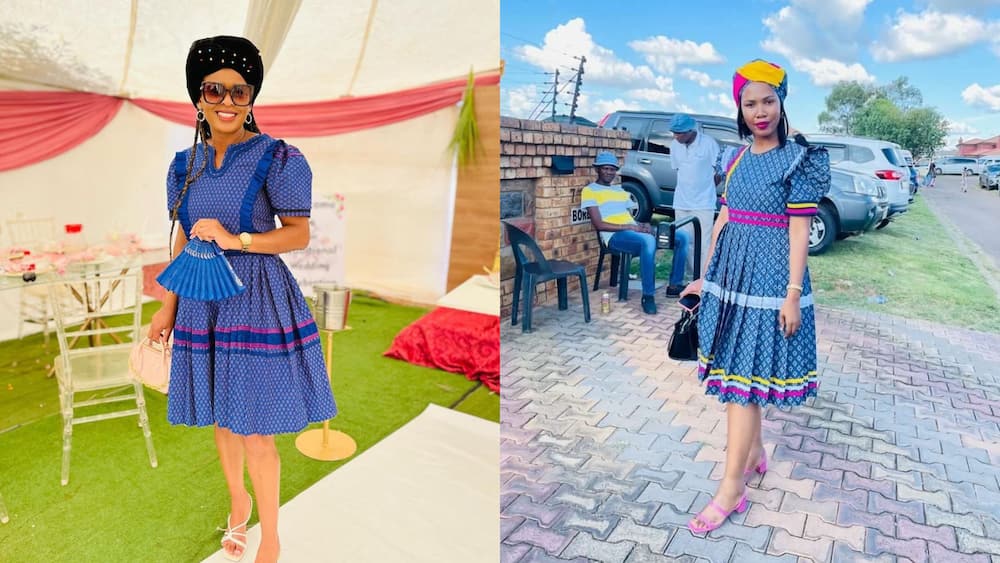 Bapedi women usually go for sneakers for any outfit because they are sleek and comfy. However, you can be different and choose cute sandal heels to go with your outfit.
Matching in blue
Most couples choose plain colours as the dominant fabrics when attending or hosting social events. You and your love can do the opposite by going all out in multiple colours.
Pleat at the front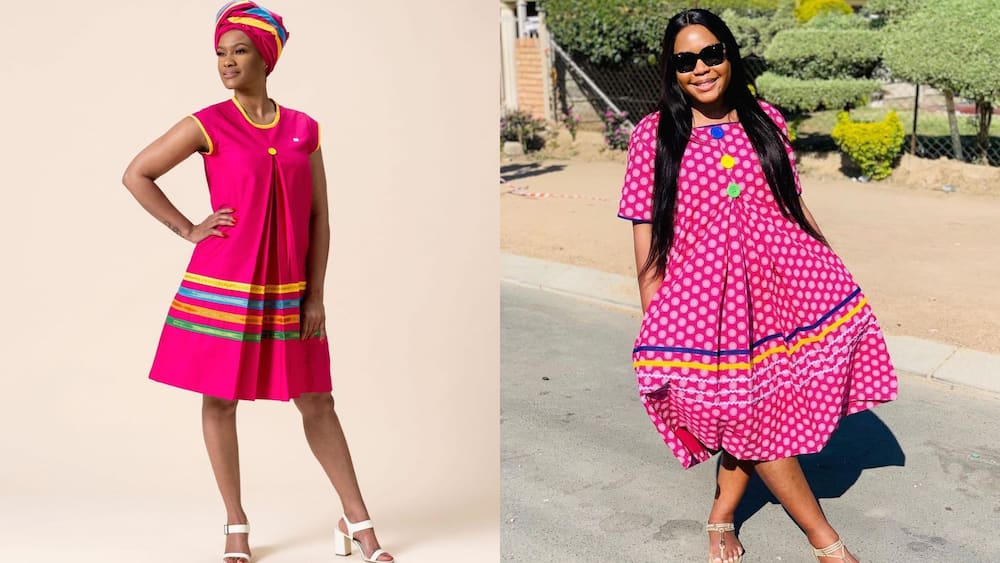 A-line dresses look best with strappy heeled or flat sandals. They are ideal for the weekend. The pleat at the front allows you to eat to your fill without worrying about a bulging tummy. The design is also pregnancy-friendly.
Red and blue for couples
Red is a bold colour that many people love. If it is your favourite colour, you can rock matching red-themed Pedi outfits with the love of your life.
Black and white
Black and white are always a perfect combination for any skin complexion. Use the same black and white fabric to make Sepedi male traditional attire. Your man can have a black and white top or pair of pants.
Fitting yellow outfits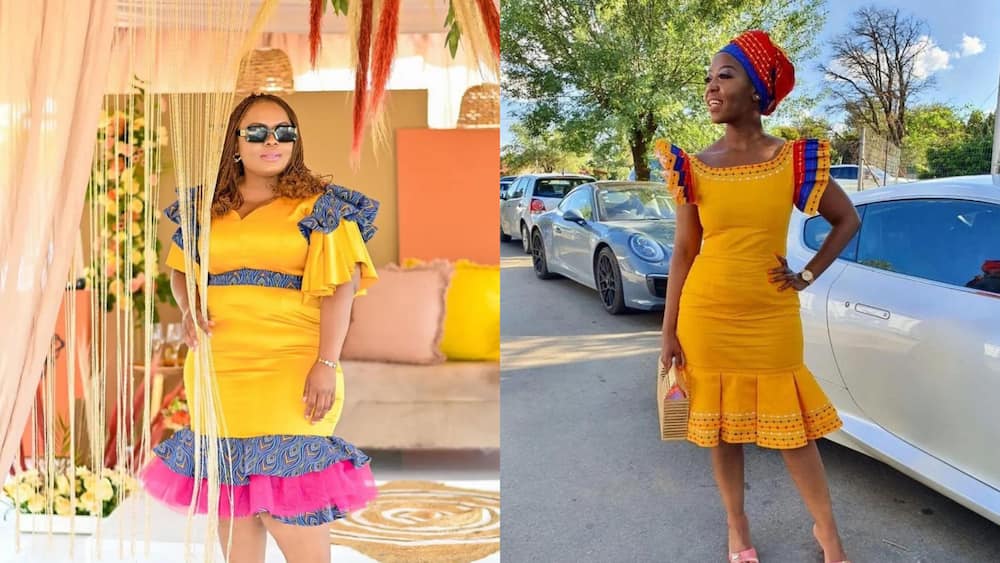 Figure-hugging outfits are trendy among modern women. If you like this design, you can have it custom-made for your size.
Tent-style cream-coloured midi
Pedi social celebrations are filled with music, dancing, eating and drinking. A tent-style dress will allow you to do all these without strain.
Pedi-inspired gowns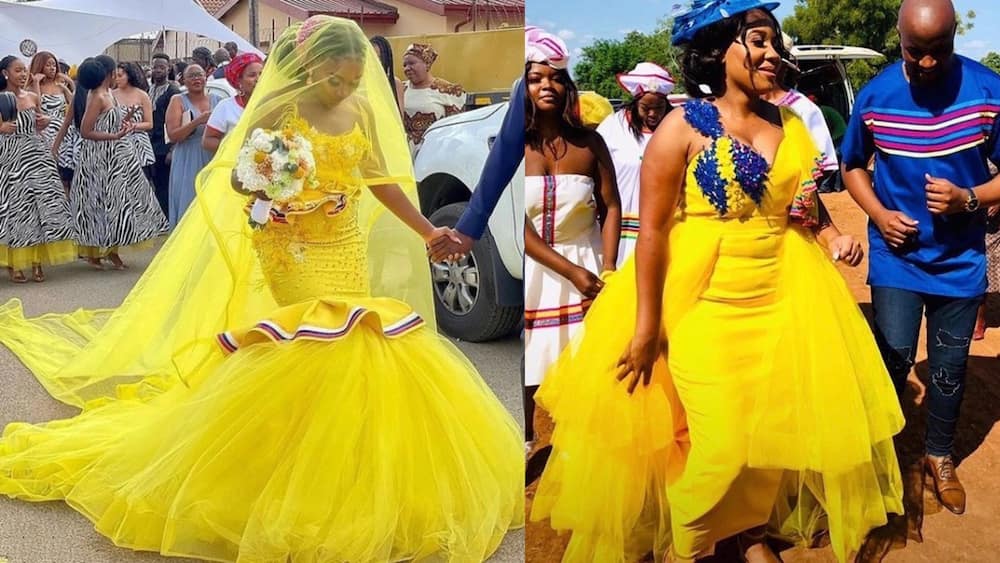 More brides are opting for gowns made of other colours instead of white for their traditional and church weddings. You can ask your designer to create a gorgeous yellow gown for your big day and incorporate the Pedi stripes for a unique touch.
Cute & classy
A dress at knee length can make you look thinner. Skater dresses sit snugly on top and feature a circle skirt that drops from the waist. They can be short or long-sleeved.
Fabulous in blue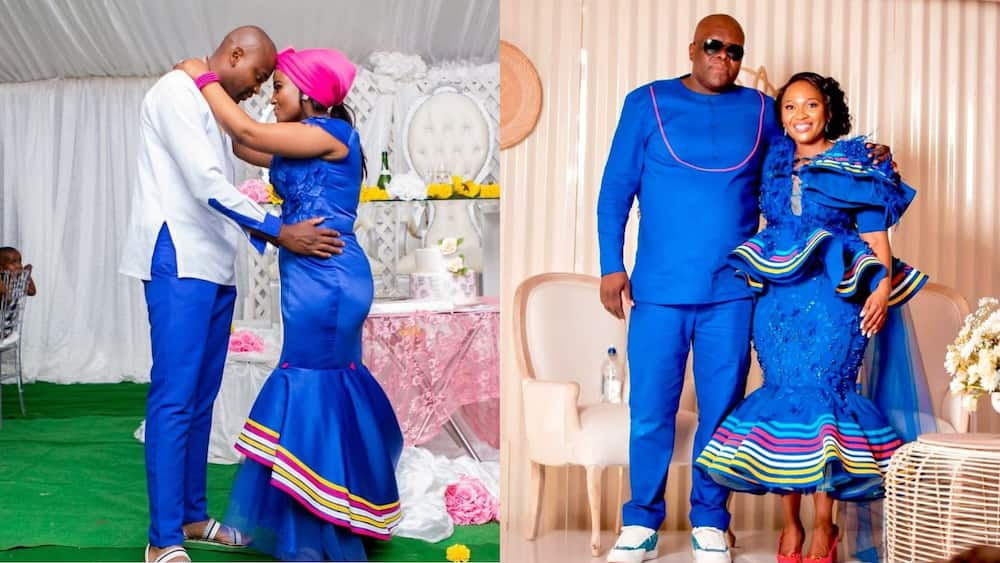 A fishtail is usually still fitted and slim with a softer flare out at the bottom. If the fishtail is not your thing, you can go for a mermaid-style midi.
Trendy orange
Modern designers are blending contemporary fashion with tradition. This design is ideal for slim women who do not mind showing off a bit of skin.
Bapedi modernised designs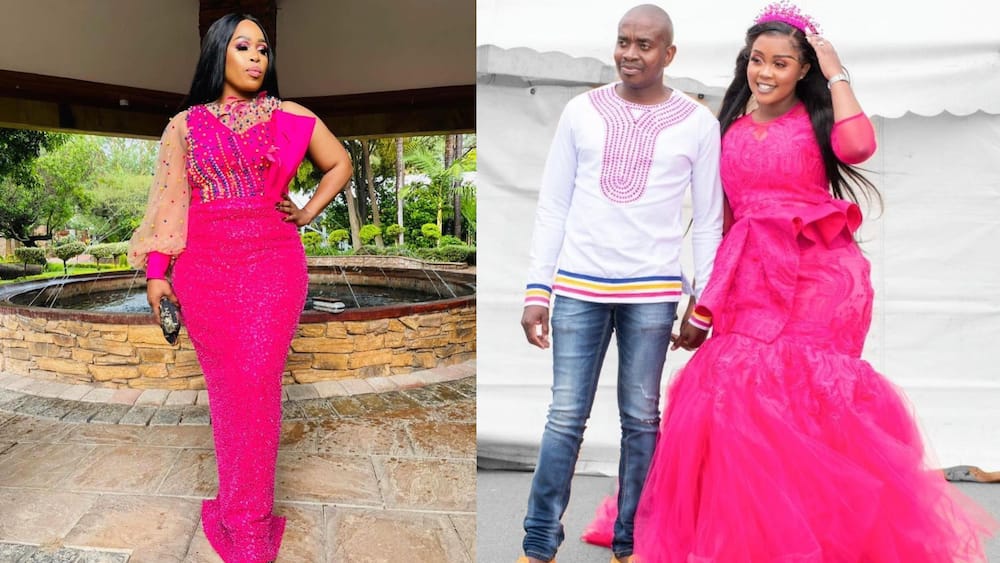 Get fancy by pairing a lightweight headpiece with a mermaid dress. The dress will offer you complete freedom of movement. Alternatively, have a straight-fitting maxi.
Colourful affair
Did you know a bright and colourful wedding is determined by the bride's mood, feeling, and outfit? You can never go wrong in a yellow makoti outfit.
Stylish wrap-skirts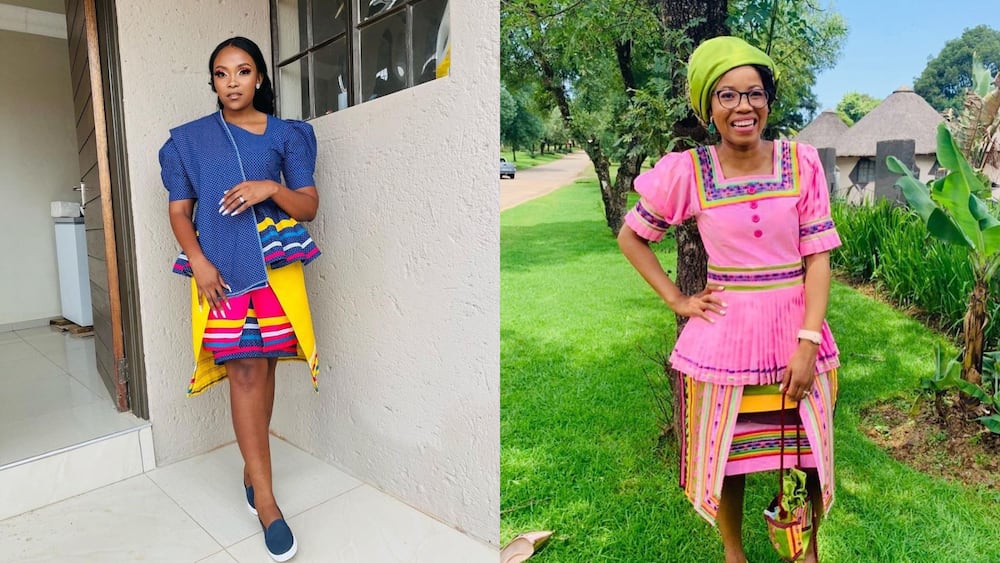 Sepedi women should never be afraid to show off their beauty. These traditional outfits are fabulous for any social event.
Modest and pretty
A shift dress is a dress hanging straight down from the shoulders. Shift dresses come in many colours and designs. Midi-lengths are perfect for this design.
Cute orange-themed couple outfits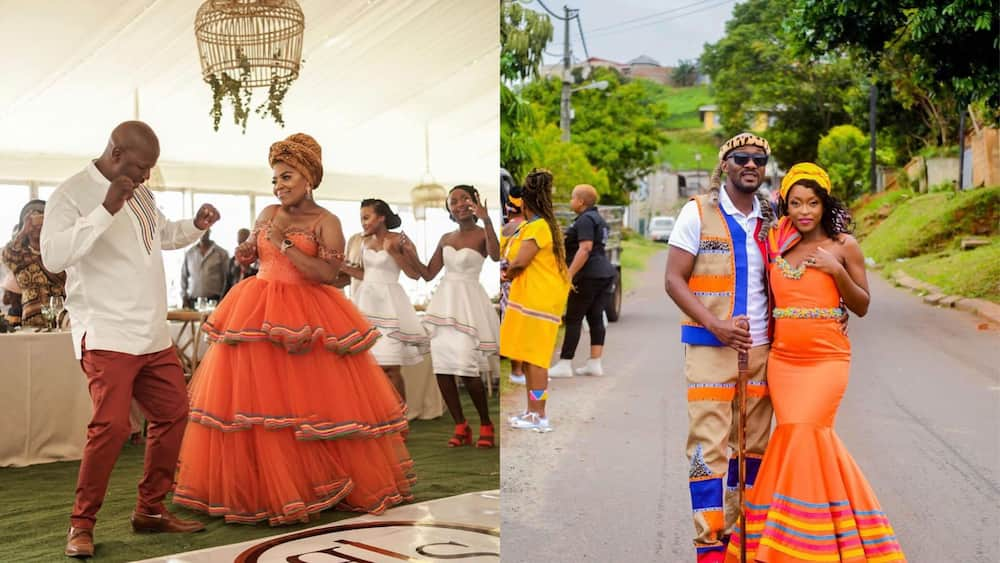 Some call it a tiered design, while others call it a staircase dress. This design hides your belly and side fat by slimming your waistline to create an hourglass-like figure. As a result, the dress tricks the eye into seeing a slimmer figure. Slim people can rock the mermaid design.
High tea vibes
Bodycon outfits were not worn in the traditional Pedi community, mainly because modesty was encouraged. Today, women wishing to flaunt their beautiful pictures can wear bodycon attires.
Blue & pink makoti outfits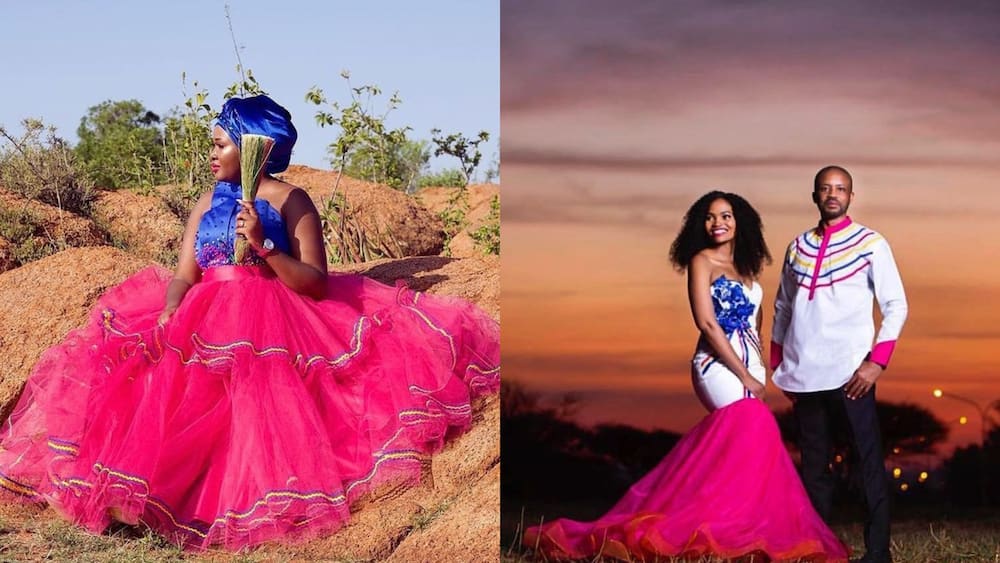 Chiffon adds a touch of glamour and elegance to your overall look because it is airy and light, and the sheer fabric falls beautifully over the body.
Pretty in stripes
Your dress can have colourful stripes between the hem and waist instead of placing them at the hem. This design flatters every body type, especially if paired with heels.
Pedi-inspired wedding outfits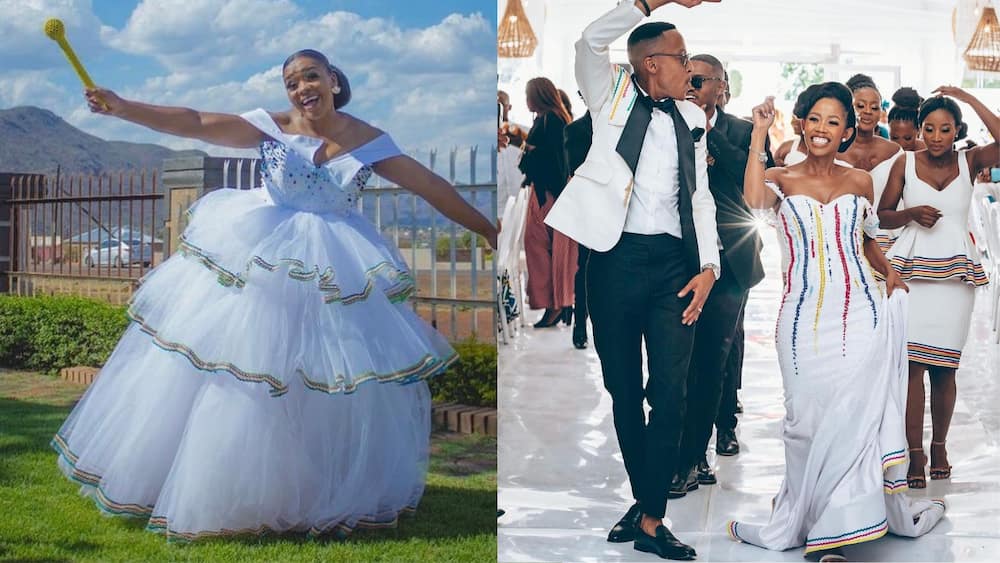 Dresses with flowing chiffon skirts go well with short sleeves or sleeveless designs. They are the best options for brides who dream of summer weddings. You can also have a simple dress made of satin or other material accessorised with Bapedi elements.
What is the Sepedi traditional attire?
Sepedi traditional attire typically includes the hele, metsheka, and moruka. Moruka is a headscarf, while hele and metsheka are the inner and outer aprons.
What are the main Sepedi colours?
The main colours are turquoise, bright pink, yellow, blue, and white.
Sepedi traditional attire for ladies and men is elegant, stylish, and unique. Many people wear them for social or traditional functions in honour of their culture.
READ ALSO: 50+ best hairstyles for black women in South Africa 2023
Briefly.co.za recently published the best hairstyles for black women in South Africa in 2023. Black women tend to have thick, curly hair that can be challenging to maintain and style, especially if one lacks adequate knowledge about African hair.
Today, natural African hair is more appreciated and acceptable in places of work. You should learn different protective styles you can wear confidently to various social and formal settings.
Source: Briefly News