TB Joshua bio: age, children, wife, ministry, prayer request, on coronavirus, net worth
Who is Prophet TB Joshua? He is a respected and renowned religious personality, not only in Nigeria but in the entire world. He is famous for making prophecies, performing miracles, and engaging in lots of philanthropic work.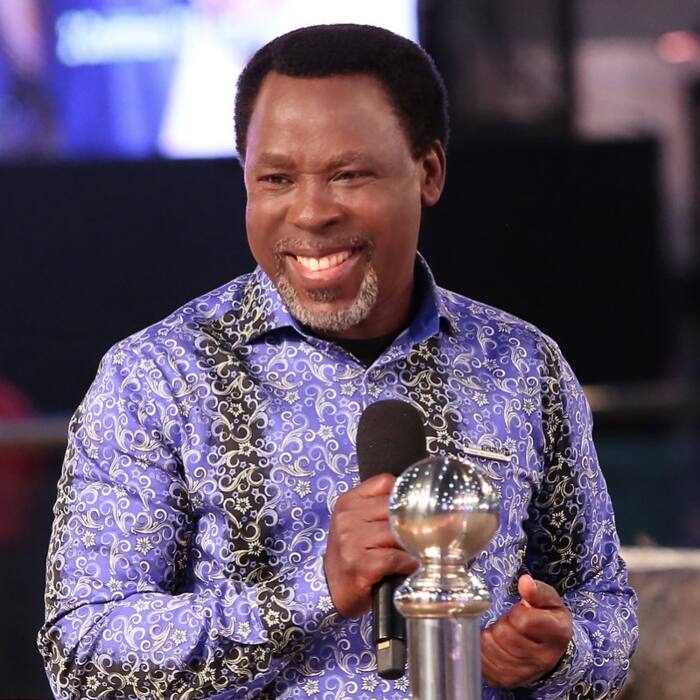 The popular televangelist and pastor is the founder and leader of The Synagogue, Church of All Nations (SCOAN). Through his ministry, he has been able to impact many people across the globe. Through him, many have experienced great miracles, which has attracted more people. Interesting to note, TB Joshua YouTube show is one of the most popular.
Profile summary
Full name: Temitope Balogun Joshua
Year of birth: June 12, 1963
Age: 56 years
Marital status: Married
Career: Pastor
Instagram: @tbjoshua
Early life
The popular pastor was born on June 12, 1963, in the tiny village of Arigidi in Akoko, Ondo State, in the heart of Nigeria. According to his biography, his birth was unique as he spent about 15 months in his mother's womb.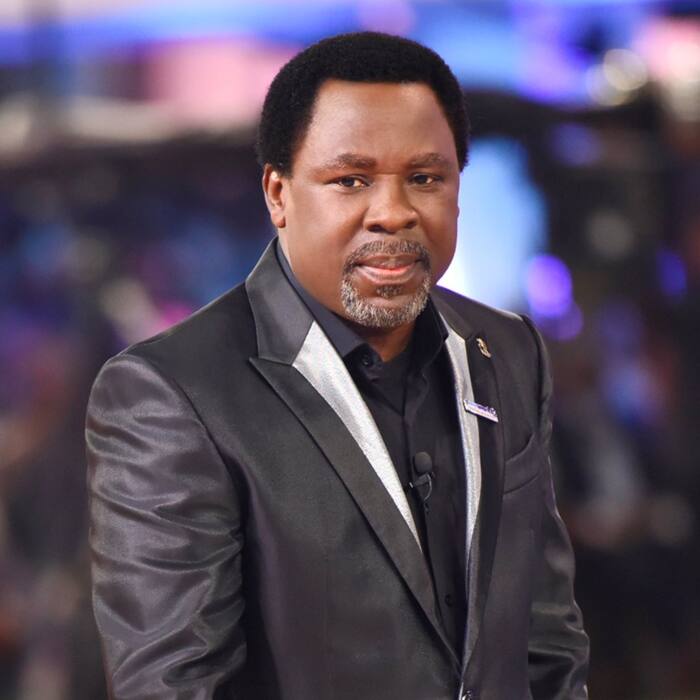 Education
He attended St. Stephen's Anglican primary school in Ondo State and completed in 1977. His love for the Bible commenced when he was in secondary school, which earned him the name Small Pastor. He then started holding Bible studies for kids in his home area.
Career
In 1987, he launched his ministry after receiving a call from God. Today, the church records more than 50,000 visitors each year. Also, a report from the Nigerian Immigration Service states that out of every ten foreign visitors in the country, six are always for a SCOAN visit.
The influential minister is the face behind Emmanuel TV station. The television station is the largest Christian station in the country. He has garnered so many followers on social media, who want to keep up to date with the current happenings and miracles. On Facebook, he has more than 2.5 million fans, while TB Joshua videos on YouTube have more than 300 million views.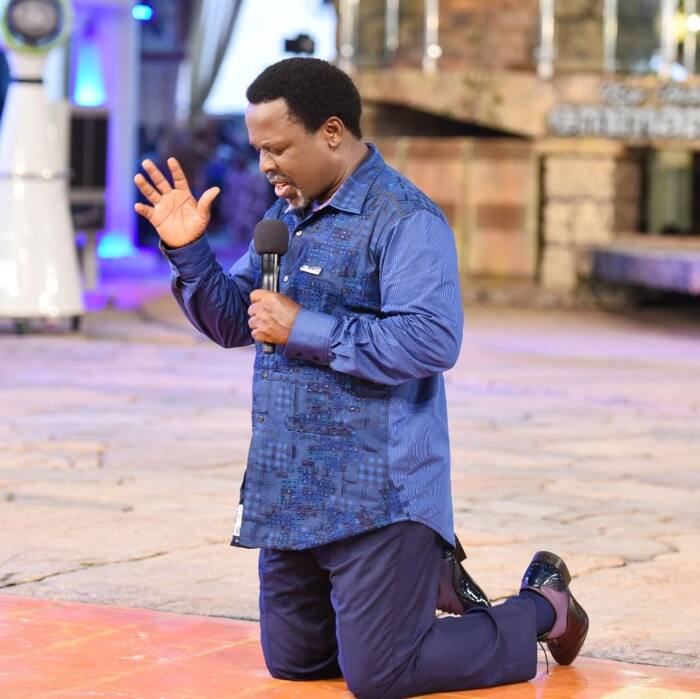 SCOAN
It is believed that more than 15,000 members attend the Sunday services every week. The church has also constructed accommodation blocks at the church, which aid in accommodating foreign visitors.
September 12, 2014, was a dark day for the minister that will forever remain engraved in his heart. One of the ministries' guest house collapsed and killed 115 South African nationalities. According to officials, the collapse was a result of construction mishaps. However, the ministry opposed and said that there was a small aircraft that was spotted circling over the building before it went down.
According to the pastor, it was an attempt to kill him. The visuals of the said aircraft were captured on camera footage and were aired to aid in supporting his claim.
SCOAN live service is accessible on Emmanuel TV, where you can tune in to enjoy the sermons. You can also watch them on their Facebook page.
Family
The influential pastor is a married man to one wife, Evelyn Joshua. His wife is also a minister at SCOAN and is believed to be the second senior person in the ministry. TB Joshua children with his wife are three. His firstborn daughter completed her studies in economics at the London School of Economics.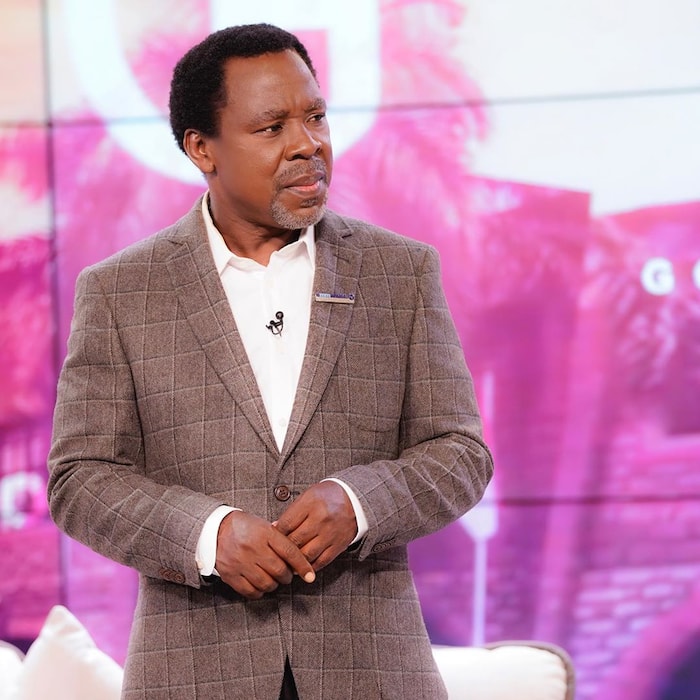 In 2015, she was requested to the bar in Nigeria, and one year later, she was called to the bar in the United States of America. His second-born daughter, Promise, is studying politics and international relations in the London School of Economics.
TB Joshua 2016
In 2016, he prophesied that Hillary Clinton would win the USA Presidential elections, with what he claimed would be a narrow victory. Also, TB Joshua prophecy on USA elections stated that the new President would face numerous challenges. However, after the results turned out to be different, the Facebook post was removed.
Who is the spiritual father of TB Joshua?
There is no information on who exactly spiritually raised the influential pastor.
How much money does TB Joshua have?
The prophet is estimated to have a net worth of between $10 million and $15 million. According to a list prepared by Forbes, he was named the third richest pastor in Nigeria. There is no information on TB Joshua house.
How can I see TB Joshua?
If you desire to visit the SCOAN, one is advised to call the listed contacts between Monday and Friday from 11 am-10 pm (GMT+1) for confirmation.
+234 (0) 706 486 5517
+234 (0) 705 807 9083
The Synagogue, Church Of All Nations Headquarters is located at:
1 Segun-Irefin Street, Ikotun-Egbe, Lagos, Nigeria
Does TB Joshua sell anointing water?
The anointing water is not for sale. One can only access it at the Synagogue, Church of All Nations. Also, you can access it by signing up with an Emmanuel TV partner, where you will pledge to be paying a certain amount of money every month.
TB Joshua news
With the recent coronavirus pandemic that has seen most businesses coming to a halt, the Nigerian megachurches were not spared, including the SCOAN. In February, the pastor claimed that by March 27, the pandemic would be over, just like it came by.
By the end of this month, whether we like it or not, no matter the medicine they might have produced to cure whatever, it will go the way it came," he said to applause from his congregation.
However, that was not the situation by then, and when people mocked him, he retaliated, stating that he meant, the situation would change from where it had started, in Wuhan.
What I meant was that the virus would be halted where it began, and in Wuhan, it has stopped.
Prayers
The pastor has many prayers for his followers and anyone in need of prayers. For instance, there is a prayer against evil spirits, prayer against COVID-19, and TB Joshua prayer for a breakthrough, among many others.
READ ALSO: Robert Sandberg bio - who is Mia Khalifa's fiance'?
TB Joshua is one of the most influential pastors in the world. He is also one of the richest in Nigeria. Not only is he a man of God, but he is also a dedicated family man. With time, he has garnered many followers as a result of his prophecies.
READ ALSO:
Pete Davidson bio: net worth, girlfriend, age, Twitter, Instagram
Andre Schwartz bio, age, family, health, songs, profile
Yvonne Chaka Chaka bio: age, children, husband, songs, albums, movies and TV shows, profile
Source: Briefly.co.za