Nomagugu Simelane-Zulu bio: age, family, education, qualifications, contacts
Nomagugu Simelane-Zulu is a phenomenal woman. She shows that a woman's career is not limited, and a girl child can have whatever she desires following the right path. As a seasoned lawyer and politician, she has occupied several enviable positions since she stepped into South Africa's political terrain.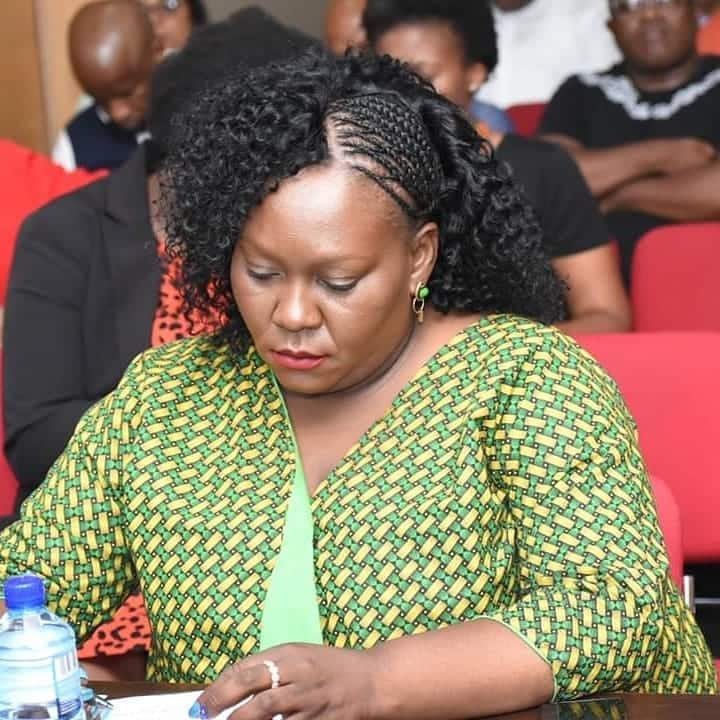 Nomagugu is a South African lawyer and politician under the ruling party, African National Congress. She is one of the eminent personalities in KwaZulu-Natal's legislative council because of her portfolio. In 2019, the Premier of KwaZulu-Natal, Sihle Zikalala, appointed the Newcastle-based woman as KwaZulu-Natal Health MEC. Discover more about Nomagugu Simelane-Zulu qualifications and marital life in the following paragraphs.
Simelane profile summary
Full name: Nomagugu Simelane-Zulu
Place of birth: Dobsonville, Johannesburg, South Africa
Date of birth: 22nd of August, 1976
Age: 44 years old
Nationality: South African
Profession: Lawyer and politician
Political party: African National Congress
Spouse: Mxolisi Zulu
Alma mater: University of Natal
Background information
MEC Nomagugu Simelane-Zulu is a South African lawyer and politician. She was born and bred in Dobsonville, Johannesburg, in the former Transvaal Province, South Africa. So, what is Nomagugu Simelane-Zulu age? Nomagugu is 44 years old. She was born on the 22nd of August, 1976. She will be 45 years old in August 2021.
As for Nomagugu Simelane-Zulu education, she attended the University of Natal, now the University of KwaZulu, where she obtained an LLB degree. Also, she holds a certificate in governance. She received it from the University of Witwatersrand.
The qualified lawyer and seasoned political campaigner is married to Mxolisi Zulu, and together with her family, she makes her abode in Newcastle, KwaZulu-Natal.
Nomagugu's career
Simelane-Zulu joined politics when she was 16 years old. What is the Nomagugu Simelane-Zulu party? She has been an active member of the African National Congress for almost a decade. She joined the ANCYL in 1992 and became the branch chairperson of the youth league in her community. She was the South African Students Congress' chair from 1997 to 1998 while studying at the University of Natal.
Between 1999 and 2001, she served as the university's ANC Youth League branch chairperson and the university's Law Student Society secretary. She later became chairperson of the Black Lawyers Association at the institution.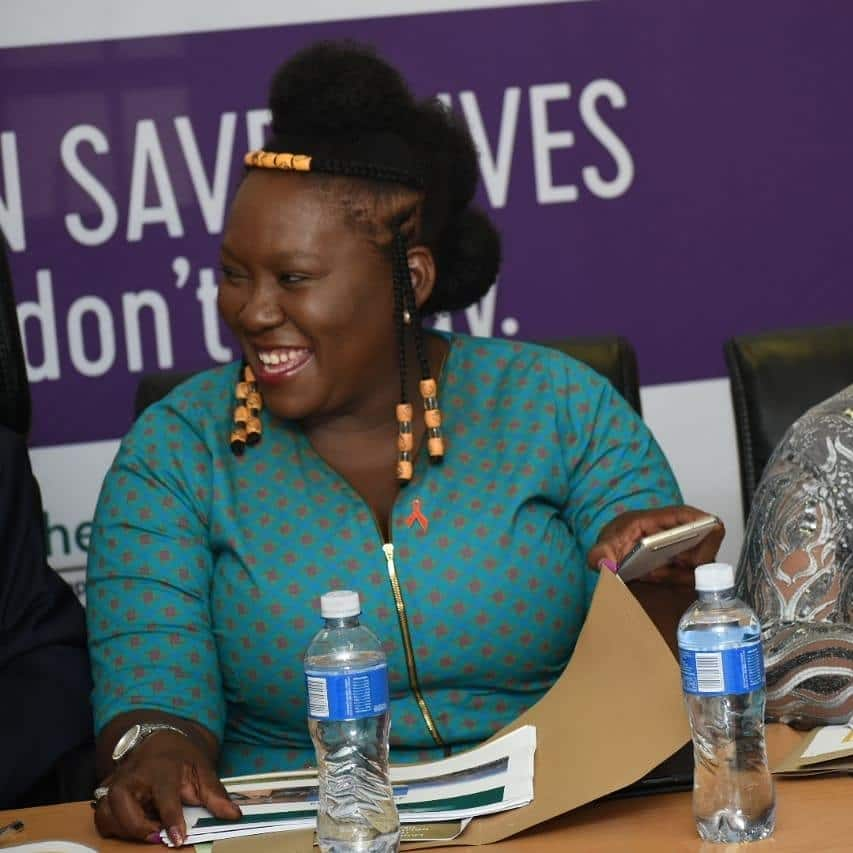 Moreover, in 2002, she became a branch secretary of the association, and in 2003, she became the provincial treasurer of the ANC Youth League. Nomagugu retained the position until 2010. Shortly after that, she became the regional treasurer of the party at the Abaqulisi branch, and in 2015, she was made a member of the ANC provincial executive committee.
Appointment as KZN Health MEC
Simelane-Zulu became a member of the KwaZulu-Natal legislature in May 2014. In the same year, she became the legislature's Agricultural Portfolio Committee chair until 2019. The Premier of KwaZulu-Natal, Sihle Zikalala, appointed her as a Member of the Executive Council for Health in May 2019. When she was expressing how honoured she feels to have bagged the position, she said:
The responsibility of leading in a society like ours is a very serious responsibility. I think any woman, young woman give such responsibility must take it very seriously because we have to ensure that the young women coming behind are able to learn and are able to understand that the sky is the limit and there is no glass ceiling anymore. Of course, there are challenges as we live in a patriarchal society and that will always be there, but the struggle continues.
Nomagugu Simelane-Zulu images
Nomagugu loves to have fun when she is away from work. Considering her Instagram posts, she enjoys social gatherings so much. Although she does not have many followers, there are enough pictures that can entertain her fans. Check out some of her stunning and beautiful pictures below:
1. A happy member of the ruling party, ANC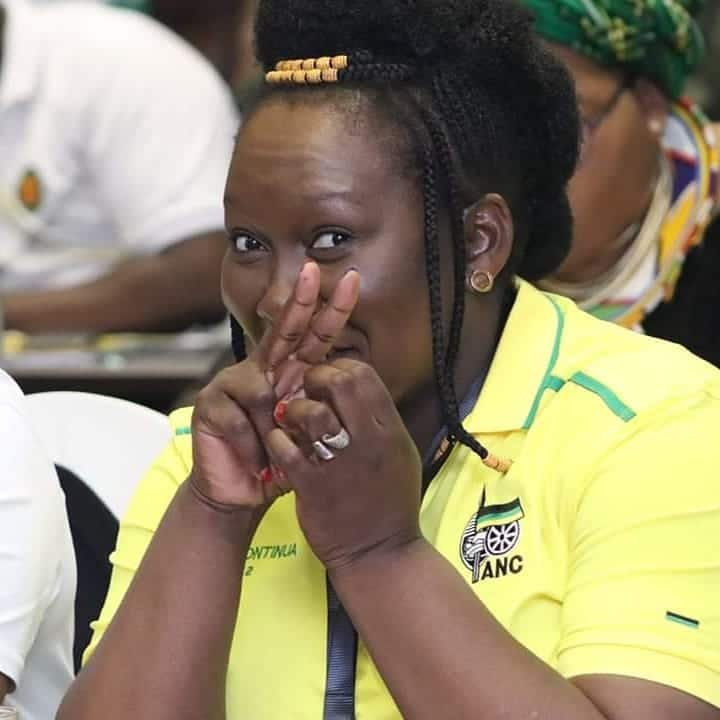 Being a member of the ruling party is something that gives Simelane-Zulu joy, no doubt. She proudly flaunts the logo on her shirt while expressing her happiness. From her pose, it will not be bad to conclude that she must be a woman who likes to play when there is a need for it.
2. Commitment to the betterment of lives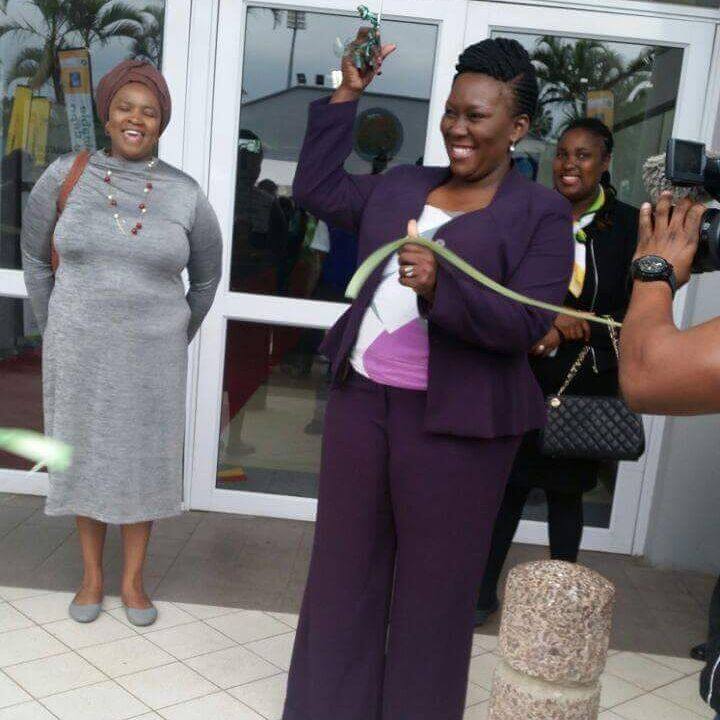 Occupying the position as KZN Health MEC is more of responsibility than a title for the lawyer and political campaigner. Her readiness to serve and excellent leadership skills must have been part of why the amazing woman has been privileged to serve in different capacities in the country.
Nomagugu contact details
Because of her assumption as KZN Health MEC, the seasoned lawyer and politician is responsible for the health needs of over 80% of KwaZulu-Natal's population who use the public health sector. She oversees more than 700 health facilities, including hospitals, clinics, community health centres, and mobile clinics. If, for any reasons, you need to get in touch with her, Nomagugu Simelane-Zulu contacts are below:
Telephone: (033) 395 2016
Fax: (033) 395 2258
Email: Nomagugu.Simelane-Zulu@kznhealth.gov.za
Nomagugu Simelane-Zulu has carved a seat for herself in her country's political sector and has proven that hard work, consistency, and dedication pay. The way she has well managed several leadership positions she occupied is enviable. Today, she has become a role model and source of inspiration to many.
READ ALSO: Wouter Basson bio: age, family, education, book, profiles, net worth
Wouter Basson may not have a good name in the public space due to his alleged actions in apartheid South Africa. As published by Briefly.co.za, he is a former head of a secret chemical and biological warfare project, Project Coast, in South Africa, during the apartheid era.
Wouter was accused of supplying a lethal triple cocktail of powerful muscle relaxants, which could have been used to eliminate lives systematically, among other charges. Recently, there were allegations that he should not be allowed to operate as a doctor. So, was his licence to practice withdrawn? The post details everything you should know.
Source: Briefly.co.za