Dwyane Wade net worth 2021, salary, age, height, career, family
Dwyane Wade played for Miami Heat in 16 NBA seasons. He won three titles and 13 All-Star selections before retiring. Besides the stunning career record and inspirational achievements as a father and husband, Dwyane and his family have gained media attention because of several controversial issues.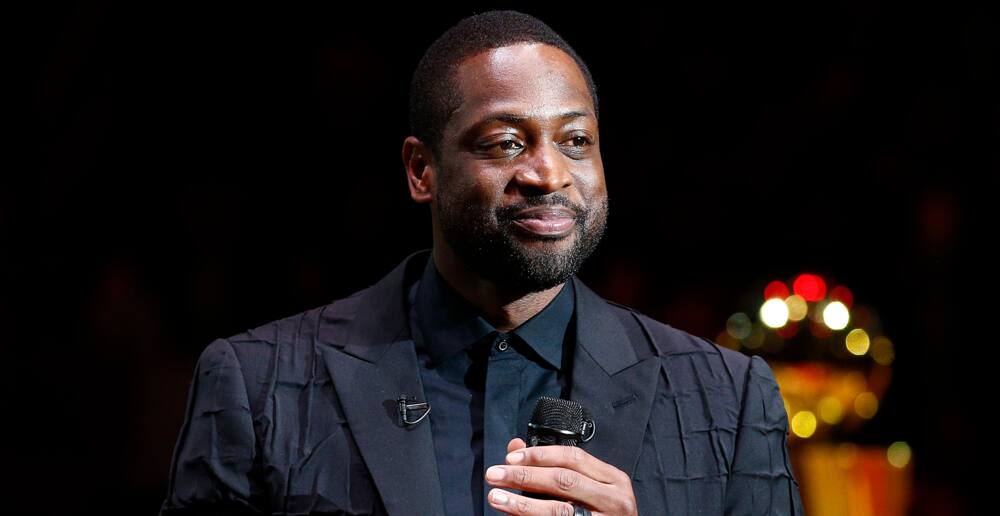 His wife is also a media sensation because she is Hollywood's favourite actress for millions of movie fanatics worldwide. Getting a child through surrogacy and supporting their transgender daughter did not go well with some of their fans. He has also done many great things that people acknowledge. What is going on in Dwyane Wade's family?
Dwyane Wade profile summary
Full name: Dwyane Tryone Wade Jr.
Nicknames: D-Wade or Flash
Date of birth: 17th January 1982
Age: 39 years as of 2021
Career: A retired basketball player
Nationality: American
Marital status: Married
Children: 4
Height: 6 feet and 4 inches
Net worth: $170 million
Dwyane Wade biography
Dwyane Wade age is 39 years as of 2021. The former NBA star's parents divorced shortly after he was born. His mother, Jolinda, struggled financially to raise her younger children, Dwyane and Tragil, after receiving custody. They went on welfare to make ends meet.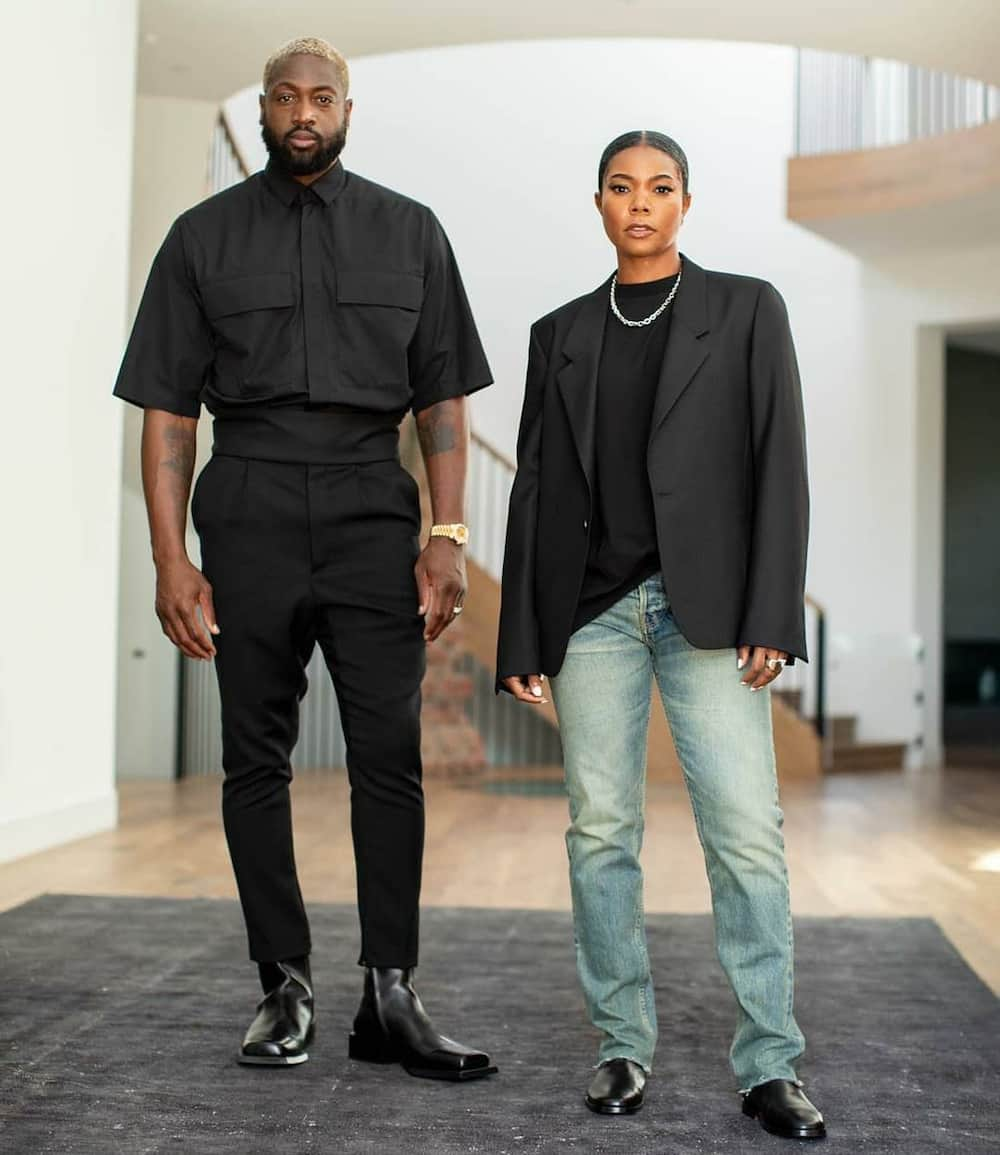 Wade was born on 17th January 1982 in Chicago, Illinois. At the age of 8, Tragil pranked him and took him to their father's place in the South Side neighbourhood. Living with his father and step-mother protected him from the crime-infiltrated community at his mother's place.
His father moved the family to a Chicago suburb named Illinois. In Illinois, his stepbrothers, father, and friends trained him on how to play basketball. His father was a part-time basketball coach at a local recreational centre.
The star is an alumnus of Harold L. Richards High School in Oak Lawn. Demetrius, his older stepbrother, was there before him and left an erasable mark on the school's basketball team. What is Dwyane Wade height in feet? He is six feet tall with a heavily built body.
Dwyane Wade's family
Is Dwyane Wade married? He has married twice. Siohvaughn Funches was Dwyane Wade first wife. She was his high school girlfriend, and they tied the knot in 2002. The two got two sons, Zaire Blessing Dwyane Wade (2001) and Zaya Wade (2007). Wade obtained the children's full custody in 2010 after divorcing Siohvaughn in 2009.
Is Zaire Wade Zaya Wade?
No. In 2019, Dwyane Wade son, Zaire, supported his younger sister, Zaya, when she disclosed to the public that she is transgender. Their parents also support her and the LGBTQ community at large. Is Zaya Wade adopted? No, these are false rumours. He adopted his nephew, Dahveon Morris.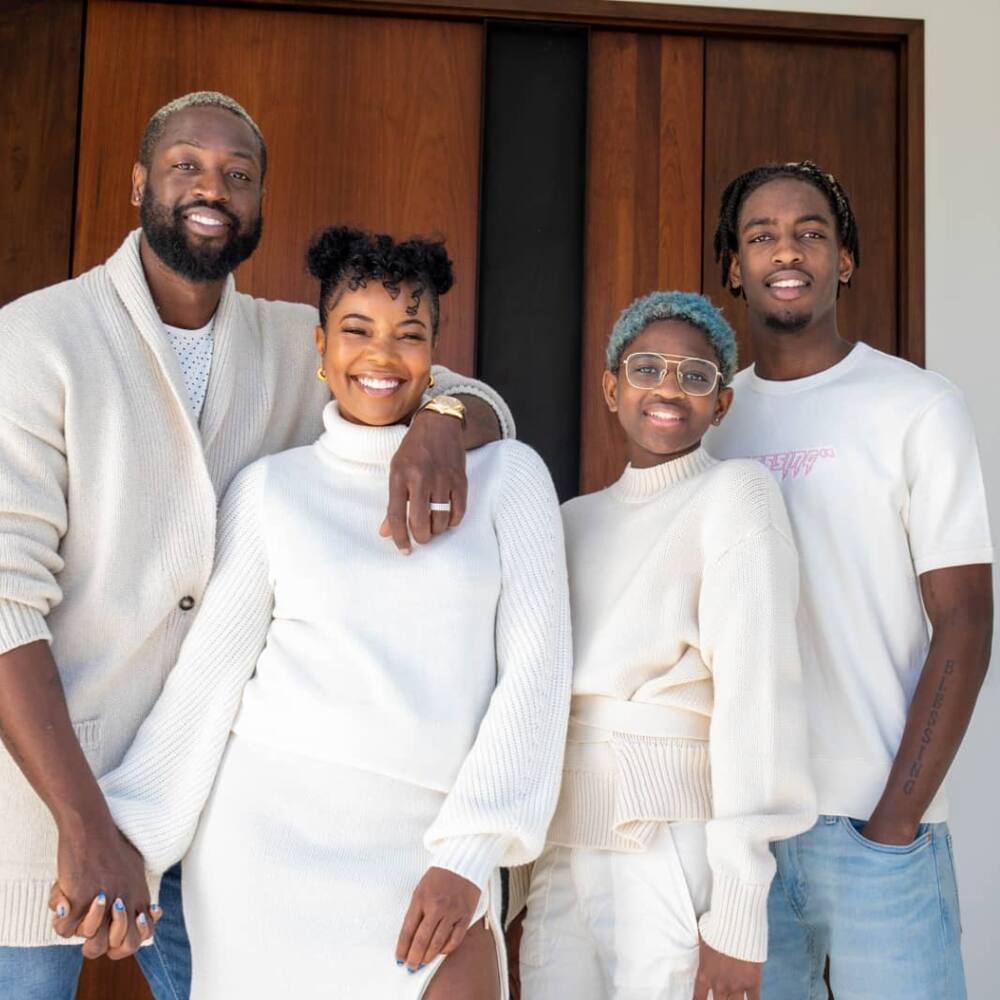 Who is Dwyane Wade wife?
The player started dating Gabrielle Union (a Hollywood actress) in 2009 after divorcing his wife. They first met in a 2007 NFL Super Bowl Party. He got a son named Xavier Zachariah Wade in 2013 with an old friend named Aja Metoyer during his relationship break with Gabrielle. However, the two reconciled and wedded on 30th August 2014 in Miami.
Their daughter, Kaavia James Union Wade, was born in November 2018 through surrogacy. They chose this option because Dwyane Wade wife had suffered several miscarriages due to a health condition called adenomyosis.
In his 2012 memoir, A Father First: How My Life Became Bigger Than Basketball, the player gives his fans insights into the single-parent lifestyle he led before marrying Gabrielle. He discussed how he balanced his career and fatherhood.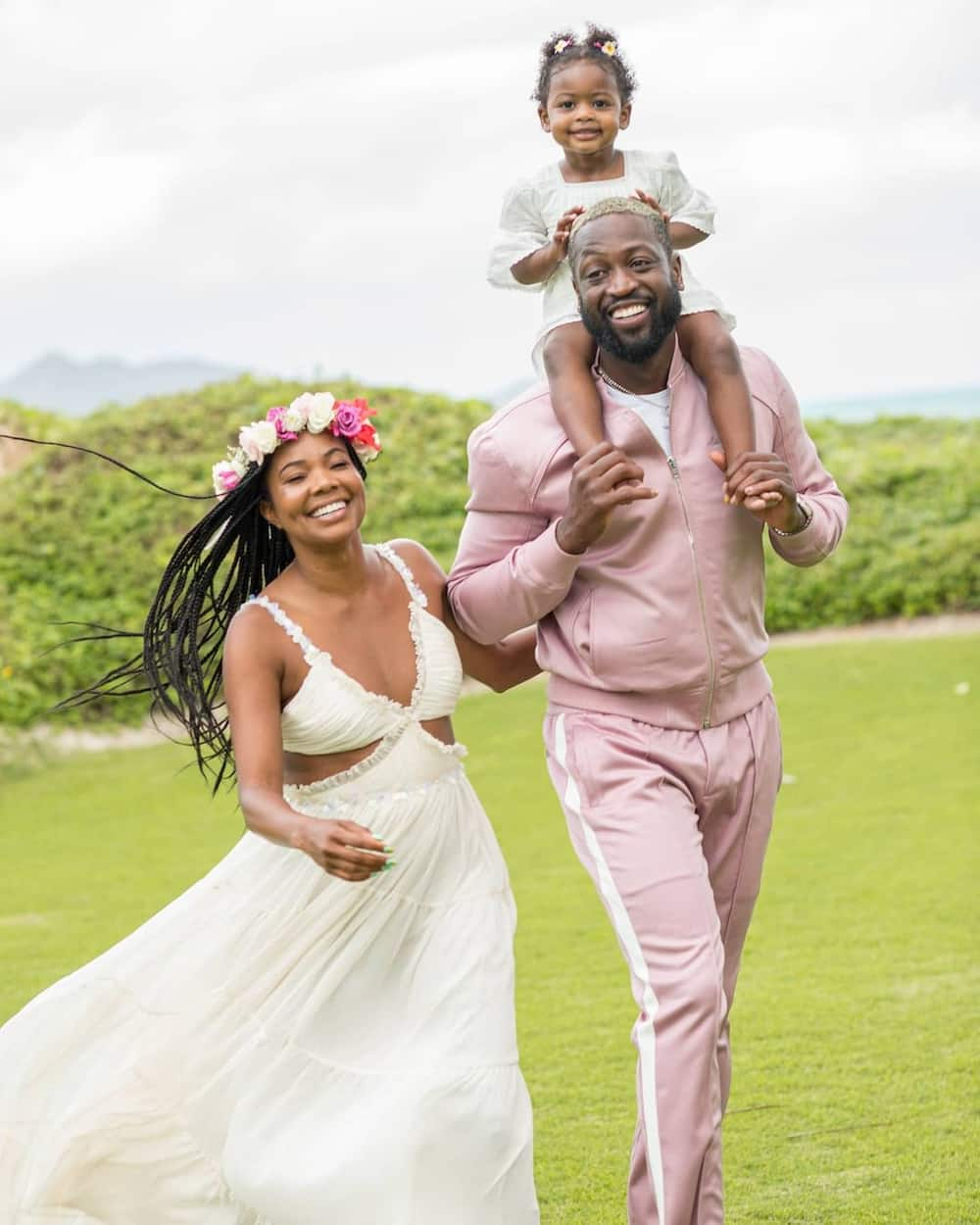 Dwyane Wade's career life
The star's high school coach, Jack Fitzgerald, greatly impacted his talent after only three college programs wanted him because he was an excellent player with poor academic grades. His performance in the game was 27 points and 11 rebounds per game.
Dwyane chose the Wisconsin-based Marquette University in Milwaukee. Head coach Tom Crean put him under partial qualifiers even though he did not qualify to play because of poor academic performance. In the 2000/01 seasons, he improved his playing performance by clicking 17.8 points, 6.6 rebounds, and 3.4 assists per game.
He was part of the team that lifted the school's name to glory during the Conference USA championship and NCAA tournament's Final Four. In 2003, Dwyane set a fourth triple-double record in the NCAA tournament. He was mentioned as the MVP of the Midwest Regional Final.
In 2003, Dwyane dropped out of the university in senior year and joined NBA's Miami Heat. NBA promoted him to the All-Rookie team the following year because he constantly posted impressive performance summarizes as 16.2 points, 4.5 assists, and 4.0 rebounds per game.
Wade's numbers shot to 24.1 points and 6.8 assists per game shortly after Shaquille O'Neal joined Miami Heat. In 2006, the player gave his fans a rare treat during the NBA finals. Miami Heat faced Dallas Mavericks, one of their toughest rivals.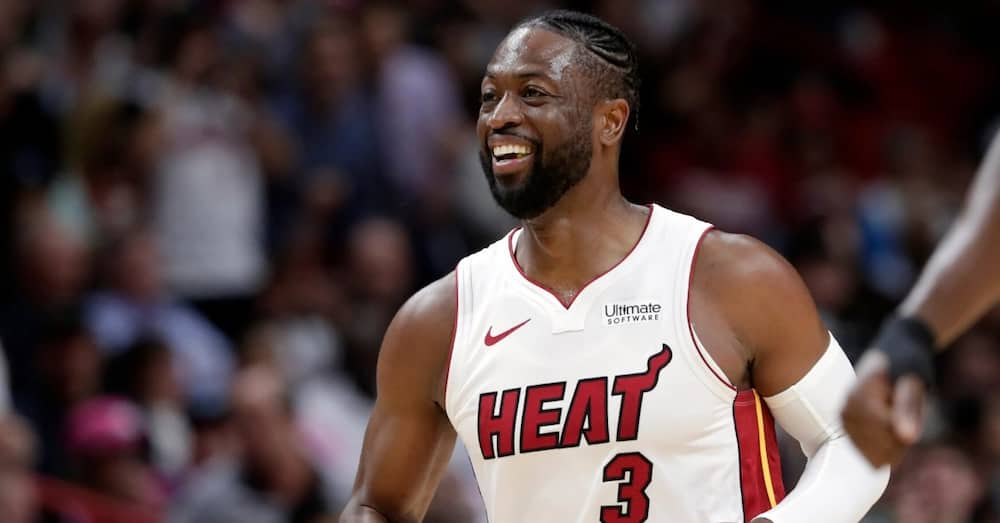 The game was thrilling because Dwyane scored 42 points and achieved 13 bounds in the Finals' third game, leading Miami Heat to a 98-96 victory. He received the NBA Finals MVP for posting 36 points, 10 rebounds, and 5 assists in the sixth game.
He resigned from Miami Heat in 2010 and became a free agent but returned later to join the legendary players, LeBron James and Chris Bosh. The All-star players created the Big Three group and rained havoc in NBA's Eastern Conference before the Mavericks beat them in 2011's NBA Finals.
The Big Three won their second title in 2012 when San Antonio Spurs lost miserably to Miami Heat. Chris, Dwyane, and LeBron disbanded their group when LeBron returned to Cleveland in the 2014/15 season. Wade continued to play for Miami Heat while nursing injuries; hence the team dropped to a 37-45 record.
Dwyane left Miami Heat for his hometown team, Chicago Bulls, in 2016 after serving Miami for 13 NBA seasons. He could perform well enough to join the All-Star section; therefore, his new team lost in the playoff's first round.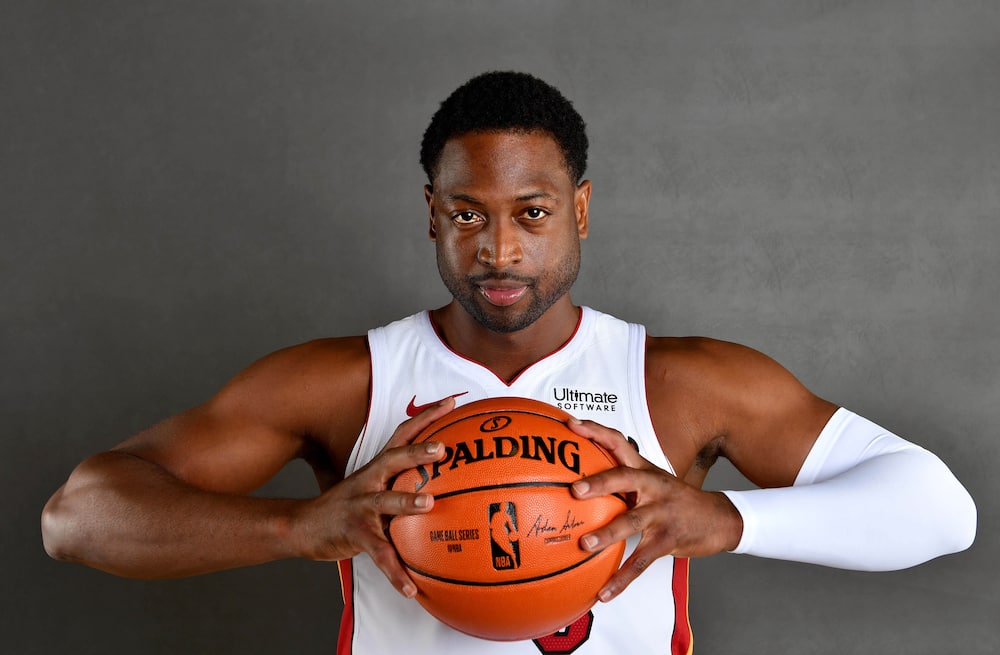 Wade and LeBron James reunited in Cleveland in the 2017/18 season, but they could not improve the team's performance; hence the team sent Wade to Miami Heat before the end of the season. Are LeBron and Wade still friends? Yes. They are best friends. Dwyane led the Heat to a 44-38 victory upon his return. He played for the team in the 2018/19 season and retired.
Dwyane Wade net worth and salary
How much is Dwyane Wade worth? Dwyane Wade net worth 2021 is around $170 million. He received many multimillion contracts while he was a player. Dwyane Wade salary was $2.394 million in 2018.
Dwyane Wade is living the best life he ever wished to have. Would you judge his approach on controversial matters or do the same if you were in his shoes? The star's life and decisions receive massive support and critics in equal measure.
READ ALSO: Ndoni Idols (Phumzile Mseleku) pregnant, P.O.B., career, profile
Briefly.co.za is delighted to share with you trending news about Ndoni Idols (Phumzile Mseleku). She competed in Idols South Africa's Season 16 while pregnant. Phumzile Mseleku won love from many hearts because of her confidence and courage to withstand pressure from the competition. What happened to her? Tap on the link to find out.
Source: Briefly News