Richards Bay Man Ditches Career as Builder, Becomes Attorney of High Court at 63, Goes TikTok Viral
At the age of 63, Langalakhe Maxwell Vezi achieved the dream he had held since childhood: becoming an admitted attorney of the High Court of South Africa
Langalakhe's journey was not easy as the husband and father worked as a builder for years before deciding to go back to school and juggling his various responsibilities
He shared his story in a Briefly News interview and spoke about the importance of education and encouraging youngsters to have a goal in life and to love what they do
PAY ATTENTION: Briefly News WhatsApp Channel - Breaking News on the Go - FOLLOW NOW
Being an admitted attorney of the High Court is a prestigious honour, and at the age of 63, Langalakhe Maxwell Vezi, who hails from Richards Bay, has reached a milestone worthy of applause.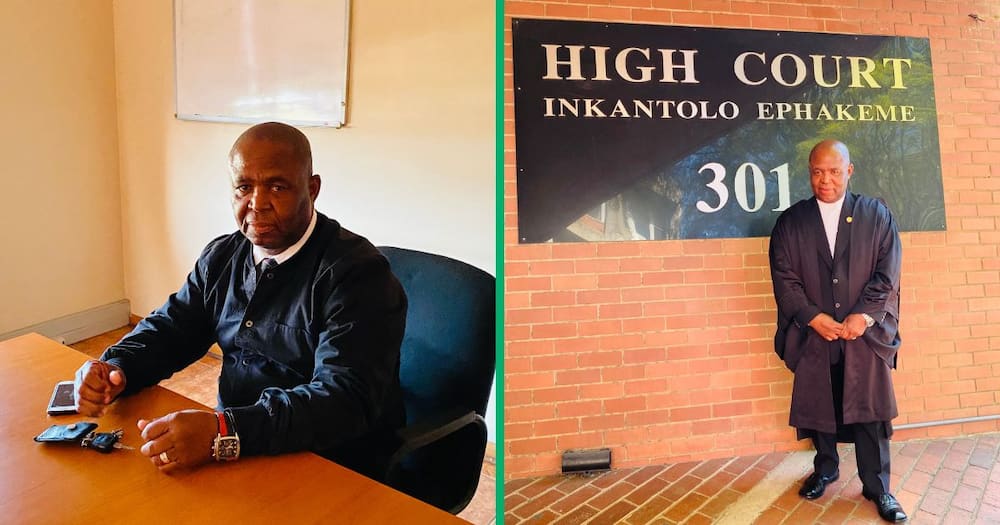 The father of four recently went viral after his daughter, Vezokuhle Vezi-Dlamini, posted a video of him being admitted as an attorney of The High Court of South Africa after taking the bold decision to study law after matriculating at 55.
According to the Law of Society South Africa, being an admitted attorney of the High Court in South Africa means that the court has formally recognised you as qualified to practice law in South Africa. This is a significant achievement, as it requires a rigorous education and training process.
Langalakhe spoke to Briefly News about his challenging yet inspiring academic and career journey in an exclusive interview.
Langalakhe shared that he was in the construction industry, where he worked as a builder for more than 20 years before returning to school and admitted that it was a challenging industry.
"I was not earning enough to support my family. In 2011, I decided to write my matric and uplift myself. My wife was my mentor and my teacher throughout.
"It was challenging and exciting at the same time. Having to go to work during the day, study in the evening, and prepare for exams for the following day required a lot of focus and determination."
According to GoLegal, you must complete an LLB degree from a recognised university to become an admitted attorney in South Africa. Once you have completed your LLB degree, you must serve an articleship (apprenticeship) with a qualified attorney for two years. During your articles, you will gain practical experience in the law and learn the ropes of the legal profession.
Langalakhe always dreamed of being a qualified upholder of the law
When asked why he chose to pursue a career in law, Langalakhe said he always wanted to become a lawyer from a young age but unfortunately couldn't afford to further his studies as his mother was a single parent.
He added:
"Contributing to our country's criminal justice has always been my dream. After passing my matric in 2012, I enrolled with the University of Zululand in 2013 as a full-time student, where I quit my job as a builder.
"It was not easy being a husband, a father and a student at the same time. My wife had to take over the role of supporting me and my family while I pursued my dream. I had to attend lectures with young students and be taught by young lecturers, but because I knew what I wanted, I had to respect and listen to them," he shared.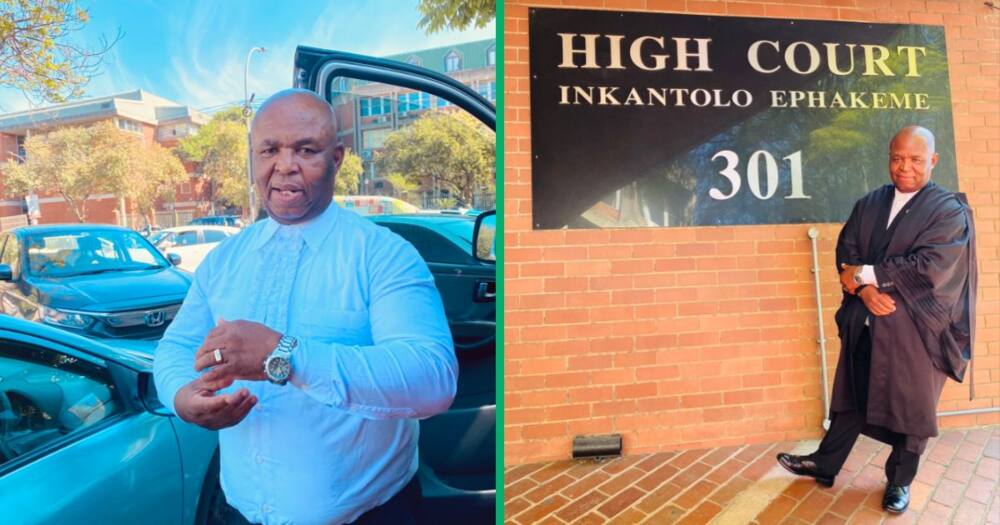 Accomplished attorney admits that being a mature 1st time varsity student was difficult
Langalakhe said he found the university environment quite challenging as it was his first time attending tertiary.
He said:
"Sometimes, I would miss lectures by going to the wrong venue. Sometimes, I would be in the lecture hall for 45 minutes without understanding a thing. Then, I had to sit in the front so that I could listen with understanding and always ask questions. Because I knew what I wanted, I soldiered on.
"There were times where I would fail the tests dismally and think of quitting, but my wife always encouraged me to do better; I also thought what precedent I would be setting for my kids if I gave up."
The driven attorney shared that he would even be discouraged by people who told him he was wasting his time and would never succeed at his mature age. But thankfully, he had his family and supportive wife rooting for him whenever his hope withered.
"Becoming an admitted attorney of the high court is not an easy journey, but it is possible through love, passion, dedication and commitment. Just know your goal," he advised.
Watch this clip below:
Langalakhe shares lessons learned and sound advice
Langalakhe's biggest life lessons have been that there is nothing impossible in life, there is a season for everything, and God's timing is perfect.
He added:
"The sky is the limit. As long as you are still alive, you can do anything. If you want to make a correct decision, you must know that there are always two sides to the story.
"Listen to the X and the Y and ask yourself what the current legislation says about the matter and what the precedents say about it. From there, you should apply your mind; then you come out with the correct decision. In law, we apply the Latin phrase which is Audi Artem, Partim rule system."
He advises youngsters to have a goal in life so that they never give up and to love what they do. That way, even if they happen to stumble and fall along the way, quitting will never be an option.
"Failing is not the end of the journey, but it is the learnt lesson that you will never forget," said the aspiring judge.
Langalakhe is a true role model. He has shown us that it is never too late to pursue our dreams and that education is the key to a better future.
Johannesburg woman celebrates becoming admitted attorney after being inspired to become lawyer in Grade 11
In another article, Briefly News reported that a smart young woman in Johannesburg is beaming after achieving her dream of becoming an admitted attorney.
Yvonne Princess Shabangu is not just a talented lawyer, she is also highly educated, holding a Master of Laws from the University of Johannesburg.
The perseverant woman has overcome so much! From an accident that almost led to her dropping out to not attending any of her graduations. The journey has been long, and Yvonne deserves all the bells and whistles.
PAY ATTENTION: Сheck out news that is picked exactly for YOU ➡️ click on "Recommended for you" and enjoy!
Source: Briefly News