Human Trafficked Mozambique Woman on Death Bed, and Sex Worker Mother Get 2nd Chance at Life
With the sex industry being illegal in SA, the government offers no support to victims or organisations trying to help them
A Mozambique woman was saved by a Mzansi NPO after she contracted HIV and was left to die
While some of these women can make over R1 000 in a day, they are given as little as R25 to survive on as their pimps take the rest
eXpose HOPE managed to save 14 girls in 2022 and spent every day trying to save more
The topic of sex workers is sensitive, especially in a country like South Africa, where the industry is illegal, and no government support is given to workers in any way, shape or form. Some women are left to die when their bodies can no longer be abused.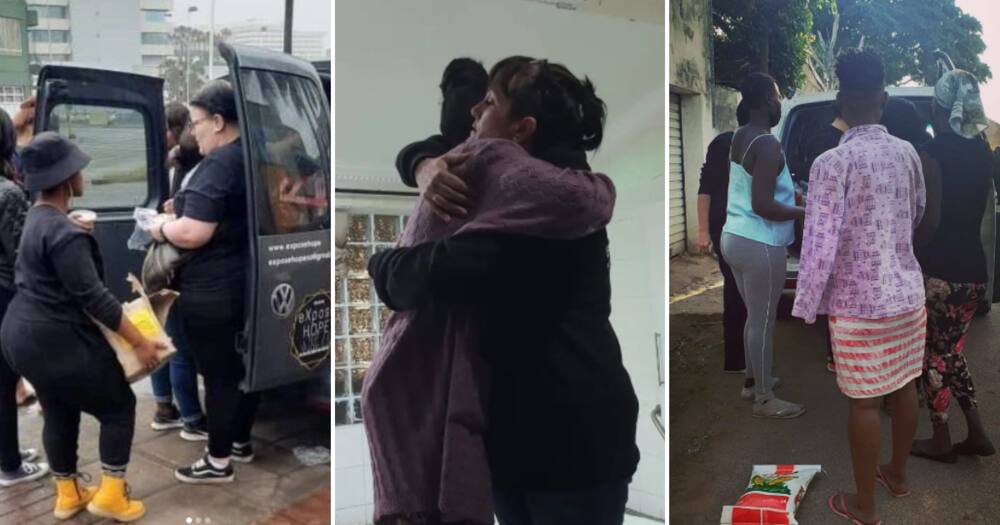 Between December 2007 and January 2022, an estimated 11 077 human trafficking cases were reported to the South African Police Service (SAPS), reported Disrupt Human Trafficking. While there are many places in the world where sex work has been recognised as formal and regulated, and workers have been given rights and protection, SA is unfortunately not one of those countries.
Briefly News contacted Vashti Toms, founding director of eXpose HOPE to find out some of the raw realness of the sex work industry in Mzansi, and about what goes into saving someone.
Human trafficked Mozambique woman on death bed saved by NPO
One of the first women the NPO saved was a human trafficked worker from Mozambique. The woman was promised a job but found herself selling her body to stay alive. Riddled with disease and fixed on drugs, the poor lady was tossed onto the streets as she was no longer useful to those who trafficked her.
PAY ATTENTION: Click "See First" under the "Following" tab to see Briefly News on your News Feed!
This is when eXpose HOPE stepped in and saved her life. The NPO went as far as consulting with the Mozambique embassy to get this woman returned home. No boundary or border will stop them.
"The first ever trafficking victim that we helped was a lady who had been trafficked across from Mozambique. She had been told that she had a job waiting for her but when she came across the border, her trafficker took her passport and legal documents including her visa and put her into a brothel. She became very sick with HIV/AIDS and when she became too sick to work she was thrown onto the streets. I met her at a homeless shelter in Durban and she was close to death. It took weeks of taking her to hospital appointments and meeting with the Mozambique embassy to finally get her home to her family where she is now healthy again thanks to the care of her family."
Pregnant sex worker chooses better life for her baby boy
The story of a sex worker who wanted better for her unborn baby was shared by eXpose HOPE. They explained that this mother has kept herself clean, found her and her baby a small home and is working hard every day to create a brighter future for her precious bundle.
While this little room might not look like much, it is a second chance that this mama never dreamed of having. Mothers are superheroes and will do anything to make their children's lives better. With help from close family and the organisation, we are certain that this woman and her beautiful baby will live a happier and healthier life.
Recovering drug addict and sex worker starts school at shelter
A young woman who is slowly fighting her addiction has just started home school at the shelter where she is staying. She has a long road ahead but they are hopeful that she will come out victorious and be able to amount to her full potential.
In 2022 the NPO managed to get 14 women and girls out of the industry, which would not have been possible without their selfless acts of kindness and unwavering dedication.
Extracting a sex worker from a brothel can be dangerous, and with no support, many return
Giving these women and girls a second chance at life takes a lot of time, funding and persistence. Having been emotionally and physically abused for most of their lives, these traumatised workers do not trust easily. It is not easy work getting these women and girls out, but it is so worth it.
"We initially start by building relationships with the individuals who are willing and able to leave. Relationship is EVERYTHING in this line of work, without trust and relationship it's impossible to extract them from the situation that they are in. Once they are ready, we make plans to extract them from their environment and from there we place them into rehabilitation or a safe space so their healing journey can begin.
"The extraction is always dangerous due to the pimps and traffickers."
One sad story that the NPO shared is of a woman who worked hard to get her life back on track but due to the high unemployment rate, she was forced to rejoin the sex work industry on a part-time basis. While the woman was still clean from drugs, the NPO knows well that being in the environment that she is, this might not be for much longer.
Drugs, abuse, neglect, human trafficking; the things that turn women and girls into sex workers
Many harsh stigmas exist about sex work, one of the biggest is that these women and girls choose to be part of the industry. While in countries where sex workers have rights, this may be true, in countries like SA, it is generally the furthest from the truth.
"There are many reasons why people end up in the industry, for most it is a matter of survival. Without good formal education and family support, many end up in the industry purely because they cannot find work. Some are orphans, and some have run away from sexual abuse within the family environment. Some have been told to leave home because their family cannot afford to feed them. Some of our friends have been kicked out of homes because they are part of the LGBTQIA+ Community and the family will not accept them. And some of them have been trafficked into the industry."
Vashti explained that while some girls bring in over R1 000 a day, their pimps take most of it, leaving them as little as R25 to survive. Sound like a life you'd willingly choose for yourself?
Many of these women and girls are heavily addicted to drugs, not only because pimps and traffickers have used drugs to force these women into the industry, but they also use it to survive while in it too. So, this often means that part of removing them from the industry starts with rehab, which is not cheap.
"To place an individual into rehabilitation costs around R7 000 a month and this takes a lot of fundraising and effort to keep the funds coming in to keep her safe. Sadly, there are no free rehabilitation options for our ladies in KZN."
These women aspire to be so much more than what they currently are. Some were once university students, and others were just little girls with big dreams, and now they are sex workers. Their only way out is through the unwavering love of those who can see the potential they once saw in themselves.
"One of the ladies that we care for was a journalism student, due to her school fees becoming too much for her she turned to the industry for a quick way to pay her fees. She is now homeless and has serious mental health issues.
"A few of our ladies wanted to become teachers, nurses, IT specialists and chefs. But due to a lack of support with education, they finally found themselves on the streets and in the industry."
A little about the NPO eXpose HOPE and how this angel organisation came about
The women at eXpose HOPE are walking angels. Giving their time, money, and emotional well-being to total strangers is a sacrifice only the purest heart can make. Vashti shared what they do and why they do it:
"eXpose HOPE is an NPO that cares for those who are trapped in the sex industry and who are victims of sex trafficking. We are a team of women who have the heart to love and care for women and girls who are being exploited in the sex industry of Durban. We have weekly outreach programmes where we go into brothels, drug houses, homeless shelters and the streets to build relationships with those in the industry and hopefully help them to escape and restart their lives in a healthier environment."
As the industry is illegal in SA, people trying to help those trapped in the industry rely solely on donations and private funding, as the government does not assist.
"The government does not support us. The sex industry is illegal here in South Africa so the government and justice system is against these individuals and will not help."
With almost 1% of the female adult population being recorded as active members of the informal sex work industry in SA, according to a study conducted by Konstant TL et al., the push to legalise the industry has been an ongoing battle that many feel requires urgent action.
If you would like to help or need help
Aside from financial assistance, the NPO is always looking for loving volunteers to help the cause. They also greatly appreciate any gently preloved clothing, bags, shoes and toiletries they use to help victims.
If you need help or want to offer eXpose HOPE assistance, contact Liza Moroneat y 082 041 0495 or exposehopesa@gmail.com.
5 Joburg women rescued from human trafficking ring in Durban, lured to with call centre job
In related news, Briefly News reported that on Wednesday, March 3, 2022, five women were rescued from accused human traffickers at a luxury residence in Durban North. Reports say the women were tricked into coming from Johannesburg.
The ladies were attracted to Durban, KwaZulu-Natal, by promises of work as call centre agents. SAPS spokesperson Lieutenant Colonel Nqobile Gwala says the women are between the ages of 19 and 27.
One of the victims met a person in Johannesburg who informed her about the job opportunity. He told them that she should recruit more women for the job post.
PAY ATTENTION: Сheck out news that is picked exactly for YOU ➡️ click on "Recommended for you" and enjoy!
Source: Briefly News