Meg McNamara age, married, weight loss, pictures, career, salary
Get unique details about Meg McNamara, whose real name is Megan Maria McNamara. She has been part of the weather team at WJZ-TV since 2017. Besides, she is a beloved personality to Baltimore locals. Her fans have been waiting to know more about the weatherwoman. This article has all you need to know about her.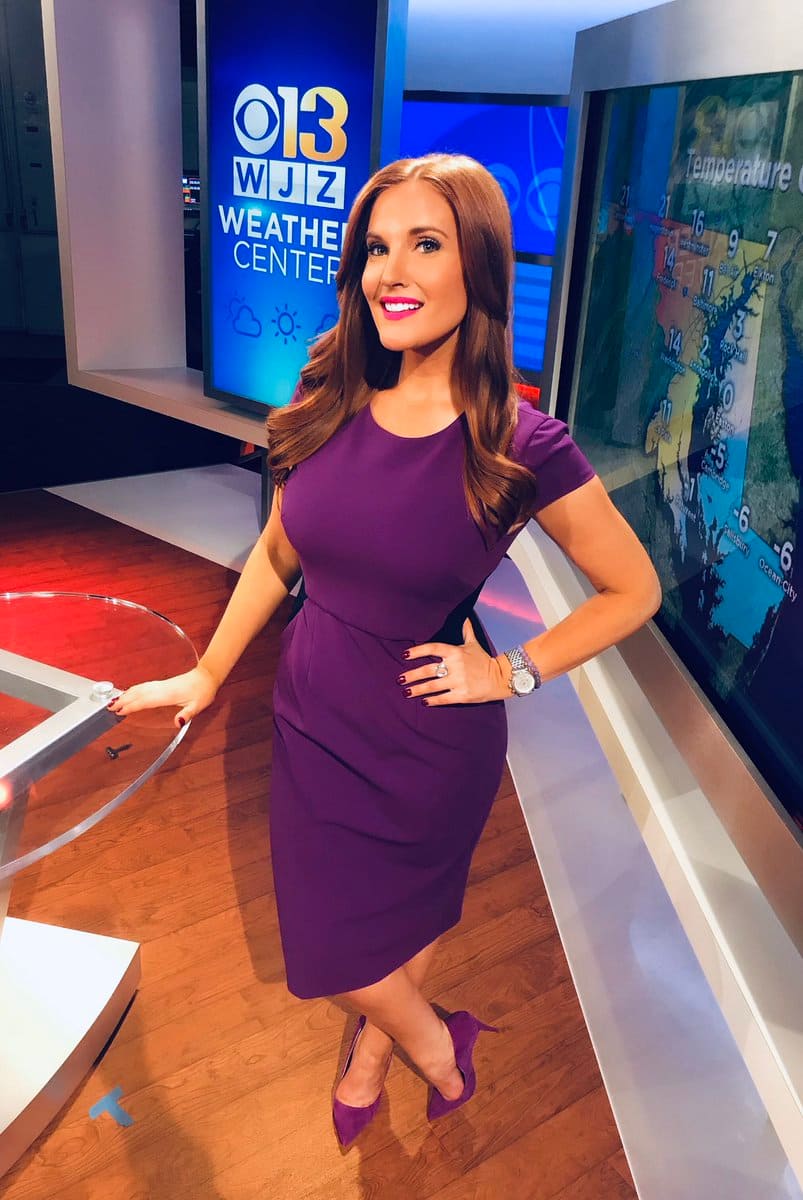 Where is Meg McNamara from? Maria is originally from Seattle, Washington. She was born on May 24, 1986. Therefore, she is 35 years as of 2021. Her parents are Jeff, the father, and Dana McNamara, an interior decorator. She is the eldest of three children. She has two siblings, a brother and a sister.
Meg McNamara profiles
Real name: Megan Maria McNamara
Meg McNamara age: 35 years (as of 2021)
Date of birth: May 24, 1986
Place of birth: Seattle, Washington
Gender: Female
Spouse: Timothy Witham
Siblings: Conor, Maura Lee
Height: 5ft 4 inch
Parents: Jeff, Dana
Alumni: Loyola Marymount University
Works for: Warning Weather (WJC-TV)
Meg McNamara Instagram: @megmcnamaratv
Meg McNamara Facebook: Meg McNamara
Meg McNamara career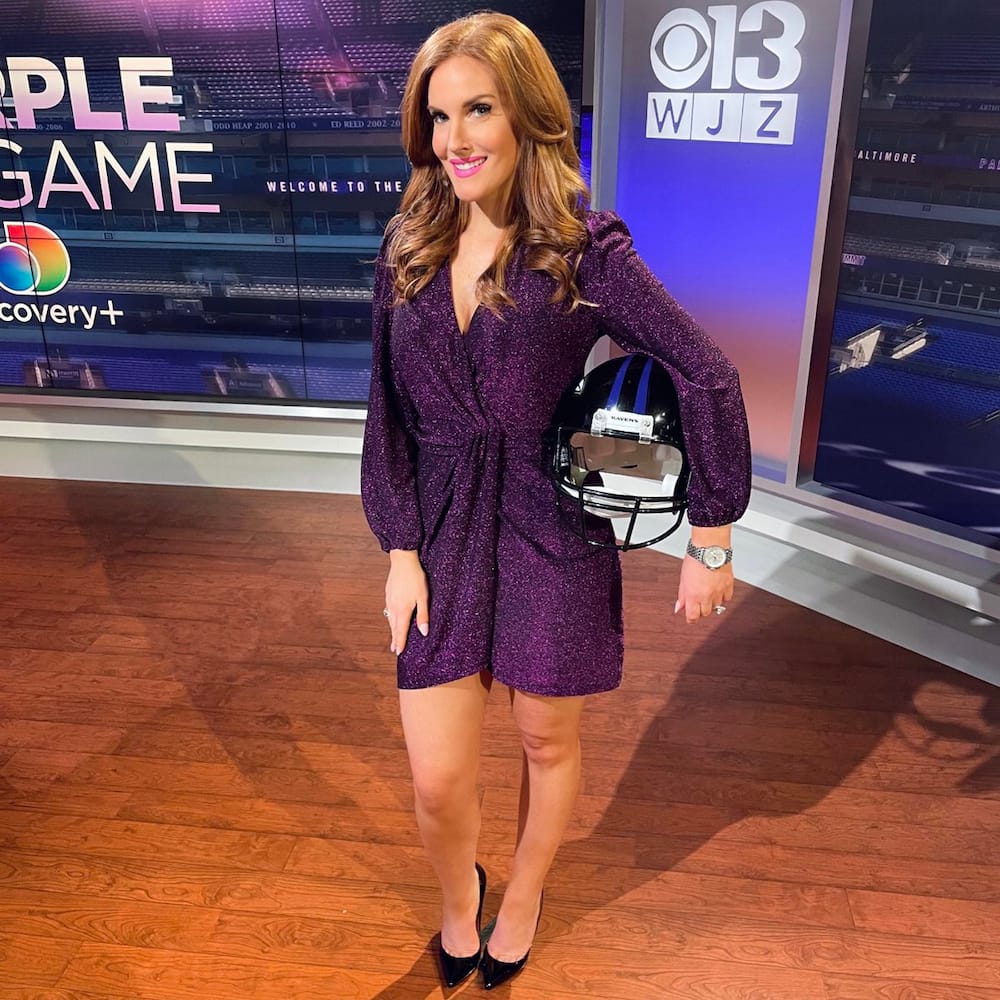 Maria has been a captivating audience since she was seven years old. Her early shows were broadcast from the family living room, while her 4-year-old brother acted as the co-anchor. That shows how she was passionate about broadcasting from a tender age. True to her words, her dream became a reality.
Her parents value education, and they ensured that Meg, together with her siblings, got the best education. For Maria, she attended California Loyola Marymount University to pursue a degree in fine arts. After graduation, she was fortunate to land a job where she worked on Dr Phil from 2008 to 2010.
As a production assistant, she later became a talented coordinator on the show, and that is where his storytelling interest began. After some time, she switched from behind the camera to broadcasting. 2012 is the year she remembers, with nostalgia being when she made her broadcasting debut anchoring on the Lewiston, Idaho station.
While at the station, she filled in for the weatherperson, something she wanted to do more. Her interests in weather broadcasts led her to Florida in 2014, where she joined WEAR-TV as a weather broadcaster. While there, she enjoyed tracking severe storms along the Gulf Coast.
In 2017, she moved to Baltimore, Maryland, where she joined WJZ-TV'S First Warning Weather team. Her move was inspired by her love to live in a state that experiences all four seasons.
Is Meg McNamara married?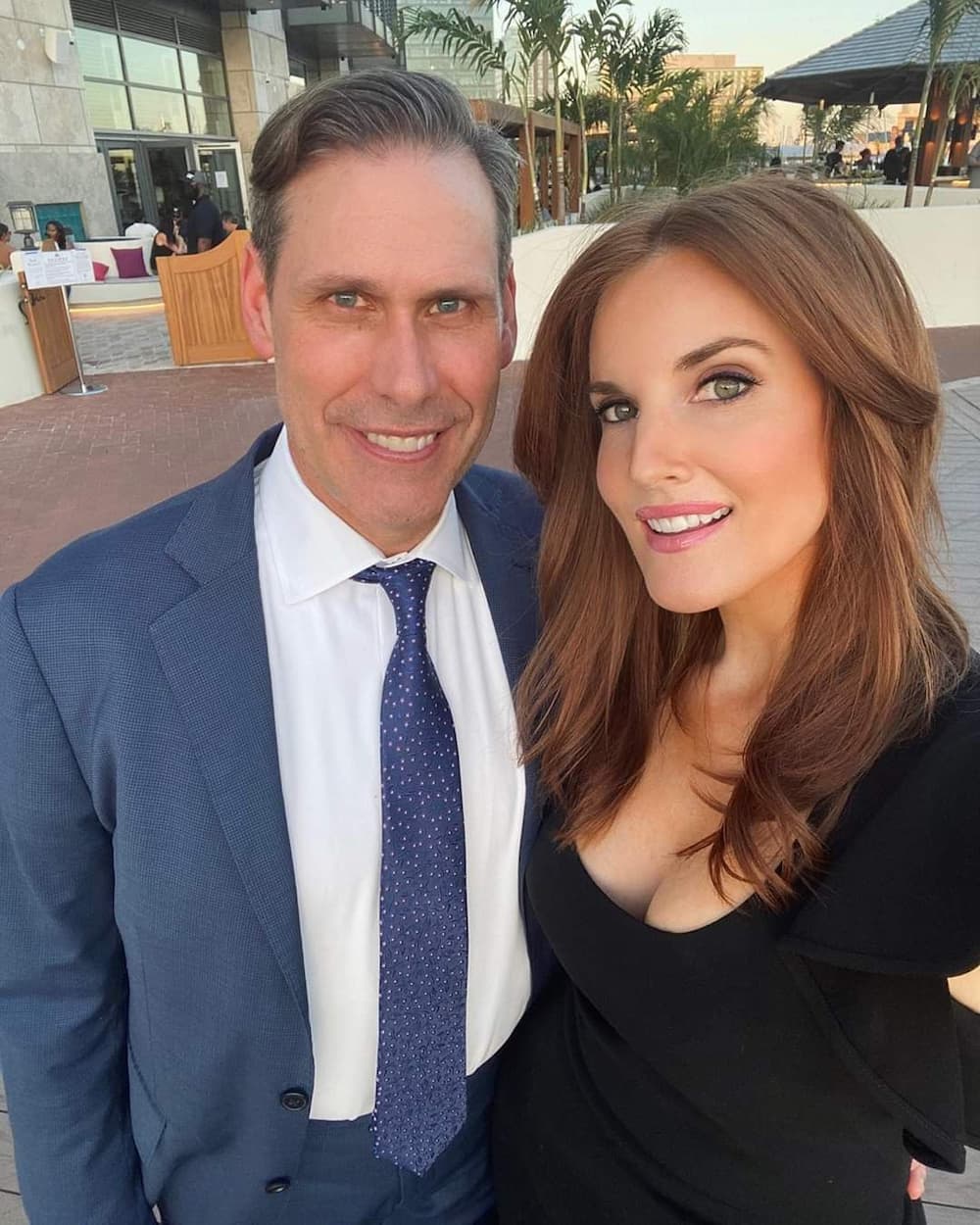 This is a question most of her fans and viewers keep asking. The truth of the matter is that she is happily married. Meg McNamara husband is Timothy Witham, and they tied the knot together on January 30, 2021, in Baltimore. Timothy Witham is a doctor, and he specializes in orthopaedic and neurosurgery. Besides, he is the Johns Hopkins Neurosurgery Spinal Fusion Laboratory director.
Meg McNamara salary
At WJZ-TV, a weather reporter earns a reasonable amount per year. Therefore, Meg's average salary is $75,000 per year. Besides, she has a net worth guesstimated at $1 million. However, they are worth more as a family considering the husband is a doctor who specializes in orthopaedic and neurosurgery.
Meg McNamara weight loss
As a TV personality, one ought to maintain certain qualities beyond intellectuals, and Meg is a perfect example. She keeps her body in shape and well maintained with diet and routine exercise. She has to watch her weight to keep her physique constantly well-maintained.
Meg McNamara pictures
Meg is so captivating with her charming beauty. It is undeniable that she also has a well-maintained body. Below we sample some of her lovely pictures.
At work
She is captured having a good time at work. Her floral dress complements well with her superb looks. She is magnificent!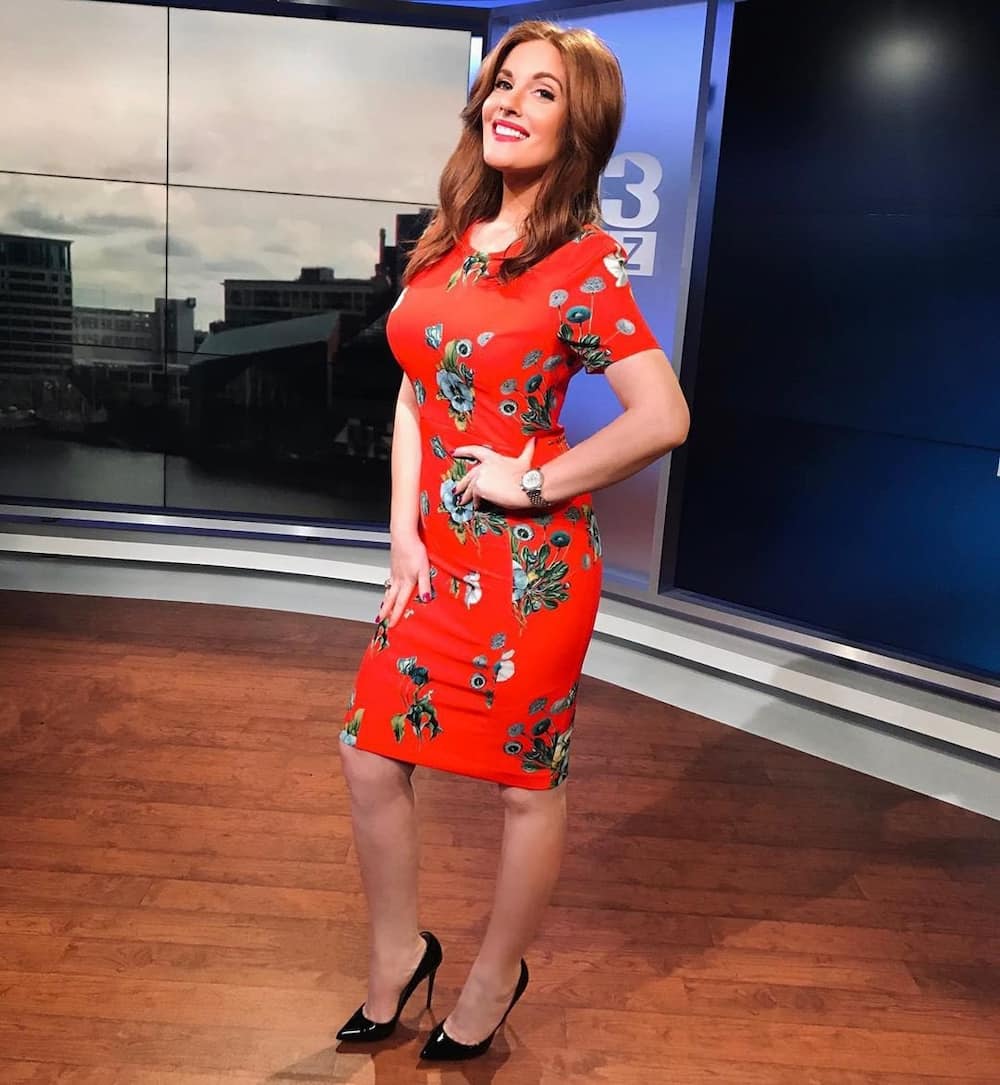 Leisure time
Away from her office duties, she enjoys her time outside. She is seen near a pool having the best of her time. She looks gorgeous with that outfit.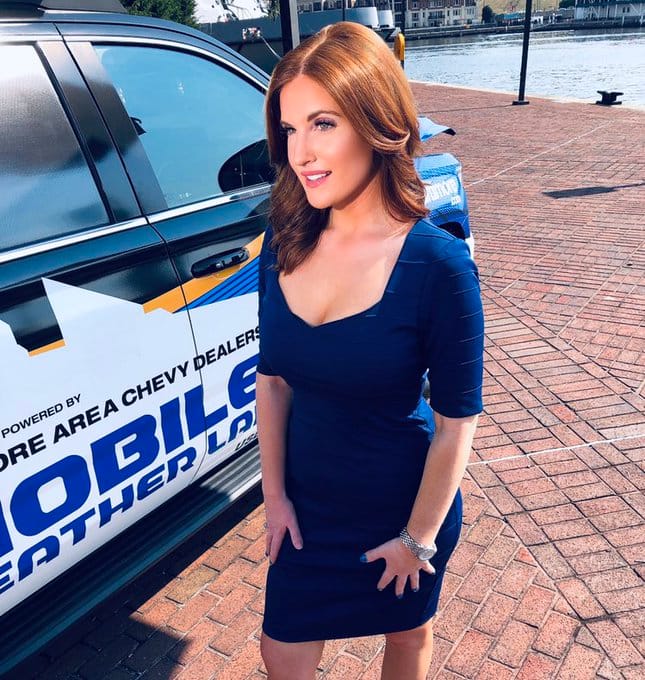 At workplace
She still maintains that sexy but elegant look even at work. That is clearly depicted by her mini dress that brings out her well-carved body. She is really gorgeous!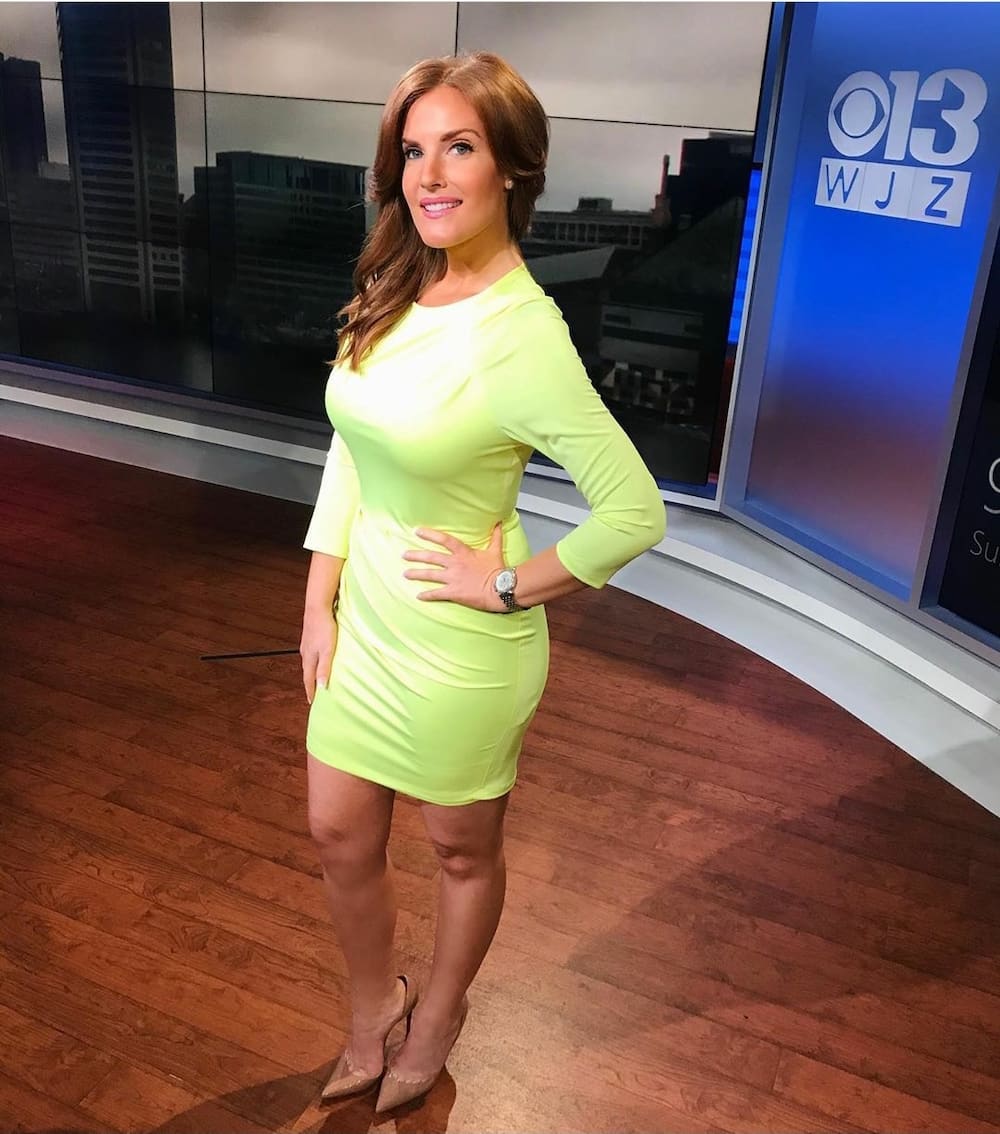 Frequently Asked Questions
Below are the questions people are asking about Meg. The questions revolve around her career and personal life. See them here!
Who is Meg McNamara?
She is an American weatherwoman (meteorologist). She is currently working for the WJZ-TV station on their First Warning Weather show. Meg has been entertaining the audience since the age of 7 years. Her childhood shows were broadcasted right from the family's living room, with her brother as the co-anchor.
Is Meg McNamara a meteorologist?
Yes, she is a meteorologist. She joined WJZ's First Warning Weather team in June of 2017. Her primary passion was to be a broadcaster. However, she studied fine arts at university.
Above is an inspiring bio of Meg McNamara, a weatherwoman and broadcaster. She is living her childhood dreams, and that makes her biography an inspiration to young people. Briefly.co.za wishes Meg and her family all the best in life.
READ ALSO: Nick Robertson age, nationality, brother, injury, stats, salary, IG
In other news, Briefly.co.za reported on May 21, 2021, about the biography of Nick Robertson. Who is Nick Robertson? He is an American professional ice hockey left winger for the Toronto Marlies of the American Hockey League (AHL).
Robertson began playing minor hockey while living in Southern California, where his dad operated a law firm.
Source: Briefly News