Eisbein is a popular traditional German dish of pickled ham hock. It is normally slightly boiled and cured. In Berlin, the dish is a specialty and a favorite for a majority of tourists in restaurants and is usually served with pease pudding. In Namibia and South Africa, Eisbein is sold to customers when it is already cured and in some instances smoked, and it can be eaten with various foods. For instance, when Eisbein is eaten with good mustard and pea puree, it results in quite a delightful combination. Eisbein is commonly served with sauerkraut, pureed peas, or mashed potatoes among others. Here is a detailed piece on what to serve with Eisbein.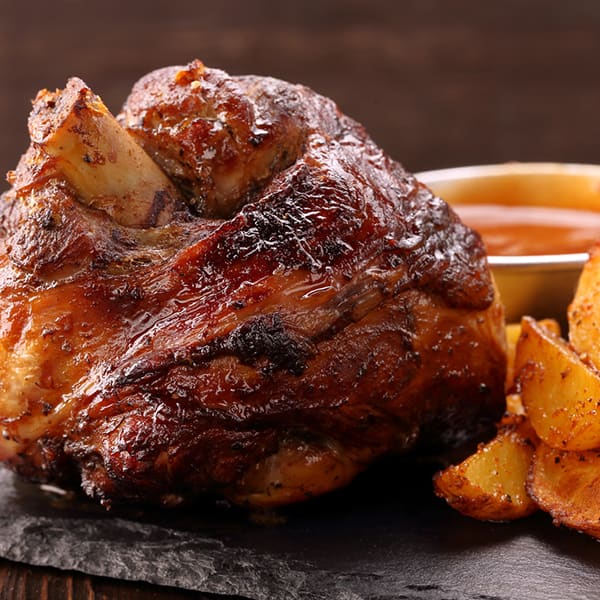 If you are cooking Eisbein for the first time, it can be time-consuming. However, it is very easy to make as long as you follow the recipe. Apart from the Eisbein recipe honey, here are few recipes and different meals that can be served with Eisbein to enhance its taste and make you enjoy the meal.
READ ALSO: Crispy Eisbein recipe South Africa
Eisbein with beetroot, honey and chutney recipe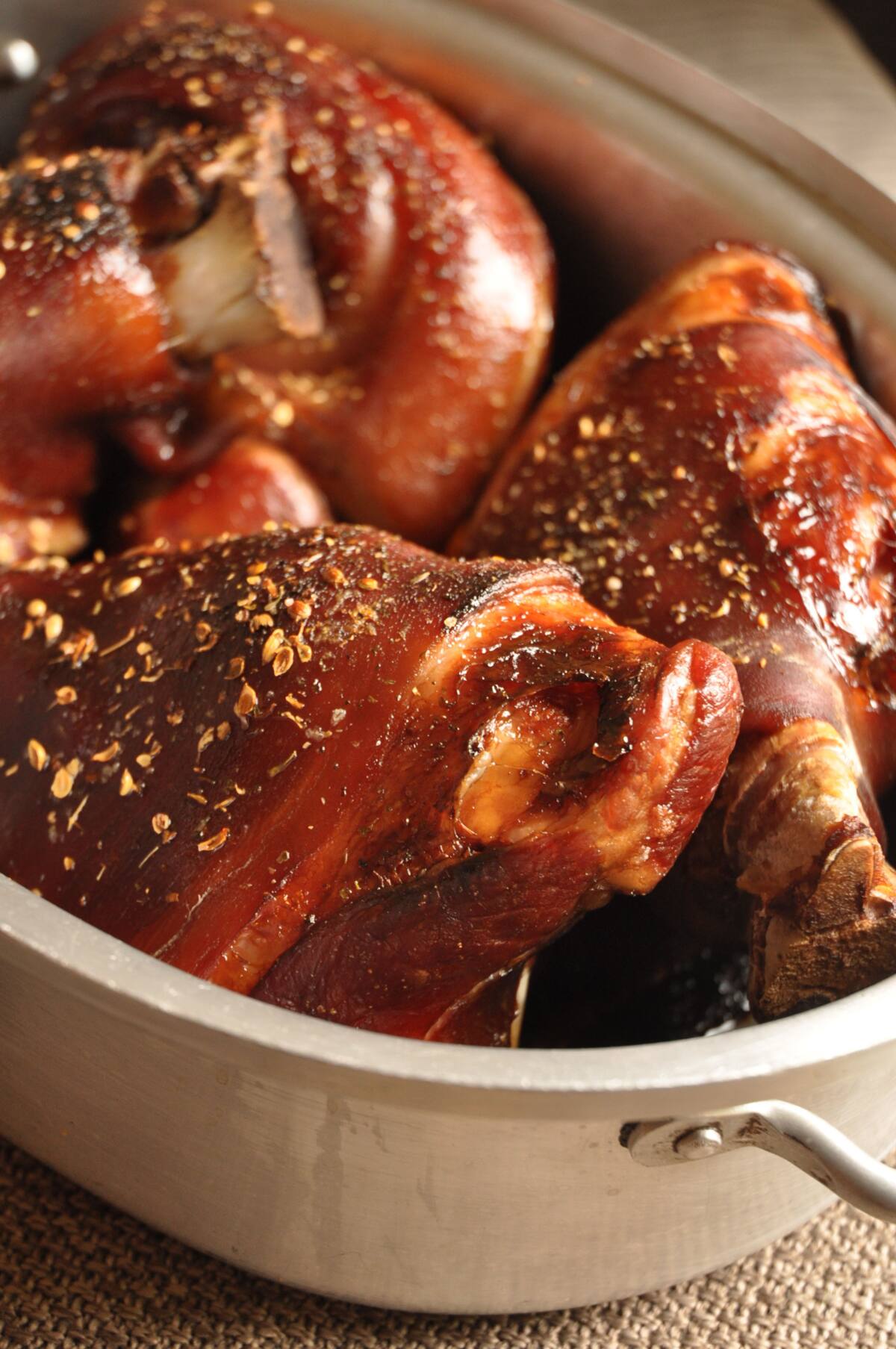 Do you love beetroot, honey or chutney? If yes, then this recipe might be just what you are looking for.
Ingredients
1kg Eisbeins
30ml olive oil
a big pot of water
30ml honey
20ml dry coriander seeds
Salt
Pepper
2 big raw peeled and grated beetroots
100ml chutney
Red wine (Optional)
Vinegar
100ml sugar
2 chillies
3 cloves
1 all spice
1 star anise
Preparation method
Place the Eisbeins in a pot of water and cover it. Ensure that the Eisbeins are covered with water and that it boils completely. Once the water boils, reduce the heat and let the meat simmer.
Cook the meat for approximately 4 to 5 hours and then turn the heat off. Ensure you leave the Eisbeins in the water to cool off completely.
In order to enjoy the smoked Eisbein, preheat the oven to 180°C. Remove the Eisbeins from their bags and place them on a roasting tray.
Brush the roasting tray with some olive oil and sprinkle salt, pepper, and the coriander seeds over the meat.
Place the meat in the oven and roast it until the skin becomes crispy, which might take not more than 90 minutes.
Place the beetroots, chutney, sugar and the remaining spices in another pot and bring them to a boil. Let the mixture simmer on low heat until the chutney becomes thick. Alternatively, you can make a beetroot salad with chutney.
Crispy Eisbein recipe with mashed potatoes/potato dumplings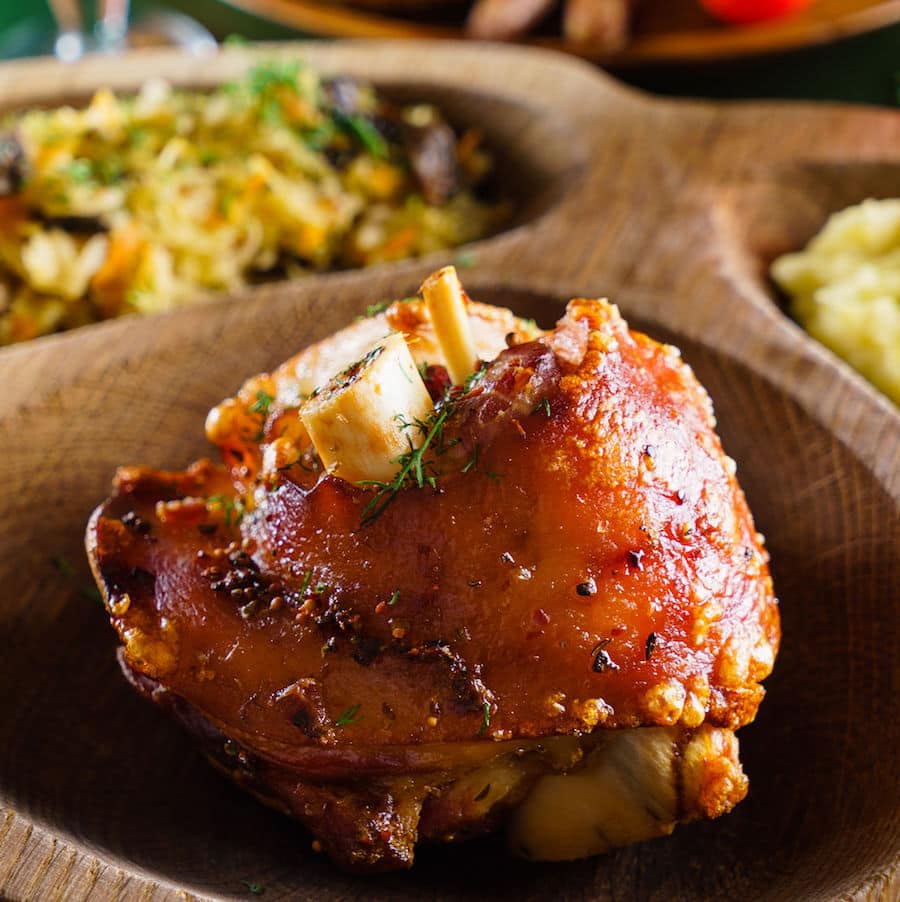 Are you looking for another creative way of how to make Eisbein? This crispy Eisbein recipe is exactly what you need for a perfect roast lunch date with your family or friends. Depending on instructions from your local butcher, you can first soak the cured Eisbein in water.
Ingredients
2 cured shanks of pork
1 quartered onion
2 chopped carrots
2 bay leaves
10 peppercorns
water
2 lbs of potatoes
butter
4 eggs
Preparation method
Place the pork shanks in a large pot of water and add the onions, carrots, peppercorns and bay leaves. Cover the mixture and bring it to a boil for 2 hours until the meat can easily come off the bone.
Remove the meat from the pot and pat it dry with a cloth and then salt it and score the skin diagonally using a knife.
Place the Eisbein under a hot gill in order to allow the skin to crisp up.
Boil the potatoes with the skin on. You can opt to peel though.
Once the potatoes boil, you can either grate them or mash them if you have a potato masher at your disposal.
Add 3 tablespoons of butter and then the eggs. Mix to a nice dough and salt it.
Form dumplings and add to the boiling water for about 15 mins.
Enjoy your meal!
Eisbein sauerkraut recipe
This is one of the most popular ways of making crispy Eisbein. It is also a traditional meal that is quite popular during Oktoberfest.
Ingredients
4 pork hocks
2 quartered onions
12 peppercorns
caraway seeds
2 bay leaves
2 tablespoons of sugar
bacon
butter
sauerkraut
garlic cloves
1 potato
Preparation method
Place the pork hocks, onions, peppercorns, bay leaves, and sugar in a large pot of water.
Cover the pot with hot water and simmer the Eisbein in a slow cooker for 2 hours.
Cut 5 slices of bacon and cook them slowly until all the fat turns into liquid.
Add a teaspoon of butter in a sauce pan and then add the onions but do not brown them.
Add sauerkraut and then add the garlic cloves and. Cook for 40 minutes. Before the 40 minutes are over, grate a peeled potato and add it into the mixture. Also, add the bacon bits to add more flavor.
This meal can serve up to 4 people.
How to cook Eisbein in the oven
Cooking smoked Eisbein can take up to 4 hours, but you can boil the Eisbein in a pressure cooker to reduce the hours.
Place the ham hock in water and ensure it is over medium heat. Add all the ingredients like onions, peppercorns, beet chutney, bay leaves, herbs, spices, carrots and garlic cloves and cover the pot with a lid and bring to simmer.
Turn the meat from time to time. Boil until the meat becomes soft.
Add salt and pepper and then remove the shanks from the pot.
Preheat the oven to 180°C and place the Eisbeins in a roasting pan. The placement must be on the middle rack of the oven.
The roasting process takes almost 30 minutes so that the skin crisps up nicely.
READ ALSO: 10 easy chicken breast recipes
Having eaten a lot of pork over the years, you should know that there is nothing that beats a well-cooked Eisbein. In case you were curious about what to serve with Eisbein, try any of the above recipes of Eisbein served with potato dumplings, mashed potatoes, or sauerkraut. You can also try adding some mustard and apple puree depending on your preferences.
READ ALSO:
Source: Briefly.co.za