How to bake scones in South Africa
A cup of tea is almost always a scone treat served with homemade jam and freshly whipped cream in most South African households. For this reason, learning how to bake scones is one way through which you can add flavor to your morning or afternoon drink and succeed in entertaining your guests at the same time. It is interesting that this favorite British quick-bread cooks faster than you may think. Follow our simple guide on how to make scones and you will do just fine.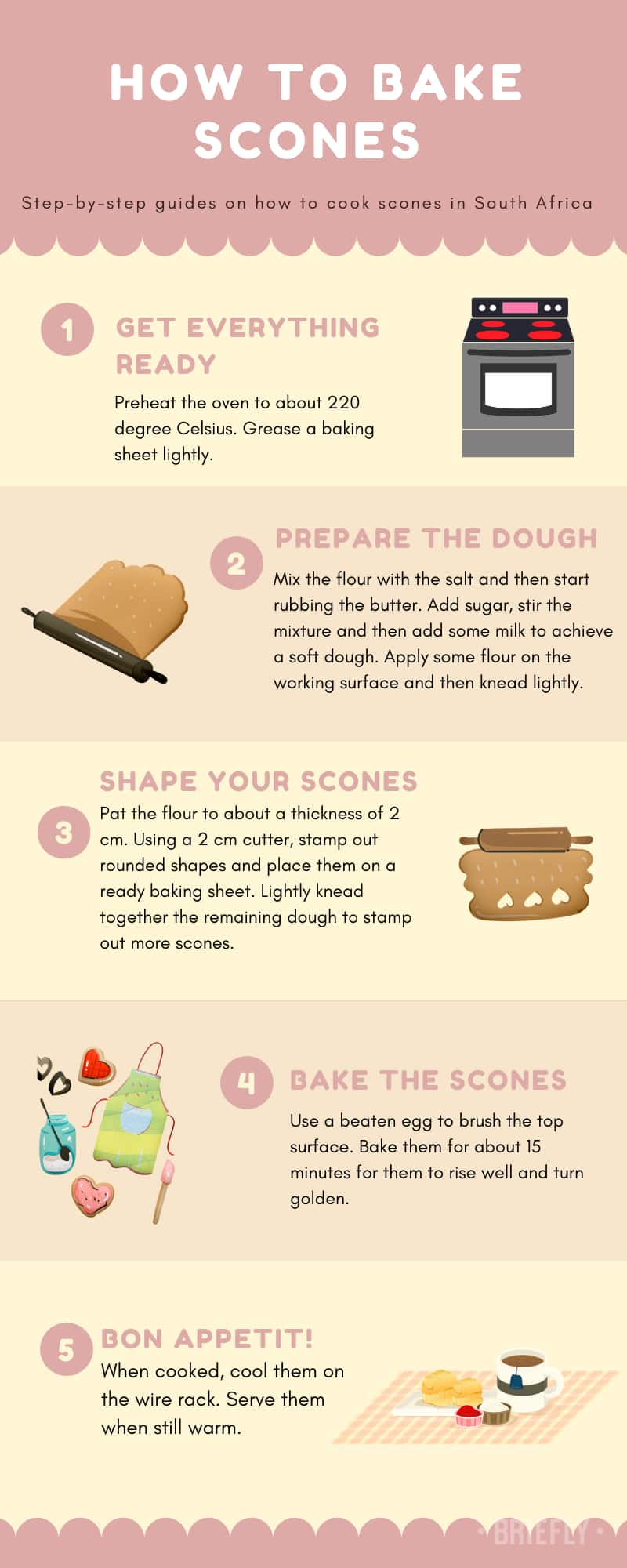 Township scones, alternatively called AmaPotchefstroom or Amakhekhe, are exceedingly popular in the country not only for their mouthwatering flavors but also enriched nutrients. They are baked with an appealing aroma makes the whole experience worthwhile, but baking them is not any easier without authentic and reliable instructions especially for those trying to bake them for the first time. Provided below is a scones recipe with ingredients and cooking directions to make your first time cooking experience easier and manageable.
Simple scone recipes
There are different variations of scone recipes that you can try based on the flavors you want to achieve. However, the baking procedure is almost always the same regardless of the ingredients and recipes of your choosing. Here are different and easy scone recipe that you must try at home.
1. How to bake scones with self-raising flour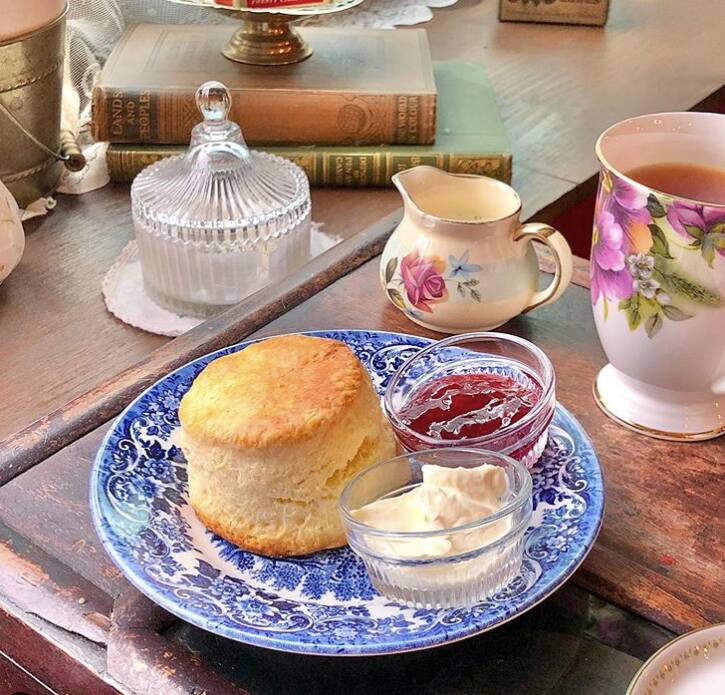 One of the best scones recipe easy treats is prepared with self-raising flour to complement your tea time experience. It is always advisable to customize them with a pinch of spice or dried fruit to meet your personal preferences.
Ingredients
150 ml of milk
225 g of self-raising flour
55 g of butter
Pinch of salt
25 g of caster sugar
1 free-range egg, beaten, to glaze or some little milk
Cooking directions
Preheat the oven to about 220 degree Celsius.
Grease a baking sheet lightly.
Mix the flour with the salt and then start rubbing the butter.
Add sugar, stir the mixture and then add some milk to achieve a soft dough.
Apply some flour on the working surface and then knead lightly.
Pat the flour to about a thickness of 2 cm.
Using a 2 cm cutter, stamp out rounded shapes and place them on a ready baking sheet.
Lightly knead together the remaining dough to stamp out more scones until it is all used up.
Use a beaten egg to brush the top surface.
Bake them for about 15 minutes for them to rise well and turn golden.
When cooked, cool them on the wire rack.
Serve them when still warm.
2. How to bake scones with cake flour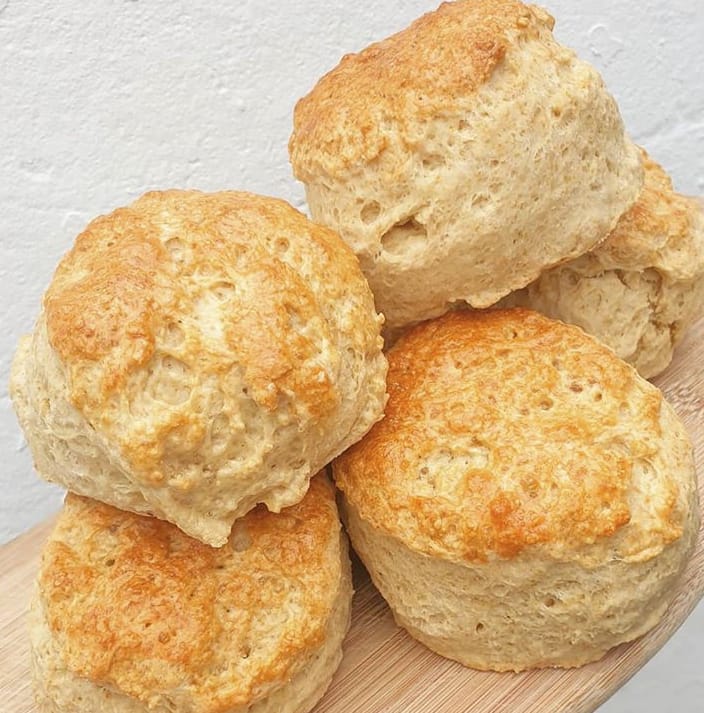 This is one of the best scones recipes you can always try right at the comfort of your kitchen. One good thing I like about cake flour scones is that they are irresistibly classical and presentable for their flavors. This one is also considered as a simple scone recipe.
Ingredients: make 10
2½ cups -cake flour
200 g -white sugar
1 teaspoon of baking powder
100 g baking margarine
200 ml full cream milk
1 egg
1 teaspoon of caramel essence
1 teaspoon apricot jam
60 ml tap water
Cooking directions
Preheat the oven to about 190ºC.
Sift all the dry ingredients together.
Rub the butter with flour until the mixture resembles the fine breadcrumbs.
Mix egg, milk, and essence.
Now, cut into the dry ingredients taking care not to over mix.
On a floured surface, tenderly press together.
Cut using a large cookie cutter.
Place the resulting scones on a greased baking tray.
Place the trays in an oven and bake for about 20 minutes.
Meanwhile, mix the glaze ingredients.
Once removed from the oven, brush them with the mixed glaze ingredients.
Serve while warm.
READ ALSO: Melkkos recipe: easy and smooth, just try it!
3. How to bake scones with plain flour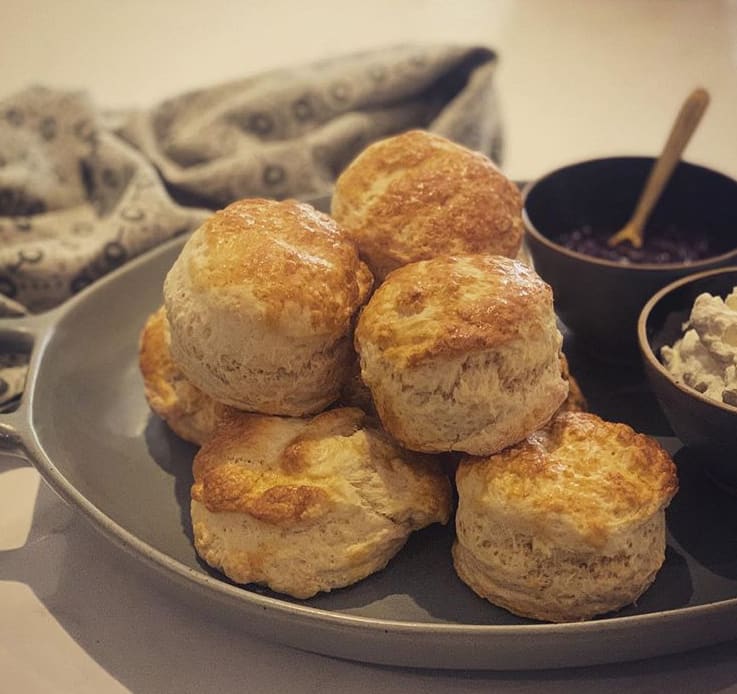 These scones are old-fashioned and hold a longstanding reputation for their nostalgic tastes in granny's lists of favorite recipes. They are prepared traditionally but guarantee unmatched tastes regardless of the time of the day. Enjoy this great recipe for scones.
Ingredients
2 cups of sifted plain flour
1 tablespoon of caster sugar
4 teaspoons of baking powder
1/4 cup of canola oil
1 egg, at room temperature
1/3 cup milk
Butter, to serve
1/4 cup lukewarm water
Your favorite jam, to serve
Cooking directions
Place a baking tray in the oven, and then preheat to about 200°C.
Mix plain flour, sugar, baking powder, and a pinch of salt using a large bowl.
Use a fork to whisk milk, oil, egg, and water inside a jug.
Now, add the egg mixture to the dry ingredients inside the bowl.
Mix carefully until all the ingredients are perfectly combined adding some more water if necessary.
Apply some flour on the working surface and then pat out the dough to achieve a thickness of about 2 cm.
Use a 5 cm scone cutter to punch out the scones.
Place them on a hot baking tray allowing sufficient spreading room.
Bake them for about 10 minutes until they turn light golden.
Serve when hot with butter and jam.
READ ALSO: Kingklip recipes easy, tasty and healthy
4. How to make scones with baking potatoes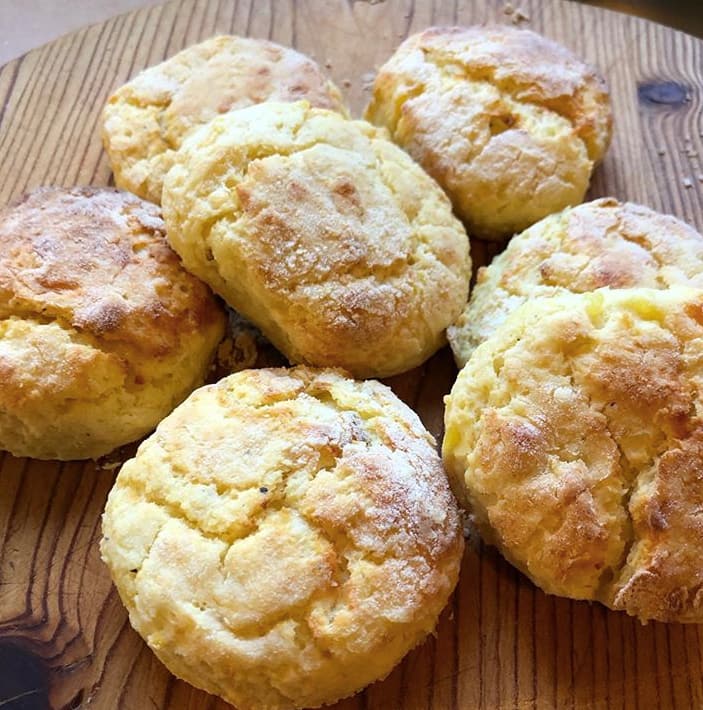 This is a soft scones recipe that will leave you wanting more. Prepare some tea and let the scones add more flavor to the serving.
Ingredients
2 medium – fork pricked baking potatoes
125 g flour
3-tablespoons of milk
A pinch of salt
2 tablespoons of sunflower or olive oil
50 g chilled butter and 25 g for frying
125 g of cherry tomatoes
1 tablespoon of extra-virgin olive oil
225 g drained tin whole kernel corn
I tablespoon red wine vinegar
½ a small red onion, finely chopped
few sprigs flat-leaf parsley, chopped
Cooking directions
Microwave the potatoes to become tender and then cool them slightly.
In the meantime, make the salsa mixing all ingredients in the bowl and set them aside.
Mash 250 g of potato flesh inside a bowl with milk.
Rub butter and flour to form fine breadcrumbs and then mix them through the mash.
Stir a pinch of salt, black pepper, and thyme leaves.
Form a soft dough by kneading lightly, you may need to add an extra tablespoon of milk if the dough becomes too dry.
Roll the dough on a floured surface to a thickness of ½ cm.
Use the cutter to make 10 cm rounds.
Heat the butter and oil in a non-stick pan.
Cook the scones for about 2 minutes on every side until they turn golden brown. Top about 3 pancakes with sliced chicken, corn salsa and tomatoes.
READ ALSO: Easy banting recipes
Any of our top category recipes and directions on how to bake scones should serve best accompanying a cup of your tea. Whenever a friend or a guest shows up, be sure to welcome them with scones. While they are easy to prepare, they take up the least of your cooking time. Keenly following our easy recipes for scone will help you make them tasteful.
READ ALSO:
5 easy and healthy chicken wrap recipes
How to make dumplings with flour from scratch
5 best beef mince recipes
Vegetable banting recipes
Source: Briefly News