List of all Rosebank College courses and fees 2021: Get all the details
Rosebank College is one of the best private institutions of higher learning in Mzansi. Are you a fresh high school graduate wondering where next? Your search ends here! The IIE courses of the offered certificates, diplomas, and degrees here are accredited by CHE. You are, therefore, assured of getting high-quality learning. Check out all the available courses below.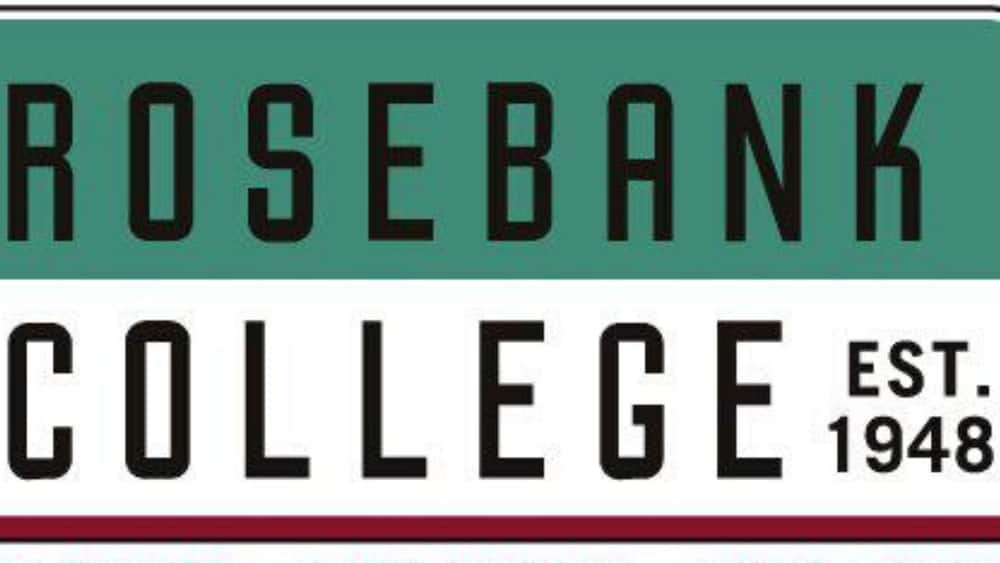 This is the best college because of the flexibility offered to its learners. You have the option to study part-time or through online platforms if you cannot manage the full-time teaching model. You can also study here if you are anywhere in South Africa because the college has nine campuses spread in major urban centres. Below is all the information you need to know concerning this great facility.
Rosebank College courses
The college offers degree, diploma, and higher certificate courses under various faculties. You can find out which courses are offered for full-time, part-time, and internet learning options by looking at the Rosebank College courses PDF on the institution's website.
Faculty of Commerce
If you are a business person, this is an ideal choice. It has the following courses.
Degree courses
You can pursue the following degree programs at the institution.
Bachelor of Business Administration
Bachelor of Public Administration
Bachelor of Business Administration in Logistics and Supply Chain Management
Bachelor of Business Administration in Marketing
Diploma courses
Rosebank College has the following diploma programs in the faculty of commerce.
Diploma in Commerce in Marketing Management
Diploma in Business Accounting
Diploma in Human Resource Practices
Diploma in Commerce in Business Management
Higher Certificate programs
You can pursue the following higher certificate programs.
Higher Certificate in Bookkeeping
Higher Certificate in Business Management
Higher Certificate in Event Management
Higher Certificate in Human Resource Practices
Higher Certificate in Office Administration
Higher Certificate in Logistics and Supply Chain Management
Higher Certificate in Travel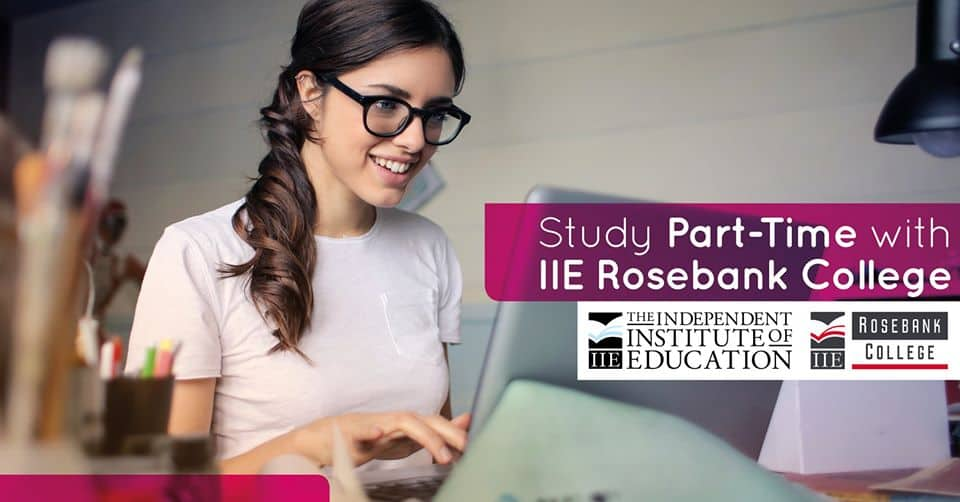 Faculty of Information and Communications Technology
Are you into technology? If the answer is yes, then consider enrolling on the following courses.
Bachelor of IT in Business Systems
Diploma in IT in Software Development
Diploma in IT Management
Diploma in IT in Network Management
Higher Certificate in Construction and Engineering Drafting
Higher Certificate in IT in Support Services
Faculty of Humanities and Social Sciences
This faculty offers the following courses.
Diploma in Computer Based Graphic Development
Diploma in Public Relations
Diploma in Journalism Studies
Higher Certificate in Journalism
Faculty of Education
The courses under this faculty are ideal for people that have a passion for teaching.
Bachelor of Education in Intermediate Phase Teaching
Bachelor of Education in Foundation Phase Teaching
Higher Certificate in Early Childhood Care and Education
Rosebank College fees 2021
You are required to pay a registration fee of R1,600 for all IIE qualifications. You can view the comprehensive fee structure by clicking on the following links for the various modes of learning.
Rosebank College online application
The following is a simple guide on how you are supposed to make your application.
You are required to complete the application form
Ensure you have paid a non-refundable application fee
Submit your deposit slip as proof of payment
Rosebank College portal
Once you are registered as a student, you will have access to the facility's student portal. The portal will help you access various resources offered by the college.
Rosebank college bursaries
Now that you have checked out the qualifications that you can get from this institution, the next thing you would want to know is whether you can access bursaries. The good thing is that this college has an option that allows any partner to raise funds towards the fees of a student of their choice. As such, students can benefit from that program in clearing their Rosebank College tuition fees.
Is Rosebank College a registered facility?
The facility is a brand of the Independent Institute of Education, which is recognized as a private institution of higher learning by the Department of Higher Education and Training. The IIE has international accreditation with the BAC (British Accreditation Council) as well.
Rosebank College contact details
The college has nine campuses, and you can contact any of them.
Braamfontein campus
Tel: 011 403 2437
Physical address: 23 Jorissen Street, Braamfontein
Bloemfontein campus
Tel: 051 101 0414
Physical address: 97 St Andrews, Street Bloemfontein
Cape Town campus
Tel: +27 21 425 2084
Physical Address: MSK House (13), Buitengracht Street, Cape Town City Center
Durban campus
Tel: 031 301 5212
Physical Address: 221 Dr. Pixley Kaseme Street, Durban CBD
Pietermaritzburg campus
Tel: 033 101 0117
Physical address: 118 Chief Albert Luthuli St. Pietermaritzburg, 3201
Polokwane campus
Tel: 015 295 4311
Physical address: 54 Kerk (Church) Street, Polokwane
Port Elizabeth campus
Tel: +27 41 101 1985
Physical address: 3 Rink Street, Port Elizabeth Central
Pretoria CBD campus
Tel: 012 320 7270
Physical address: 239 Pretorius Street, Southern Life Building
Pretoria Sunnyside campus
Tel: 012 343 2504
Physical address: Cnr Jorissen & Johnson Streets, Pretoria, 001
For general inquiries, you can reach the institution using the following contact information.
Tel: 0861 253 276
Email: info@rosebankcollege.co.ke
WhatsApp: 079 184 6219
You could also visit their social media pages mentioned below.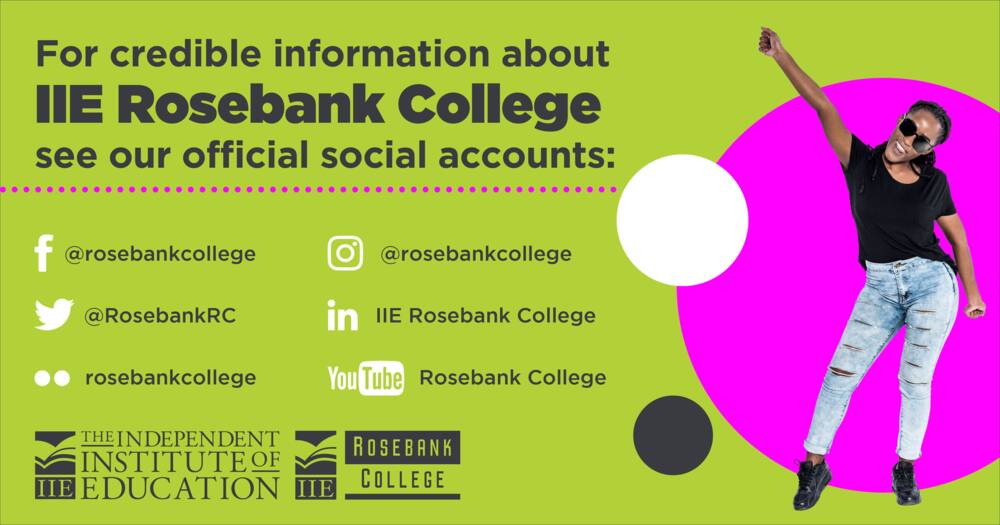 Frequently Asked Questions
The following are some of the common questions asked by prospective students and parents.
How much are the fees at Rosebank College?
You can enroll for a course and pay as low as R1,090 per month.
How to study at Rosebank College
You are supposed to fill the application form provided on the website with valid details and then register with the institution. You can choose to study full-time, part-time, or use the online learning platform.
Which courses does Rosebank college offer?
You can enroll to study any course of your choice from the four faculties in the facility.
What to study at Rosebank College
You can enroll for The IIE degree, diploma, or higher certificate courses.
Does Rosebank College offer teaching courses?
Yes, this registered institution offers training, which upon completion, you can become a professional teacher specifically for Grades 4 to 7. It is a four-year course for the full-time study plan.
The above information on Rosebank College is enough for you to make successful applications. You can get a full Rosebank College prospectus from the facility's official website.
Source: Briefly News