Most preferred Afrikaans names and their actual meanings
Every parent wants to give his or herchild a cute name that will make him or her stand out from the crowd, but getting the perfect appellation can sometimes be challenging. And as it is common with other tribes in South Africa, we have a compilation of adorable Afrikaans names with their meanings that you may want to consider giving your baby boy or girl. Also, there are cute honde names in this article that your pet will rightly fall in love with. So, go on and explore them.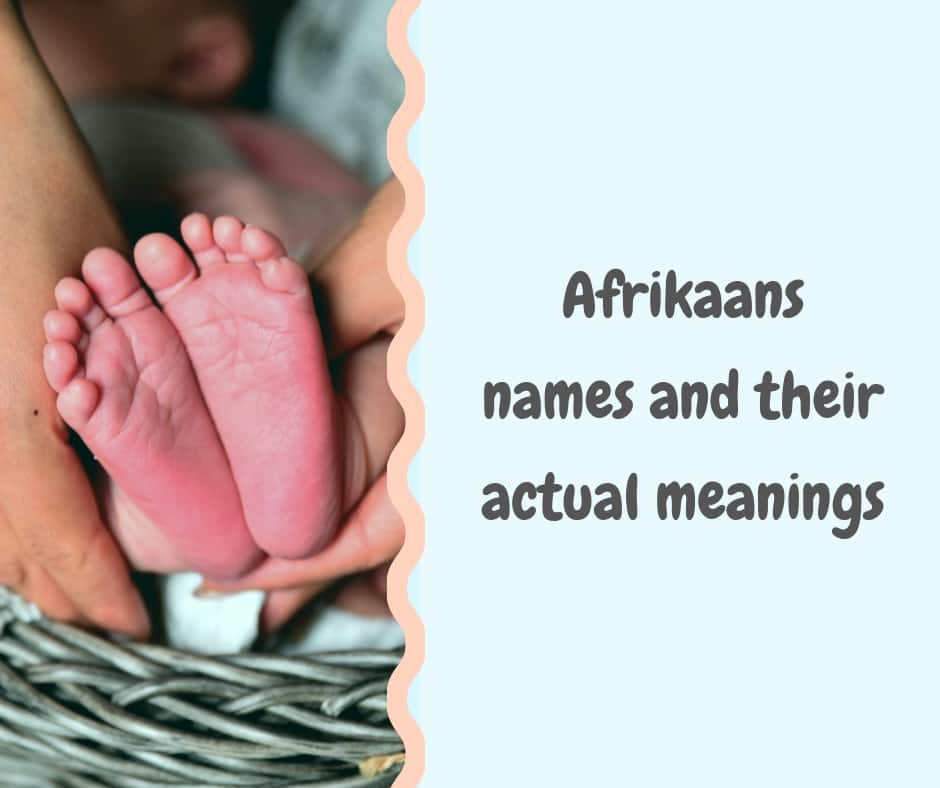 Names are important because they serve to identify a person and distinguish him or her from others. This is a reason why parents are intentional in the appellations they give their children. Whether you are expecting a baby and you need an idea of what name to give your child or you are merely researching on appellations, the following are lovely names that will help to spell out the uniqueness of your child. Feel free to choose which suits you best.
Afrikaans boy names
These Afrikaans baby names for boys are perfect, and you will love them. Check them out with their meanings and see which would be best for your handsome baby.
1. Ade means royal.
This is a beautiful name worth considering. It will make your baby feel like a king as he grows up.
2. Bern means 'peace'.
Interestingly, the name is also a Swiss name, and it is taken as the short form of writing Bernard.
READ ALSO: 50 uncommon Xhosa names for boys and girls with meaning 2019
3. Christo - 'follower of Christ'.
Also note that in the Afrikaans language, it is the short form of writing Christopher or Christian.
4. Gidea - 'was neglected for long'.
This name is also a form of writing Gideon.
5. Hansie means 'God is gracious'.
When you think of all that you have been through and appreciate God's mercy, then, this would be a beautiful name to give your little prince.
6. Heinrich means 'home of the king'.
Make your son feel important by considering this name for him.
7. Ajayi - 'born face down'.
Baby boys who are given birth to with faces down usually get this appellation.
8. Friedrich - 'peaceful ruler'.
It is derived from the Old German Frederick.
9. Janco - 'Jehovah has been gracious'.
The appellation is Dutch-Hungarian form of John.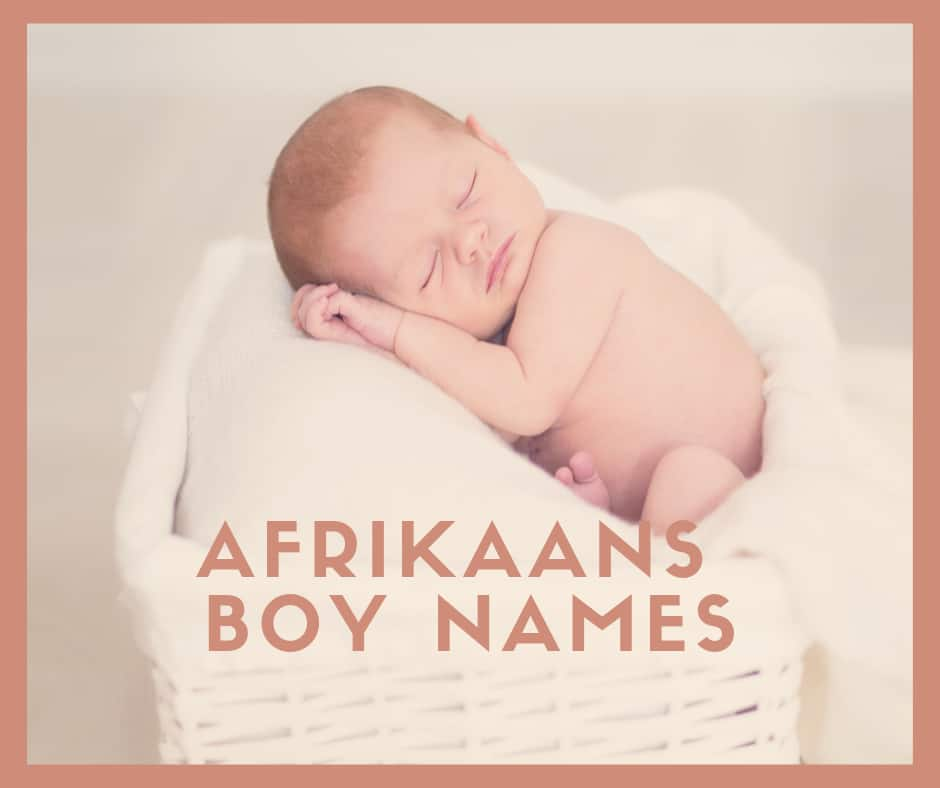 10. Jaquan means 'loving or good spirit'.
In the Hebrew language, Jaquan means 'raised by Yahweh'.
11. Leeto means 'journey'.
If you love to travel, you can consider this idea for your baby boy.
12. Lencho means 'lion'.
This is an alternative way of writing Leo.
13. Lethabo - 'joy'.
Having a bundle of blessing packaged into a baby boy and handed over to you is worth being grateful about. So, you will not be wrong considering this name for your baby.
14. Lodewikus means 'war or battle'.
This is the Afrikaans form of writing Ludovicus.
Afrikaans girl names
While considering the best appellation for a baby girl, a question that has always popped up is "What are the prettiest girl names?" The truth is that Afrikaans girls have beautiful names just as gorgeous as they can be. They are cute, and you will fall in love with them the moment you hear and get to know their meanings. So, if you are considering a perfect appellation to give your cute baby girl, here are some Afrikaans female names that will go well with your little princess.
1. Adelheid - 'nobility'.
The appellation is the Dutch form of writing Adelaide. And if you do not want to write as Adelheid, a variant is Adowa, which means 'noble'.
2. Klara - 'bright and clear'.
It is the Afrikaans way of writing Clara.
3. Landi means 'violet'.
It is a short way of writing Yolandi. Interestingly, Landi has become so popular because of the South African model Landi Swanepoel.
4. Agetha means 'good woman'.
This appellation is the Dutch form of Agatha.
5. Akpena means 'thanks to God'.
If you have been asking God for a baby girl and your prayers are eventually answered, this name is perfect for your baby girl.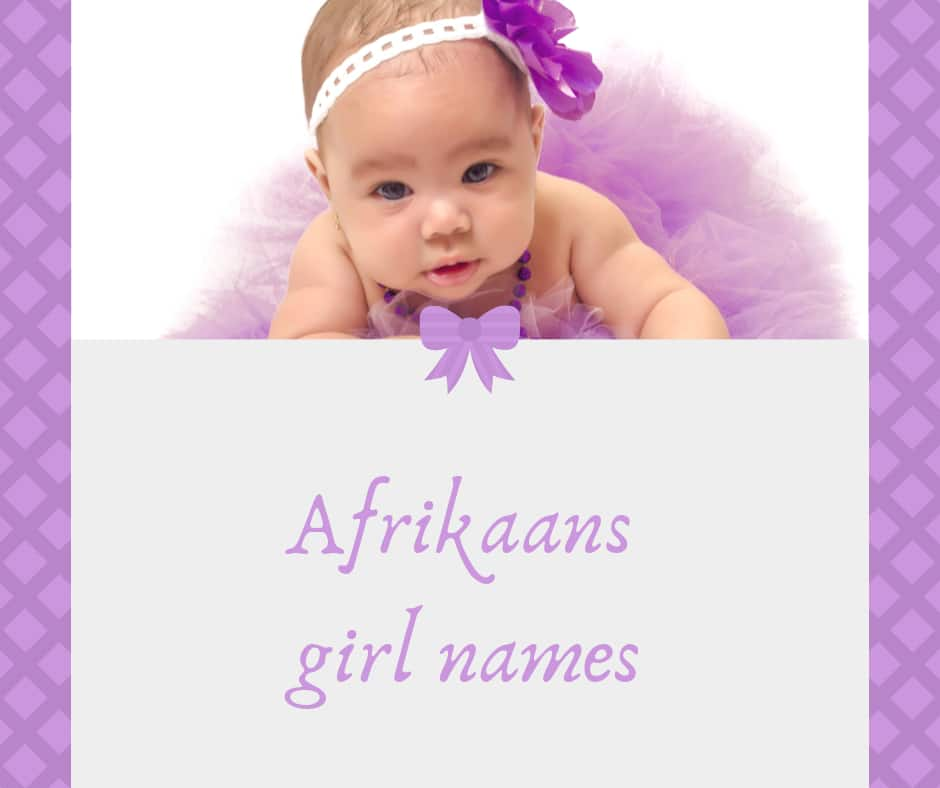 6. Aletta means 'truth'.
This is how Afrikaans write the Greek name Alethea.
7. Elna - 'beloved'.
It comes from the Danish and Dutch 'Helena', and Swedish 'Elin'.
8. Alizea means 'joyful'.
This is derived from the Hebrew name Aliza.
9. Zonja - 'wisdom'.
This name is the Afrikaans variant of Sophia.
10. Abebi means 'we asked and got her'.
It is a beautiful thing for your little angel to grow up with the understanding that her birth was not accidental, but she was specially asked for from the giver of children.
READ ALSO: These are South Africa's most popular baby names
What is the best name for a girl?
1. Lusea - 'light'.
Female children that are born as the day breaks forth usually get it
2. Naemi - 'pleasantness'.
Your cute angel is charming and would be glad to have this appellation.
3. Rethabile - 'we are glad'.
The name originated from Setswana, Sotho, and Sepedi language.
4. Saartjie - 'princess'.
It is derived from the Hebrew name Sarah.
5. Wilhelmina - 'helmet or protection'.
Everyone who is blessed with a child has a sense of protection, and that is who your baby angel has come to be in your family.
6. Amahle - 'the ancestors are here'.
If you want to recognise the impact of your ancestors and give honour to them, giving your baby girl this name will be perfect.
7. Andrietta - 'strong and manly'.
The name is a variant of Andrea, and you can consider giving it to your baby girl if you are trusting her to look elegant by the time she starts to grow up.
Afrikaanse honde names
Do you have a dog or planning to get one? A quick way to bond with it is to get it a cute appellation. Even though dogs are not human beings, you will be amazed at the level of responsiveness that you will get from your pet as it masters the name in the process. So, to help your creativity, here are some interesting appellations and their meanings that you may want to consider:
Gesiggie - 'face'.
Heidi - 'noble'.
Soetlief - 'sweetheart' or 'sweet love'.
Heuning - 'honey'.
Prinses - 'princess'.
Engel - 'angel'.
Fif - 'Joséphine'.
READ ALSO: Mzansi has over a dozen nicknames for Bonang Matheba - it's hilarious
White South African names
Apart from the fact that South Africa is blessed with rich culture and natural resources, they also have unique names that naturally attract people to them wherever they go. And guess what? You do not have to be South African before you can give your child any of the names.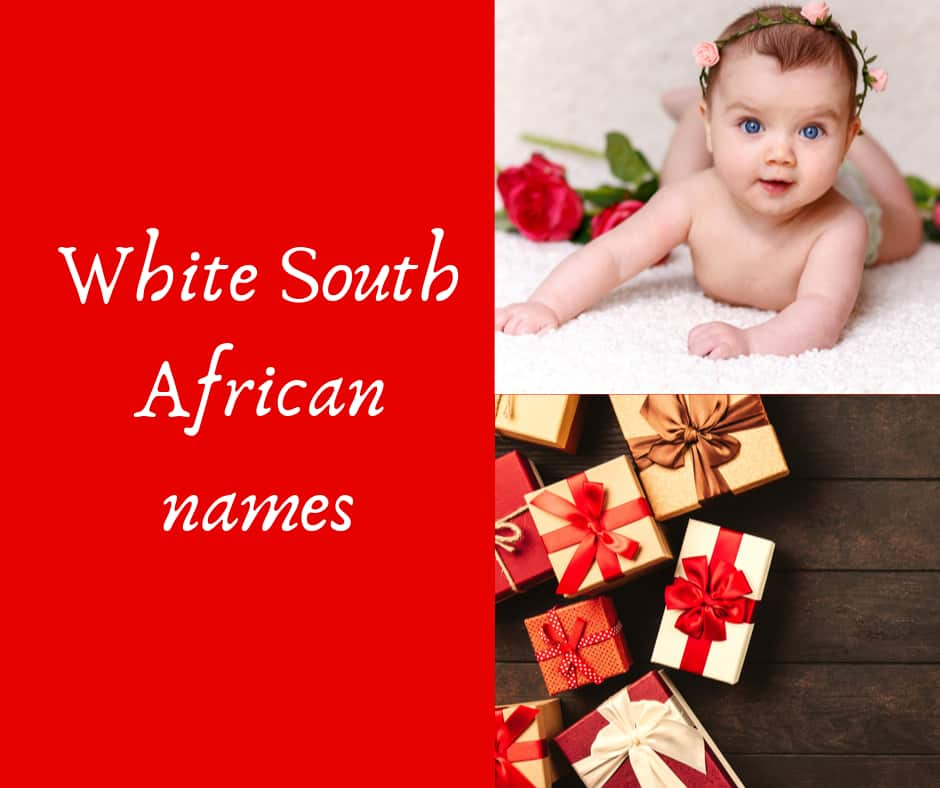 If you appreciate their culture and want to identify with them, any of these popular white South African names will be cute for your baby. Therefore, here are some of the South African names and their meaning in their categories.
White South African names: boy
Jacob - "supplanter".
Oliver – "olive tree".
Jayden – "Jehovah has heard".
Elijah – "Yahweh is God."
Owen – "well born," "noble", "young warrior".
Henry – "estate ruler".
Daniel – "God is my judge".
Gabriel – "a hero of God," "devoted to God," or "God is my strength".
Wyatt – "hardy, brave, strong", "wood" or "wide".
Jayce – "healer".
White South African girl names
Elize – "pledged to God".
Landry – "ruler".
Aaliyah – "exalted".
Marielle – "wished for child".
Fleur – "flower".
Emma – "universal" or "whole".
Mila – "hardworking", "industrious".
Madelyn – "high tower."
Layla – "intoxication," "night," "wine," or "dark beauty."
Lillian – "purity; innocence, beauty".
The Afrikaans names are beautiful right? Now that you have an idea of the best appellation to give your child, we hope that your children will grow to appreciate you for giving them such appellations. Happy naming!
READ ALSO: 225 original Afrikaans names for boys and girls
Source: Briefly.co.za