SAPS Officer in Rosemary Ndlovu Case Tracks Down 2nd Insurance Killer Suspect In 2 Months
The police officer in South Africa responsible for catching Rosemary Ndlovu, Sgt Keshi Mabunda, has done it again
The sergeant in the South African police force recently tracked down a killer similar to Rosemary Ndlovu
Many South Africans were impressed to hear the news about the hard-working Sgt Keshi Mabunda
PRETORIA- The South African police service has caught a 49-year-old alleged serial killer. Sgt Keshi Mabunda successfully arrested the suspect on 16 November 2023.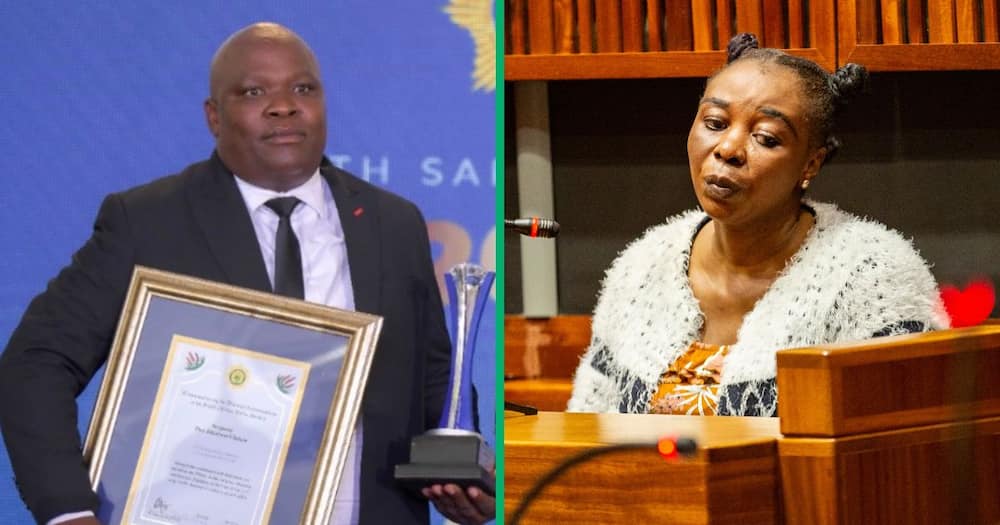 SAPS detectives were led by Sgt Keshi Mabunda and they solved the mysterious deaths of the suspect's family members. Sgt Keshi Mabunda used this experience in the Rosemary Ndlovu case and more to solve the latest murder mystery.
Detetive in Rosemary Ndlovu case nab other killer
Police spokesperson Brig Athlenda Mathe told TimesLIVE that Sgt Keshi Mabunda had been working on the new case for two months.
Authorities were able to link the suspect to the matter of one of her family members. Police are also looking to link the deaths of her son and her husband and two daughters between 2006 and 2018.
@MDNNEWSS on X found a video of the accused woman appearing on a television show regarding her husband's death.
South Africans applaud SAPS Brig Athlenda Mathe
Online users could not stop raving about the excellent police work by SAPS. People commented, hoping he would stay safe and keep bringing criminals to justice.
Gloria Makoti WA Bachadiba said:
"This detective need a very serious protection believe me and that must be done very fast."
Sandiso Yisaki wrote:
"The way this fellow is soo good at his craft, I hope those who works with him are taking lessons. We have a problem of skill shortage in our country, such expertise need to be transferred."
Sylvia Shabangu applauded:
"SAPS is proud of You, namina I'm happy and proud of you Buti, keep up the good work on cracking Bo DYBLOS phakhathi inside CMAX where they belong."
Sharon Mabunda added:
"Good job kodwa I fear for his life, this is South Africa."
Honourable Masika commented:
"May the good Lord protect this incredible policeman, this country needs more of him."
Dennies Gumede applauded:
"Good job, detective."
Rosemary Ndlovu killed family for insurance
Briefly News previously reported that serial killer Rosemary Ndlovu was driven by greed. Many South Africans were amazed to hear experts describe her personality.
Anele Mdoda salutes cop who busted Rosemary Ndlovu
Briefly News previously reported that Anele Mdoda had the privilege to sit and chat to Sergeant Keshi Benneth Mabunda, a police officer who nailed cop-turned-serial killer Nomia Rosemary Ndlovu.
The 947 host interviewed Mabaunda on her morning show, Anele and The Club, and did a review about the cop.
Anele's tweet about Mabunda sat high on the trend list for several hours, with Mzansi singing the hero's praises. He was even recommended for the ongoing intricate Senzo Meyiwa case.
Source: Briefly News