Tyga net worth 2019-2020 Forbes
Tyga, real name, Michael Ray Nguyen-Stevenson, is a renowned American rapper who best fits the character of from rags to riches. His name Tyga is an acronym of Thank You God Always. Indeed, he has all reasons to thank God all the time, evidenced by the numerous blessings in his life that he has never been shy to show off. So, what is Tyga net worth as of 2019?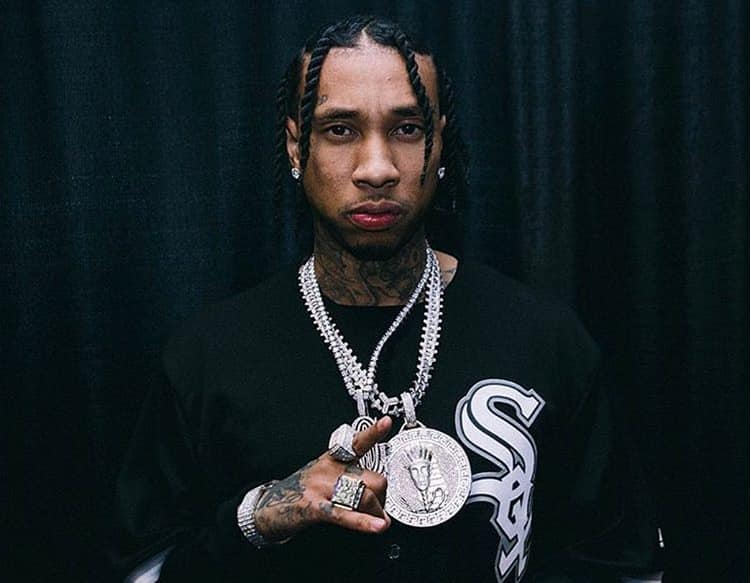 From the expensive jewelry that he puts on as well as the overall flashy lifestyle, it is clear that Tyga is worth some million dollars. But, how much is his exact worth, and how did he manage to accrue his net worth and find himself signed to one of the top music labels in the United States? Read on as we will look into how much is Tyga worth 2019.
READ ALSO: A peek inside the very lavish lifestyles of the West kids
How much is Tyga's net worth?
In 2017, it was estimated that Michael Ray Nguyen-Stevenson's net worth was $2 million. Mr Stevenson has amassed his wealth from his rap career that started back in 2008 when he did 'Coconut juice' with Travis McCoy. This is the song that brought the rapper to the limelight, and he then started having a wider audience to his music. He then went on to sign with one of the best music labels, Young Money Entertainment that is under the Cash Money Record label, a symbol of Universal Republic Records.
Over the course of his career, Michael Ray Nguyen-Stevenson's has worked with top artists like Rick Ross, Wiz Khalifa, Chris Brown, and Nicki Minaj, and has released six albums with the most recent which debuted in February 2018. He has managed to sell over 600,000 albums and has over 12 million digital sales. Additionally, this famous rapper has received several awards and recognitions including one Grammy nomination, four nominations on BET Awards, and ten on Music Awards.
Tyga net worth as of 2018 places him at $3 million. His income does not come from selling his albums only, but also from the countless collaborations that he has done with various celebrities. Besides his music, Michael Nguyen-Stevenson's is an actor too and has been featured in films such as Boo! A Madea Halloween 2016, Dope 2015, Going under 2017, and Barbershop: The Next Cut 2016. Moreover, he earns money from his endorsement deals, merchandise and YouTube ads on his channel. On top of all these, Mr Stevenson is the owner of the apparel line dubbed Last Kings, and it is reported that he spent $120,000 to do the interior decorations at the store.
About Tyga
Tyga was born on November 19th, 1989 in Los Angeles and was raised in Compton where most of the top hip-hop celebrities emerge. He is of mixed heritage as he was born of Jamaican and Vietnamese parents. As a little boy, Michael Ray Nguyen-Stevenson idolized known rappers like Eminem and Fabulous. His love for music saw him exchange mix tapes with his school mates and would also enroll in rap contests to show off his rapping skills. Travis McCoy who is Tyga's cousin helped him kick start his professional career as a rapper after he invited Tyga to join his band's tour.
Back in 2011, Stevenson met Blac Chyna, and on the 16th of October, 2012, the two were blessed with a son that they named King Cairo Stevenson. The two lovebirds parted their ways in 2014 after which Tyga got involved with Kylie Jenner (Kylie Jenner net worth Forbes is estimated at $900 million, all from her cosmetic line of business). On the other hand, Blac Chyna, started dating Kylie's half-brother, Rob Kardashian.
READ ALSO: Luxury life of a power couple – Beyonce and Jay Z are balling
Tyga net worth seems to be improving over the years as he has transformed from a teen rapper into an adult one, which is evident from the changes in his music lyrics. We cannot wait to see what is in store for Michael Ray Nguyen-Stevenson's in 2019.
READ ALSO
Kylie Jenner set to become youngest billionaire, overtakes Mark Zuckerberg
Bonang Matheba house - picture, location and price
Bonang Matheba's net worth: Millions in cars, home, and deals
AKA's Net Worth: A look at the king's bank balance
Born into money: Meet the sons of 5 of South Africa's wealthiest families
Source: Briefly.co.za