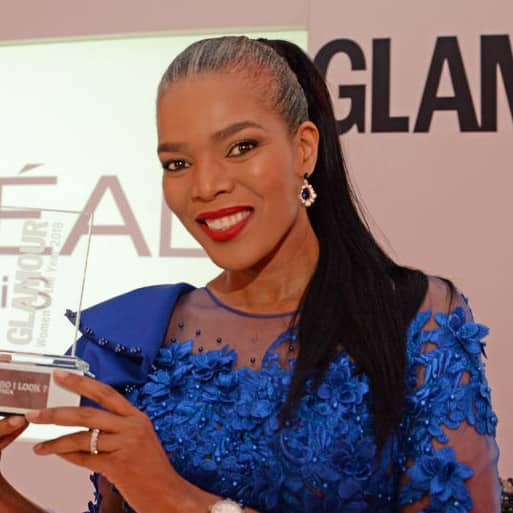 Connie Ferguson
Birth name: Constance Masilo
Born: 10 June 1970
Place of birth: Lobatse, Botswana
Nationality: Motswana, South African
Main activity: Actress, filmmaker, producer, businesswoman
Connie Ferguson is a Motswana actress, filmmaker, producer and businesswoman who became famous for playing Karabo Moroka on South Africa's most popular soap opera, Generations. She began her acting career in 1994 and has since been part of several other TV shows and films, such as The Wild, The Queen and Kings of Jo'Burg. She also co-founded Ferguson Films, a production company that she started with her late husband, Shona Ferguson, in 2010. She has received several awards and accolades for her work in the entertainment industry, and was featured on the cover of Forbes Woman Africa magazine in 2018.
Career
Generations (1994–2010; 2014–2016; 2023–present)
Connie Ferguson gained fame as Karabo Moroka, the wife of Tau Mogale and sister to Archie Moroka, in the long-running soap opera Generations. She co-starred with Menzi Ngubane, Slindile Nodangala and Sophie Ndaba. She quit the show in 2010 after 16 years to explore other career opportunities. She came back to the show in 2014 for a short term to help relaunch Generations: The Legacy. In 2023, she returned to her role again for the show's 30th anniversary.
After leaving Generations in 2010, Connie landed the lead role of Marang Lebone in the M-Net telenovela The Wild. The show was filmed at an exotic game farm and featured her real-life husband Shona as her on-screen love interest. The show was cancelled in April 2013 due to low ratings.
Ferguson Films (2010–present)
Connie and Shona launched their own television company Ferguson Films in 2010. Their first production was Rockville, a drama series that aired on M-Net in 2013. They also produced other successful shows such as iGazi, The Gift, The Throne, The Queen and The Imposter. Connie often appeared in their own productions; for example, she played the role of Harriet Khoza, a drug lord and businesswoman, on The Queen. She also starred in the Netflix series Kings of Jo'Burg, which premiered in 2020.
Films
Connie has also acted in several films throughout her career:
In 1997, she played Mmabatho in Maitemogelo
In 199, she played Dr. Lerato in Soul City
In 2004, she hosted Late Night News with Connie Ferguson
In 2012, she took part in the Comedy Central Roast of Steve Hofmeyr
In 2013, she played Winnie Mandela in Mrs Mandela
In 2017, she played Aunt Nomsa in Zulu Wedding
Influencer
Connie has also ventured into other businesses besides acting and producing. She launched a fragrance called True Self in 2008, and a lotion in 2014. She also has a fitness app called Connie Body that offers workout videos and nutrition tips. She is also a brand ambassador for Garnier and Wella.
Personal life
Connie married fellow actor Neo Matsunyane in 1993. They had a daughter named Lesedi in December 1993, shortly before their marriage. They divorced in 1998 after five years of marriage. In July 2001, she met actor Shona Ferguson at Matseliso Secondary School. They got married in November 2001 and had another daughter named Alicia in June 2002. They were married for almost 20 years until Shona passed away on 30 July 2021 due to Covid-19 complications. Connie has one grandchild from her eldest daughter, Lesedi.