Southern Business School application, forms, courses, fees, requirements 2020
Are you a student who is looking forward to pursuing higher education in South Africa? Were you anticipating to join any of the top universities in the country but missed your chance? That should not be a reason for you to give up on your dreams. The Southern Business School is one of the best institutions that you could consider checking out.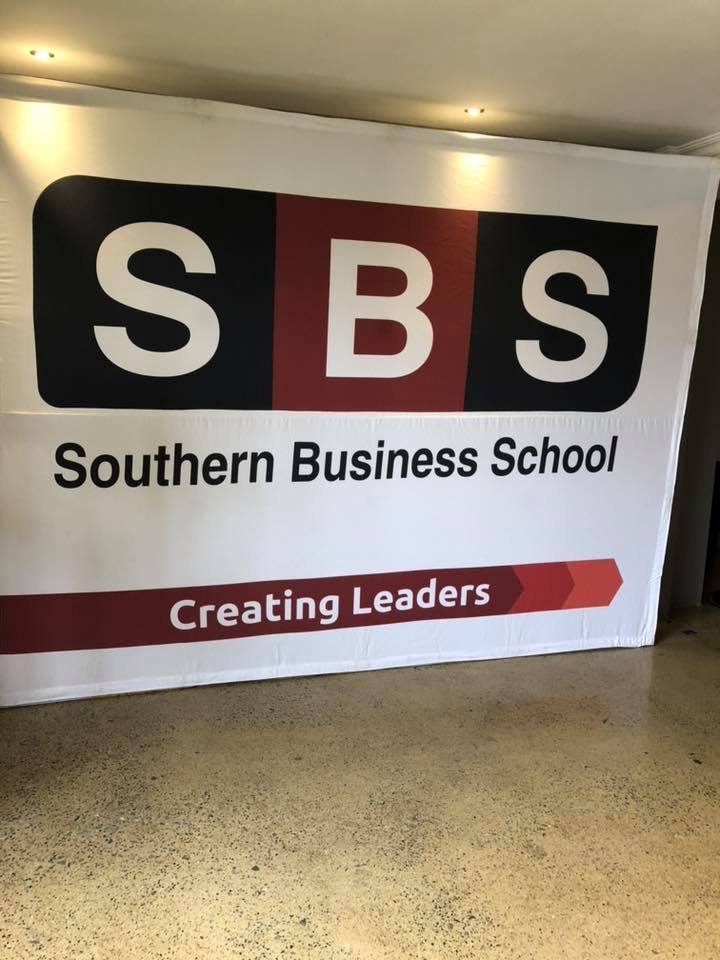 The Southern Business School has been in operation for more than two decades. Its services are anchored on the four qualities of business: customer service, quality, recognition and affordability. The institution has made its services convenient as its programmes are offered on a distance learning basis. These are enough reasons why you should consider the package that this institution has to offer.
SBS college
Southern Business School is a registered institution of higher learning that is a branch in Namibia. It aims at equipping learners with the relevant skills required for venturing in the interesting world of business. These are the details that a prospectus student should check out before enrolling:
READ ALSO: Durban University of Technology online application, check status, courses, fees, contact details, requirements 2020
Southern Business School courses
The courses offered at the SBS college are divided into three different fields:
School of Business & Economics
School of Safety in Society
School of Law
These are the various programmes that one could enrol for: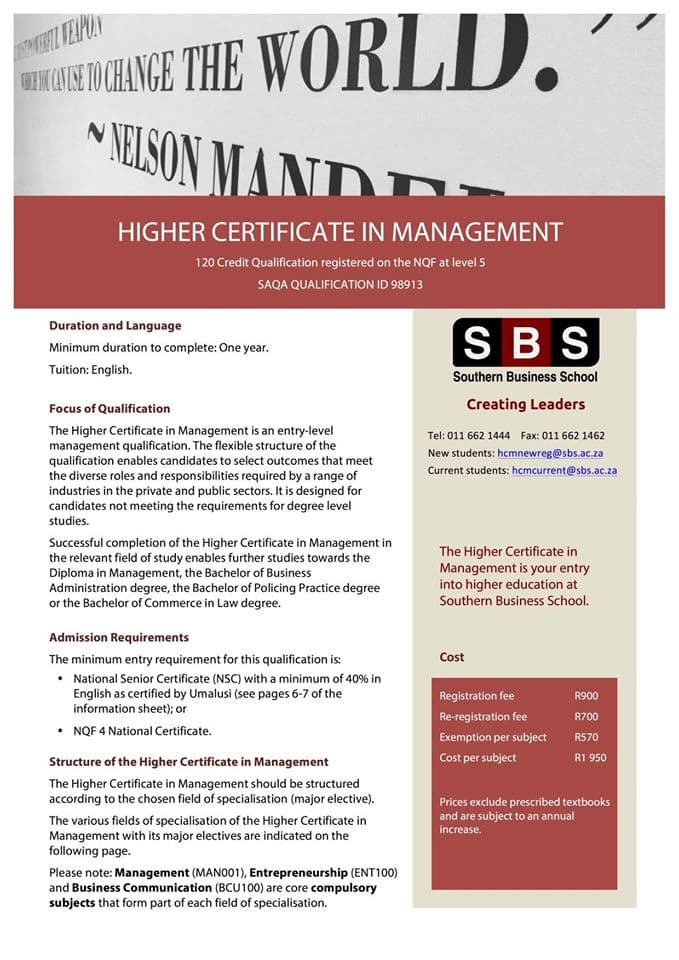 Higher Certificate in Management
Higher Certificate in Paralegal Studies
Diploma in Management
Advanced Diploma in Management
Bachelor of Commerce in Law
Bachelor of Laws (LLB)
Bachelor of Business Administration
Bachelor of Business Administration Honours
Bachelor of Policing Practice
Bachelor of Policing Practice Honours
Master of Management - Option 1
Master of Management - Option 2
Master of Policing Practice - Option 1
Master of Policing Practice - Option 2
Southern Business School admission requirements 2020
If you wish to enrol to the courses mentioned above, you will be required to meet the following requirements:
Higher Certificate courses
The minimum requirement for any of the higher certificate courses is a National Senior Certificate with a score of not less than 30% in English.
Diploma courses
For Diploma courses, one is required to possess a National Senior Certificate with a score of not less than 30% in English and an achievement rating of 3 or more in not less than 4 of the recognised credit subjects.
Degree courses
For degree courses, an applicant should have a National Senior Certificate with a score of not less than 30% in English and a rating of 4 in any four of the designated subjects. The designated subjects can be accessed by clicking here.
Other SBS admission requirements
Apart from the requirements listed above, applicants who wish to pursue Higher Certificate or Diploma courses are also required to have the following documents:
A certificate of matriculation obtained from the Matriculation Board.
If one does not possess a certificate of matriculation, they could use their documents which have been endorsed by the South African Certification Board to ascertain that they meet the equivalent qualifications.
If not, one could rely on their certificates only if they have been registered by NQF and confirmed to be equivalent to the required qualification.
The National Senior Certificate should not have less than five subjects or a set of five subjects in the higher or standard grade.
If an applicant happens to have passed any of the official languages with a lower grade, they will be required to apply for conditional admission.
Conditional Admission
One qualifies for conditional admission if they meet the following qualifications:
They should be 23 years or above at the time of application. They should also possess Grade 10 or Standard 8 Certificate or any equivalent certificate. The applicant should also have served as a manager or a supervisor.
If the applicant secures a chance for admission to the Higher Certificate in Management, they will be required to only register a maximum of two subjects in their first semester of study.
If the applicant passes the two subjects during the first attempt, the application will be considered as normal registration.
Recognition of Prior Learning (RPL)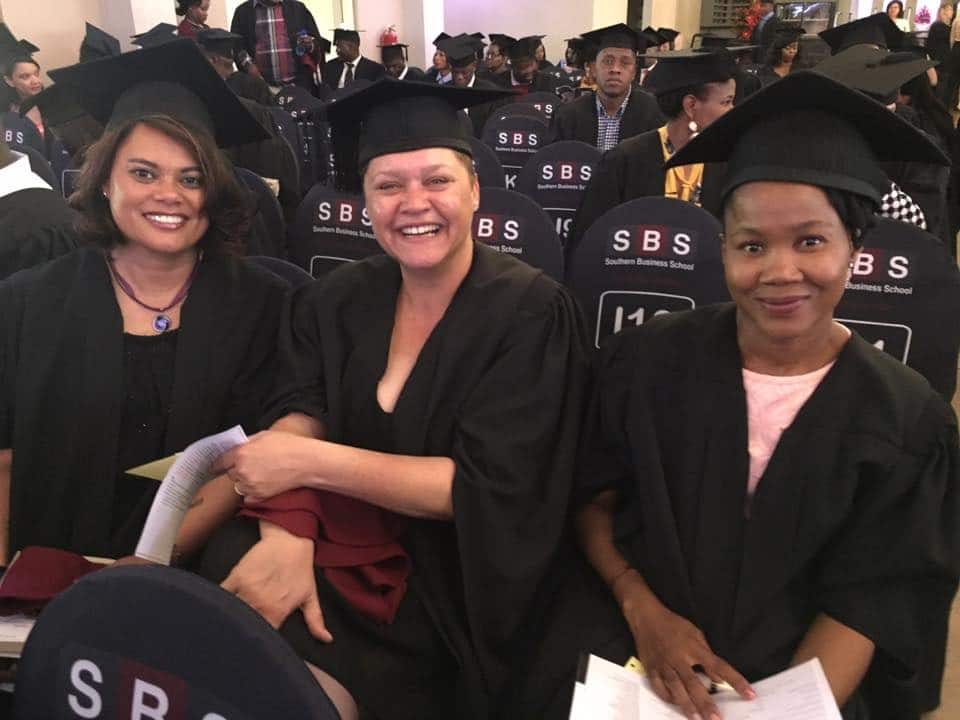 For cases where the applicant did not go through the appropriate learning formally, they could apply for recognition of the prior learning by contacting the institution for the required forms.
Subject Exemptions
The applicant is at liberty to apply for exemption for the subjects that they learnt in other registered institutions of Higher Education. The Southern Business School Academic Board will review the application for exemption, and the decision that the board will make will be final.
Diploma and degree level applicants can only have a maximum of six subjects being exempted while for Higher Certificate and Advanced diploma applicants, only two subjects can be exempted.
Registration documents
If you opt to register to the Southern Business School, you will be required to have the following documents:
A certified copy of your South African Identification Document. Non-South African applicants will be required to present an equivalent identification document.
A certified copy of your Grade 12 certificate, National Senior Certificate or any equivalent qualification document.
If an applicant qualifies for conditional registration, they will also be required to present a letter from their employer to prove the two years of working experience.
Southern Business School application forms
If you are certain about the programme that you wish to pursue, you could proceed to the application process. The procedure involves downloading and filling in the application forms which are available here. Prospectus masters students can obtain the forms by clicking here.
Namibian prospectus students can access the Southern Business School Namibia application form 2020 by clicking here.
Southern Business School fees
The institution charges fees depending on the programme that one is pursuing. To find out more about the fees click here. Prospectus students from Namibia can access the fees by clicking here.
Southern Business School contact details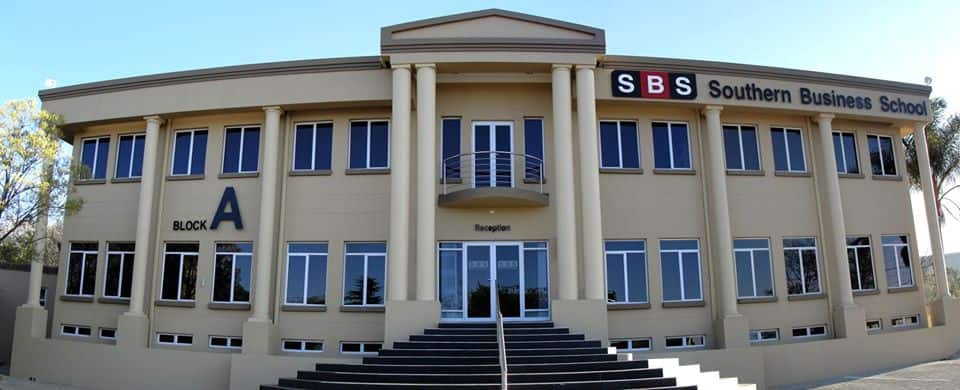 The institution is open for applications. For inquiries and clarification regarding the process, a prospectus student could reach out to them through any of these contact details:
South Africa
If you are in South Africa, you could reach out through the following information:
Physical address: Plot 10, R28 Service Road, Diswilmar, Krugersdorp 1739
Postal address:
Private Bag X03
Helderkruin
1733
Email address: info@sbs.ac.za
Namibia
If you are in Namibia, you could reach through any of the following details:
Physical address: 24 Wagner Street, Windhoek West, Namibia
Postal address:
Private Bag 13026
Windhoek
Namibia
Email address: naminfo@sbs.ac.za
To find more details about the institution, you could check out Southern Business School by checking out the institution's website. The website is accessible by searching www.sbs.ac.za on your browser.
READ ALSO:
City Varsity online application, courses, fees, requirements 2020
Motheo TVET College online application, courses, fees, status check, requirements 2020
Boland College online application, forms, courses, fees, requirements 2020
Source: Briefly News