Ronald Lamola bio: age, wife, education, career, house, profile, contact details
Ronald Lamola is one of most vocal, learned, and young resilient leaders in President Cyril Ramaphosa's cabinet. He has been a leader since his time as an undergraduate law student at the University of Venda. He loves education and has several certificates and a master's degrees in law.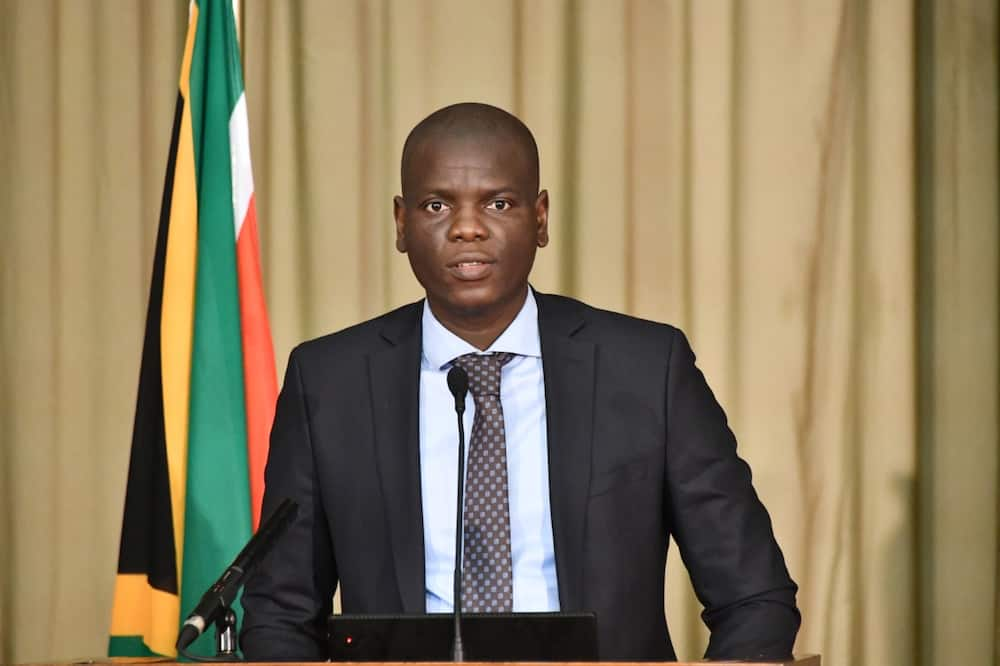 It is undeniable that the people of Mzansi love the young politician. This saw him being elected as a Member of Parliament in the May 2019 elections. He has also held high positions in ANC and in other South African government offices. Below is the inspiring biography of the son of the farm labourers that continues to make a name for himself and bring change in South Africa.
Ronald Lamola profile summary
Full name: Ronald Ozzy Lamola
Date of birth: 21st November 1983
Ronald Lamola age: 36
Gender: Male
Marital status: Married
Nationality: South African
Occupation: Politician, Lawyer
Early life
He was born on 21st November 1983 in Bushbuckridge, Mpumalanga. His parents are farm workers. He spent his childhood on a farm compound that his parents lived in while working. His strong political views concerning land are probably because he grew up there.
Ronald Lamola marriage
Ronald Lamola wife is known as Bawinile Prudence Moratiwa Msiza. They got married on 8th March 2013 at the Cunning Moor in Bushbuckridge.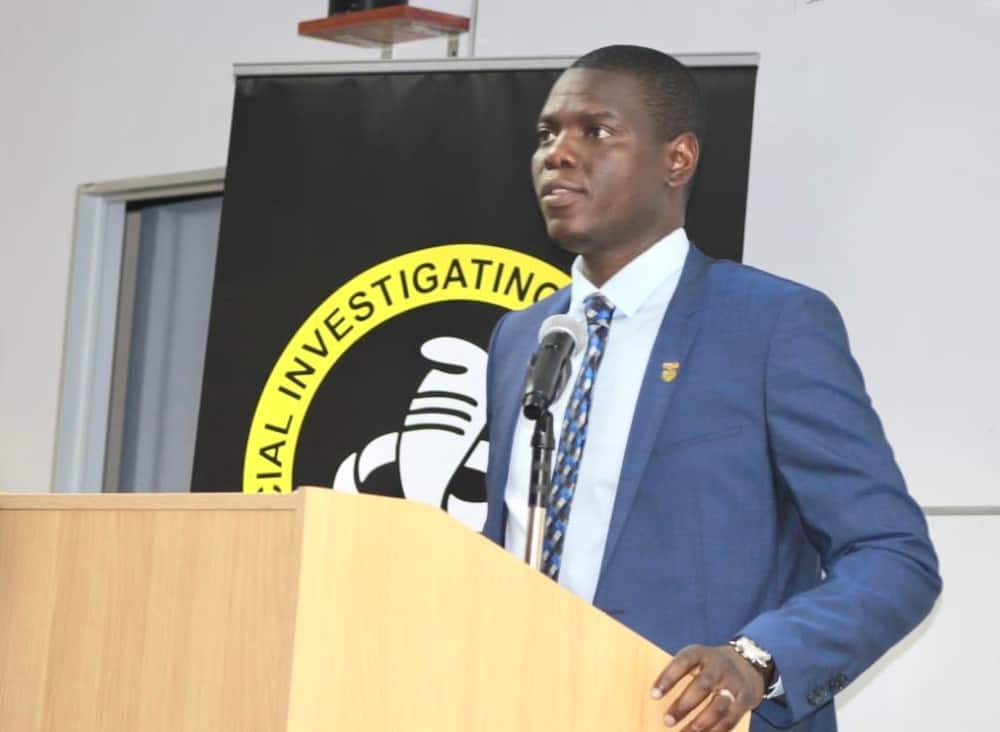 Ronald Lamola education background
He has a stunning academic background. Nelson Mandela once said that education is the key to change your future to anyone you wants to be, and Ronald is living it. Since his parents could not afford to pay his school fees, his elder sister, Constance, used her salary to ensure he stayed in school. He graduated from Mchacka High School in 2000. He then enrolled for a Bachelors of Law (LLB) degree at the University of Venda from where he graduated in 2005.
In 2006, he attended the University of South Africa to get Practical Legal training. From 2007 to 2008, he obtained his post-graduate certificate in law from the University of South Africa. From 2013 to 2014, he got his Master of Laws (LLM) degree from the University of Pretoria.
The politician also attended the Wits Business enterprise where he obtained a post-graduate certificate in Telecommunications policy regulation and management. His resume also has two master's degrees from the University of Pretoria. One degree is in Corporate Law (2014), and the second one is in Extractive Industries Law in Africa, which he finished in 2018.
READ ALSO: Nelson Chamisa age, children, wife, education, cars, house, net worth, latest news
Ronald Lamola career
He started showing interest in politics and leadership while still an undergraduate student at the University of Venda. He was the Chairperson of the South African Students Congress in Limpopo as well as the President of the Student Representative Council. He kicked off his career as an attorney at the TMN Kgomo and Associates in 2006. He is the Director of Ndobela Lamola, a Ronald Lamola law firm in Pretoria that specializes in Litigation, Competition Law, Banking Law, and Communication Law.
The Honorable Ronald is the current Minister of Justice and Correctional Services of the Republic of South Africa, a position he assumed on 30th May 2019. This position suits him, given his strong background in law. Before being appointed by President Cyril Ramaphosa to this ministerial position, he won the May 2019 elections as a Member of the National Assembly.
He is also a member of the African National Congress national executive committee as well as the national working committee. He was elected in these two high ANC positions in 2017. Before being appointed to the above positions, he was the deputy president of the ANC Youth League.
In 2011, he worked as an Acting spokesperson of the Mpumalanga Premier. From 2009 to 2011, he was the Director in the Office of the MEC of Culture Sports and Recreation in Mpumalanga. He also worked as the Transversal Unit Manager at the Govern Mbeki Municipality in 2009.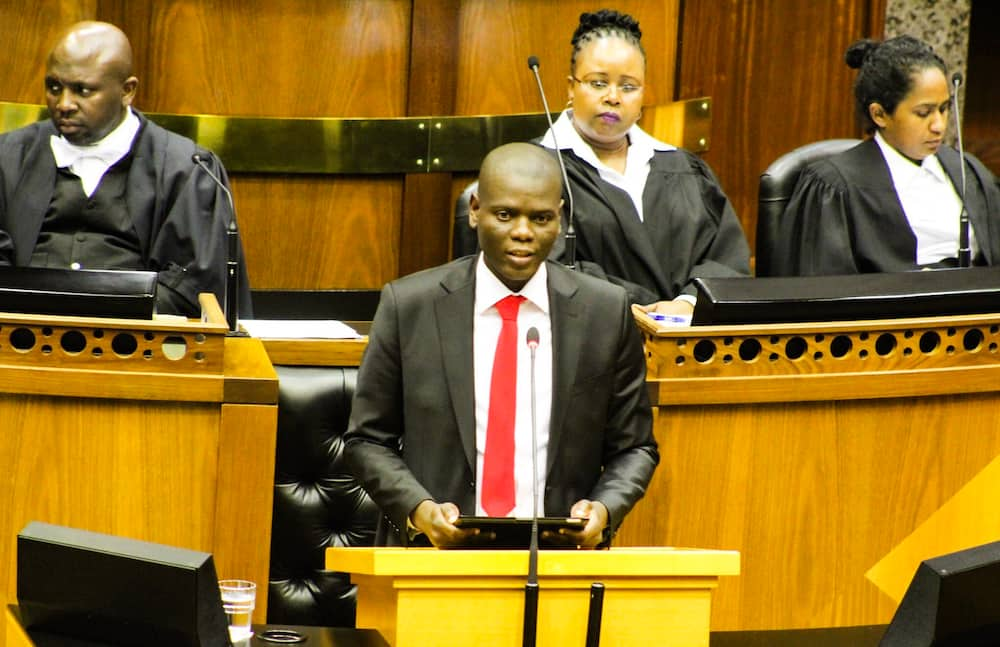 His successful journey in the political arena has been made possible because of his attributes. The politician is not afraid to air his views if he believes they are right. This can be seen in the speech he delivered at the SONA debate early in 2020. In the Ronald Lamola speech, he reminded the EFF leader Julius Malema that he cannot be in charge in a democratic country because the people are the ones in charge.
READ ALSO: Male and female South African leaders that fought for democracy and their exact contribution
Ronald Lamola contact details
You can reach the politician through the following communication mediums.
Tel: 012 406 4669 (Pretoria), 021 467 1700 (Cape Town)
Fax: 012 406 4680 (Pretoria), 021 467 1730 (Cape Town)
Ronald Lamola twitter: @RonaldLamola
Ronald Lamola email address: Ministry@justice.gov.za
READ ALSO: Tumelo Ramaphosa bio: age, partner, parents, bitcoin, cars, pics, profile, net worth
Ronald Lamola pictures
The following are some of the politician's pictures that tell a story about his life and career.
Compassionate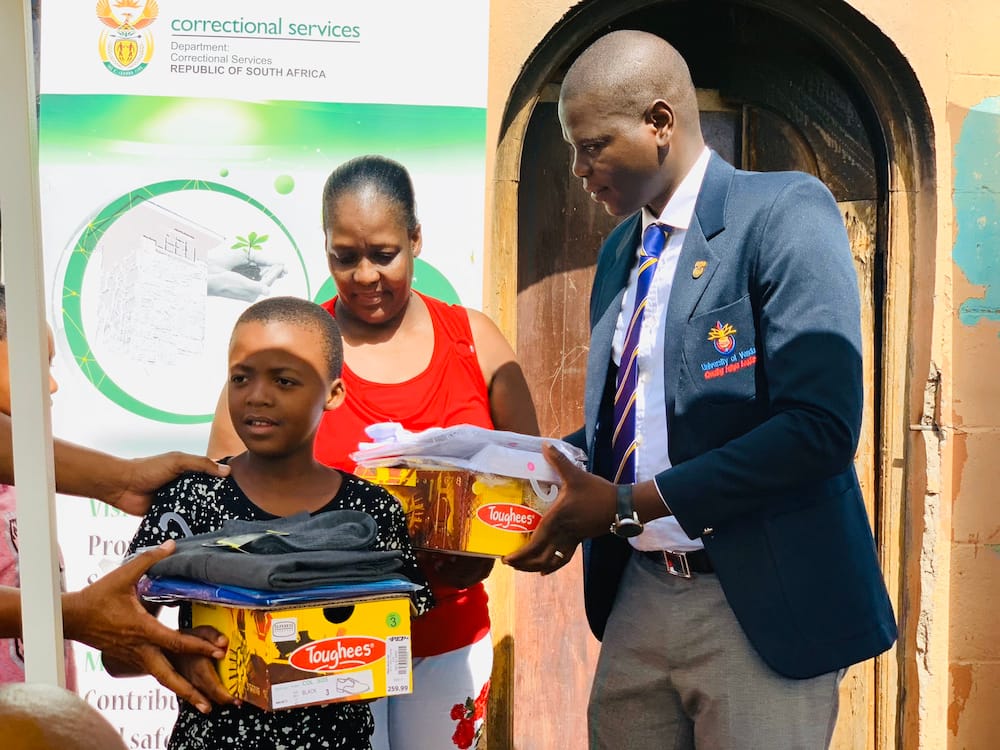 He is ready to help those in need. In this picture, he is offering a helping hand to a family in Galeshewe whose house was burnt down in October 2019.
Team player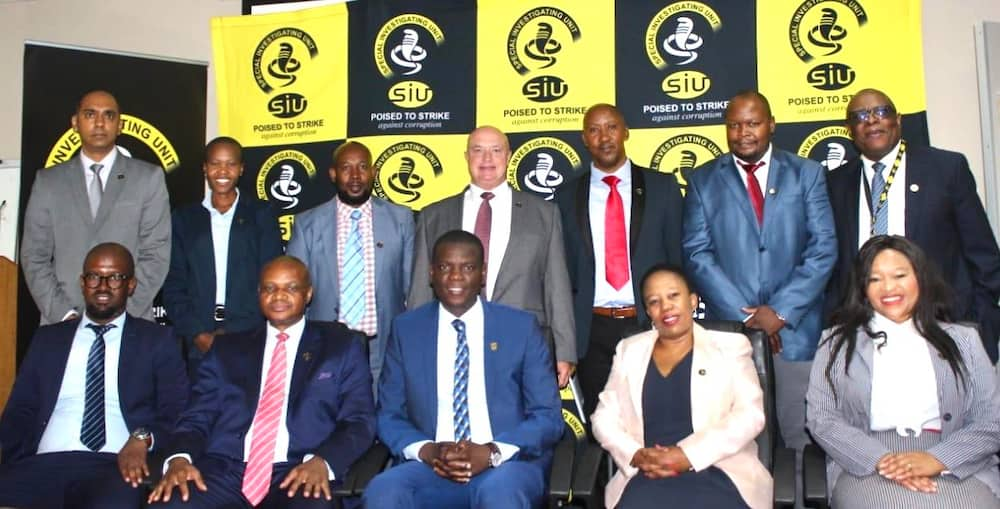 As the Minister of Justice and Correctional Services, he has to work closely with staff members in the ministry. In this photo, he is together with Exco and ministry staff members.
Vocal leader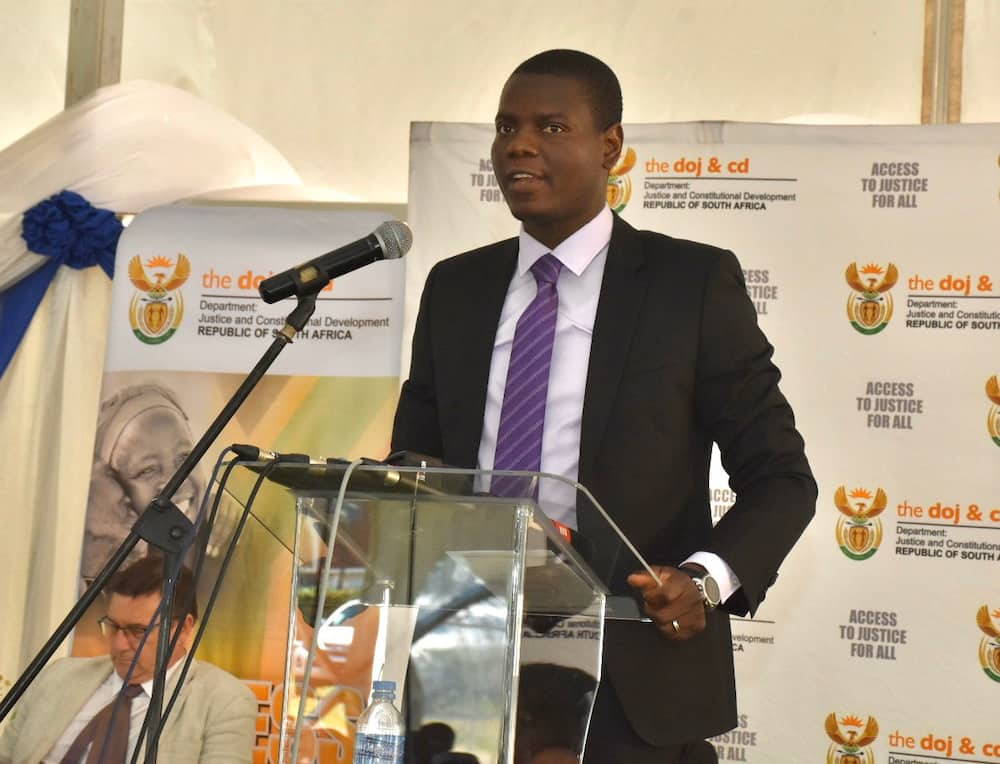 He is not afraid to air his views.
Strong ANC supporter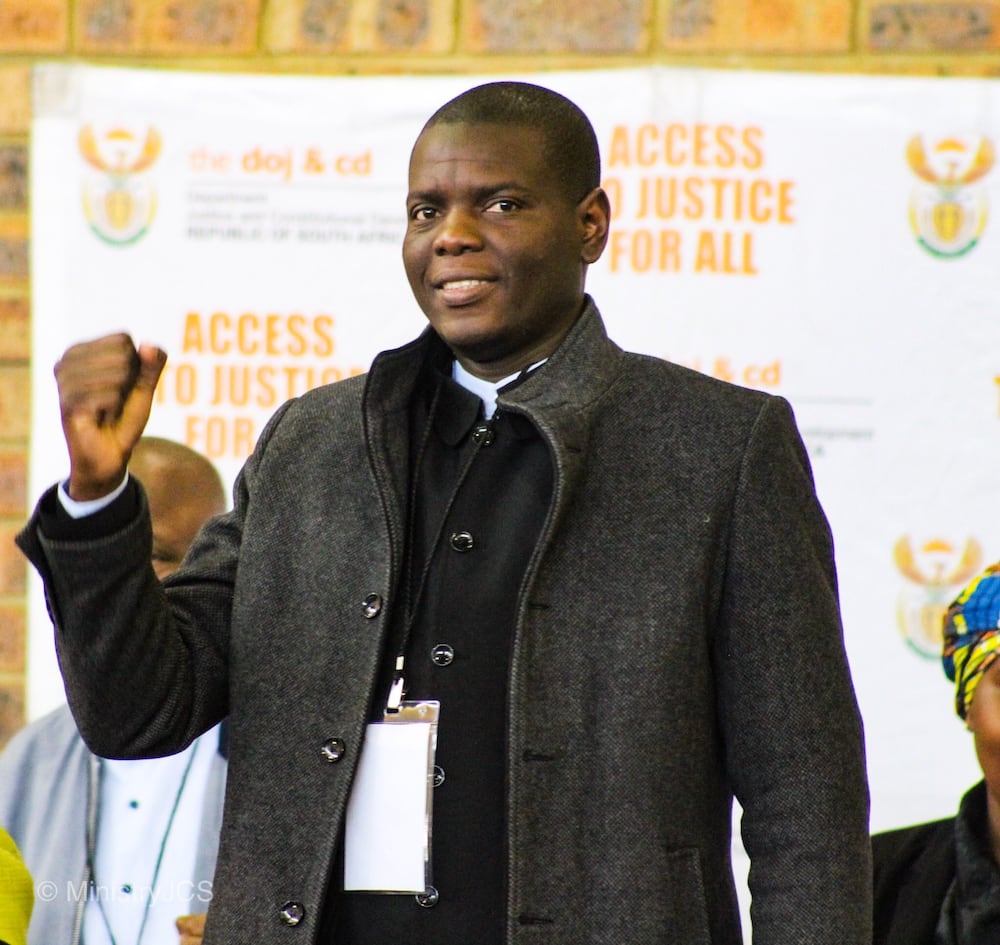 He has always supported the African National Congress since his debut in politics. His support for the ANC has, however, not hindered him from criticizing people in the party.
Education is the key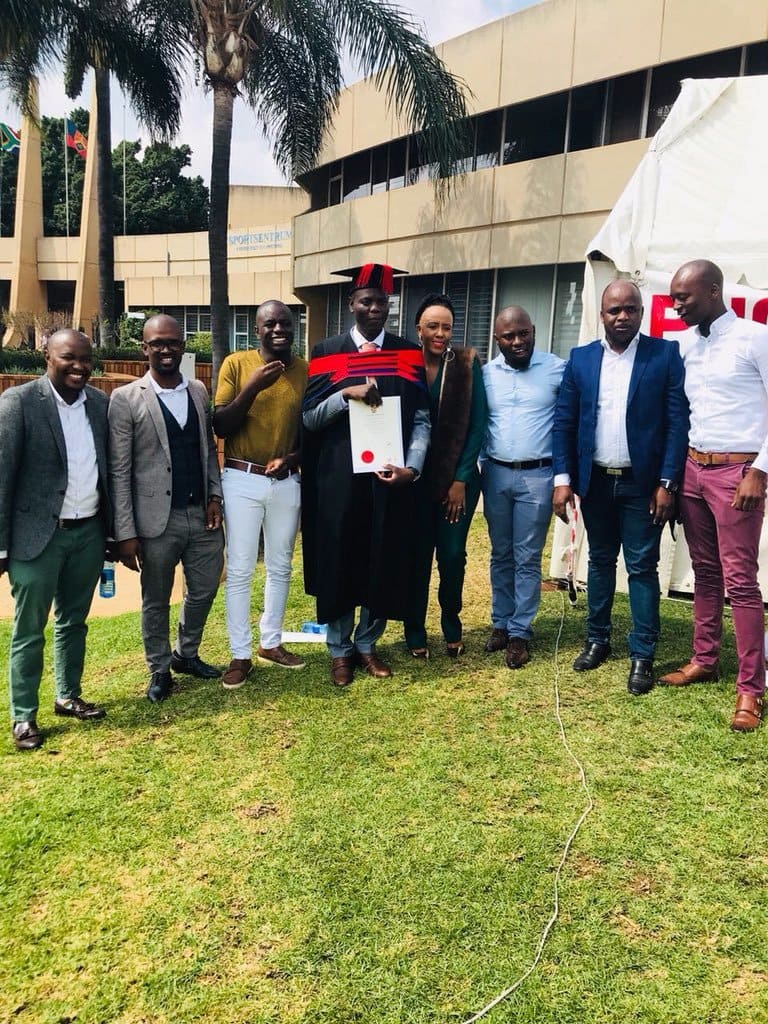 Mr Ronald Lamola is a learned young man with an LLB as well as several certificates and master's degrees in law. His latest graduation was in 2018 when he finished his other Master's degree in Extractive Industries Law from the University of Pretoria.
READ ALSO: Khusela Diko bio: age, husband, wedding, education, profile, contact number
Ronald Lamola biography is a source of inspiration to the young people in Mzansi in many ways. It is not easy to be a student, a practicing attorney, and a politician at the same time.
READ ALSO: Panyaza Lesufi weighs in on ANC's tainted image: #VoetsekANC
Briefly.co.za reported on 2nd August Panyaza Lesufi's remarks concerning the ANC. The ANC Gauteng deputy chair expressed his concerns about the party during the late Andrew Mlangeni's farewell after top officials were linked to tender scandals at a time when the country was battling with Covid-19. Some of these high ranking officials include Nomvula Mokonyane, Khusela Diko, and Ace Magashule.
Ex-president Thabo Mbeki, who also joined the late Andrew Mlangeni's funeral from home, proposed a renewal of the party. If South Africa is to progress, changes have to be made in the ruling party.
READ ALSO:
FightBackForSouthAfrica trends as fed-up locals express their views
Mkhwebane's lawyer: Public Protector doesn't understand legal basics
Andrew Mlangeni bio: 5 things to know about the last Rivonia Trialist
Source: Briefly News