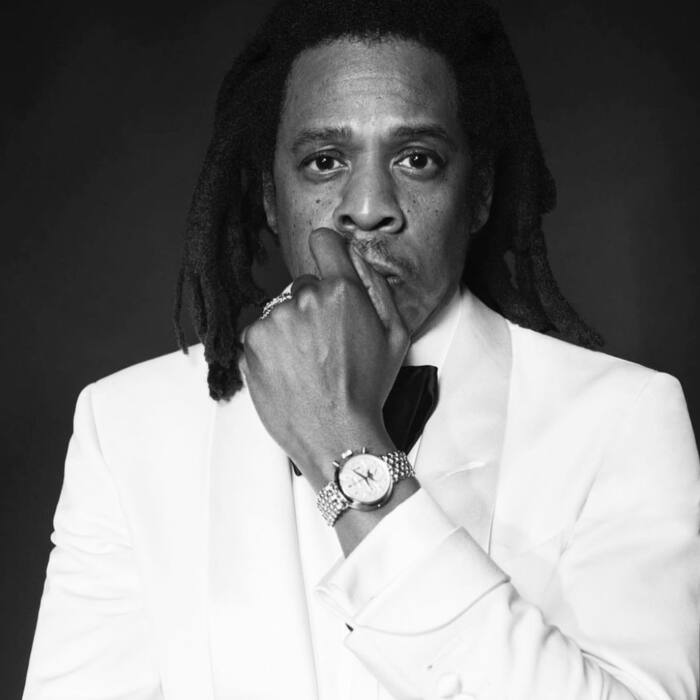 Jay-Z
Birth name: Shawn Corey Carter
Born: 4 December 1969
Place of birth: New York City, U.S.
Nationality: American
Main activity: Rapper, record producer, entrepreneur
Musical genre: Hip hop
Jay-Z is a rap legend and a cultural icon who has dominated the music scene and the business world for over two decades. He has dropped 13 solo albums and several joint projects, earning 24 Grammy Awards and selling more than 140 million records globally. He is also the founder and chairman of Roc Nation, an entertainment powerhouse that handles artists, music, films, and sports events. He is also a co-owner of Tidal, a streaming platform that delivers high-quality audio and video content. He is married to singer Beyoncé, with whom he has three children.
Career
Jay-Z began his rap career in the late 1980s, spitting bars with his mentor Jaz-O and featuring on tracks by Big Daddy Kane and Big L. He created Roc-A-Fella Records in 1994 with Damon Dash and Kareem "Biggs" Burke, after being turned down by several major labels.
He took over as the president of Def Jam Recordings in 2005, where he signed and guided artists such as Rihanna, Kanye West, Jeezy, Ne-Yo, and Rick Ross. He also teamed up with Linkin Park on the mash-up album Collision Course (2004), which spawned the hit single "Numb/Encore".
He established Roc Nation in 2008, an entertainment juggernaut that manages artists, and produces music, films, and sports events. He also launched the clothing brand Rocawear in 1999 and the luxury sports bar chain 40/40 Club in 2003. He became a co-owner of Tidal in 2015, a streaming service that offers high-quality audio and video content. He also introduced Monogram in 2020, a line of cannabis products.
Family
Jay-Z met Beyoncé when she was 18 years old and they started dating about a year and a half later. They kept their relationship under wraps for several years, only working together on songs and showing up together at events. They tied the knot on April 4, 2008, in a secret ceremony at Jay-Z's penthouse in New York City. They have three children together: Blue Ivy, born in 2012, and twins Rumi and Sir, born in 2017.
Jay-Z also has a close bond with his mother Gloria Carter, who revealed that she was a lesbian in 2017. He wrote a song for her on his 4:44 album, titled "Smile". He has three siblings: Andrea, Eric, and Michelle.
Awards
Jay-Z has won 24 Grammy Awards, the same number as Kanye West for the most Grammys by any rapper. He has also received other accolades such as the NAACP President's Award, a Primetime Emmy Award, a Sports Emmy Award, and a nomination for a Tony Award. He was inducted into the Songwriters Hall of Fame in 2017, becoming the first rapper to get this honour. He was also listed as one of the 100 most influential people in the world by Time magazine in 2005, 2006, and 2013.
Net Worth
According to Forbes, Jay-Z has a net worth of $2.5 billion as of June 2023, making him the richest rapper in the world.
Albums
Reasonable Doubt (1996)
In My Lifetime, Vol. 1 (1997)
Vol. 2… Hard Knock Life (1998)
Vol. 3… Life and Times of S. Carter (1999)
The Dynasty: Roc La Familia (2000)
The Blueprint (2001)
The Blueprint 2: The Gift & The Curse (2002)
The Black Album (2003)
Kingdom Come (2006)
American Gangster (2007)
The Blueprint 3 (2009)
Watch the Throne (with Kanye West) (2011)
Magna Carta Holy Grail (2013)
4:44 (2017)
Everything Is Love (with Beyoncé as The Carters) (2018)