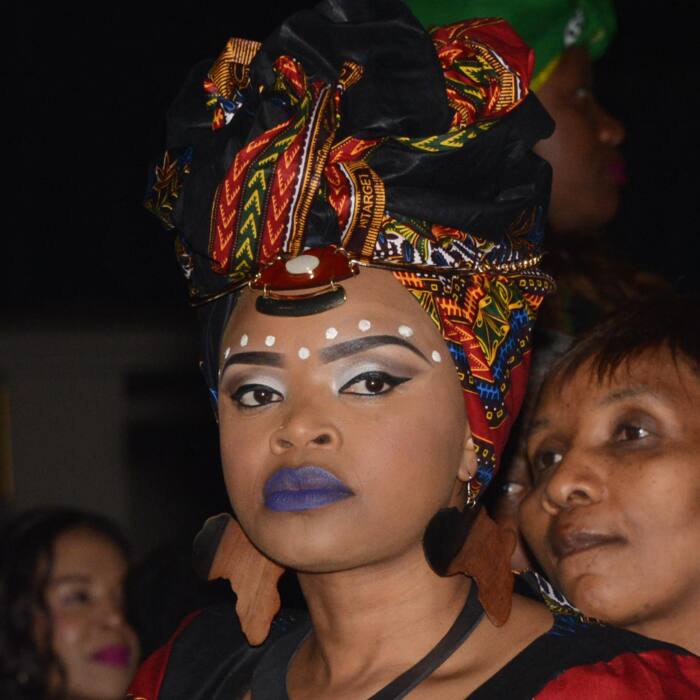 Zoleka Mandela
Birth name: Zoleka Mandela
Born: 9 April 1980
Place of birth: South Africa
Nationality: South African
Main activity: Writer and activist
Zoleka Mandela is a South African writer, activist, and the granddaughter of Nelson Mandela.
She was born to Zindzi Mandela and Zwelibanzi Hlongwane. Zoleka has spoken about being sexually abused by two relatives when she was a child. She also developed a drug and alcohol addiction that lasted for over a decade.
In 2010, Zoleka Mandela's 13-year-old daughter, Zenani, was killed in a car crash on the way home from a concert. The accident was said to be due to drugs, and, at the time, Zoleka Mandela was recovering from a suicide attempt.
Zoleka Mandela was diagnosed with breast cancer in 2012 and returned in 2016. She underwent chemotherapy, radiation, and a double mastectomy.
Career
Zoleka Mandela is a writer and activist who uses her voice and platform to inspire others and to address social issues. Some of her career highlights include:
Published her memoir, When Hope Whispers, in 2013, which chronicles her life story of overcoming addiction, abuse, cancer, and grief.
She was named one of the BBC's "100 Women" in 2016 for her courage and resilience.
Became an ambassador for the Global Initiative for Child Health and Mobility in 2016, campaigning for safer roads and transport for children in Africa.
Launched her YouTube series, Terminally Free, in 2023, where she talks about living with terminal cancer and planning her death.
Children
Zoleka Mandela has four living children:
Zenani (deceased) was born on 9 June 1997, father is unknown.
Zwelami was born on 24 December 1998, father is unknown.
Zenawe (deceased) was born on 11 June 2011, father was Sekoati Tsubane.
Zanyiwe was born on 18 January 2014, father is Thierry Bashala.
Zenzile was born in 2019, father is Thierry Bashala.
Zingce Zobuhle was born on 8 April 2022, father is unknown.
Family
Zoleka Mandela belongs to one of the most prominent families in South Africa and the world. Her family tree includes:
Nelson Mandela (grandfather), the anti-apartheid leader and the first black president of South Africa.
Winnie Madikizela-Mandela (grandmother), the anti-apartheid activist and politician.
Zindzi Mandela (mother), the diplomat and poet.
Zwelibanzi Hlongwane (father), the businessman.
Zenani Mandela-Dlamini (aunt), the ambassador and businesswoman.
Makaziwe Mandela (aunt), the academic and businesswoman.
Mandla Mandela (uncle), the chief of Mvezo and politician.
Ndaba Mandela (cousin), the founder of Africa Rising Foundation.
Kweku Mandela (cousin), the filmmaker and activist.
Zondwa Mandela (brother), a businessman and activist.
Zinhle Dlamini (cousin), the businesswoman and philanthropist.
Swati Dlamini (cousin), the businesswoman and philanthropist.
Dating timeline
Zoleka Mandela has been married twice and has had several relationships in her life. Her dating timeline includes:
Thierry Bashala, her first husband and the father of her two youngest children, Zanyiwe and Zenzile. They met in 2010, married in 2014, and announced their separation in 2020.