Short best friend birthday quotes
Friendships can mean a lot to you. This means you will never forget any birthday of your dear friends. With the approach of these special days, it's common to start thinking of thousands of ways to make your friends feel special. Besides the pomp and splendour, a simple but heart-warming tearjerker message can be enough to convey your genuine thoughts to your bestie. As such, don't stress over what to write, here are the best friend birthday quotes.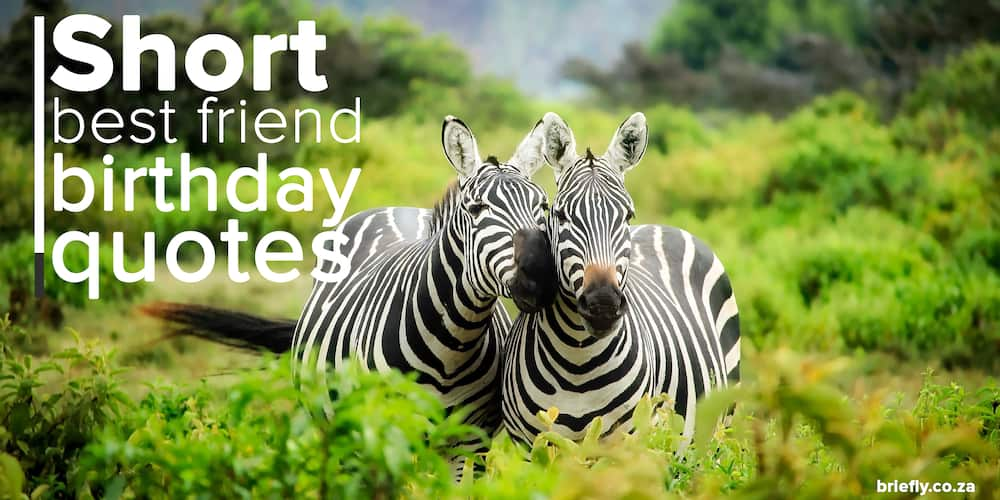 The most underlying approach for writing the best friend birthday wishes is tapping into your genuine self. Such an approach will help you come up with a simple wish that no one will forget for the entire year. Your quote can go a long way in keeping your friendship strong for long instead of just saying, "Happy birthday friend."
Happy birthday messages for a friend
When one of your dear friends turns a year older, here are some inspirational birthday messages that you can send them.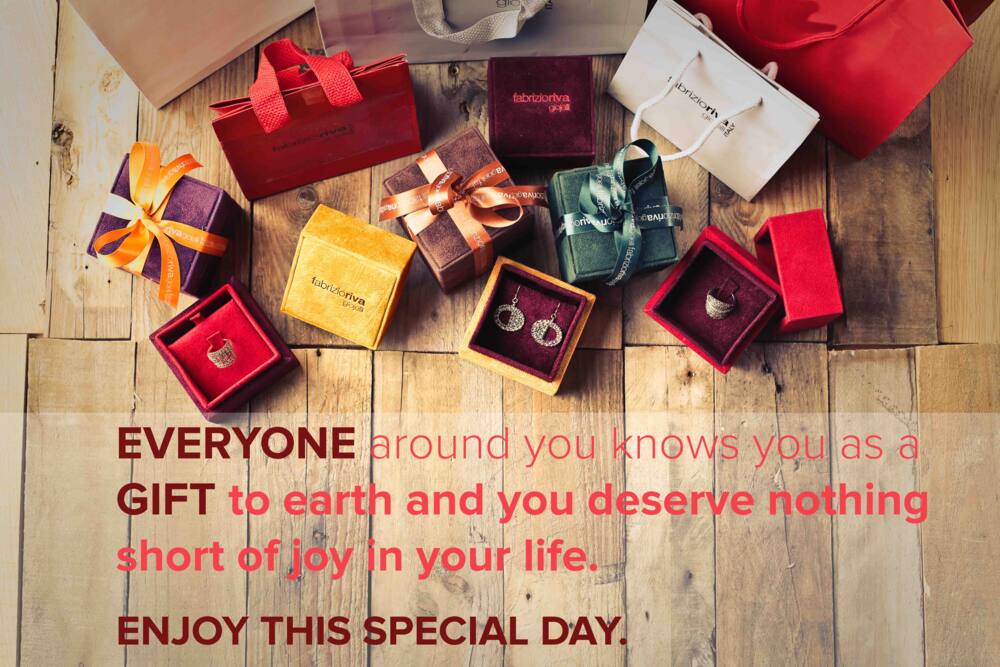 Today marks the beginning of a new year. Welcome it by celebrating to the fullest as you receive my warm birthday wish.
This is the perfect day for you to receive all the love and kindness that you've shared in the past year. Wishing you a great birthday buddy!
Be set and ready as I am wishing you a new year in your life that is about to pick up speed to the next level. Enjoy the ride.
Happy birthday to the most genuine person I know. May lady luck visit your home each day you grow older.
Everyone around you knows you as a gift to earth and you deserve nothing short of joy in your life. Enjoy this special day.
The good thing about life is that the best things are yet to come. Enjoy today as you turn an year older and look forward to a bright future.
Forget about the New Year. Birthdays present the best time to start afresh, set new goals, and pursue inspiring endeavors. May the days ahead be amazing because you are special.
Cheers to another 365 days. Make this year your best as you become the source of inspiration for the people in your world.
It is your birthday and you have the freedom to celebrate it your way. Seize every moment of the day the beautiful days ahead.
I am glad I have a special person I can call my true friend. Nothing should stop you from enjoying your wonderful birthday.
Sweet birthday messages for a friend
Do you have a friend that you've grown close in the recent years or months? Check out the following messages to warm the hearts of such friends.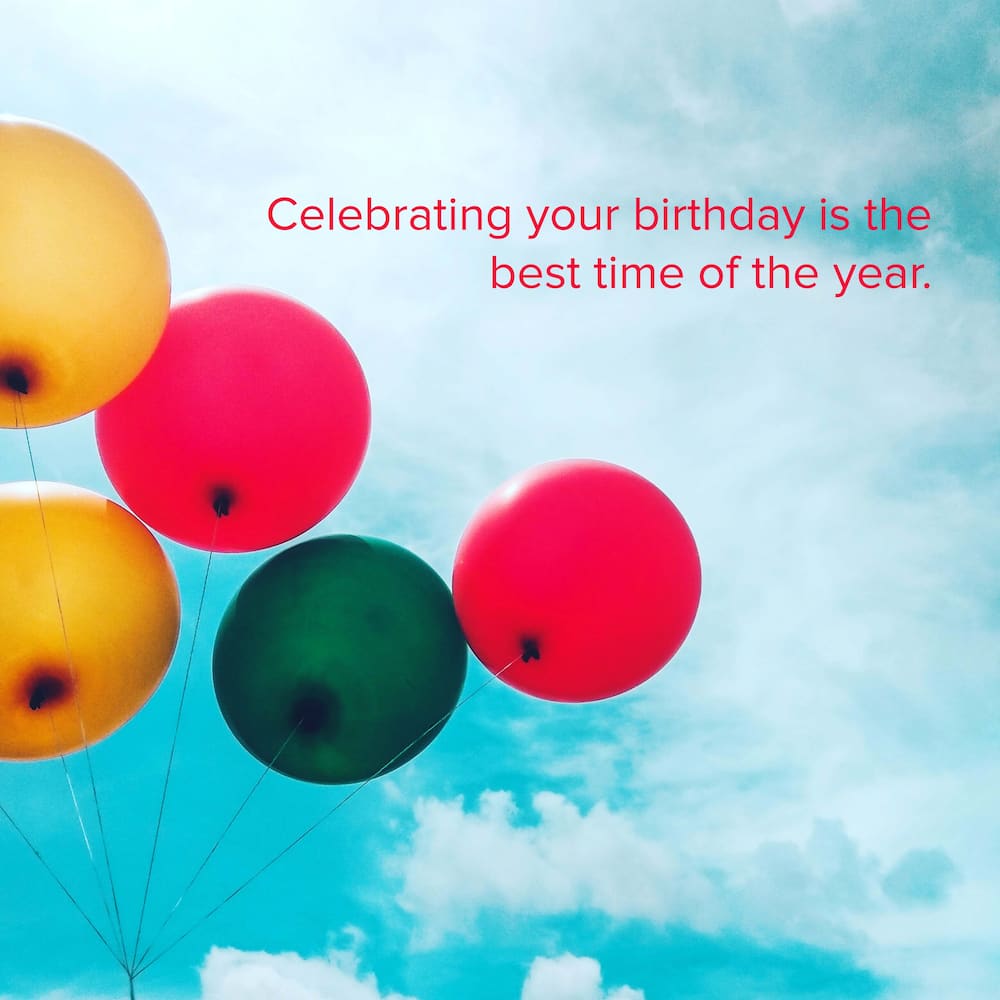 Did you know that I would rather be at your birthday party than anywhere else. That is how special you are. Happy birthday dear friend.
I have a long list of wishes that I would love to send you. At top of the list is good health. May the coming days be full of success.
Do not think of any sought of work today. It is your special day and you need to celebrate it fully.
It is always great to have you around as my friend because we will never have any dull moment. I hope a simple birthday wish will be enough to make you feel special.
Turning an year older can feel confusing. But thanks to our friendship, you should think about nothing else besides celebrating and looking forward to many years of amazing memories.
I know you will be more awesome as you turn an year older than when you were an year younger.
I cannot remember any year when your birthday was not a new chapter to another exciting year. Let this day be the start of double excitement of another year-long journey.
Your birthdays always give me the perfect opportunities to consolidate my thoughts and appreciate you through words. This time I would sum up my words by saying you are stronger and priceless than diamond.
You have guided me during challenging times and would love to celebrate more birthdays with you just like we are going to have a blast today.
Celebrating your birthday is the best time of the year.
Happy birthday wishes for friend
There are times that you want to take your time to compose a happy birthday message to a friend you've grown together with since your childhood. These messages are a little bit deep and thoughtful.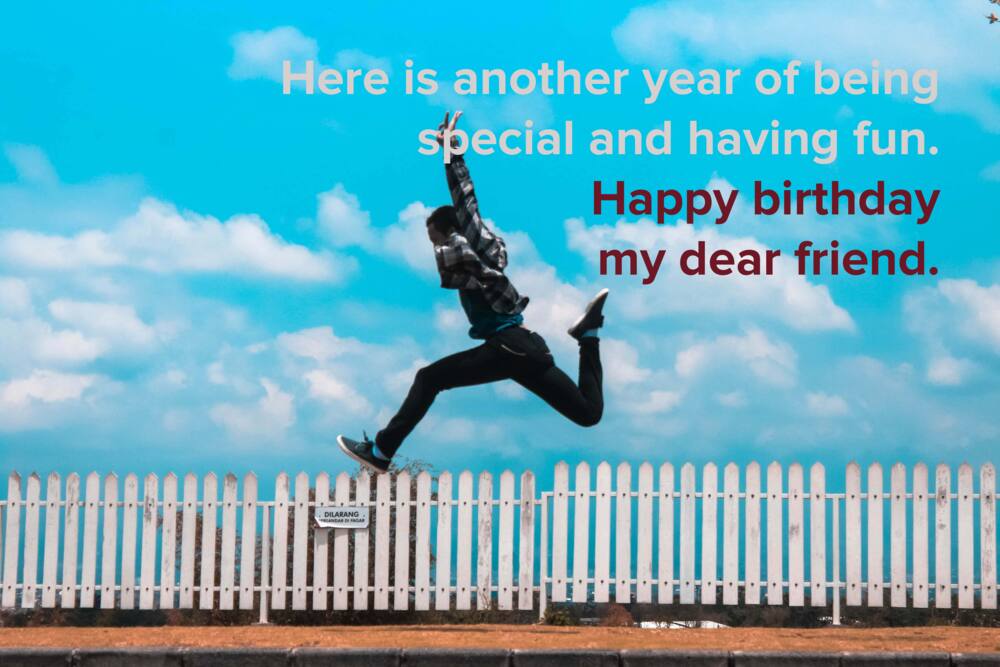 May you receive tons of gifts as you enjoy a day full of smiles and fun! Happiest birthday.
Today gives you the best opportunity to celebrate your achievements in the past year and plan for another year of life.
You know how to live life to the fullest so I have no doubt you're going to have a very memorable birthday celebration.
Here is another year of being special and having fun. Happy birthday my dear friend.
You're definitely a precious friend to find. Our friendship is special and I know it is one of a kind. Have an awesome birthday.
You're a fabulous friend that I can count on to motive and inspire me. Of course, you also make me laugh. Thank you for making our friendship full of good memories as I wish you a superb birthday.
Nobody would ever find you as a boring friend. That is one reason I always look forward to days like today. It's going to be a day to remember. Happy birthday.
Teach me your ways master! I want to be thirty and still look awesome as you do. Happy birthday.
Good health, achieving goals, living happily, and making precious memories are just a few of things I want to wish you to have in your next year of life.
Who ever doubted our friendship from the beginning? Happy fiftieth birthday friend.
There you have it. Whenever there's an upcoming birthday for one of your friends, you can just search for birthday wishes to a friend or use the ones listed above. As you may have already noted, the best birthday message for a friend is one that conveys your true feelings and thoughts. In so doing, it will be easy to write genuine and short best friend birthday quotes.
READ ALSO:
Man's bae makes his birthday super special: 'This is what love is'
Atandwa Kani sends his dad the sweetest message for his 75th birthday
World's oldest twins celebrate their 100th birthday
Source: Briefly News