Interested in learning how to prepare the best Eisbein? Eisbein is originally from Germany where it is made with pickled ham cock. The word "Eisbein" originates from the bone that was used as blades for ice skates. The dish is cooked differently in different parts of the world. In South Africa, it is served with sauerkraut, mashed potatoes and sometimes served with mustard. Below is a stepwise description of how to cook Eisbein in the oven.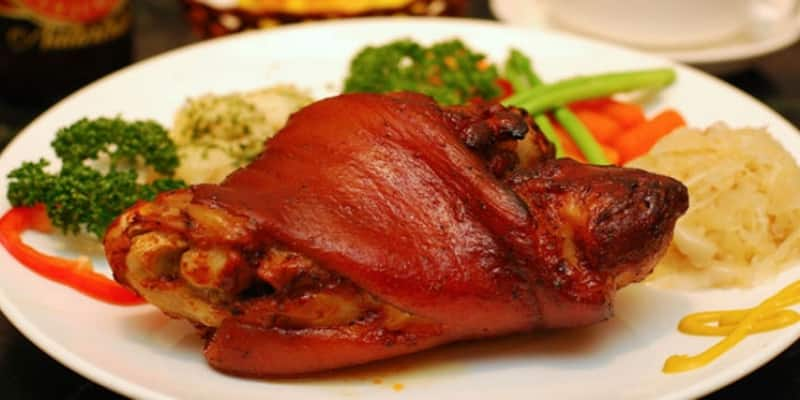 How to prepare Eisbein
To make good Eisbein, you first need to have your ingredients ready. One of the main ingredients is sauerkraut, also from a German origin. Sauerkraut is simply raw cabbage that is cut into small pieces and it is fermented with lactic acid bacteria. It has a sour flavour and the advantage is its long shelf life because it is already fermented. Many customize their sauerkraut by mixing chopped cabbage with fermented milk and adding some salt to taste.
There are two ways of making Eisbein. The first is traditional Eisbein and the second is slow cooker Eisbein. In every 100 grams of Eisbein, there are 188 calories, 11.88 grams of fats and 18.91 grams of protein. It also has sodium and potassium in milligrams. This depends on the amount of spices and salt that is put in the dish.
Traditional pickled Eisbein recipe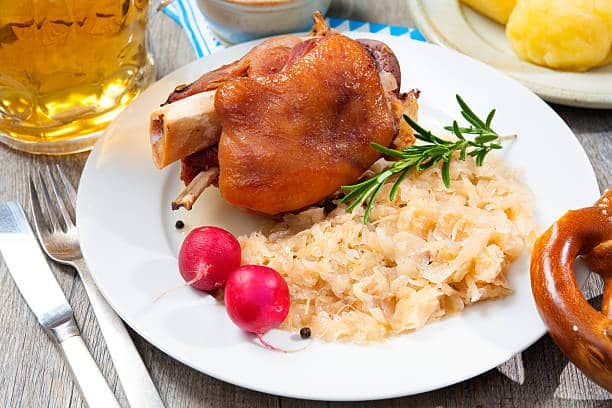 Ingredients
Two cups of sauerkraut
Three onions
Seven juniper berries
A teaspoon of coriander
One teaspoon cumin
Two bay leaves
Salt to taste
Pork knuckles
Method of preparation
First, preheat the oven to 200°C.
Take 3 pork chunks and rinse them thoroughly with running water. Rinsing ensures that your dish is not excessively salty.
Sprinkle the pork knuckles with pepper and salt and set them aside. The reason for sprinkling is to add taste to the pork and to ensure that the pork gets more flavour.
On a chopping board, slice the onions and set them aside.
Take the prepared sauerkraut and place it in an oven dish. Place the seasoned pork knuckles on top of the sauerkraut. Pork knuckles release fat so coating the oven dish with fat is not necessary.
If you have a cooking spray, you can just sprinkle it on the oven dish before placing the sauerkraut.
Take the sliced onions and bay leaves and place them on top.
To add more flavour, sprinkle the dish with the berries, coriander, cumin and some salt. This will ensure that the knuckles smell really good and have an appetizing colour. Once you are done, wrap it up with aluminium foil. The foil can be replaced with a tight lid.
Bake in the preheated oven for two hours.
To get crunchy Eisbein, make sure to turn your broiler on and then set it to high heat. Keep it close to the source of heat. Keep turning your knuckles until they get crunchy. This takes approximately 20 minutes. This is how you make a crispy Eisbein recipe.
Eisbein tastes really well if it is accompanied with mashed potatoes, mashed peas or just boiled potatoes. Other people prefer to take their Eisbein with rice and that is okay.
How to cook smoked Eisbein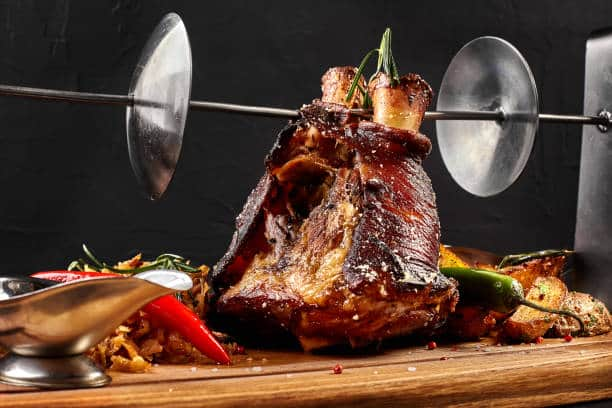 Ingredients
Four smoked pork chunks
An onion that is cut into half
Cloves
Brown sugar
Six bay leaves
Black pepper
Mustard
Honey and butter
Method
Put the pork parts in a pot and add cloves, sugar, onions, bay leaves and pepper.
Pour some water inside until they are soaked and simmer for around 2 hours until the pork becomes soft.
Preheat the oven to 220°C and place the cooked pork in a roasting tin. Smoked Eisbein recipe oven requires a bit of patience.
Mix mustard, butter and honey and then brush over the pork.
Roast it until it becomes crispy. The meal is ready.
The pork can be served with mashed potatoes and some sauerkraut. This is an easy method on how to cook a smoked Eisbein.
READ ALSO: 7 easy mince recipes for dinner
How to cook Eisbein in a slow cooker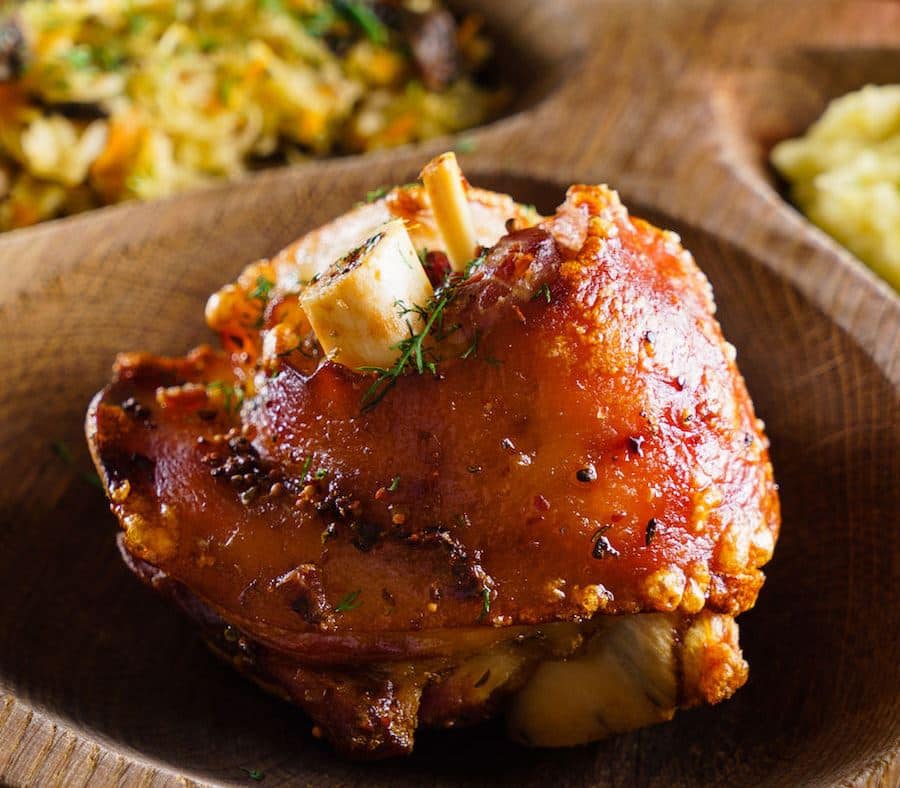 Ingredients
Three cups of sauerkraut
Four cups of beef stock
Two apples, one onion
Fresh pork knuckles
Two teaspoons of berries
Three bay leaves
One cup of dark beer (optional)
Method
Start by placing a mesh on the sink. Take three cups of sauerkraut and run cold water on it. Rinse it thoroughly and ensure that the excess water drains off.
Take the dry sauerkraut and place it in a slow cooker. Do not forget to spray the inside of the slow cooker with a cooking spray. The rinsing of sauerkraut will reduce the flavour significantly.
On a chopping board, cut the onions into small pieces. If you do not have fresh onions, you can also use 2 tablespoons of dried onions.
Peel the apples and chop one of them into small pieces. Grate the other apple on a grater and put them in the slow cooker.
Take the beef stock and add it to the cooker. For a more enriching flavour, you can add a cup of amber or dark beer.
Take the pork knuckles and place them on the cooker and place the bay leaves, berries and caraway seeds if you would want more flavour.
Place the lid on the slow cooker and then turn it to low. Slow cook until it becomes tender.
The slow cooker will take around 8 hours to completely cook the Eisbein. As usual, once your Eisbein is done you can serve some and keep the rest in a refrigerator. You can reheat your Eisbein in an oven until it is completely hot. This is another good way on how to make Eisbein.
The main trick about cooking Eisbein in the oven is getting your ingredients in order. The sauerkraut tastes better if it is prepared way before you start making Eisbein. This is because the flavour mixes completely with the raw cabbage. This is advisable when using a slow cooker because you have to rinse it. The other trick is cooking it step by step. If you have questions on what to serve with Eisbein, the answer is quite simple. Serve it with mashed potatoes, rice, boiled potatoes, mashed peas or any other carbohydrate dish of your choice. Feel free to try any of these Eisbein recipes and enjoy your meal.
READ ALSO:
Source: Briefly.co.za