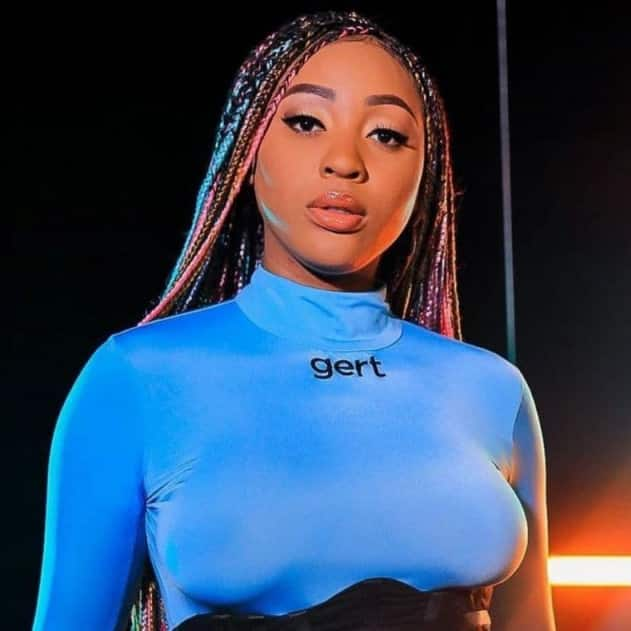 Nadia Nakai
Birth name: Nadia Nakai Kandava
Born: 18 May 1990
Place of birth: South Africa
Nationality: Zimbabwean-South African
Main activity: Rapper and TV personality
Musical genre: Hip hop
Nadia Nakai is a popular rapper and television personality who has established herself as one of the leading figures in the South African hip hop scene. She is famous for her daring lyrics, edgy style and collaborations with some of the top names in the industry.
Career
Nadia Nakai started her career in 2011, when she won the Mixtape 101 competition on the e.tv hip hop show Shiz Niz. She then released her first single "Like Me" in 2013, which earned her attention and recognition. She also appeared on the remix of Riky Rick's song "Amantombazane" along with other South African artists.
In 2016, she signed with Family Tree Records, a label owned by rapper Cassper Nyovest. She released her EP Bragga, which included the hit single "The Man" featuring Nyovest. She also released another successful single "Naaa Meaan" featuring Nyovest in 2017.
In 2019, she released her debut album Nadia Naked, which received positive reviews and won her several awards. The album featured singles such as "Imma Boss", "More Drugs" and "Amai". She also co-hosted the MTV Base hip hop show Yo! MTV Raps South Africa as well as the red carpet special for MTV Africa at the 2018 MTV Europe Music Awards.
In 2020, she signed a deal with Def Jam Africa, a division of Universal Music Group. She also released a documentary on Showmax about the making of her album Nadia Naked.
In 2021, she pursued her own label Bragga Records. She also hosted the first season of Channel O's Gen-Z South Africa television show.
Personal life
Nadia Nakai was born in South Africa to a South African father and a Zimbabwean mother. She changed her surname from her father's to her mother's when she was 16 years old. She attended Fourways High School in Johannesburg for a year then finished her schooling in Kenya. She later studied marketing, communication and media studies at Monash University in Johannesburg.
Nadia Nakai was in a relationship with rapper AKA until his tragic death in 2023. He was shot by unknown assailants in Durban.
Dating history
Nadia Nakai has been in relationships with different people in the music industry. Some of them are:
Bandile Mbere: In 2017, Nadia Nakai admitted that she was dating Bandile Mbere, one-half of Major League DJz. They stayed together for a few years until they split up in 2019. Nadia Nakai wrote a song about their breakup called "More Drugs".
Vic Mensa: In 2020, Nadia Nakai announced that she was dating American rapper Vic Mensa. They got to know each other through Def Jam Africa and collaborated on her single "Practice". They also went together to Dubai and shared pictures of themselves on Instagram.
AKA: In 2021, Nadia Nakai began dating rapper AKA. Their relationship was cut short when AKA was shot dead in Durban.
Awards
Nadia Nakai has won several awards for her music and style. Some of them are:
Best Female Artist at the 6th AFRIMA Awards (2019)
Best Female at the South African Hip Hop Awards (2019)
Most Stylish Performing Artist at the SA Style Awards (2020)
Best Collaboration at the South African Music Awards (2020)
Discography
Here is a list of some of Nadia Nakai's singles and albums in chronological order:
The Man (feat. Cassper Nyovest) (2016)
Bragga (EP) (2016)
Naaa Meaan (feat. Cassper Nyovest) (2017)
Yass Bitch (2018)
Nadia Naked (Album) (2019)
Practice (feat. Vic Mensa) (2020)
Addicted (2020)