South Africa happy Heritage Day images, quotes, messages
South Africa embodies and takes pride in the culture of different communities that make up the country. Its culture is depicted by how the citizens dress and their confidence in communicating in their local dialects. To crown it all, it has set aside a day to appreciate the value of its cultures. These happy Heritage Day messages could come in handy in celebrating the occasion.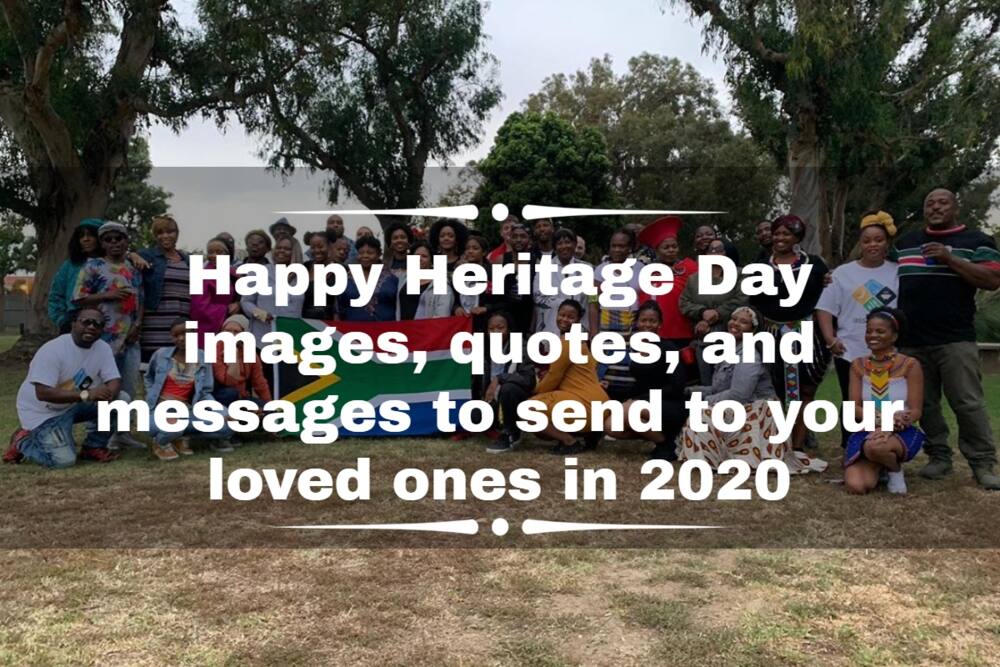 Heritage Day is one of the recently made South African holidays. It is a special occasion in which the citizens appreciate their social conventions more extensively. It is marked to remind them of the diversity of societies, customs and convictions that define the country. These are some of the happy Heritage Day messages that you could send to your loved ones to celebrate the occasion.
Happy Heritage Day South Africa
What is the cultural heritage of South Africa? In the KwaZulu region, the 24th day of September was known as Shaka Day in the past. It was a special occasion that was marked to commemorate Shaka, the great Zulu ruler. At the point when the proposed Public Holidays Bill before the New South African Parliament excluded Shaka Day, Inkatha Freedom Party (IFP), a South African ideological group with an expansive Zulu enrollment, questioned the bill. A trade-off was achieved when it was chosen to make a day when every South African could watch and praise their various social heritage.
The first Heritage Day speech was made in 1995 after the first-ever democratic government endorsed it. In 2005, the National Braai Day was coined to be marked on the same day. Braai became the meal that would be shared to mark the occasion. The special occasion is celebrated by sharing the tasty meal at the backyards of homes.
Happy Heritage Day quotes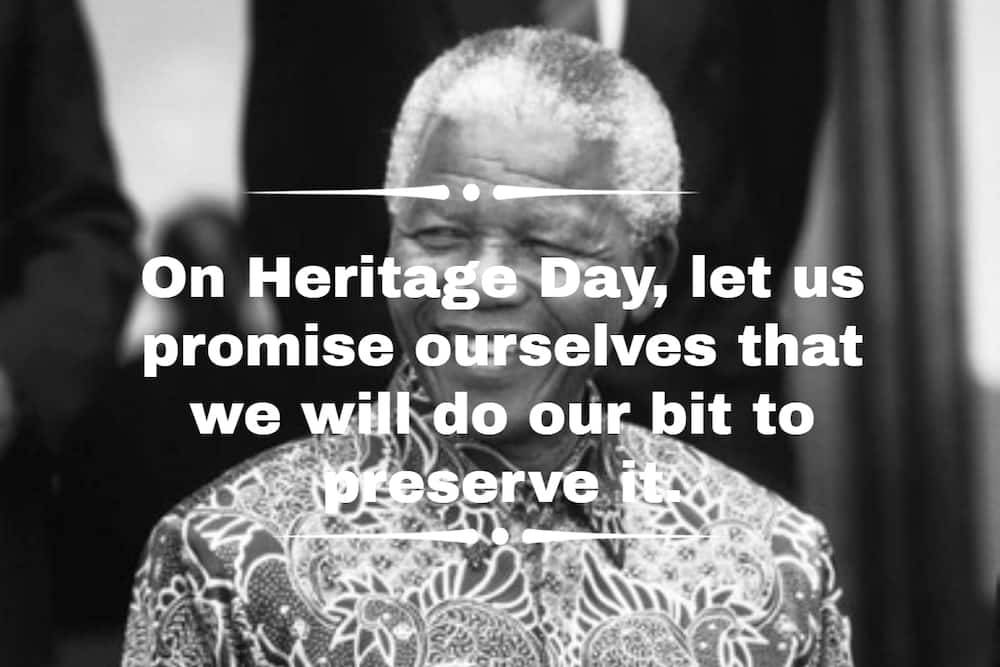 Cohesiveness is the one language that everyone speaks on this special occasion. It is marked by sharing the meal to remind the country of its roots. These are some of the quotes that are uttered during the occasion.
"We can change the world and make it a better place. It is in your hands to make a difference," Nelson Mandela.
Our culture and our heritage define our present and future.
Heritage is the most precious thing we have.
Joint efforts are very important in saving heritage.
Heritage is what defines us and our values.
We have to be sensitive and sensible towards our heritage.
Let us join hands to preserve our heritage.
Let us show some responsibility towards our heritage.
Our culture gives us a unique identity.
Preserving our culture is our duty.
There is nothing more special for culture than its heritage.
READ ALSO: Ladies welcome puppy into household with traditional ceremony
Happy Heritage Day messages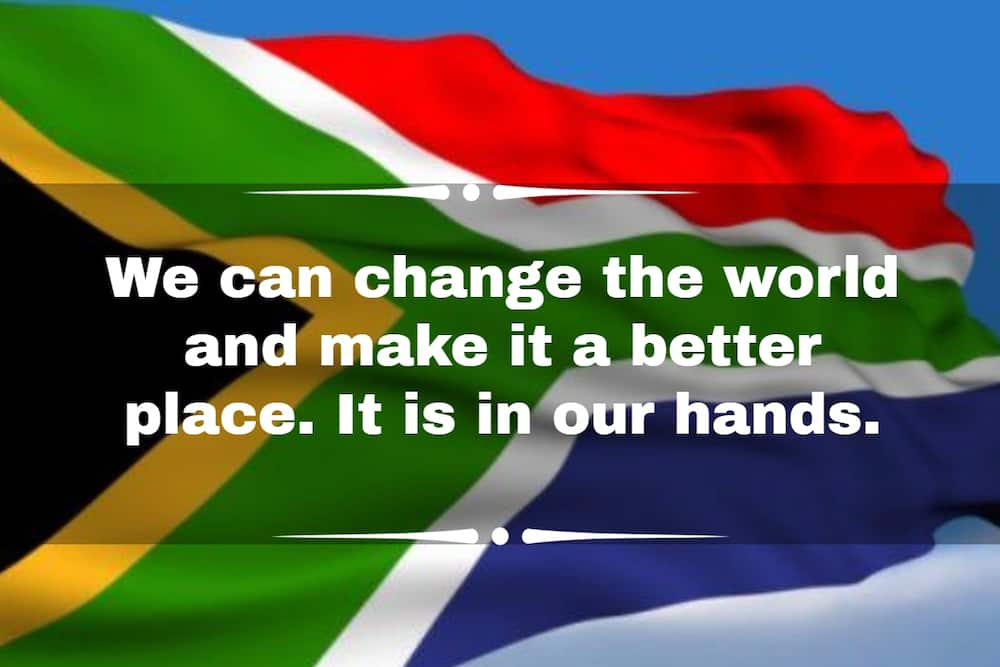 The country might not in the best state to allow people to gather and indulge in chisa nyama or braais. Nonetheless, that does not mean that the special event will not be marked this year. If you have been wondering how Heritage Day is celebrated now, sharing these messages can help in rekindling the mood of the occasion.
On the occasion of Heritage Day, let us promise ourselves that we will do our bit to preserve our heritage.
If we lose our heritage, we will have nothing left in our hands that defines how glorious our past was. Let us do our best to save it.
There is something unique and special about every culture, which makes it stand out. Let us preserve it together. I am sending warm wishes to you on this special occasion.
This special occasion is a reminder to all of us that gradually we are losing our culture, which is the biggest asset we have.
We must never forget our roots, and our culture is the root that gives us strength and makes us unique.
Heritage is to be preserved and passed on to the next generations. Receive special greetings on this important occasion.
Culture is something that is too precious, and we must join our hands together to preserve it.
We must preserve our heritage to leave something precious behind for our generations to come. I am sending best wishes to you on this special occasion.
Letting our heritage get lost in this race of life is the biggest wrong we are doing. May every day be a reminder of our sense of belonging.
Monuments are not for the dead, but they are for those who are alive. Let us save them and preserve them.
We all should take a pledge to preserve our heritage because it is what makes us special in this world.
Warm greetings on this special occasion to everyone. We all are a part of the heritage, and we all must work together to keep it intact.
The occasion of Heritage Day is for every individual and needs the contribution of every person.
Our heritage needs our attention, time and efforts, and we must come together to save it.
There is in no way like coming back to a spot that remaining parts unaltered to discover the manners by which you have changed.
READ ALSO: White lady shows off her braids and revealed respect for African women
Frequently asked questions
The answers to these questions elaborate more on the reasons why this occasion is significant. They also provide hints on how to mark the day. You might want to check them out.
How is Heritage Day celebrated?
The occasion is marked by engaging in a couple of activities that express how one adores South African culture. One can do so by visiting the country's cultural attraction areas, buying cultural pieces from local artisans or even by learning a new local language. One can also mark the day by having a braai with friends and family.
READ ALSO: Gushing mom shares super adorable pic of her little Zulu boy
What does Heritage Day mean?
This is a national holiday that is marked to celebrate the different cultures in South Africa. It is marked to encouraged Mzansi to appreciate their cultural diversity and beliefs. The special occasion is marked on 24th September.
How did Heritage Day start?
Initially, 24th September was a day that was set aside to commemorate Shaka, the mighty ruler of the Zulu people. In 1995, a bill was passed in the South African Parliament, and the date was coined to be an open national holiday. The intent of it being made a holiday was to set aside a day that South Africans would praise their social heritage.
What do we eat on Heritage Day?
The holiday is marked on the same day as the National Braai day. The National Braai day is celebrated by friends and family coming together to have braai or chisa nyama and beer on the backyard of their homes. Therefore, the main meal that is shared is braai.
Is it necessary to celebrate Heritage Day?
Celebrating the occasion is necessary as it is a reminder of how rich the country's culture is. It also gives the netizens a sense of belonging. It is also a way of ensuring that the culture is preserved.
How is Heritage Day celebrated in schools?
Usually, schools want to maintain their learners' cultures and traditions. Students are encouraged to celebrate this day at school each year through different activities.
The pandemic might have brought so many changes in the country. However, the different happy Heritage Day messages, quotes and images could go a long way in expressing the message of preserving the country's culture.
READ ALSO: Master KG: Ramaphosa encourages nation to dance #JerusalemaChallenge
Briefly.co.za reported the news of President Ramaphosa urging Mzansi to dance to Jerusalema on Heritage Day. The president endorsed the #JerusalemaChallenge. The president also opened up about his love for the jam.
READ ALSO:
Internet in awe of amazing Jerusalema dance: "Couldn't find Mabena"
Ramaphosa's Jerusalema challenge slammed by FF+ as 'disappointing'
5 Mzansi celebs who've made traditional items modern fashion statements
Source: Briefly News