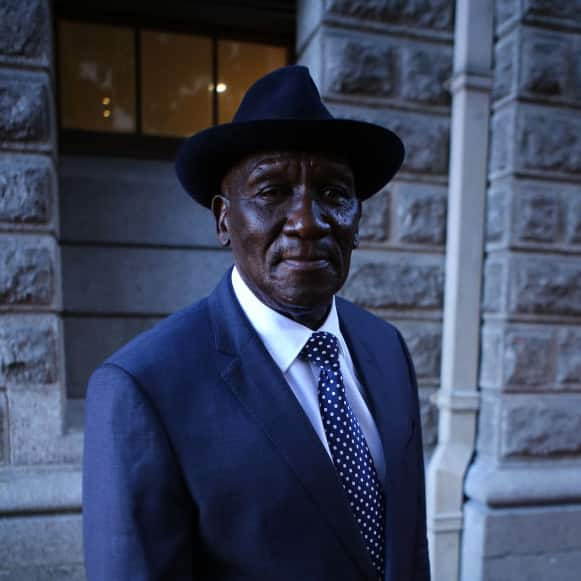 Bheki Cele
Birth name: Bhekokwakhe Hamilton Cele
Born: 22 April 1952
Place of birth: Umzumbe, KwaZulu-Natal, South Africa
Nationality: South African
Main activity: Politician, legislator, police officer, military veteran, anti-apartheid activist
Political party: African National Congress
Bheki Cele is the current Minister of Police in South Africa, a role he has been in since February 2018. He is also a member of the National Executive Committee of the African National Congress (ANC) and was one of the political prisoners who were incarcerated on Robben Island during apartheid.
Early life and education
Cele was born on 22 April 1952 in Umzumbe, Natal (now KwaZulu-Natal), South Africa. He lost his mother, Albertina Mtshali, when he was nine months old, and his father, Gillford Cele, a senior manager at the South African Railways, brought him up until he died when Cele was in high school. He then lived with his relatives and had to move between rural Umzumbe and Lamontville.
He obtained a teacher's diploma and worked as a teacher in uMbumbulu, a rural area in KZN. He also joined the liberation struggle against apartheid, becoming a founding member of the National Education Union of South Africa (NEUSA), which aimed to reform the educational needs of the country.
Political career
In 1984, Cele joined the ANC's military wing, Umkhonto we Sizwe (MK), and went into exile in Angola. He was smuggled back into the country in 1987 but was captured by the security police and sent to Robben Island, where he spent three years with other political prisoners.
He was freed in 1990, along with other political activists. After South Africa's first democratic elections in 1994, he was elected to the KwaZulu-Natal Provincial Legislature. He served as Chairperson of the Portfolio Committee on Safety and Security and later as the chairperson of chairpersons.
From 2004 to 2009, he was a member of the Executive Council (MEC) for Transport, Community Safety and Liaison in KwaZulu-Natal.
In July 2009, he was appointed National Commissioner of the South African Police Service (SAPS). He was dismissed in June 2012, following allegations that he had been involved in unlawful property deals.
In May 2014, he was appointed Deputy Minister of Agriculture, Forestry and Fisheries. He served in this position until February 2018, when he was appointed Minister of Police by President Cyril Ramaphosa.
Personal life
Cele has been married twice. His first wife was Thando Ngcobo, whom he divorced. His second wife is Thembeka Ngcobo, whom he married in 2010. He has four children from his previous marriage.
Career path
Teacher at the Umbumbulu school in the 1980s
Member of the Provincial Legislature in KwaZulu-Natal between 1994-2004
MEC for Transport, Community Safety and Liaison in KwaZulu-Natal between 2004-2009
National Commissioner of SAPS between 2009-2012
Deputy Minister of Agriculture, Forestry and Fisheries between 2014-2018