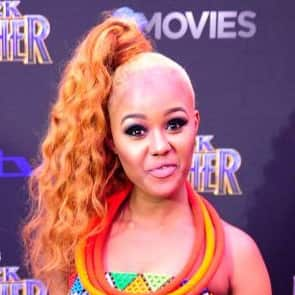 Babes Wodumo
Birth name: Bongekile Mildred Simelane
Born: 26 July 1994
Place of birth: Lamontville, Durban, South Africa
Nationality: South African
Main activity: Musician, host, dancer
Musical genre: Gqom
Career
Babes Wodumo began her career as a dancer and choreographer for artists such as DJ Tira and Big Nuz. She became famous with her first single "Wololo" featuring Mampintsha in 2016, which started the Gqom genre and was a viral hit. She made her first album Gqom Queen Vol. 1 in 2016, which got her several nominations and awards, such as four South African Music Awards (SAMA) and one BET Award. She was on the soundtrack of Black Panther (2018) on a song named "Redemption" with Zacari and Kendrick Lamar. She made her second album Idando Kazi in 2020, which featured Mampintsha, Skillz, T.N.S, Madanon and others.
Family
Babes Wodumo was born to Bishop Welcome Simelane and Thokozile Simelane in Lamontville, Durban. She has three siblings: Nonduh Simelane, Nondumiso Simelane and Sizwe Simelane.
Awards
Babes Wodumo was the most nominated artist at the South African Music Awards in 2012.
Dating Timeline
Babes Wodumo started dating Mampintsha 2016 and they got engaged in 2020.
They met in 2013 and got together through their musical collaboration in 2016.
They faced some challenges in their relationship, such as domestic violence allegations, cheating rumours and public disputes, but they got married in 2021 before Mampintsha's untimely death in 2022.
Discography
Babes Wodumo has released several singles and albums in her career. Her singles include:
"Wololo" featuring Mampintsha (2016)
"Mercedes" featuring Madanon and Mampintsha (2016)
"Family" featuring Cassper Nyovest and Mampintsha (2016)
"Umngan'wami" featuring Mampintsha and Danger (2016)
"Thobeka" featuring Madanon and Mampintsha (2017)
"Angisona" featuring Mampintsha (2017)
"GandaGanda" featuring Mampintsha and Madanon (2017)
"Jiva Phez'kombhede" featuring Ntando Duma and Mampintsha (2017)
"Ka Dazz" (2018)
"Domoroza" featuring Madanon and BlaQRhythm (2018)
"Wololo Remix" featuring D'Banj (2018)
"Redemption" with Zacari and Kendrick Lamar (2018)
"Ung'dunure" featuring Madanon (2019)
"Otshwaleni" featuring Mampintsha and Drega (2019)
"Corona" featuring Mampintsha (2020)
"eLamont" featuring Mampintsha and Skillz (2020)
"Abadala" featuring Mampintsha, TNS and Skillz (2020)
Her albums include:
Gqom Queen Vol. 1 (2016)
Idando Kazi (2020)