100+ Best funny, cute and belated happy birthday cousin messages, wishes and quotes (with images)
Cousins are equally as important as our siblings. So, they always expect us to be there when they celebrate important life events such as birthdays. Being the best days of the year, you can send them happy birthday cousin messages to show them how much you are excited about their special day. What is the best birthday wish, message, or quote to send them?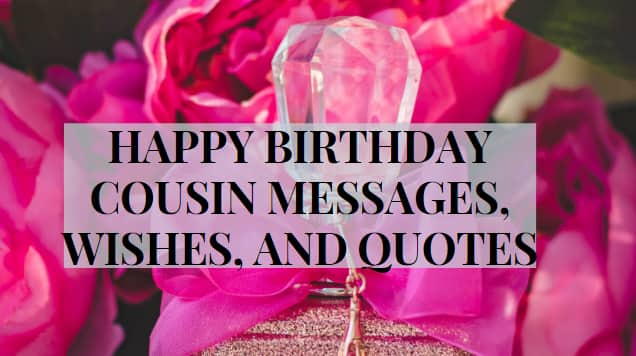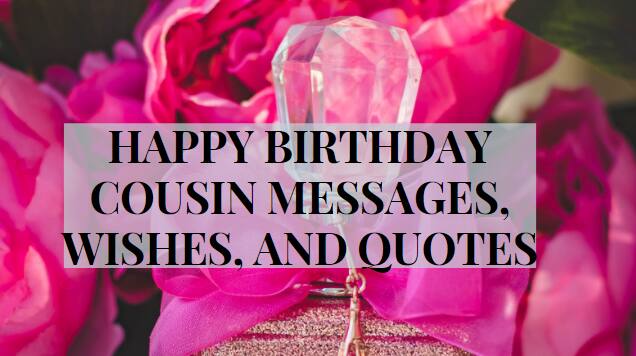 There are a lot of things you can say to your cousins during their special day. Unlike other family relatives, you are sure to find something that will cheer them on their special day. It is simple; you can write one of these best birthday messages on the card or send them straight to their phone.
Cute birthday wishes for cousin
These cute cousin birthday wishes are the best for both male and female cousins. Try them, and you will not regret it.
May this day overflow with joy! May you be aware of how loved you are by our family! Happy B-Day, beautiful cousin!
On your special day, I just want you to eat and drink as much as you can – after all, there's an awful lot of time to be skinny when you're dead, LOL! Have a wonderful celebration, my sweet cousin.
I am so grateful to have you in my life. I can never forget how blessed and fortunate I am to have a cousin like you. I hope your day is filled with joy and cheer.
I knew we had a special bond between us from the day you were born. I am so proud of all you have done so far in your life, but I am even prouder of who you have become. Happy birthday, cuz!
You are indeed a blessing to us! We are happy every day to have you as our cousin. Always remember that we love you forever.
Dear cousin, I consider you as a shining light in my life. Thank you for motivating and inspiring me to become a better person.
We grow older and forget the things we used to do when young. I hope that you will never forget the hilarious times and crazy things we shared. Enjoy the moment and be happy.
There is nothing like having an amazing person like you. May this day bring happiness in your entire life.
To my dearest cuz, having you in my life is undoubtedly a source of joy and happiness. Happy B-day and always remember that I cherish you.
Time to get up! It's your day! Time to celebrate and enjoy this special day. You are my cousin and friend. Here are all the birthday wishes and love I could send.
What can I hope for a special being who has it all? Another year of fortune, blessings and strength.
Happy birthday to the most beautiful person – Outside and inside.
We are definitely a family, my cousin. I find myself in you, and I hope you find yourself in me. You can turn to me anytime, and I can turn to you anytime. Happy birthday.
The days of hiding may be gone, but our friendship will last forever, my dear cousin. You are my special friend, and a cousin one can only wish for. Happy moment dear.
READ ALSO: Cute Happy Valentines Day quotes and messages 2020
Happy birthday cousin funny messages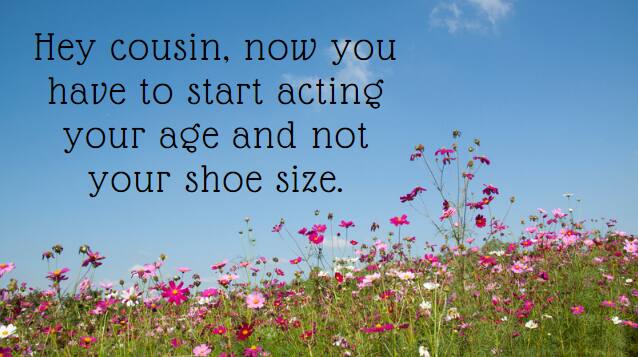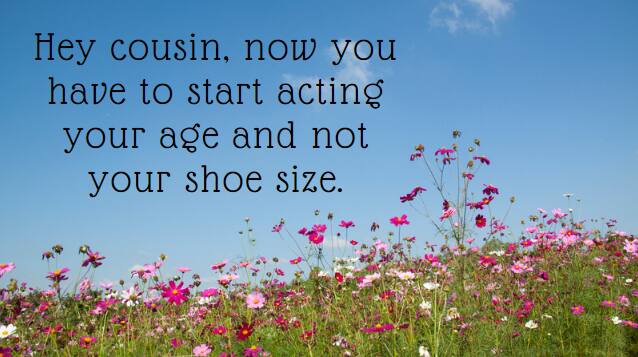 Birthdays should be fun because they help celebrate life. Therefore, you can go for a funny birthday message to make your cousin smile and laugh on their special day.
Happy birthday, cuz! You were educated in the old ways! The pyramids wouldn't have been built without you!
Happy birthday to my cousin! In our family, you are the one that we rely on for information about our history… because you have been here since the beginning of time!
Hope you know you have lost one year of your life today? Anyway, I am going to organize a party for you to forget about this loss.
I am glad you are not my real sister. Otherwise, my parents would have been more proud of you than me because you are so intelligent and beautiful. Happy birthday.
Hey cousin, now you have to start acting your age and not your shoe size.
I am not going to make any age-related jokes today because I genuinely feel bad about how old you are—happy born day cuz.
A toast to you on this special day. Now the best way of staying young is lying about your age.
Now is the time to tell you what you truly are, cuz! An old geezer!
I cannot believe how big you are getting! Long gone are the days when I could steal cake from your plate, and no one would ever be the wiser. Happy birthday to my cousin.
Happy birthday cousin male wishes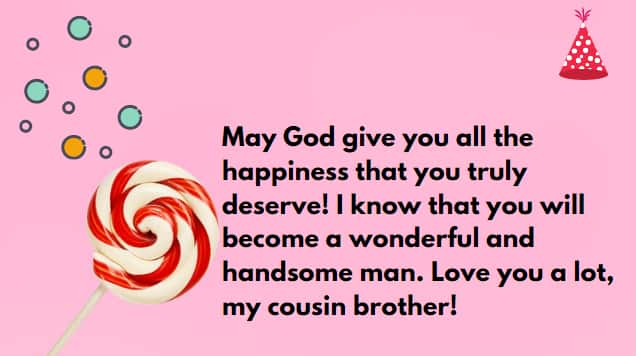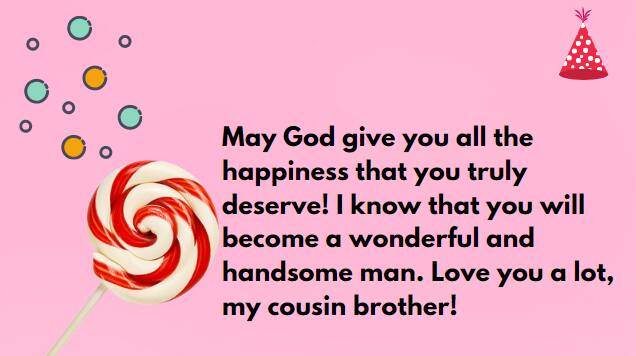 Often, a simple birthday message is much better compared to a present. Well, try to write one of these male birthday wishes on the card and see its magical impact.
Congratulations my brother from another mother for another year of life! You are very close to my heart, and I wish you to have an extraordinary birthday as you deserve it. Enjoy your day and be happy today and always.
Today is your day, dear cousin. Happy birthday! I admire you, and you are my favourite cousin. With all my heart, I wish you a lot of happiness and success in life. Happy birthday, cousin brother!
Happy birthday, my cousin brother! Thanks a lot for giving me all the best moments and for being my crime partner in childhood. Always count on me. Wish you a great celebration of this special day!
May God give you all the happiness that you truly deserve! I know that you will become a wonderful and handsome man. Love you a lot, brother!
The warmest greetings are for my dear cousin. Your smile and warm manner will conquer the world. You are the best!
The great moments that we shared are among the best moments of my life. I am so happy to have such a special cousin! May you have a perfect birthday!
You are the most handsome man I know. May your entire life be filled with pure joy, the success and the love you deserve.
For a great guy who knows how to have fun, here is to another year of good times. Happy birthday, cousin brother.
This is your special day, cuz. May God always lead you to your dreams. Happy birthday.
Hey there, handsome cuz bro. May this day be full of love and happiness that follows you throughout the whole year!
READ ALSO: 120 cheesy and best pick up lines for him and her
Birthday quotes for cousins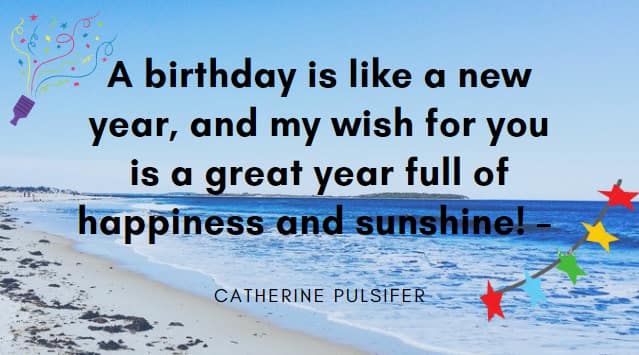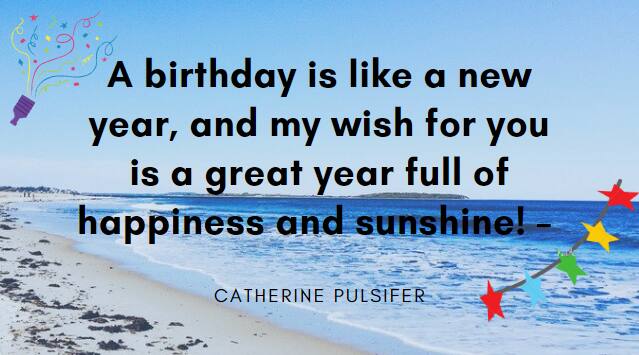 You have the freedom to pick one from the list below:
"And in the end, it's not the years in your life that count. It's the life in your years." – Abraham Lincoln
"Grow old along with me! The best is yet to be." – Robert Browning
"I hope that your birthday is as much fun as you are, but that sets a very high standard." – Unknown
"Age is a case of mind over matter. If you don't mind, it doesn't matter." –Satchel Paige
"I hope your birthday is as sweet as the cake. And the year to follow is filled with as much joy as you bring your friends!" – Unknown
"A birthday is like a new year, and my wish for you is a great year full of happiness and sunshine!" – Catherine Pulsifer
"Don't regret another birthday, the good news is that you are alive and can celebrate it." – Catherine Pulsifer
"All the world is a birthday cake, so take a piece, but not too much." – George Harrison
"The more you praise and celebrate your life, the more there is in life to celebrate." – Oprah Winfrey
"Inside every older person is a younger person wondering what the hell happened." – Cora Harvey Armstrong
Beautiful birthday messages for female cousins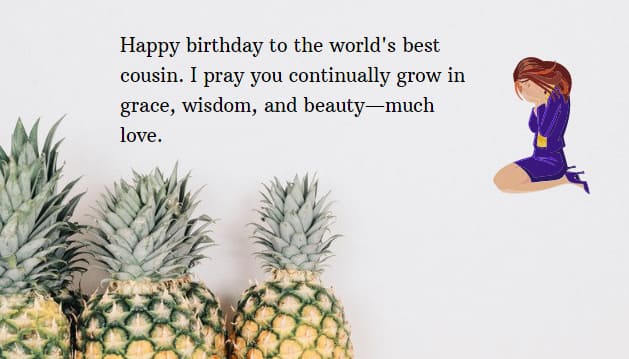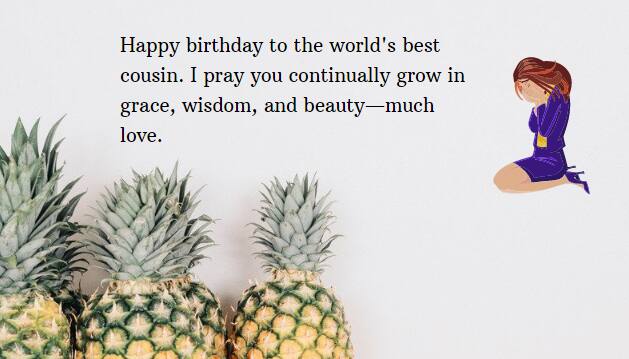 Cousin sisters are no less than sisters. Therefore, make their special day count because they are all we have as crime partners. Well, what do you think about these happy birthday cousin female messages?
We might have been born into our family as cousins, but the truth is that we are much more like sisters! Happy birthday, cousin.
Wishing a happy and blessed born day to the most wonderful woman I have ever known. Thank you for being my friend and by my side all these years.
I hope this birthday brings what your heart desires the most. You deserve it, as you are a truly remarkable woman. Hope what you desire will be yours forever.
Dear sister cousin, every moment spent with you is sacred. I am grateful to have someone as beautiful as you in my life. Happy birthday, sweet cousin.
Cousin sister, you are much more than a cousin for me. You are my inspiration and motivation because you are such a bright and warm person. Congratulations and happy birthday, girl!
My dear cousin sister, on this birthday I wish you to stay as positive and optimistic as you are. I want to say thank you for sharing your happiness with me.
It has been fantastic growing and evolving with you, and I know this year is going to be super amazing for you. Enjoy to the fullest my dearest cousin.
Happy birthday to the world's best cousin. I pray you continually grow in grace, wisdom, and beauty. Much love.
I am happy I get to be part of another fantastic year of your life. Happy birthday dear cousin. I wish you the very best of all, life has to offer, girl.
I wish you many more years to live and pray you to get much more amazing things that you want and desire this year. Have fun, dear cousin.
READ ALSO: 50 New Week Quotes that truly motivate (with images)
Special birthday messages for cousins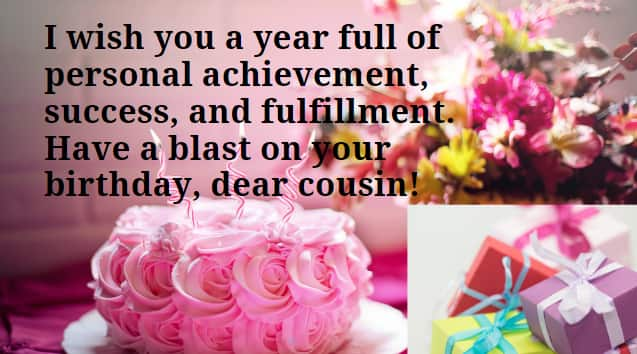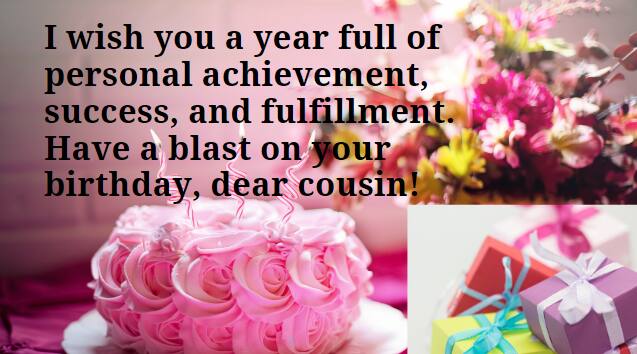 Cousins are special people in our lives. They are both our friends and siblings. Therefore, you can surprise them with one of these messages during their big day.
Have a fantastic birthday, cousin! Given all of the secrets we have kept from our childhood, we should have won a few Emmy Awards by now.
Cheers to my cousin! I am thrilled that I get to honour you on your birthday! You are a good man and a good friend! May you be filled with pride!
I wish you a year full of personal achievement, success, and fulfilment. Have a blast on your day, dear cousin!
It is your day cuz, your special day and no one or nothing is going to change that. Live today like there is no tomorrow, live love and have fun.
A very beautiful bouquet to a lovely cousin. Enjoy your day sweetheart.
Cousin, how fast time passes since we are celebrating your special day again. I hope you will spend this day full of congratulations and great emotions. Celebrate everything you can and live happy to know that your life is one of the best you could have — a big hug.
You are incredibly a blessing to us! I am happy to have you as my cousin. Have a splendid birthday and always remember that we love you endlessly.
I am sending a big hug to my amazingly awesome cuz.
Another year of being a great cousin and a spectacular person. Happy moments, dear!
You are a fantastic cousin, a perfect friend, and an excellent companion in my life. Have a fabulous birthday!
Sweet birthday messages for cousins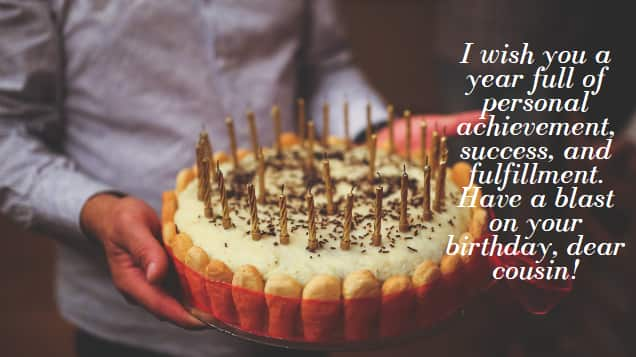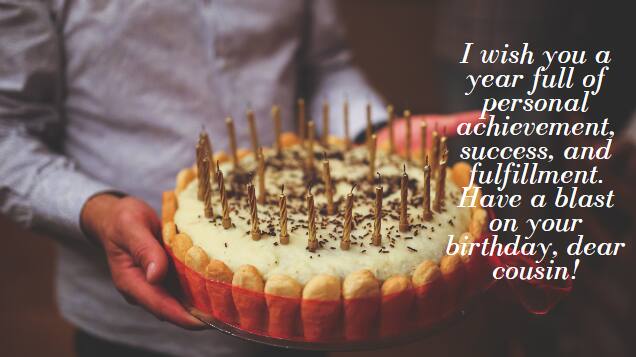 Every time I see you, I am so proud that you are part of our family. You are a wonderful person, and you deserve the best. May you continue to bring light into our lives.
There is something so great about being cousins. We are deeply connected like no other friendship can share. I wish you more birthdays to come and more fun days ahead.
Dear cousin, as you celebrate yet another milestone in your life may all your dreams and wishes come true.
I miss the days when I would count the hours before your visit. Now that we are all grown up, we might be separated a bit. But you can still count on me. On this particular day, I wish you make your dreams come true.
Happy birthday to my one of the craziest cousins with whom I love to spend my time. All your obsessions and passion for anything are the best part of your personality.
Cousins by blood and friends by choice, the only difference between cousins and friends. I wish you all the happiness in your life.
We might only be cousins, but I think of you as one of my best friends. You are the coolest cousin, and I hope we share lots of unforgettable moments.
READ ALSO: 20 inspiring and loving Bible verses for birthday woman
Christian happy birthday messages for cousins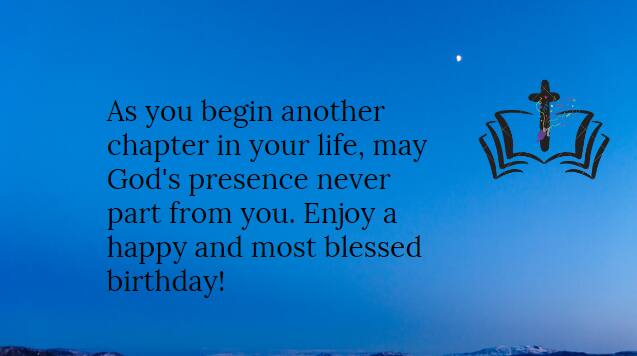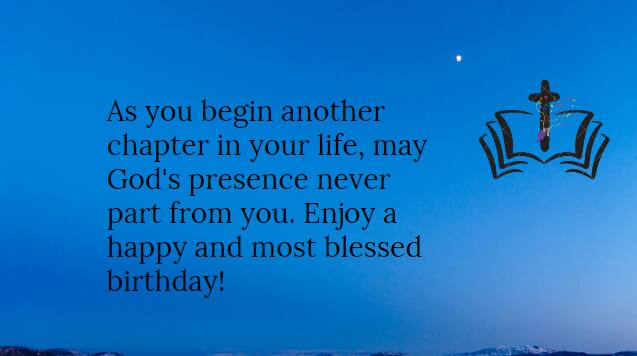 What do you think about these blessed birthday messages?
There is nothing more significant than having been blessed with a wonderful cousin like you. Well, I guess you know that too. Enjoy your special day, cuz.
In you, I found a true friend and a brother, and that's why this day means so much to me too. Happy B-day, cousin! May your life be blessed with joy and success.
I am very grateful because God gives you one more year to enjoy life. I hope that today you will have a beautiful day and be with us to make us laugh much.
Have a beautiful day, dear cousin! I hope that you can make a reality whatever you want and God be with you wherever you go.
May God bless you with all the happiness and success.
As you begin another chapter in your life, may God's presence never part from you. Enjoy a happy and most blessed birthday!
Just like this card that I lovingly placed inside an envelope, so may you be enveloped by the love of Jesus on your birthday.
May the Lord bless you, keep you, and bring you peace in your life.
Best B-day! May God continue to bless you with all the wonderful things in life!
happy birthday! I pray that God will continue to bless the work of your hands and give you His favour all throughout your life.
Genuine belated happy birthday cousin wishes
It is not yet late to send your birthday wishes to your cousin if you forgot about it. You can make it up to them by sending them one of these wishes.
Oh dear, I missed your big day. Sorry about that. I hope that it was fabulous. I wish you health and happiness for the coming year. Belated happy B-day.
Though I am a little late, but yet I have a chance to wish you a very happy late birthday.
I hope you had a spectacular day with lots of colourful celebration. I wish you a happy belated birthday.
It is hard to believe that you are getting older. That is why I am late in wishing you a Happy B-day.
Now I just remembered that yesterday was your birthday. My heartiest congratulations to you, cousin! So sorry for the delay. I hope all your birthday wishes come true.
I did not forget your special day, cuz, I just wanted to annoy you by sending my wish late. I am not sorry, belated happy birthday to you!
Cute birthday wishes for cousins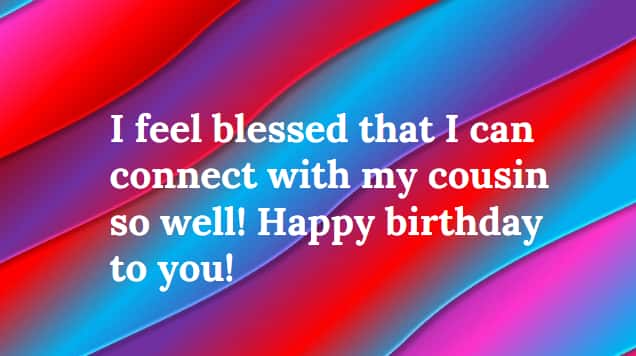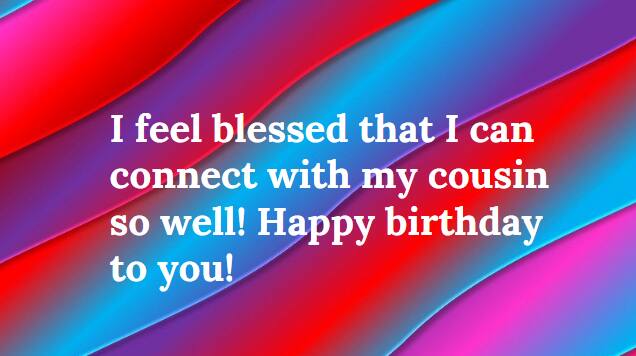 Do you have a happy birthday cute wish or message in mind you can write on a card right now? How about you try these?
You are handsome, beautiful, sweet, wonderful and amazing. I want you to celebrate your new age with all beauty and peace.
Since you were born, you have been such a great honour to this family. I wish that you will live longer to keep on being the most amazing cousin.
I feel blessed that I can connect with my cousin so well!
My dear friend and amazing cousin, I pray you have a magnificent birthday celebration, and I love you.
Not everyone is as lucky as you are to have such an awesome cousin. I wish you be happier as you grow older.
I want you to experience love, happiness, and laughter. May your future be filled with a healthy lifestyle, successful career and loving family.
Wonderful things get wished by wonderful people to wonderful people. Have a wonderful birthday.
Short birthday wishes for cousins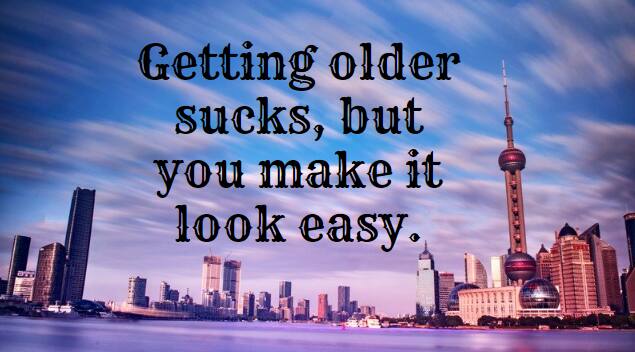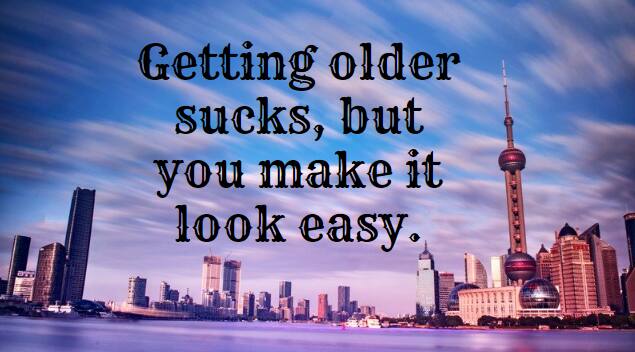 Sometimes short birthday notes are the best to send. Here are the great ones:
B-days are a time to celebrate so kick back and enjoy your beautiful day.
Although I am far away, you are in my heart today on your very special day.
Getting older sucks, but you make it look easy.
Congratulations on another year on Earth, happy birthday cuz!
Follow your dreams and go where the heart calls you… Happy birthday!
Getting older? No way! Buddy, you are getting sexier!
Your past is blessed, your present is guaranteed, and your future is secured; this is my heart-felt prayer for you.
We hope that you enjoyed these happy birthday cousin messages, wishes, and quotes. Now it is your turn to pick the best and send it to them.
READ ALSO:
50 Moving Happy Fathers Day Images quotes, wishes and messages
Good morning quotes and beautiful message for her that will make her day
30 best Happy Mother's Day images, quotes and messages
Source: Briefly.co.za