Are you craving for seafood, and especially, prawns? Then you ought to get a prawn dish or learn how to cook prawns at the comfort of your home like a pro. There are various ways in which you can cook this seafood. It brings us to the best prawn recipes in South Africa. There are several options on how to prepare prawns. These methods are convenient since they range from steaming, frying, to grilling.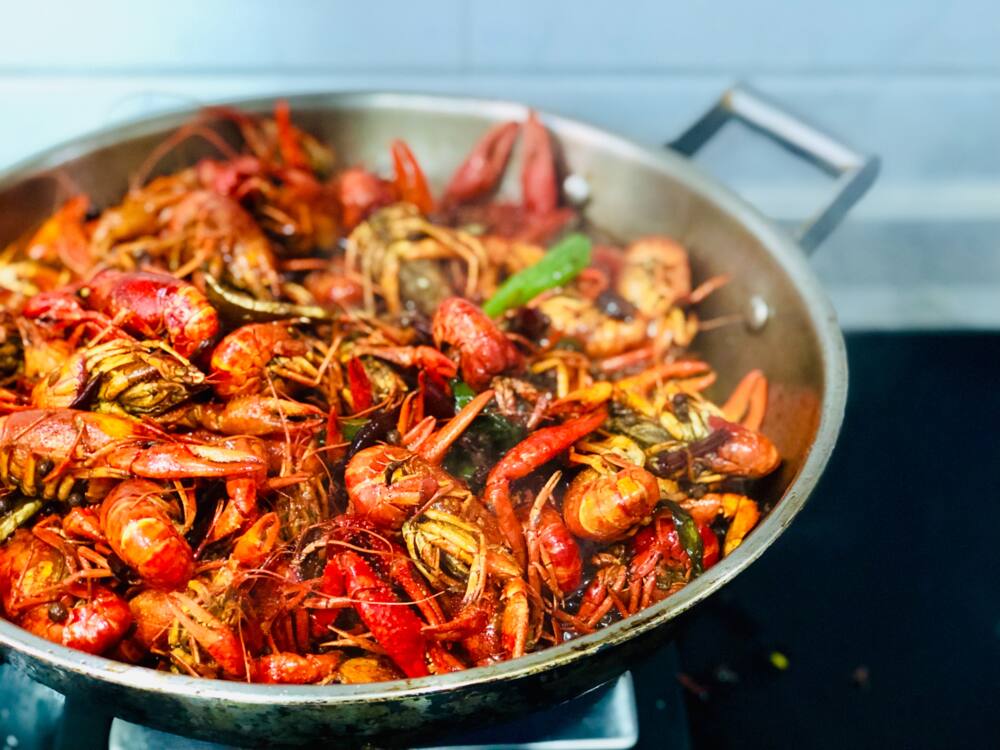 If you are searching for the easiest prawn recipes, you are in the right place. These recipes will ensure you come up with the most delicious dishes. Read on to know all the recipes that every South African ought to try out when they are cooking prawns.
The 39 best prawns recipes
Learn how to make prawns using any of these recipes:
1. Koliwada Prawns
The Koliwada recipe entails dipping de-shelled prawns in batter flavored with spices such as garlic, cayenne pepper, carom seeds, ginger, and lime juice. After that, the seafood is fried until it becomes golden-brown.
2. Kerala Fried Prawns
This dish entails frying this tasty seafood in coconut oil and spluttering it with mustard seeds, turmeric, fiery chilies, curry leaves, and lemon juice drop. These spices and rich taste of this seafood will make your lunch or dinner unforgettable.
3. Prawn salads
All you need to do is buy peeled and precooked prawns and add them to your salads. They are perfect for individuals with busy schedules.
4. Garlic Prawns Recipe
The garlic recipe for this seafood entails marinating the seafood in a spicy garlic sauce. It is a very straightforward recipe that makes it a great dish to prepare for large events.
READ ALSO: How to make steak and kidney pie using easy recipes in South Africa
5. Prawn soups
Prawns are excellent types of seafood dishes that can be prepared in soups. They can be featured alongside other famous and tasty soups such as the Thai hot soup and the sour Malaysian creamy laksa.
6. Spicy prawn pizzas
Prawns can also be prepared in a low-calorie pizza, which is spread with tomato sauce and then topped with shellfish, olives, or mascarpone.
7. Prawn spring roll wraps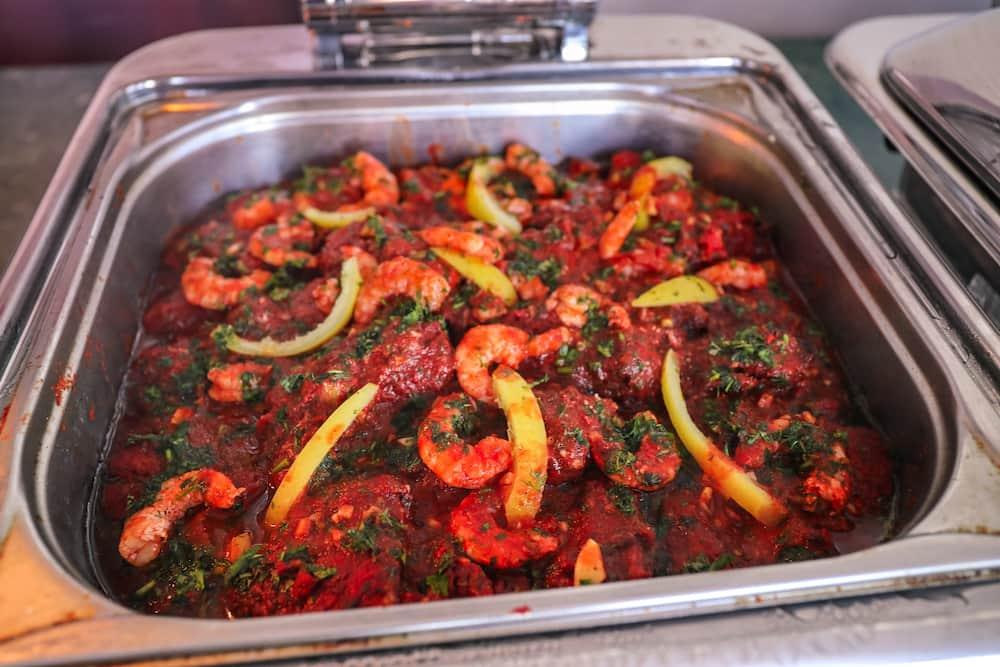 Roll wraps that have been made using these types of seafood dishes are among the greatest and healthiest snacks one can ever have. One can accompany the rolls with a bit of sweet chili sauce.
8. Spicy Prawns with Sweet Dipping
These entail tossing this seafood with chili, onions, and white wine. They are then elegantly plated and served with a delicious orange marmalade sauce.
9. Prawn Curry
If you have white rice, the best curry you can have to accompany your rice is this seafood curry. To make the curry, take five or six garlic cloves, coconut, onions, and coriander seeds and then grind them until they make a fine paste. Add a little bit of water, the seafood, and cook them through until they are ready to eat.
10. Lemony prawn & pea risotto
Wondering what type of risotto you want to have? Try the lemony prawn and pea risotto. It is among the highly ranked and very delicious seafood risottos.
11. Prawn Pulao
The pulao recipe entails rice that has been beautifully cooked with garlic prawns and marinated with ginger. The pulao is then smeared with a bit of cardamom, clove, cinnamon, chili, and other desired ingredients.
12. Spicy Sriracha Prawns with Basil
If you cannot get enough of spicy seafood, here is another great dish for you to try. It entails cooking fresh de-shelled prawns with several ingredients such as the sriracha chili sauce, green chili, soft basil leaves, crunchy onions, and fish sauce.
13. Spicy prawn poppadoms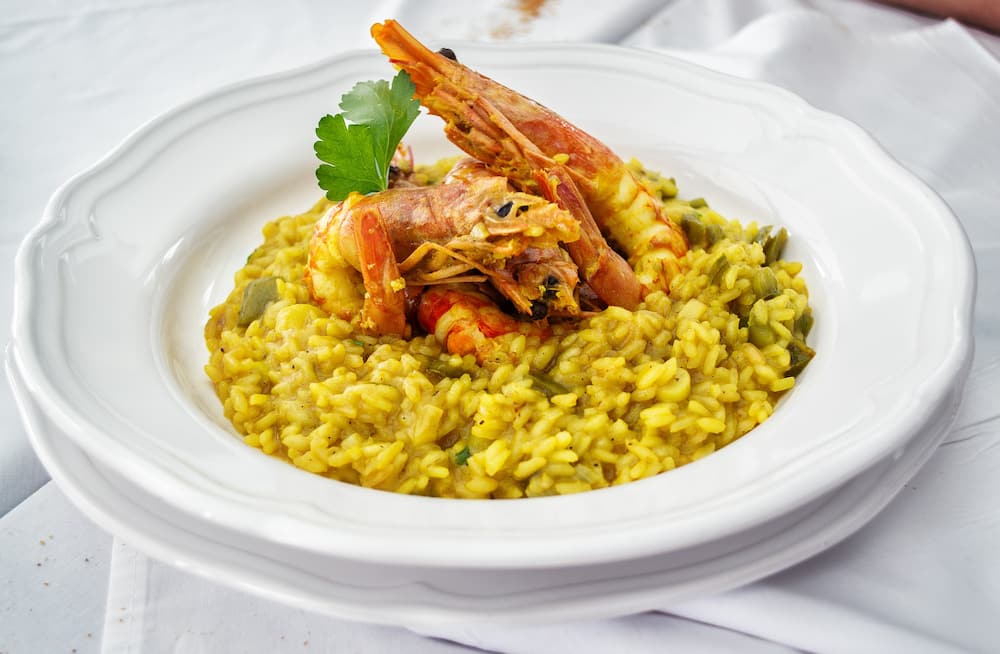 The spicy poppadoms of this seafood are among the fastest canapes that one can ever make. However, it is better to eat them right after cooking them so they won't become soft.
14. Coconut prawns
You can use the irresistible and delicious flavour-full coconut milk or shredded coconut to add more flavour to your prawns. If you select a recipe that entails using coconut milk, you must make sure to serve it with a lot of steamed rice so that it can soak up all the tantalizing sauce.
15. Guilt-Free Karwari Prawns
Most people may argue that they would not like to learn how to fry prawns because the frying experience adds to their waistline. However, we cannot deny the fact that fried prawns have a divine and unique taste. The guilt-free Karwari recipe entails frying the seafood to ensure that it is crispy. The seafood is coated in tamarind water, lime juice, fennel powder, turmeric, and then dipped in suji. It is a healthy way of enjoying this fried seafood. Therefore, do not worry so much about your waistline.
16. Lemony prawn bruschettas
The lemony bruschettas are among the best starters to have when you are having dinner. They are very delicious and will make your dining experience worthwhile.
17. Classic prawn cocktail
This classic cocktail is a retro starter that is packed with excellent and juicy prawns. The flavors in your cocktail from this seafood will leave you yearning for more cocktails.
18. Malabar prawns
If you want to prepare one of the staple seafood dishes of Kerala, you need to use the Malabar recipe. It is a very common meal in the South Indian coast, making it a great new dish for any South African to try. The Malabar seafood dish is prepared in a short time frame with a handful of spicy flavours.
19. Asian-style prawns
One of the best seafood recipes to try out is the Asian-style prawns. The recipe utilizes ingredients such as chilies, herbs, and other spicy ingredients to give you that tantalizing and flavor-filled dish.
READ ALSO: Original Mozart cake South Africa
20. Malai Prawn Curry
The Malai curry is filled with soothing flavors of ingredients such as coconut milk, fresh ginger, cinnamon, and yogurt. The creamy and flavor-full curry can be prepared in just 30 minutes!
21. Easy Thai prawn curry
Are you searching for a Friday seafood dish that you can enjoy as you chill? Learn how to prepare this low-fat curry in only twenty minutes.
22. Thai prawn, ginger & spring onion stir-fry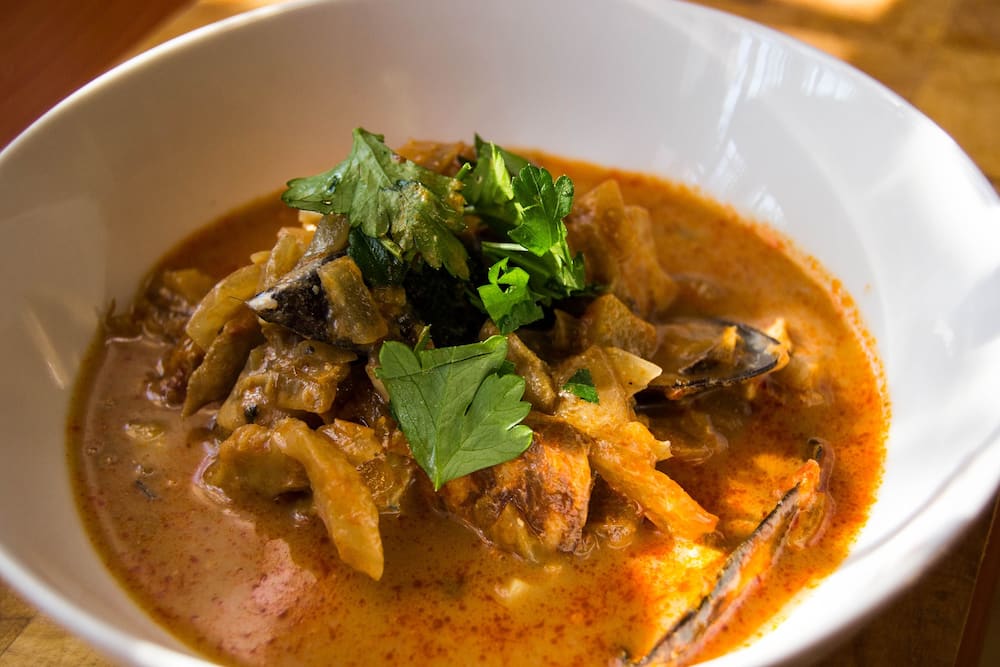 The stir-fry recipe is another excellent dish for all individuals who enjoy spicy meals. After preparing the paste, all you need is ten minutes to cook this amazing seafood dish.
23. Prawn Balcho
The Balcho recipe entails cooking a spicy Goan masaledar curry with a bit of cashew-based Goan feni, a tantalizing sour paste, and onions.
24. Prawn Pollichathu
These Kerala-styled prawns are cooked in lime juice and coconut oil, with a handful of ingredients such as mustard seeds, chili, fenugreek seeds, turmeric, ginger, and chopped garlic.
25. Kung pao prawns
The Kung Pao recipe is a low-calorie stir-fry dish that can be served in a homemade sauce with either rice or noodles. If you want more flavor in your dish, you can choose to add chili flakes or the Szechuan peppercorns.
26. Prawn cakes with coriander sambal
The recipe of these cakes with coriander sambal are among the seafood recipes that are South African-inspired. It is a great starter or nibble, and it gives an individual a taste of some flavors from India. The cakes have low fat.
27. Prawn chowder with mashed potato
This recipe entails using a blender to whiz the corn, resulting in a thick, rich, and flavor-full soup for your mashed potato.
28. Szechuan prawn noodles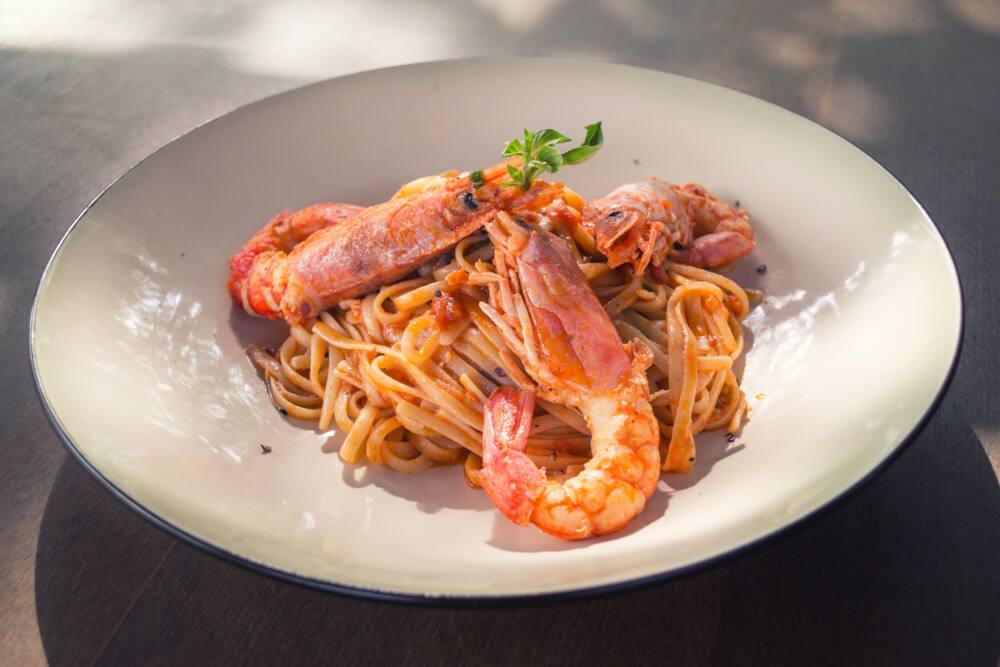 The Szechuan prawn noodles are hot and spicy and have a Chinese appeal. They are easy to prepare since they take only fifteen minutes. This is a great and fast recipe one can prepare when they are under a tight time frame.
29. Prawn masala
It is undeniable that masala is among the excellent dishes in the world. You can prepare this masala in less than one hour, making it a great meal for people who hate cooking prawns in ways that take more than one hour. The dish is also low in calories and very delicious.
30. Sweet jacket potato with piri-piri prawns
This is a very tantalizing recipe if you are looking to enjoy seafood. It has spiced and flavor-filled shellfish that is cooked with sweet red peppers, paprika, and mayonnaise and then served alongside a baked potato.
31. Peri peri prawns
These are among the easiest and fastest ways of preparing this type of seafood. The peri peri sauce recipe originates from Mozambique. Here, the shellfish are made following a traditional Portuguese inspired style. The dish has less than three hundred calories.
32. Teriyaki prawns & broccoli noodles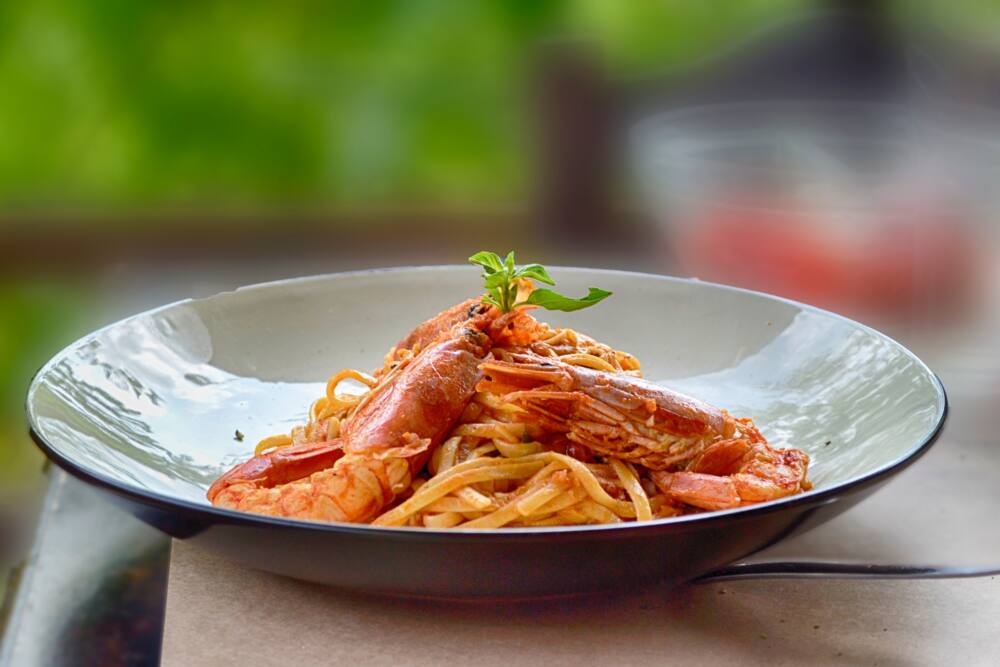 The Teriyaki and broccoli noodles are a low-fat dish that initially comes from Japan. It utilizes healthy soba noodles that come from buckwheat.
33. Prawn & pancetta spears
This type of seafood is prepared by being wrapped in pancetta. The dish is easy to prepare, making it a great canape for whatever occasion.
34. Salt & pepper prawns
This recipe utilizes the Sichuan peppercorns to bring about the rich flavors in the shellfish. You can choose to also prepare a Chinese chilli garlic dip to make your dish more tantalizing.
35. Flash-fried prawns with chili, lemon & parsley
This recipe involves quickly making this juicy seafood using rich Mediterranean flavors to give your flash-fried dish a rich taste.
36. Prawn caldine
The caldine is very rich in flavors since it is prepared with juicy and fresh prawns, crunchy green beans, and creamy coconut milk. This recipe originates from Goa.
37. Jamaican prawn and sweet potato curry
This recipe is quite easy to prepare and also has meager calories.
38. Mexican prawn soup
This Mexican soup is made using fresh shellfish and other rich flavors.
39. Grilled garlic butter shrimp
If you know how to grill prawns, I am sure you will agree with me that grilled prawns are delicious. The grilled garlic butter shrimps, especially, are tantalizing and take only thirty minutes to prepare. You can choose to enjoy this dish with a piece of crusty bread and a glass of wine.
Most seafood lovers love freshwater prawns because they can be cooked in multiple ways and still be tasty. Therefore, do not be surprised to find people searching for new or trending prawn recipes. They merely want to enjoy their seafood in new exciting ways.
READ ALSO: 7 Easy and tasty potato bake recipes for South African food lovers